Svealand
Svealand
is the middle of the three lands of
Sweden
, between
Götaland
and
Norrland
. It is home to
Stockholm
, and a mixed landscape, with archipelagos and plains in the east, forests in the west, and snowy mountains in the north.
Provinces
Sweden is divided between traditional provinces,
landskap
, and modern counties,
län
; sometimes but not always coinciding. These are used interchangeably on Wikivoyage.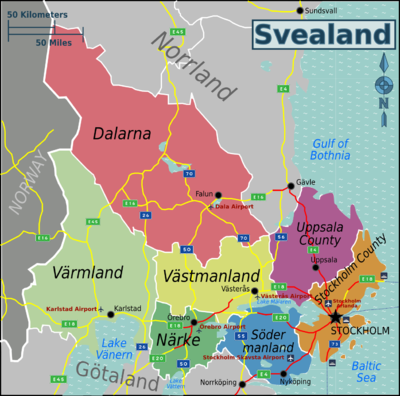 Cities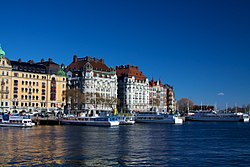 is Sweden's capital and largest city.
is a skiing centre known for the copper mine in the middle of the city.
is an industrial city at lake Vänern.
are Medieval cities with a heritage railway and Gripsholm Castle.
is a small town in Dalarna, with the home of realist painter Anders Zorn, and the finish line of Vasaloppet.
is a medieval city, and the gateway to the world, with the Oxelösund port and Skavsta airport.
is a university city with a thousand years of history, back to the Viking age.
is Sweden's fifth largest city; founded in AD 990, today known for robotic industry.
has an impressive castle.
Other destinations
Bergslagen, consisting of Västmanland, Dalabergslagen and Värmlands bergslag
Ekerö, Stockholm's freshwater archipelago, contains Drottningholm Palace and Viking Age settlement Birka.
Grythyttan, a quaint mining town with a culinary academy.
Leksand, known for Midsummer celebration, hard bread, and ice hockey.
Siljansbygden, in central Dalarna, is an archetype of Swedish folk culture.
Stockholm archipelago has thousands of islands.
Sigtuna, Sweden's capital from 11th to 13th century.
Sälen, a ski resort.
Älvdalen, the northern edge of Svealand, with tall mountains.
Understand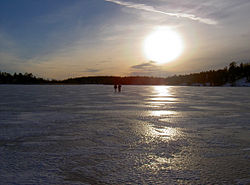 The natives of
Svealand
named themselves
svear
, called Suiones by Roman historians. While lake Mälaren used to be part of the Baltic Sea, it was the base of
Old Norse culture
, and some of the inhabitants travelled far overseas: the Vikings. In the 11th century, Svealand was Christianized, and united with Götaland, to form Sweden, with
Sigtuna
,
Uppsala
and later
Stockholm
as a centre of power. In modern times, Svealand hardly has any role as a cultural identifier. If Swedish people are ever patriotic, it is usually for their province or city.
In the 16th century, the soon-to-be king
Gustav Vasa
took refuge in the province
Dalarna
to avoid the Danes, who had massacred 80 Swedish noblemen on the Great Square in Stockholm. Here he got support from the peasants, and formed an uprising. He contracted German mercenaries, and finally liberated Stockholm.
The Swedish metal industry rose during the 17th century, with aid from
Walloon
craftsmen. The Industrial Revolution saw the foundation of several big corporations, such as ASEA (now ABB), and AGA. During the 20th century, many small inland towns have been depopulated and deindustrialized, while Stockholm is one of Europe's fastest-growing cities.
Get in
Get around
See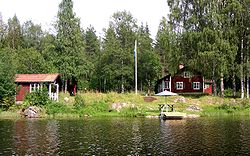 Glamorous cities such as
Stockholm
,
Uppsala
and
Västerås
, as well as quaint villages with rich folk culture, and great lakeside views.
Do
Though there are plenty of forests in Svealand, even around Stockholm, the nearest village is rarely more than ten kilometres away. This makes Svealand good for
outdoor life
, such as
hiking
,
winter sport
, and
swimming
.
Go next