Svolvær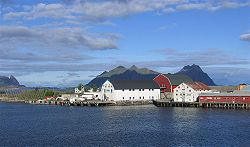 Svolvær
is a town of 4,500 citizens, and is the largest settlement in the
Lofoten
archipelago off the coast of
northern Norway
.
Understand
Svolvær has little touristic interest. However, it makes a good basis (or at least a transit point) to explore the
Lofoten
archipelago.
Get in
The city is on the
E10
.
By plane
There is an airport near the town.
By boat
There is an express boat service from Bodø everyday except Sunday. The journey takes about 3½ hours.
In addition, the coastal steamer Hurtigruten arrives at 19h (southbound) and departs at 22h (northbound) daily.
By bus
Get around
Svolvær is really compact so the best thing you can do is walk.

See
There are many art galleries here.
Svolvær tourist information
address: Svolvær, Norway

Word War II Museum with its incredible collection of uniforms and its original chilling, Gestapo interrogation room.
Buy
It's not so easy to keep to the budget here. Narvesen kiosk is a good place to buy things such as drink. There's a bookshop in the town, art is being sold in many places and overpriced souvenirs are easy to find.
All supermarkets are located in the same area.
Rema 1000 SvolværRather large supermarket with decent prices.
Eat
Du VerdenExpensive prices. Free Wi-Fi.
Drink
Kringla Bakeri & KonditoriCoffee, tea and pastries.
address: Svolvær, Norway

A bar in an old fish-freezing plant that features ice sculptures.
Sleep
There's lots of different kinds of accommodation. Hotels are widespread, there's camping or you can get a rorbu (a traditional fisherman's cabin). Sleeping outside is possible as it is quiet, but the temperatures can be near freezing even in the summer and the cold wind from the sea doesn't help at all.
Thon Hotel SvolværO. J. Kaalbøes gate 5. The hotel is centrally located in Svolvær, near the coastal steamer docks, in the heart of the spectacular area of Lofoten.
Svinøya RorbuerExcellent rorbuer and restaurant on a separate island connected by a long bridge.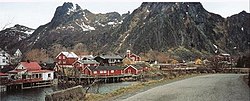 Kabelvåg Youth HostelThere is no YHA hostel in Svolvær, but Kabelvåg, the next town west on the E10 has a great one. Beds or rooms, breakfast is included in the price. It takes about an hour walk from Svolvær city centre, or a 10 minutes bus ride.
Go next