Swabian Mountains
The
Swabian Mountains
is in a low mountain range in
Baden-Württemberg
.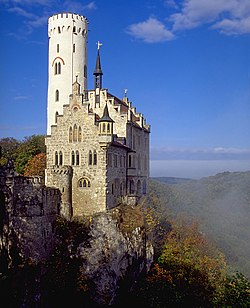 Understand
Much of the Swabian Mountains consists of gentle to moderate hills often covered with forest or cleared for small-scale agriculture. It occupies the region bounded by the Danube in the southeast and the upper Neckar in the northwest. In the southwest it rises to the higher mountains of the Black Forest.
The Swabian Mountains (German: Schwäbische Alb) are also known as Swabian Jura or Swabian Alb.

Cities
;On the plateau
- heart of the UNESCO Biosphere Reserve
- north-eastern border
;In the foreland
- a climatic health-resort with a thermal bath in impressive landscape
- at the north-western escarpment close to the stunning Hohenzollern Castle
- called "The gate to the Swabian Mountains"
- a beautiful university town with crooked half-timbered houses in a charming historical city centre
- with the highest church spire in the world
Other destinations
UNESCO Biosphere Reserve Swabian AlbFounded in 2009 out of a former area for military purposes with different geological conditions, different biogeographical regions and the activity of humans.

BärenhöhleIt is one of the most visited dripstone caves in Germany, named after the many bear skeletons inside. It was discovered in 1834 by the school teacher Fauth, while he was looking for herbs. A recreational park above the cave makes it a popular trip target on weekends.

Schönbuch Nature ParkIdeal for hiking, walking and cycling and attracts people seeking rest and relaxation from far and near. With its dense forests, moorland areas and natural stream the Schönbuch became Baden-Württemberg's first nature reserve in 1972.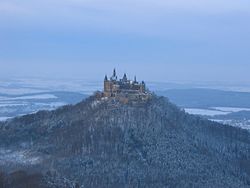 Caves and Ice Age Art in the Swabian JuraA world heritage site comprising two caves near Ulm. Lone Valley or Hohlensteinhöhle is near Langenau about 15 km to northeast, and the Ach Valley about 10 km west near Blaubeuren.
Talk
Locals in the areas speak the distinct German dialect known as Swabian German (German: Schwäbisch), which varies even throughout the area. The dialect at the top of the plateau is stronger than the broadest Swabian of the lowland areas. Across the whole Swabian region, many phrases and grammar are highly localized, even down to the village level.

Get in
See