Swindon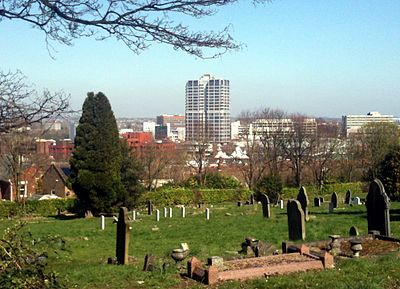 Swindon
is a large town in
Wiltshire
, in southern England, with a population of approximately 200,000 people. It doesn't have very much to offer from a historical perspective, although it does have a great deal of heritage from the British railway system in which it played a central part during the 19th and 20th centuries.
Understand
The town began its existence as a Saxon village, and it is likely that its name is derived from the Saxon words 'swine dun' or 'swines down' meaning 'pig hill'. The small hilltop village subsequently expanded around the site of a quarry, with a 19th-century canal facilitating trade.
During the mid-19th century, the introduction of the Great Western Railway and the associated railway works fully transformed Swindon from a village into a thriving industrial town, which drew workers from across the United Kingdom.
Swindon experienced a population boom after World War II. New housing areas were built due to a shortage of housing in London following the mass destruction caused by the war. This population growth has continued and the town remains one of the fastest growing urban areas in the United Kingdom and Europe.

Get in
By plane
Swindon is served by international airports in the south of the United Kingdom. For travellers coming directly to Swindon, the following airports are most convenient:
Airport
Car
Public Transport
Heathrow Airport (LHR

)

1 hour 10 minutes via the M4 motorway
1 hour and 25 minutes using National Express coach service NX403
Bristol Airport (BRS

)

1 hour 10 minutes via Bristol city centre, the M32 motorway and the M4 motorway
1 hour and 20 minutes, using the shuttle bus to Bristol Temple Meads railway station and the train to Swindon thereafter.
Southampton Airport (SOU

)

1 hour 10 minutes via the M3 motorway, the A34 and the M4 motorway
1 hour and 15 minutes by train, via Reading railway station.
Arrival points involving greater travel times include
London Gatwick Airport
,
London Stansted Airport
, London Luton Airport, Bournemouth Airport, Birmingham Airport and Cardiff Airport.
By train
Swindon has one railway station, in the centre of the town -
Swindon station
. It is on Station Road, immediately north of the town centre, and offers four platforms for arrivals and departures.
From London and the South East of England - Swindon has a direct rail connection to London Paddington, a major railway terminus in Central London, a short distance north of Hyde Park. Services from Paddington take approximately 1 hour to reach Swindon, travelling via Reading (the halfway point of the journey). Some services also call at Didcot Parkway.
From South Wales and the West Country - Services arriving into Swindon from the west originate at a number of stations, such as Swansea, Cardiff Central and Bristol Temple Meads.
From Gloucestershire and the West Midlands - Arrivals from Kemble, Cheltenham Spa and Gloucester.
By bus
National Express
Coaches are available from the central bus station. Tickets can be purchased from the bus station office for all major cities and airports (bus transfers may apply - visit the website for more information).
By car
Driving along the M4, take junction 15 or 16 into Swindon. There are no direct Park and Ride depots near the junctions, one is available is entering Swindon via Wroughton (traveling from Devises or Avebury)
National Park and Ride Directory
.
Get around
By foot
The town centre is small enough to walk through on foot, as is the shopping areas of Old Town, the Great Western Designer Outlet Village, the Orbital Retail Park and the Shaw Ridge Leisure Park & West Swindon Shopping Centre. Although it is a great way of seeing Swindon, it is not recommended as most attractions are more than 45 minutes walk from the centre of the town - it is advisable to travel by bus. The attractions within 15 minutes walk of the town centre include the Steam Museum, the Railway Village, the Wyvern Theatre, the civic council offices and central Public Library, the Swindon Hydro Centre, the main bus station, the railway station, and some hotels.
By bus
Swindon has an extensive local bus network, with the vast majority of routes radiating outward from the town centre (either from the bus station or the Fleming Way bus stands).
The two main bus operators in the town are
Thamesdown Transport
and
Stagecoach West
.
A full list of routes can be found at the Swindon Borough Council
bus information website
By bicycle
Swindon has extensive support for bikes, with paths following major roads split between pedestrians and cycles.
For more detailed information about cycle routes to and from Swindon, see the
SwindonWeb Cycle Route website
.
By car
The road network in Swindon is comprehensively signposted. To get from one side of Swindon to the other, locals have the option of driving through town, or jumping on the motorway from junction 15 to 16. This method of getting across Swindon has been somewhat superseded by the almost unused link between Drove Road/Wroughton and the Rushy Platt junction.
One of the major attractions when driving around Swindon is the
Magic Roundabout
, named after the 1960s television show. This sprawling junction contains five mini-roundabouts, each situated around a bigger, but less obvious, central counter-clockwise roundabout (which houses a very bright street light for night driving). Each mini-roundabout has three junctions, two leading on to the next and previous mini-roundabout, and one acting as an entry/exit junction. Many visitors are immediately intimidated by local drivers who use it proficiently, but the local secret is to treat each mini-roundabout as normal, rather than looking at the daunting mass of concrete and cars.
See
Cotswold Water ParkThe United Kingdom's largest water park has over 150 lakes which were formed by filling old gravel quarries. It is about north-west of Swindon and offers many water sports and activities.
Museums
Galleries
address: Bath Rd, SN1 4BA

Very important collection of 20th-century British art and includes works by Henry Moore and L.S. Lowry.
Architecture
Railway VillageA remnant of Swindon's past glory involving Brunel and the steam railways, these three rows of houses are Grade II listed gems, hidden away between the railway station, the Great Western Designer Outlet Village and Swindon central shopping plaza. Although the cottages are still private property, the streets have public access; and the two pubs in the center of the village (the Glue Pot and the Cricketers) serve local ale and food, from lunch time until late.

Former Great Western Railway Works Now turned into the McArthur Glen Designer Outlet shopping centre, it features architectural and mechanical reminders of days gone by.
Renault Distribution Centre, designed by Sir Norman Foster. Although the building is now owned by Spectrum, it is still popularly called "the Renault building" by Swindonians. Similar in design is the Link Centre, a sports and leisure centre in the west of Swindon, opposite Shaw Ridge Leisure Park.
Wood Street, Old Town. This features original 17th-century buildings, modernised with shop fronts, bars and restaurants. Considered a more upper class area than the current centre of Swindon, it is an "Access Only" street.
Parks and woodland
Town Gardens
Queen's Park
Lawns Park
Faringdon Road Park
Lydiard Country Park
Coate Water Country Park
Hagbourne Copse
Shaw Forest Park
Peatmoor Lagoon
Mouldon Hill Country Park
Do
Festivals
Festival of LiteratureCreated in the early 1990s, this event is for those who enjoy readings, poetry and talks from a wide range of authors, performers and speakers. Highlights from previous years include Sir David Attenborough, Will Self, Richard Dawkins, and the former Prime Minister of the United Kingdom, Sir John Major.

address: Hosted at a number of venues

10-day programme showcasing the latest independent films from Britain and abroad.

Mela

address: Town Gardens, Old Town

A celebration of Indian culture.

address: Various locations in Old Town

address: Town Gardens, Old Town

The main annual LGBT event in Wiltshire. Accessible and free for all to attend.

ShuffleMusic festival packed with upcoming and established bands from Swindon and the wider region.
Sporting events
Watch football ie soccer at

address: The County Ground, County Road SN1 2ED

"The Robins" play in League Two, the fourth tier of English football.
Other Activities
Buy
Swindon town centre
contains the main retail core of the town, primarily served by four pedestrianised shopping streets (Bridge Street, Regent Street, Canal Walk and
The Parade
). The shops are around 150 m from the bus station and approximately 300 m from the railway station.
address: SN1 1LF

It is ccessible from Canal Walk, anf comprises a two-storey indoor shopping area.
At the end of western end of Canal Walk is the Swindon's Tented Market .
Two shopping destinations exist within walking distance of the town centre. 0.8 km west of the town centre is the
McArthur Glen Designer Outlet
, Europe's largest indoor designer outlet in the unique setting of restored Victorian railway engineering buildings. south-east of the town centre is
Old Town
.
Further afield are
Greenbridge Retail Park
, the
West Swindon Shopping Centre
and the
Orbital Retail Park
. These are accessible from the town centre by bus, taxi or car.
Greenbridge Retail Park

phone: +44 1793 619918

address: Drakes Way, Greenbridge SN3 3EY

West Swindon Shopping Centre

phone: +44 1793 872987

address: Tewkesbury Way, SN5 7DL

phone: +44 1793 726636

address: Thamesdown Drive, SN25 4AN
Eat
There are plenty different types of places to choose from, including traditional English and Irish pubs, Chinese and Indian restaurants, and cafés and bars.
phone: +44 1793 488450

address: 1-3 Devizes Road

A real, independently-owned Spanish tapas bar which uses fresh ingredients. Always busy and good atmosphere.

phone: +44 1793 522687

address: 14-16 Victoria Road

Indian restaurant in Old Town.
Drink
For really good pubs it is advised you head out of town into the countryside a bit, however several of the more popular pubs are:
Sleep
The hotel sector in Swindon has seen increased growth in the past decade as the town continues to urbanise and establish itself as a base for tourism in the centre of southern England.
Town centre
For many years there was only one hotel in the town centre but competition arrived and there are now three main players, with more rumoured to be on the way. This increased competition benefits you, with reduced room rates on offer.
phone: +44 1793 602001

address: Bridge Street, SN1 1BT

phone: +44 1793 445600

address: Fleming Way, SN1 2NG

phone: +44 8719 846328

address: Princes Way, Princes Street, SN1 2SF
Bed & Breakfasts can be found on Manchester Road and County Road.
West Swindon
Another cluster of hotels can be found in West Swindon, a convenient stopover point due to the proximity of the M4 motorway at Junction 16.
Old Town
The pace of life in Old Town is much slower due to its distance from the railway station and town centre. However, there is one large hotel:
phone: +44 1793 512121

address: Pipers Way, SN3 1SH
Bed & Breakfast accommodation can be found on Bath Road and Victoria Road.
Goddard Arms

address: 1 High Street, Old Town, Swindon SN1 3EG, England
Elsewhere
Other places to sleep include:
phone: +44 1793 833700

address: Old Vicarage Lane, South Marston

Hotel just outside Swindon with fully equipped gym, 23-m indoor swimming pool, and a health and beauty spa. Special Spa Break from £75 per person for one night including three-course dinner, full English breakfast and choice of beauty treatment.

address: The Avenue, Stanton Fitzwarren, Swindon SN6 7SD

Cotswold stone house overlooking Stanton Lake and park just outside Swindon. Mt. Fuji Yakiniku-style Japanese restaurant is on the grounds of the hotel, and the hotel also hosts a Japanese market from time to time.
Go next