Swords
Swords
(
Irish
:
Sord
) is a large town in
Ireland
. The town is 12 km north of Dublin City Centre, adjacent to Dublin Airport, and with a population of over 42,000 people, the town is the largest in Ireland. It is expanding rapidly, and is expected to emerge as a city with a population of over 100,000 by 2035. The town has a large number of shops, bars and restaurants, although it is a bit limited with tourist attractions. With around 60% of the population under the age of 35, Swords is well known for its vibrant nightlife, and several nightclubs, including Ireland's largest.
Understand
History
The town dates back to 560 AD when it was founded by Saint Colmcille (521–567). Legend has it that the saint blessed a local well, giving the town its name, Sord, meaning "clear" or "pure". The best indicators of Early Christian settlement are the ecclesiastical enclosures. In Swords case the street pattern has been influenced by the circular alignment of the settlement. The medieval town developed in a linear pattern along the Main Street in a north – south direction. Swords has one of the best examples of this settlement pattern in the Dublin region. The round tower, 26 m in height, is also an indicator of early Christian settlement.
Orientation
Despite its large population, Swords is quite compact and all of the town is within 2 km of the centre.
Swords Village
is the centre of the town. It consists of the Main Street, The Plaza, Town Centre Mall and the large, modern Swords Pavilions and Swords Central shopping centres. This area contains most of the shops, restaurants, bars, clubs and hotels. Swords Castle, St. Colmcille's Well and St. Columba's Round Tower are also in this area, while the Fingal Tourism Office is located on a side street off the Main Street.
Airside
is a newer area about 1 km south of Swords Village, made up of a large retail park, motor park and business park. The area has two hotels, several restaurants and shops, an observatory and Ireland's largest nightclub, The Wright Venue.
The climate
is mild in winter, cool in summer, with frequent light showers: see
County Dublin
weather chart.
Get in
See
Dublin
for long-distance travel options. From within Ireland, simplest is to drive or take the bus.
By plane
(
DUB
) is just 5 km south of the centre of Swords. There's a wide selection of flights across UK, Europe and North America, and a few to the Gulf States. You can reach Swords directly from the airport in 10 mins by bus, taxi (reckon €10) or rental car - all the main operators are represented in Arrivals.
The buses to Swords depart from stop 7348 in Zone 13, signposted from Arrivals. Bus 41 runs to Swords Manor every 20 mins via Pinnockhill, Swords Pavilions, Main Street, Rathbeale Road, Murrough Road and Brackenstown. Bus 102 runs to Sutton Station every 30 mins via Forest Road, River Valley, Swords Pavilions and Malahide Road. Cash fare is €2.15 to Main Street and €2.60 to go further. You need exact change in coins if you pay on the bus, otherwise buy from the ticket machine near the stop or from the newsagent in Arrivals. Luggage space is limited on these buses, and drivers occasionally turn away travellers with packs that cannot be stored. This is unlikely to happen between airport and Swords, it's more of a problem between airport and central Dublin, with droves of budget travellers trying to save €4 over the fare for the dedicated airport bus.
Many hotels in Swords have a shuttle bus to & from the airport.

By train
There are no rail services to Swords. The metro line between Swords, the airport and central Dublin is supposed to be completed in 2027, but that's probably just a typo for "2207" since the budget has already escalated to squillions of euros. Until then, the closest is , which has DART and Commuter Services. Dublin Bus 102 runs every 30 mins from stop 3634 across the road from the station to Swords and the airport. The journey to Swords takes 10-15 minutes and costs €2.15.
Inter-city trains from most of Ireland converge on Heuston Station in the west of Dublin. Buy your ticket to "Dublin City Centre", not "Dublin Heuston", so that the tram ride into the centre is included; otherwise buy from the machine at the tram stop. Ride the tram towards The Point or Connolly for 5 stops and get off at Abbey Street. A little further up that street are bus stops OW and OX on the left, for buses to Swords eg the 33 or 41.
Trains from Belfast, Sligo and Rosslare arrive at Connolly Station. Go downstairs and exit onto Amiens Street, cross, and walk down Talbot Street until you reach Gardiner Street. Turn left here and find bus stop 1171 on the right, for the 33 or 41 bus to Swords. Trains from Sligo also stop at Drumcondra, and from Belfast at Drogheda, with onward local connections.
The DART and commuter trains from Connolly run to Malahide every 15 mins or so, taking 25 mins, fare €3.30. Some continue north to Drogheda, and south of Connolly to Dublin Pearse, Greystones or Bray.

By car
Best for car rental is the airport, rather than Swords or Dublin city centre.
Swords is along the M1 motorway between Dublin and Belfast. From Dublin head north, pass the M50 junction and airport and take exit 3 into Swords. From Belfast, Lisburn, Newry, Dundalk or Drogheda follow A1/M1 towards Dublin and take exit 4. From Derry, Letterkenny, Omagh or Monaghan follow A5/N2 towards Dublin; at Ardee turn off onto the N33 link road to join M1 south until exit 4.
All other routes across Ireland converge on Dublin's ring road M50. Join it northbound till it meets M1, then follow signs for Belfast and take exit 3.
Car parking in Swords is usually not a problem.

By bus

Inter-city: Dublin Airport is in effect the area's coach hub, as services across Ireland run from here, so even if you're not flying it's more convenient to come this way rather than via Dublin city centre. The main operator is Bus Éireann, with buses to Belfast, Derry, Letterkenny, Donegal, Sligo, Ballina, Galway, Limerick, Cork, Waterford and Wexford; see each individual city's "Get in" for other operators. Between Swords and the airport take bus 41 or 102 as described earlier.
Bus Éireann 101 runs every 20 mins from Swords north to Balrothery, Balbriggan and Drogheda. Southbound it runs to the airport and city but is not available for journeys just between the city, airport and Swords.
Central Dublin: Swords Express is the quickest and easiest. These bright red buses run at least every 30 mins from Eden Quay via North Wall Quay and East Wall Road (for the port) then dive through the tunnel. They take 30 mins to Swords, stopping at Holywell, Boroimhe, Forest Road, Swords Pavilions, Applewood and Brackenstown. Cash fares cost €3.20 (€4.20 at peak times, €5.20 late night). Leap fares cost €3 (€4 at peak times, €5 late night).
Dublin Bus routes 33, 41, 41b and 41c from the city are frequent, congested and slow. These run every few mins from Lower Abbey Street (stops OW and OX) via Gardiner Street, Drumcondra Road and Swords Road. They take about an hour and all serve Swords Main Street; buses 41 and 41b also serve Rathbeale Road while bus 41c runs to Boroimhe, River Valley and Applewood. The fare is €3.05 cash (exact coins only) or €2.50 by Leap card.
Around Dublin: Dublin Buses to Swords from around the city are:

By boat

See Dublin for details of ferries to Dublin Port from Liverpool, Holyhead and Isle of Man; the port of Dún Laoghaire is no longer used.
From the port, with your own car follow signs for the M50 Tunnel. Tolls are €10 peak, €3 off-peak. Continue north on M1 (signed for the airport and Belfast) until you see the exit for Swords. On foot, walk to East Wall Road near the tunnel entrance for the bus stop for the Swords Express as above.
If you're using Swords as a base for touring the north, another ferry route is the short crossing from Cairnryan near Stranraer to Belfast, then drive south on M1.

Get around
By foot
Walking is the easiest way to travel around the centre of Swords. Although Swords has a large population, it is relatively small in terms of area. The entire town is within a 2.5-km radius of the town centre. Nearly all roads have wide paths on either side and there are a few small pedestrian streets and walkways. The best street map of Swords is pages 1&2 of The Official Dublin Street Guide by Ordnance Survey Ireland. Openstreetmap.org also has very good coverage of Swords.
By bicycle
Cycling is also a good option in Swords, however bicycle hire is extremely limited. Bicycle lanes have been included on most main roads and a lot of roads in the town have wide lanes allowing bicycles and cars pass side by side.
By bus
Swords is well served by frequent bus services. Bus is a good option for travelling within the town and new electronic signs at main bus stops tell passengers when the next buses will be coming. Be aware that exact amount in coins is needed on Dublin Bus services as drivers can't give change or accept notes. If you are planning to use public transport a lot, consider getting a prepaid leap card . Leap Cards cost €5 and give discounts of about 15%. They can be topped up with travel credit at nearly all supermarkets and convenience stores and can be used across Dublin. A Dublin Bus journey within Swords will usually cost €1.65 cash or €1.40 leap, with longer journeys costing €2.15 cash or €1.90 leap. Swords Express journeys within Swords cost €1.20 cash (leap not accepted).
Dublin Bus route 41 operates approximately every 20 minutes between Brackenstown, Applewood, Swords Village, Swords Pavilions, Pinnockhill and Dublin Airport .
Dublin Bus route 41c operates approximately every 20 minutes between Brackenstown, Rathbeale, Swords Village, River Valley, Boroimhe and Cloghran .
Dublin Bus routes 41 & 41c are timed to provide a 10 minute frequency between Brackenstown and Swords Village.
Swords Express operates every 30 minutes between Brackenstown, Applewood, Seatown, Swords Pavilions, Boroimhe and Holywell .
Transport for Ireland provides a in Swords.
By taxi
Taxis are widely available at all times in Swords; there are stands at County Hall, Chapel Lane and Pavilions Shopping Centre, Malahide Road. Journeys within Swords will generally cost €10-15. There is an extra €2 for booking a taxi and €1 for each additional passenger.
Taxi services in Swords:
Budget Cabs

phone: +353 1 890-9090

Has fixed rate fares.

Dial-a-cab

phone: +353 1 808-0800

Cab 2000

phone: +353 1 890-0900

Fixicab

phone: +353 1 830-3030

Swords Cabs

phone: +353 1 840-6600

Swords Taxis

phone: +353 1 840-1111

Taxi Plus

phone: +353 1 840-4477
By car
A number of car hire services are available at Dublin Airport (see Get In - By Plane above). It is not necessary to hire a car to travel within the town, however it can be useful if you are planning to visit places further away. Most hotels and guesthouses provide free parking for customers and street parking is also available within the town, mostly as pay and display. Signage is generally very good in the area and roads can be easy to follow. Try to avoid driving into Dublin during the morning peak times.
See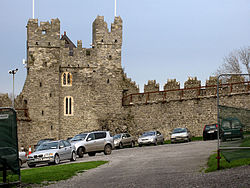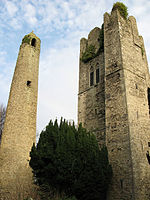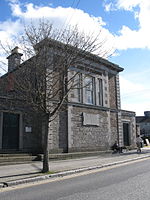 Historical
Modern
phone: +353 1 890-5000

address: Main St

The award-winning modern Fingal County Hall by Bucholz McEvoy architects dominates the northern end of Main Street. It was built in 2000 on the site of Swords House, the home of the Norman family of Taylors of Swords. Records show the family came there in the 13th century and built a 'Mansion House' in 1403.
Natural
phone: +353 1 890-5629

address: Brackenstown Rd & River Valley Rd

The Ward River Valley Park is a linear park on the banks of the Ward River approaching town. It covers an area of 89 ha. (220 acres) between Swords town centre and Knocksedan Bridge. Features of interest include some 12th century fortifications, woodland habitats, wetlands and rolling grassland. There are viewing points, picnic sites, sports pitches and tennis courts.

address: Estuary Rd & Hutchinsons Strand

The Broadmeadow Estuary is a fine example of an estuarine system, providing both feeding and roosting areas for a range of wintering waterfowl. The lagoonal nature of the inner estuary is of particular value as it increases the diversity of birds which occur. The site is of high conservation importance, with an internationally important population of Brent Goose and nationally important populations of a further 12 species.

Newbridge Demesne Regional Park

phone: +353 1 890-5629

address: Hearse Rd, Donabate

Newbridge Demesne covers an area of 150 ha. (370 acres). The park was probably designed by the Wexford landscape gardener Charles Fritzell about 250 years ago. The parkland is a good example of an eighteenth century landscape park with perimeter woodland belts and fine vistas across lawns and wildflower meadows. Newbridge House built by the Cobbe family in the mid 1700s is open to the public and is a fine example of Georgian architecture. It is a focal point in the park and the cobbled courtyard includes a restaurant, and a range of interesting outbuildings. Other visitor attractions include Newbridge Traditional Farm where you can see old breeds of farm animals, as well as displays of machinery were part of Irish farming life in previous centuries. The Walled Garden has extensive orchards and a collection of old Irish apple varieties. Two 19th Century glasshouses have recently been restored and sections of the walled garden have been replanted with herbaceous borders. The Park also includes a major Children's Playground and Sports Pitches.
Do
Activities
phone: +353 1 807 8814

address: Pitt Rd, Balheary

This is a shooting grounds with a long tradition. Established in 1968 it has recently been reopened and refurbished. It now has one of the best clay target shooting facilities in Ireland with two Olympic Skeet Ranges, two Down The Line Ranges, 10 English Sporting Stands, Compak Sporting and a 120 Ft Tower - The highest in Ireland.

phone: +353 1 895-7657

address: Kettles Lane, Cloghran

Kilronan Equestrian Centre is AIRE approved and is a great place to improve your horsemanship whether you are a complete beginner, returning to the saddle after several years, or an accomplished rider. Riding lessons for all standards and ages and the centre has horses and ponies to suit all abilities.

address: Estuary Rd

Swords Sailing & Boating Club shares the Broadmeadow Estuary with Malahide Yacht Club, the newest addition to the Fingal sailing scene but one which has grown steadily over the years and has enjoyed competitive success at a national level among its enthusiastic members. Its dinghy fleet includes twin-hulled catamarans which are a spectacular sight when sailing at full speed.
Golf
phone: +353 1 808-4258

address: Feltrim Rd

Balheary Open Golf Course

phone: +353 1 840-1370

address: Magillstown Rd, Balheary

Balheary is a unique concept in courses: it has all the features of a full-length track, but on a shortened length. It offers a round playing time of 2.5 hours. This is an 18-hole course of 2,195 yd.

phone: +353 1 864-0533

address: Corrstown Lane, Kilsallaghan

Corrstown Golf Club is a 27-hole course situated only 5 kilometres from Dublin Airport. Its championship layout of river and meadow courses, along with its 9-hole Orchard course, guarantee a truly great golfing experience.

phone: +353 1 840-1763

address: Forest Rd, Cloghran

Forrest Little Golf Club is a mature parkland course. The Fred Hawtree-designed course has undergone major developments, including the replacement of all greens with sand-based surfaces to USGA specification and new drainage, which facilitates year-round play.

Roganstown Golf and Country Club

phone: +353 1 843-3118

address: Naul Rd, Roganstown

Set amongst 300 acres, Roganstown Golf & Country Club is a destination for relaxation, fine food and exceptional golf. With a course designed by Christy O'Connor Jnr, this sanctuary for golf lovers has blended an exciting challenge and pure pleasure into a layout of outstanding beauty. The Broadmeadow River flows beside the course and water comes into play on all but six holes. From the first drive to the last putt, the course is designed for the players' maximum enjoyment.

St Margaret's Golf and Country Club

phone: +353 1 864-0400

address: Main Rd, St Margarets

This challenging parkland layout has hosted many tournaments, including The Irish PGA Championship, Irish Senior's Open and the Ladies Irish Open.

phone: +353 1 840-9819

address: Balheary Avenue

Swords Open Golf Course is run by a keen golfing family who take pride in their facility. They ensure players of all abilities have a fantastic golf experience. This course is maintained to a very high standard and has superb drainage. Situated along the banks of the Broadmeadow River, Swords Open Golf Course is a must. A wide variety of trees and bunkers come into play on every hole. Some consideration must be given to your shot on our river and lake holes.
Events
St. Patrick's Day next falls on Tues 17 March 2020. Every sizeable town in Ireland will have a parade. The Swords parade starts at noon, heading down Dublin Road, Main St and North St. It's followed in the afternoon by Irish dancing, events at the Castle and a Fun Fair.
is in Cloghran, off R132 midway between Swords and the airport. Frequent events, usually open to the public, eg the Irish Kennel Club hold a dog show here most weeks.

phone: +353 86 334-3680

address: St Colmcille's GAA, Glen Ellen Road, Swords

Flower shows are held on summer weekends across County Dublin, with the Fingal event in early August. The next is on Mon 5 Aug 2019, the public holiday.

phone: +353 1 840-0077

address: Newbridge House and Farm, Hearse Rd, Donabate

Fingal's County Agricultural Show (livestock and sheep, equestrian events, other agricultural displays, and horticulture) combined with a Food & Drink Fair. Plus music and various family entertainments. The next event is Sat 29 & Sun 30 June 2019.
Buy
Swords Pavilions Shopping Centre

phone: +353 1 890-4580

address: Malahide Rd

Swords Pavilions is a large modern shopping centre adjacent to the Main Street. The centre has over 100 units, including 16 restaurants/cafes and an 11 screen cinema. The largest shops are Dunnes Stores, Superquinn, TK Maxx, Zara, H&M and River Island. A major expansion is planned, which would increase the centre to over 250 units.

Swords Central Shopping Centre

address: Dublin Rd

Swords Central a modern shopping centre adjoining the Main Street. The centre is directly connected to Swords Pavilions and shoppers can freely walk between the two centres. Swords Central has 15 units, including Penney's and Swords Post Office.

Airside Retail Park

address: Lakeshore Drive

Airside Retail park is a large out of town retail park with 15 large warehouse retail units. Across the road, Airside Motor Park contains 10 car showrooms.
Eat
phone: +353 1 807-4020

address: Swords Pavilions Shopping Centre, Malahide Rd

Experience two pleasures together, delicious coffee and mouth watering luxury chocolates at Butlers Chocolate Café.

phone: +353 1 813 7876

address: 18 Main St

Mediterranean food.

phone: +353 1 840-5969

address: Main St

What started as an American City Diner in the heart of Dublin is now a group of 37 restaurants both locally and abroad. Eddie Rocket's is about all things retro, fusing classic American fare with exciting new menu additions, all brought to you in a feel-good 1950s diner.

phone: +353 1 897-1496

address: Unit 2 St Fintans, North St

The Gourmet Eatery offers delicious antipasti plates with selections of charcuterie meats & cheeses from Spain, France and Italy, together with homemade soups, a large range of salads, exquisite sandwiches & baguettes, bruschettas & Italian Lasagne. There is also a wonderful range of desserts ranging from seasonal fruit tartlets to chocolate & orange torte & sumptuous cheesecakes.

address: Stockhole Lane, Swords, Clonshaugh

Italian restaurant near Dublin Airport.
McLoughlins Restaurant is within Rogantown Hotel, see "sleep". It's open daily 18:00-21:45.

phone: +353 1 840-2846

address: Church Rd

The Old Schoolhouse Restaurant was an 18th century schoolhouse. Locally-sourced steak, game & seafood are specialties. A large menu & live music are offered, with an adjacent beer garden & bar with sports screens.

phone: +353 1 840-9080

address: 32-36 Main St

D Chilli Shaker is characterised by it's fusion of herbs, spices, seeds and vegetables, all synonymous with Indian Cuisine. These spices and aromatics are at the heart of every dish on the menu. Some flavoursome dishes include hot and sour Lamb Jal Frezi. Another dish that promises an exotic explosion is Tandoori Chicken Tikka Bhuna in a medium sauce.

phone: +353 1 807-7999

address: Burgundy House, Forster Way

Indie Spice Swords is a funky and contemporary family restaurant situated in Burgundy House, Forster Way, Swords. Offering the finest Indian cuisine made from the freshest ingredients, experienced and dedicated chefs make every meal at this restaurant a taste sensation.
== Drink ==
Bars
phone: +353 1 840-5366

address: 31 Main St

The Cock Tavern Heritage Pub is a descended by continuous licence from an old 18th century Coaching Inn. Set in the traditional idiom, you will instantly feel at home in the old world surroundings of Liscannor slated floors, old oak and pine beams fused together with brick and granite walls and warm wooden floors.

The Estuary

phone: +353 1 840-7499

address: North St

The Estuary pub was formally known as The Big Tree. It caters for mainly over 30s age group. The pub is owned by The McGovern family. It boasts a select lounge with food served every day . Celtic Fusion who are a folk duo play on the first Tuesday of every month. There's music in the lounge Fri, Sat and Sunday nights which usually consist of a two piece outfit using backing tracks. This is one of the few remaining traditional pubs remaining in Swords. It has a friendly atmosphere. Monday night is quiz night with all the proceeds going to St. Frances Hospice.

The Lord Mayors

phone: +353 1 840-9455

address: Main St

The pub caters for a mixed crowd but mainly the over 30 age group. It was once known throughout Dublin as a great spot for live music with lots of rock bands getting their first gig at The Lord Mayors. The pub still does well and boasts a fine function room upstairs where the bands used to play. There is traditional music every Sunday afternoon starting around 6pm-8.30pm which draws a big crowd.

phone: +353 1 895-7445

address: 72 Main St

Designed by Francis Johnston of GPO fame, the Old Borough School was open 1809 to 2000; it's now a JD Wetherspoon.

The Pound

phone: +353 1 840-2223

address: Bridge St

Music sessions are played in the bar every Saturday from 10.30pm-12.45am. This pub has great atmosphere throughout with friendly bar staff, food served all day. The name of the pub comes from the piece of land to the right of The Pound which used to be used as a holding area for stray animals.

The Coachman's Inn

address: Swords Rd, Cloghran

Bar and grill, good Sunday carvery.
Clubs
Rouge Nightclub is within Carnegie Court Hotel, see "Sleep", but the guests won't.
phone: +353 1 840-6744

address: The Plaza, Malahide Rd

Wrights Cafe Bar is split into a number of separate areas and levels – an upper level lounge, with dramatic red and cream furniture, dark wood tables and chandeliers, gives a distinctive 'bordello' effect; then behind the bar, there's a secluded lounge that overlooks an open-plan area below, complete with a purpose-built stage area that's perfect for dancing to live music.
Sleep
See under
Dublin
for accommodation and other amenities close to the airport, ie so close that you'd travel that way to reach them even if you weren't flying.
Camping
Swords is not well-served for visitors who wish to camp in designated sites. Caravan and camping space is available but is limited. Visitors planning to camp can get more information from
Fingal Tourism
, Main Street, +353 1 840 0077, .
Budget
phone: +353 1 840-1308

address: 44 Main St

Forty Four main street (formerly the Hawthorn Hotel) is located in the heart of Swords village, surrounded by bars, shops and championship golf courses.

phone: +353 1 807-9400

address: Pinnock Hill Roundabout

An ideal accommodation for anyone travelling through Dublin Airport, the Travelodge offers comfortable, three-star guest rooms as well as an on-site restaurant. The hotel is a short walk from Swords Main Street.

phone: +353 1 895-7777

address: Lakeshore Drive, Airside Retail Park

A stylish and comfortable accommodation, the three-star Premier Inn is a great choice for anyone travelling through Dublin Airport. 10 minutes walk from Swords Main Street.

San Augustine Bed and Breakfast

phone: +353 1 840-8729

address: Rathbeale Rd

Detached, modern, Georgian type town house. Five minutes walk to Swords, with pubs, shopping centre, restaurants and castle.

phone: +353 1 840-3886

address: Balheary Avenue

3 km to Swords, very convenient for Dublin Airport (8 mins drive), city of Dublin (25 mins drive) Great touring location, close to M50 motorway. Warm welcome, quiet country location, great breakfast.

phone: +353 1 840-4443

address: 3 Rathbeale Court

Rathview is an elegant detached Georgian town house. Situated in a quiet leafy cul de sac yet only 2 minutes walk from Swords main street with restaurants, pubs, shopping mall and multi screen cinema.

phone: +353 1 840-5933

address: 18 Seamount View, Malahide Rd

Comfortable and friendly home in quiet cul de sac on the outskirts of Swords. Ideally located, easy access to Dublin Airport (seven minutes drive), within walking distance of Swords Village and the Pavilion Shopping Centre.

phone: +353 1 840-7962

address: 2 Longlands, Malahide Rd

Beautifully refurbished home, located in the village of Swords, only a 7 minutes drive from Dublin airport and on direct swift bus link to city centre. ( 20 minutes ) Also located 3km from Malahide railway station. There are many restaurants and pubs one minute walk away. All our bedrooms are ensuite with TV, hairdryer and tea and coffee making facilities. There is free private parking at the rear of the house and prices include breakfast.

Dublin Airport B&B

phone: +353 1 840-7276

address: 2 Spittal Hill, Lissenhall

En suite bedrooms with television. Conservatory for guest use. Five kilometres from airport. Transport arranged.

phone: +353 1 840-7989

address: Forest Rd

Beautiful family home, only 3km from Dublin Airport. On bus route 102 from airport & 41c & Swords Express. Three star tourist board rating. Ground floor accommodation available. Free Wifi, tea/coffee.

phone: +353 1 840-0966

address: 1A Rathbeale Rd

Beautiful detached Georgian style home within walking distance of Swords Village. Bus stop outside which services the airport and Dublin. 2 miles from Dublin Airport.

phone: +353 1 840-5172

address: Rath Lane, Rowlestown

Peaceful setting, yet only a 5min drive to Swords Village and 10min drive to Dublin Airport. Surrounded by several recreational activities, such as horse-riding, golf and many more. Spacious rooms. Tea & Coffee making facilities.
Mid-range
Splurge
Roganstown Hotel and Country Club

phone: +353 1 843-3188

address: Naul Rd, Roganstown

Four-star hotel and Country Club out in the rolling hills. Rooms have wifi, mini bar, laptop safe, iron and ironing board, hairdryer, TV and tea/coffee making facilities. Facilities include restaurant, bar, full leisure centre, indoor swimming pool, 18 hole golf course, wedding and conference venues and free car parking. No public transport but shuttle bus available on request to Swords or Dublin Airport for €5.
Heyward Mews just across the road from the country club, is available to let for self-catering by the week, and guests have full access to the leisure facilities there. Tel +353 1 201-8400 or email reservations@tridentholidayhomes.ie.
Connect
Internet
Eir provide WifiHub Hotspots at 22 locations throughout Swords. The first 10 minutes is free, then you can purchase access until midnight for €1. You can pay by credit card or by SMS. If you are an Eir Broadband customer, you can register for free access.

Phones
+353 is the country code for Ireland. To call a landline in the Dublin region dial +353 1 xxx xxxx. To call a mobile phone in Ireland dial +353 8x xxx xxxx. If calling from an Irish landline or mobile +353 can be replaced by 0. 2G, 3G and 4G mobile phone services are available throughout Ireland. Eir is the largest telecommunications operator with Vodaphone, O2 and 3 also providing services.

Television
8 Irish TV stations are available for free on Saorview DTT and a further 16 UK stations are available for free on Freeview DTT. A large number of international stations are also available on free to view satellite. Subscription services are available from UPC Horizon(cable) and Sky(satellite).

Cope
Swords Police Station (An Garda Síochána)

phone: +353 1 666-4800

address: Main St
Go next