Sydney/Bondi Beach
Bondi Beach
is the world famous beachside locality of
Sydney
.
Understand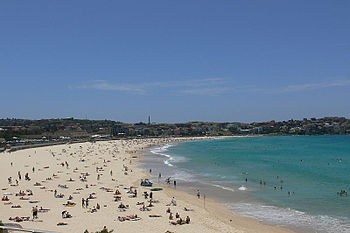 The closest ocean beach to the centre of Sydney (7km), Bondi Beach has become synonymous with Sydney's beach lifestyle and is very popular with tourists, daytrippers, backpackers, residents and all Sydneysiders.
Bondi Beach is famous for its glistening ocean, pristine sands, reliable surf and seaside spirit. It's laid back coastal lifestyle, cafe culture, boutique shops and thriving, eclectic community is equally enticing.
Bondi has become a favourite of the "barmy army" of British tourists, who annually gather on its sands for a Southern Hemisphere Christmas in the sun. Bondi is home to numerous youth hostels with backpackers who congregate mainly in the summer months. It is not uncommon to hear Norwegian, Portuguese, French, German, Dutch, Swedish, Danish or Spanish while walking across the beach or through the cafes.
Bondi Beach is a very welcoming and tolerant community; topless sunbathing is acceptable and gay and lesbian couples displaying affection can be seen.
Get in
By public transport

Don't confuse Bondi Junction and Bondi Beach. Bondi Junction may be the closest rail station to the beach but is still 3 km from it.
There are direct buses from the city centre to the beach. In particular, the 333 is a limited stop, Opal Card only (no cash) service that runs frequently up Elizabeth St, via Bondi Junction station.
You will save time (up to 30 minutes) by taking the train to Bondi Junction and changing at the interchange there to the bus.
Trains to Bondi Junction on the Eastern Suburbs line leave from platform 24 at Central, stopping at Town Hall platform 5 and Martin Place. At Bondi Junction you can get buses from the interchange stands A1 or A3. A3 is the stop for the express 333 buses.
If you're using a public transport app, or the
transport infoline
webpage, the stop you need is
Campbell Pde Nr Hall St
.
If you're coming from the airport, get the train to Central and change to platform 24. From the Illawarra line and the south, the train continues through to Bondi Junction. From other points, change at Central or Town Hall.
All buses and trains to Bondi Beach accept the Opal Card.
By taxi
There's a taxi stand outside the train station at Bondi Junction. Cost is about $10 depending on traffic. City to/from Bondi Beach is about $20-30. The airport, about 14km away, is about $40-55 for a 20-30min trip.
By car
There is some street parking, limited timed parking, and paid parking on Campbell Parade. A short visit by car on a winter weekday will be no problem. On a summer weekend, seriously reconsider your need to drive.
By Sydney Explorer
The Hop-on, Hop-Off tourist service, operates a route via Bondi Beach.
See

See the crowds, the waves, the water, the sand, the sunbathers, the teenagers showing off, the tourists with long socks and shoes straight off the tour coach next to the skimpily clad sunbathers. It is all part of the Bondi Beach Scene.
If you see past the crowds, the beach itself is actually naturally scenic, and there is an esplanade running along the beach front and along to the rocks either side.
There are often displays in the historic Bondi Pavilion. Usually free, it is worth a quick look around.

Do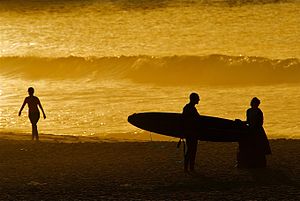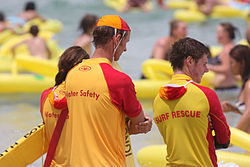 Swim. There are two sets of flags at the centre and at the north of the beach. Bondi Beach is a fantastic place to cool off in the summer. There are change rooms and showers in the pavilion, access is free. There are lockers for hire.
Walk on the coastal walk (at the bottom of Notts Avenue, off Campbell Parade) to Tamarama, Bronte and all the way to South Coogee. Surely one of Sydney's most popular, spectacular walks. It's easy to get to, walkable by a person of average fitness, and no shortage of places to stop off for a coffee or a cool drink along the way. If you have mobility issues, a pram or young children, it may be a challenge.
Surf. The southern end of the beach is reserved for surfers. There is one surf school, Let's Go Surfing or you can rent surf boards and body boards, as well as wetsuits. A cheaper option (although a bit further away from the beach) is Sydney Surfboard Rental and Hire.

Bondi IcebergsA popular rock swimming pool with restaurant and bar facilities upstairs that look over the entire beach. It is named for the brave swimmers who compete here in the winter months. Opening hours: M-F: 6AM-7PM, Sa-Su: 6.30AM - 6.30PM. Entry $4 Adults/$2.50 Children/Seniors. (Many other Sydney beaches have rock pools with no charge for access, including nearby Bronte and Clovelly.)

Scuba Dive at North Bondi. Meet the protected Blue Groper and visit the Cathedral Cave. Rent scuba gear from Dive Bondi at 198 Bondi Rd. PADI dive certification is available: Open Water is $425, Advanced Open Water is $375.
Events
The Festival of the Winds - an annual kite-flying Festival in September.

North Bondi Surf ClassicHeld each year a 2k swimming race for people of all ages.

Sculpture by the SeaAn annual outdoor display of sculpture (over 100 separate works) distributed along the Bondi to Tamarama coastal walk and especially in Marks Park and Tamarama Park. (begins at the bottom of Notts Avenue, off Campbell Parade). Free.

Christmas. Bondi Beach is the traditional Christmas Day destination for backpackers for a Christmas Day "family" gathering for those whose real family is overseas. Alcohol is not allowed on the beach or in the water. The pubs are closed.

Bondi Winter Magic Ice RinkIce skate seaside at the Bondi Beach front during the annual Bondi Winter Magic festival. Every year the Waverly Council assembles an ice rink on the Bondi beach front, open to the public. Contact Waverley Council via email to register interest, book tickets and for pricing. In 2015, the ice rink is open from the 20th June until the 12th of July.
Eat
Bondi is a food lover's delight. There are countless cafes and restaurants on the streets around the beach, many with great views. If you're looking for something quick and easy, there are kiosks on the beach, and a cafe in the pavilion with plenty of tables on the wide promenade.
Unless you have a particular place in mind, there is usually no need to book in advance. Just walk around and find somewhere you like, or grab fish and chips and eat on the beach. Some of the more popular breakfast places fill up on weekend mornings, as do some of the more popular restaurants on Friday and Saturday night.
Bondi Trattoria Café Restaurant34b Campbell Parade. A fusion of Australian and Italian cuisine, in a relaxed and ambient setting.

Pompei's

address: 126 Roscoe Street

A bit pricey, but the gelato is rich, creamy, and absolutely die for. They also serve authentic Italian pizza. Go during the day to avoid the crowds, which are a nightmare at night.

Harry's Espresso Bar

address: 136 Wairoa Avenue

This tiny combined espresso bar, cafe and general store is a little out of the way, but is always busy, and for good reason. This is the place to go for a gourmet coffee experience. Harry's offers toast and sandwiches, and a selection of pastries and cakes. Located off Campbell Pde at the northern end of the beach, past the school.

Bondi Surf Seafoods, 128 Campbell ParadeThe Bondi Beach Fish Shop is the place to go for that dubious local speciality, the deep fried Mars Bar. Fans of the bar counsel caution: no matter how strong you think you are, restrict yourself to one deep fried Mars Bar daily. Bondi Surf Seafoods

Gelato Bar Café Restaurant140 Campbell Parade. Gelato Bar is one of the oldest places in Bondi and has built up a reputation over 40 years. They specialise in strudels, tortes, slices, crepes, and of course, gelato. For dinner, the food is European fare including Schnitzel, Beef Stroganoff, Goulash and Roast Duck. and of course, you can get your fish and chip fix. The restaurant overlooks the beachfront.
Buy
Markets
Bondi Beach Markets, every Su 9AM-3PM in the grounds of Bondi Beach Public School, (Campbell Parade, one block north of the main shopping centre).
Bondi Beach Community Market Saturday and Sunday from 1pm till late (Sept to April), some weekdays during summer, weather dependant. The Bondi Beach Community Market is located in the heart of Bondi Beach, near Hurricane's restaurant, not far from McDonald's. Great range of Jewellery, Sunglasses and fashion and beach attire. You can find some local designers at this market. The market is a run by a not for profit organisation and profits are donated to local Charities.
Drink
It is quite possible to go to Bondi Beach on a sunny Sunday afternoon, and not bother with any of that sand or water. The two biggest bars in Bondi are the Beach Road Hotel and Hotel Bondi. Both are excellent places to catch the finals in a cricket match or have a few drinks with your mates. Another great bar is at the previously mentioned Bondi Icebergs, it has a great view of the beach and relatively cheap drinks. Make sure to take some form of ID that proves you live outside a 5km radius as this is a club and club rules require that you be a member if you reside within 5km.
Of course, if you want to be "seen" then go for Ravesi's on the corner of Hall St and Campbell Parade. It attracts the beautiful people... or at least those who think they are beautiful.

Sleep
Budget
Splurge
address: 128 Ramsgate Ave

A selection of 10 furnished holiday homes with modern comforts & spacious living areas. All homes are near Bondi Beach with public transport nearby. Wi-Fi Internet, linen, bath and beach towels all included. Short- and long-term stays possible.
Stay safe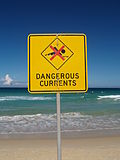 Always swim between the red and yellow flags, which mark the safest areas and are patrolled by lifeguards. The beach is closed when surf conditions are too dangerous. Bondi Beach has a particularly strong southern rip nicknamed the "Backpacker's Express" that looks deceptively calm and may carry unwitting victims out to sea. The natural instinct is to swim against the rip, but this is extremely tiring and it's best to escape it by raising one hand to alert rescuers (see
Australia
for more information).
While there are shark nets in the summer, a siren will sound if a shark is spotted, and you should leave the water. Scary, but drowning is still a far more likely danger than a shark attack.
Go next