Sydney/City Centre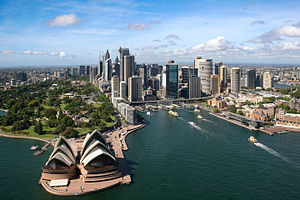 The
Sydney
City Centre
was where Governor Arthur Phillip first raised the British Flag on Australian soil in January 1788, the earliest site of European settlement in Australia. After two centuries and more, it now features a Manhattan-like skyline of skyscrapers on the harbour. It is the commercial centre of Sydney, seeing hundreds of thousands of Sydneysiders commute daily to work, shop, and socialise.
The city centre meets and embraces its harbour. The entire foreshore is walkway, and much of it is parkland. The office towers compete with each other for the best view of the harbour, with those in the back row grateful for any glimpse.
It is the site of Sydney's grandest structures, from the modern Opera House and Sydney Tower, to the art-deco, the granite facades of the early 20th century, and the colonial sandstone of a convict era. The oldest buildings may be in
The Rocks
, but those warehouses and residences lack the proportion, scale, and inspiration of the construction in the city centre.
Into the evening, there is a stark contrast as many of the crowded footpaths grow quiet, and many of the city centre eateries and cafes wind down. There are still people around though: the after-work crowd still around in the city pubs, the opera aficionados and diners out down at East Circular Quay, and the groups meeting up near Town Hall for a movie, a drink, or a night out.
Get in
The City Centre lies at the hub of Sydney's transport network. Most major roads, and public transport radiate from the city. Catch a train from anywhere and it will stop here.
phone: 13 15 00 (in country only)

providing information on fares and route planning for all public transport in Sydney.
By train
The City Circle loop, which can be used going in either directions, has five stations.
Town Hall is centrally located. Best for shopping in Pitt Street as well as the Queen Victoria Building.
Wynyard is mostly for office workers, but also close by to Martin Place and the Rocks.
Circular Quay has the Opera House, Ferries, Harbour Foreshore and the Botanic Gardens
St James is closest to Hyde Park, St Mary's Cathedral, State Library, Art Gallery
Museum is next to the Hyde Park War Memorial
There is also a station at
Martin Place
on the way to Bondi (pronounced bond eye) Junction in the
Sydney/Eastern Suburbs
.
If you're headed for the city centre, do not get off at
Central
in the
City South
. It refers to Sydney's main train station and is not too close to the city centre.
By bus
Direct buses to the city centre are available from many inner suburbs, and some outer regions. If you are travelling from the Central Business District (CBD) by bus on weekdays 07:00-19:00 you need an Opal card purchased in advance to board.
By boat
The most pleasant way to arrive in Sydney city centre, or to get out and see the Sydney harbour or north shore, is
by ferry
. Most ferry routes (from 41 wharves around the Sydney harbour suburbs) start or finish at Circular Quay, at the northern end of the CBD. From here you can take a ferry to Manly or Watsons Bay to the east or Parramatta to the west, all for far cheaper than taking a private tour.
There is a train station and major bus terminus right next to the ferry terminal at Circular Quay for connections to other parts of the city.
There is also a ferry wharf on Darling Harbour (Kings Street) which is next to the city centre. A ferry from Circular Quay to here will take 35 minutes, go under the Harbour Bridge and provide great views of the city.
By car
The city
is
accessible to private vehicles. It's well signposted from most surrounding areas. Firstly as
Sydney
, then as
City
, and finally, as
City North
or
City Centre
. Don't confuse
City North
, with
North Sydney
, or you will end up on the other side of the harbour.
Traffic
in the city can be congested. Peak hours, Friday lunchtime, and Friday afternoon are worst. Weekends are usually fine, although some congestion can occur at any time. Traversing the few city blocks can take up to 30 minutes during these periods.
Many streets in the city are one-way and disallow right turns.
Parking
Garage Parking
can vary from around $18 to over $70 for a day on a weekday. You need to do research and
book online to avoid high rates
. Don't be misled by parking stations advertising parking for $5, as this usually apply for the first 30 minutes, after which charges rise steeply. Early-bird rates (for arriving and leaving during set times) can save up to 75% on hourly rates during the day.
Parking stations usually charge less for evening parking and all-day weekend parking. A flat rate is often available for $15 or less, but not all places have special deals, so check before you park. It is a safe bet to drive around the CBD and check the flat rates advertised outside the parking stations on weekends, but again, you will get better rates booking online in advance.
Opera House Car Park, at the end of Macquarie St, $18 on weekdays entering before 10:00, and exit after 15:00 and before 19:30. ($42 otherwise for day parking, or $32 if you enter after 17:00). $15 on weekends, provided you exit before 17:00.
Queen Victoria Building Car Park, $27 enter before 09:30, exit after 16:00 and before 19:30. $50 all day otherwise. $15 Sunday parking.
Street Parking
is scarce and although street parking for short periods is possible it is often difficult to find, particularly during the day on weekdays. Free on-street parking or street parking available for extended periods is particularly elusive. Early on weekend mornings, some on-street parking is usually available in Clarence, Kent, or Sussex Streets. On street parking is also available on Art-Gallery road. Expect to pay. Free on-street weekend parking is available where no parking zones apply on weekdays. All public parking zones are enforced by city parking police and occasionally state police, infringement penalties are around $130. Motorcycles and scooters can park for free anywhere a car can park, but must still follow any time restrictions (for example they may not stay longer than 2 hours in a 2P spot). There are also some dedicated motorbike parking spots around the city.
By bike
One of quietest approach to the city is from the west at
Darling Harbour
and Pyrmont. The Pyrmont Bridge allows cyclists, and a cycle path takes you along to King St as far as Clarence St. There is bike parking there. From the
North
take the cycleway over the Harbour Bridge, next to the station at Milsons Point. From the south there is a separated cycle path from Central Station (Eddy Avenue) that winds its way through the city streets to meet the Kent St, King St and Pyrmont Bridge paths.
Maps and other information for cyclists around the inner city are provided by
local government
.
Get around
Looking for the Bridge? Don't follow Bridge St
Bridge St is one of the major east-west roads in the city centre, running south of the Circular Quay, but it does not go the Harbour Bridge. The road is one of the earliest in the colony of New South Wales and the site of the first government house, very near the first settlement. It was also the site of the first bridge built in Sydney, over the Tank Stream, which was Sydney's first water supply. The Tank Stream has long since been buried and become an underground drain, but the name Bridge St remains.
To access the Sydney Harbour Bridge by foot, take Cumberland St and climb the stone stairs near Argyle St to the east side of Bradfield Highway; continue north onto the Harbour Bridge.
The city centre has a very rough grid system. George St is the major north-south city street, running all the way from Central Station in the south to Circular Quay and
The Rocks
in the north, with Pitt, Castlereagh, and Elizabeth St running parallel to it through the city centre. City blocks are small, especially in the east-west directions.
There are maps and directional signs to nearby attractions located every few blocks.
By foot
Most of the attractions below are within a 1.5km radius, and are easy to walk around. Consult the
Walking tour of Sydney
for details. The spectacular walk along the harbour's edge (Farm Cove) from the Sydney Opera House (Queen Elizabeth II Gate) through the gated Royal Botanical Gardens to Mrs Macquarie's Chair (Yurong Gate) is for many the epitome of a Sydney experience.
Sydneysiders are notorious for crossing against the red pedestrian lights in the city centre in any gap in traffic. but if you're not familiar with the traffic direction, best to wait for the indicator. And police occasionally do have blitzes on jaywalking, where you will be fined $70 for crossing on the red.
By bike
There are a few cycleways around the city. Travelling North-South along Kent St in the city west is easy enough. This route connects to Liverpool St to travel east-west, and Elizabeth St to travel to the south. It requires a bit of planning and determination to get around the city centre by bike. It may be best to leave your bike on the city centre fringe, and walk while downtown. You can be fined for cycling in the pedestrian malls or footpaths.
There are bike parking spots all over the city, and you can park your bike pretty much on any street. If you leave your bike unattended then ensure you park it in an area with high visibility - like outside Clarence St Cyclery - and secure it well.
Mobike bike dockless share bikes are available in the city centre, as are Lime e-bikes. Download the respective apps.
By bus
Public buses
All buses are numbered on their indicator boards at the front and on the left side of the bus, and show the final bus destination.
The major bus interchanges in the City are at Circular Quay, Wynyard, Town Hall and the Queen Victoria Building. Buses from Wynyard run straight over the Harbour Bridge. From Circular Quay, as a general rule of thumb: Any bus number starting with "3" run the eastern route (i.e. to/from Circular Quay via Elizabeth Street and to/from the
Eastern Suburbs
), while the ones starting with a "4" run the western route (i.e. to/from Circular Quay via George Street and to/from the
Inner West
). The ones starting with a "5" out of the city over the Anzac Bridge.
At the interchanges (Circular Quay, Wynyard, Town Hall and the QVB) have multiple stops, each assigned a letter. Both Wynyard and Town Hall bus interchanges are scattered over a few blocks in each direction and you'll need have directions no your phone, or check the interchange maps. Allow extra time if it is your first trip. It's just another reason to consider walking if you're doing a short trip - the next bus stop may be further from where you're going then where you are now.
Hop-on Hop-off
City Sightseeing Sydney Explorer bus tours. Costs more and takes longer than normal public transport, but can take the hassle out planning your routes.
By train
Trains run both ways around the city circle stations
Central
,
Town Hall
,
Wynyard
,
Circular Quay
,
St James
and
Museum
. Each of these stations has services every five minutes. Most of the city is no more than ten or fifteen minutes walk from a train station.
Another city station,
Martin Place
, is mid-town on the
Eastern Suburbs
and Illawarra line and has services every 10 min to Town Hall and Central.
Town Hall
,
Wynyard
,
Martin Place
and
St James
stations are located within 1km of each other, so unless you are feeling particularly lethargic, catching the train or bus between them will take longer than the walk.
By car
It is unusual to drive between city centre attractions, and it can be problematic if you are unfamiliar with the area. Attractions in the city centre are not signposted from the city roads. The only directional signs you will see will point you out of the city centre, across the harbour bridge or to the west or east. There is a one way system and few right hand turns are permitted. Some right hand turns are legally possible, but are difficult to find breaks in traffic. The quickest route from where you are to your city centre destination will not always be apparent from a map, and even the best GPS will struggle in the canyons of the city centre.
If you are driving into the city centre, best to navigate straight to a parking lot nearby. If you are going between multiple destinations in the city centre, walking is usually the quickest way.
See
Landmarks
phone: +61 2 9250-7111 (information) or +61 2 9250-7777 (ticket bookings)

address: Bennelong Point, Circular Quay

The world heritage listed Sydney Opera House in the north east of the city is one of Sydney's most beautiful and unusual buildings; its sail shaped structure, designed by Jørn Utzon, is world famous, and it is the only structure in the world to have been designated a UNESCO World Heritage Site during the lifetime of its architect. The Opera House is also host to most of Sydney's major classical music and opera events. You can walk all around the building, and some of the foyer areas free of charge. Guided tours of the inside are available for $28, leave every 30 minutes, and take about an hour. Some tours are run in Chinese, Japanese, or Korean. Depending on ongoing rehearsal or performances not all parts may be visited.

Circular QuayIs the hub of the Sydney Harbour and is a vibrant, bustling place home to many buskers, the ferry terminal, overseas passenger terminal, and the Museum of Contemporary Art. For speakers of US English, it's pronounced Circular Key, not Circular Kway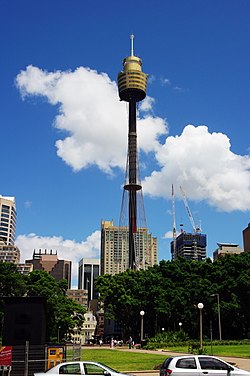 Museums and Galleries
The Art Gallery of New South Wales

phone: +61 2 9225-1744 (Information desk)

address: Art Gallery Road, The Domain

The Art Gallery of New South Wales is the leading museum of art in New South Wales and Sydney, and one of Australia's foremost cultural institutions. It holds significant collections of Australian art, and presents nearly forty exhibitions annually. British Victorian art, along with smaller holdings of Dutch, French and Italian painters of the 16th, 17th and 18th centuries, and a collection of modern British masters, European modernists and European classical art. The collection includes work by Reubens, Picasso, Van Gogh and many others. There is also an impressive collection of Asian, South East Asian, Australian Aboriginal and Torres Strait Islander art. The gallery also has an extensive collection of contemporary art. Not all of the collection holdings are on exhibition at any one time and the gallery occasionally rotates significant works on exhibition. The building itself is a much photographed sandstone structure with a large formal entrance. There is a popular cafe inside the gallery, with views over Wooloomooloo.

phone: +61 2 9252-4033

address: 140 George St, Circular Quay

Housed in a fabulous 1930s art deco building, former location of the Maritime Services Board and facing onto the western side of Circular Quay and Sydney Cove, the MCA has been dedicated - since its opening in 1991 - to showcasing great works of modern and contemporary art in all media. There is a cafe inside the museum.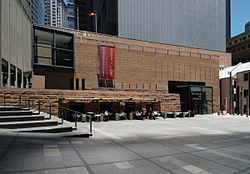 phone: +61 2 9251-5988

Built on the site of the first Government House, erected in 1788 by Governor Arthur Phillip and demolished in 1846. The remains of the building were excavated after rediscovery in 1983 and the original foundations can now be viewed through glass floor panels in the museum. Fascinating changing exhibitions of art and photography, films and state-of-the-art technology spin stories of colonial life, Aboriginal culture, environment, trade, authority / law and everyday dramas and dreams in early Sydney. The Museum of Sydney Cafe, by the museum entrance is not really part of the museum, and is much more a restaurant than a cheap and casual cafe.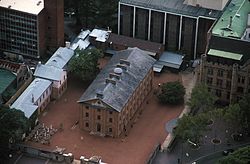 phone: +61 2 8239 2311

address: Macquarie St

Built in 1818-1819. Constructed by convicts and housed by them, the Hyde Park Barracks provided housing for convicts working in government employment around Sydney from 1819 until its closure in 1848. Interior is restored with exhibits depicting the furnishings and life of the time. Inscribed on the UNESCO World Heritage List.

State Library of New South Wales

address: Macquarie St

Includes a large exhibition space with changing artistic, historical and cultural exhibits. The Mitchell Reading Room is a historical large open book-lined room, and worth a look inside. The reference library is a modern addition, and really only of interest for research. The library collection includes a copy of every volume published in New South Wales, and many rare texts. There is a cafe on the ground floor near the entrance to the reference library and the bookshop.

Government HouseOpen to the public, with the entrance to the house and gardens through the Botanic Gardens.

Museum of Australian Currency Notes

address: Ground Floor, 65 Martin Pl

Hosted by the Reserve Bank of Australia in its city headquarters, this museum displays Australian bank notes and currency from the earliest issues to the present day. Interesting but basic. Drop in for 15min or so if you are passing by Martin Place.

address: Corner Albert and Phillip Streets

Originally serving as a police station to Court between 1856 and 1886, the museum has now been restored to its 1890s facade displaying its theme of crime and punishment.

phone: +61 2 9320-6000

address: 6 College Street, East Sydney

Natural history collections, exhibitions, natural science and indigenous cultures. Please see the City East article for more comprehensive details on The Australian Museum.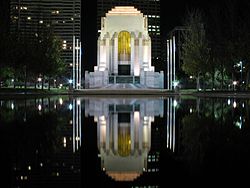 phone: +61 2 9267-7668

address: Hyde Park North

A large war memorial in the middle of the city, built after World War I. It is a focus of military memorial events in New South Wales. No public toilets or cloakroom.
Historic sites
Customs House

address: 31 Alfred St

A historic building, and imposing building. You can imagine it looking out over the port of Sydney (if you can equally imagine the absence of the Cahill Expressway). A large diorama of the Sydney area which you can walk over is on display in the foyer. The Sydney City Library occupies the building, and sometimes has exhibitions. Free.
Parks and gardens
Sydney Botanic Gardens
phone: +61 2 92318111, +61 419 270279 (Ranger assistance)

address: Mrs Macquaries Rd

One of Sydney's greatest assets, from in front of the State Art Gallery, out to Mrs Macquaries chair, across to Farm Cove and onto the Sydney Opera House. The Gardens back onto the historic Sydney Hospital and Parliament House. This is the oldest scientific institution in the country and home to an outstanding collection of plants from Australia and overseas. The Domain surrounds the Royal Botanic Gardens. The walk along the harbour's edge (Farm Cove) from the Opera House (Queen Elizabeth II gate) to Mrs Macquarie's Chair (Yurong Gate) is for many the epitome of a Sydney experience. The Gardens have an example of the Wollemi Pine, raised from a seed collected from a handful of trees discovered in the wilderness and unchanged since the dinosaurs. A tropical pyramid holds examples of tropical vegetation in a controlled humidity atmosphere. See the rose garden, herb garden and succulent section. The collection has many varieties of Australian plants and grasses. During the summer months there are often open air night time film screenings inside the Botanic Gardens, entry charges normally apply to those screenings.
phone: +61 2 92412419

Visitors centre, a restaurant, a cafe and a souvenir shop.
Mrs Macquarie's Chair

address: Mrs Macquarie Road

This park area is just outside the gates of the Botanic Garden (above), and has free access all the time. It has magnificent views of the harbour.
Other City Parks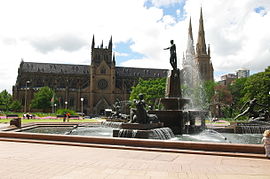 The Domain

phone: +61 2 9006 3200

In colonial times this land was the Governor's buffer of privacy between his residence and the penal colony. Roads and paths were constructed through the Domain by 1831 to allow public access. Since that time it has remained a place for the people to breath and relax. The Domain surrounds the Royal Botanic Gardens. In times past has been a site of often quite colourful public oratory and site of public rallies and demonstrations. Home to the popular Opera in the Domain, Jazz in the Domain, and Symphony in the Domain events in summer, as well as the Tropfest short film festival. If attending any of these events, arrive in the early afternoon to secure a picnic spot as upwards of 100,000 people attend.

Hyde ParkAn extensive city centre park of a formal design tradition dissected by Park St, elongated in layout and containing a large fountain (Archibald Fountain) towards the northern end and the Anzac War Memorial at the south - a favorite with city workers at lunchtime, joggers and sunbakers. The park occasionally hosts public and private events and functions.
Architecture
Sydney City is home to a large number of outstanding examples of Art Deco architecture, built during the 1920s and 1930s, when Sydney entered a new phase of confidence and investment in urban infrastructure.
Do
Harbour cruises
You can take a
cruise
on
Sydney Harbour
. There are many cruises to choose from and they depart from
Darling Harbour
or
Circular Quay
. For a bigger adrenalin rush, try the
jet boats
that zip around the harbour at breakneck speeds.
Harbour Cruises depart from
Darling Harbour
and at Circular Quay in the city.
address: Circular Quay

have regular cruises from Wharf 1 at the Quay.

Sydney Ferries CruisesSydney Ferries run regular cruises. Just look on the main timetable boards at the Quay, and buy your tickets from any Sydney Ferries ticket office.
You can create your own harbour cruise, as the normal Sydney Ferries services go everywhere a cruise goes and more. Get a daytripper ticket for $20, and take as many ferries as you like, get on and off where you like, and enjoy a picnic in any of the many harbour side parks next to the ferry wharves. On a Sunday and if travelling with children, a
Family Funday Sunday
ticket can be bought from all the usual outlets for $2.50 and allows unlimited travel on all public transport for the day. Timetables are available at the Quay, and its hard to catch a ferry somewhere that isn't worthwhile. The
Manly
ferries even have a cafe on board, where you can grab a pie, and sit out in the sun, taking in the view for a fraction of the cost of a luncheon cruise! Consider dropping in at one of the
harbour islands
Theatre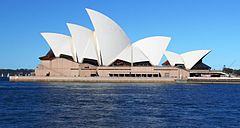 phone: +61 2 9250 7111

The Sydney Opera House is one of the most iconic 20th century buildings in the world. Inaugurated in 1973, the Sydney Opera House also has dedicated theatres for drama including the Drama Theatre, the Playhouse, and The Studio. Student rush tickets are often available for the current day's performances, only at the box office at the Opera House (usually these are single tickets, spread around the theatre).

Theatre RoyalHome to many international productions during their stay in Australia.

phone: +61 2 9373 6852

address: 49 Market St

Hosts a range of events and performances, particularly international comedy acts and musicians. The building itself is heritage-listed, and has a lavish interior dating back to 1929.
Other theatres are at Lyric Theate at Star City in
Pyrmont
, the Capitol Theatre in the
south of the city
, and the Wharf Theatres at Walsh Bay in
Sydney/The Rocks
.
Music
address: 29 Reiby Pl

Famous place for small gigs in Sydney. Attracts some leading acts.
Cinema
phone: +61 2 9273 7300

address: 505 George St

The three big cinema franchises (Hoyts, Greater Union and Village) merged their neighbouring cinemas here into one big complex.

Dendy CinemaMulti-screen cinema specializing in fringe and arthouse films.

The Art Gallery of New South WalesFree cinema on Wednesdays & Sundays, but usually old films.
If you are interested in fringe or arthouse films, you may also like the Chauvel, Verona and Academy Twin cinemas in nearby
Oxford Street
.
Buy
The CBD of Sydney is also the retail centre of the city, having the largest range of shops and outlets in a variety of settings. Sydney's shopping is frequently concentrated within large city malls and arcades (heavily interconnected mid-town through a number of underground walkways). There are also a number of recognised shopping strips.
If you are shopping for food and supplies, the convenience stores and even the city fruit stores can have up to three times mark-up over supermarkets. If you need to stock up on the basics, it would be cheaper to try the supermarket "Woolworths", one opposite Town Hall on Park and George Sts or one underground north of Wynyard Station in the MetCentre (take down escalator from ground level of the MetCentre); or the supermarket "Coles", one at Carrington and Wynyard Sts or one at 388 George St near King.
George Street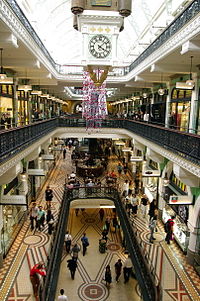 George St is the closest thing to Sydney's main street. It has a shopping strip between the Town Hall (Park St) and Wynyard (Hunter St), about 10 minutes brisk walk. Along this section of road there are numerous fashion, technology and gift stores and malls like the Queen Victoria Building, Galleries Victoria, Myer, Westfield, the Strand Arcade and the Apple Store.
address: George St

The building is an attraction in itself. The site of a market place since 1810, its current Romanesque facade was completed in 1896 and was extensively restored in the late 1980s as a prestigious shopping center. 5 Floors of shopping. Don't miss the Christmas tree to Christmas, going through all the levels. Fashion, books, cafes, and a range of specialty and gift shops.

Galleries Victoria

address: 500 George St

The modern answer to the historic QVB opposite. Some fashion and food, but also electronics, computer games, and gifts.

address: 412-414 George St

The last of the Victorian arcades to be completed (1891) in Sydney, home to a number of shopping levels featuring design, fashion, antiques and jewellery (the arcade links George Street with the Pitt Street Mall).
Pitt Street Mall
Pitt Street mall is a pedestrianised block between Market and King St that is so busy that it has some of the highest retail rents in the world. Both sides of the Pitt St mall are full of shops and shopping centres, extending westward to George St and eastward to Castlereagh St. Most of the shopping centres connect to each other. The Westfield Sydney connects to the David Jones department store, the Queen Victoria Building (and through there to the Galeries Victoria and Town Hall Station), and the MLC Centre (and through there to Martin Place Station), making this area ideal for shopping in poor weather.
Westfield Sydney Shopping Centre

address: Pitt St Mall

7 levels of Myer department store and a food court (level 1) on west side; hundreds of specialty and fashion stores plus an upscale food court (level 5) on east side. Entry to Sydney Tower at level 5 east side. Connects underground to the Queen Victoria Building from level 1 west side.

address: 197 Pitt St Mall
St James
phone: +61 2 9266 5544

address: 86-108 Castlereagh St

The city stores of this illustrious department store are on Elizabeth Street (main store, women's fashion) and Market Street (men's fashion, homewares, food store). In operation since 1838, David Jones is not only Australia's oldest department store, but also the oldest department store anywhere in the world still trading under its original name.
Castlereagh Street and Martin Place
Castlereagh Street north of King St and Martin Place between Castlereagh and George Sts. Home to a large concentration of fashion houses and big names including DKNY, Louis Vuitton, Cartier, Ferragamo, Gucci, Bvlgari, Stefano Canturi and Chanel.
MLC Centre

address: Martin Pl

A shopping arcade, primarily focused on luxury clothes and accessories, and a food court downstairs. Belinda in the MLC Centre stocks European designers that don't have standalone stores in Australia. Has some reasonable cafes in the courtyard facing Martin Place.
Eat
There is much competition, specials, and choice for breakfast and lunchtime eating. Even the classiest restaurants tend to have lunchtime specials, and the competition for breakfast, coffee and lunch at the budget end of the market is fierce. However, by supper time in the evening, many of the cafes and take-aways have closed in the CBD and the remaining restaurants can be expensive. Doing your food exploration at lunchtime will save you money in the city centre.
Neighbouring
Chinatown
in the south of the city has large a number of restaurants offering cheap and tasty Asian cuisine, and the food courts in Market City Shopping Centre stay open into the evening, when the CBD ones have usually shut.
Budget
Food Courts. All through the Sydney CBD there are food halls where the city workers flock to get lunch. A sit down lunch at these food courts will cost between $5 and $10, and there is competition for business. There are many, but to whet your appetite, try one of the following:
Westfield Sydney in Pitt St Mall (north of Market, between George and Castlereagh), also open weekends and Thursday nights, level 5 east side for crowded upscale food court dining, level 1 west side for mainline food court.
David Jones Food Hall, lower level (SW corner of Market and Castlereagh)
MLC Centre in Martin Place (SW corner of Castlereagh)
The Galeries Food Court, lower level (500 George St, NE corner at Park St)
Regent Place, (501 George St, SW corner at Bathurst St)
Under the Gateway Building or the AMP building at Circular Quay (Alfred St, corner of Loftus)
Australia Square (the tall but round building) northeast of Wynyard Station (George St, SE corner of Bond) 15 food choices, outdoor seating on concrete plaza
In the Metcentre just north of Wynyard Station through a ground level connector (west of George St between Margaret and Jamison) ground level.
Hunter Connection just east of Wynyard Station (Hunter Street, between George and Pitt, or go down the steps at Wynyard Station and take the Hunter Connection tunnel) specialises in SE Asian food, delicious Thai for $6.
If you fancy an early dinner (or late lunch) many of the food halls sell off remaining lunch items at discounted prices around 16:00 in the afternoon, sometimes for as little as $4-5 a meal, but commonly for $6.
Cafes
The Sydney CBD is packed with small cafes that serve (usually) good coffee and a breakfast of toasted banana bread, toast (with cinnamon, Vegemite etc) or anything involving bacon and eggs. They mostly serve office workers and are open (generally) between 6:00 and 15:00 during the week. On the weekend most are closed in central CBD, and you may want to head to a more residential area to find breakfast. The ones in the shopping districts will open at little later, but always by 9:00.
QVB (Queen Victoria Building) has a number of gorgeous cafes - try the ground floor for buzz or the top floor for longer quieter conversations QVB Dining

phone: +61 2 9299-8828

address: 67 King St

Very good tasting coffee with a massive queue of office workers in the morning.
Mid-range
The CBD is flooded with cafes and pubs doing lunch with mains in the $10-15 range. Avoid the ones in or immediately next to major tourist attractions to avoid inflated prices. Clarence St, York St, and even Pitt St have many to choose from.
Outside of the cafe scene, mid-range restaurants in Sydney's CBD proper tend to be a little thin on the ground, but you will find plenty clustered around the George St cinemas and World Square, and on Liverpool St. Liverpool St. in particular has a large number of Korean restaurants to choose from
phone: +61 2 9232 2767

address: 111 Elizabeth St, Sydney CBD

A restaurant/wine bar open for breakfast, lunch and dinner. The food is Italian-influenced but definitely 'Modern Australian'. Has a very interesting wine list with many available by the glass.

Sydney Madang

phone: +61 2 9264-7010

address: 371A Pitt St

Tasty and inexpensive Korean barbecue and other dishes. Open until early in the morning.

BBQ CityIf you can't find Madang, and you're in the mood for Korean, there's always the Sydney institution, BBQ city, a big brightly-lit upstairs restaurant, with Korean pop stars dancing incessantly on TV screens around the room. It's quick, cheap, delicious, and open late.

phone: +61 2 9240-3000

address: 1 Ash St

Ash St Cellar is a recently-opened Melbourne-style laneway bar just behind the Ivy complex. The food is (Sydney style) tapas influenced share plates, the wine and beer list is good and the atmosphere is great. No bookings and not open on weekends.

phone: +61 2 9251-5192

address: Customs House, Ground Floor, 31 Alfred St

Famous Sydney pizza and pasta joint very conveniently located just next to Circular Quay. The owners used to own a very famous pizza restaurant on Oxford St in Paddington but have relocated here. Pizzas are not traditional Italian but very good nonetheless. Main courses $20-32, pizzas $24-32.

Nazimi

phone: +61 2 9283-2990

address: Level 1, 141 York St

Authentic Japanese food, with different options on the menu to a lot of places. Customers are packed in, but the service is very friendly.

phone: +61 2 9360-2523

address: College St, Sydney CBD

This is an outdoor vegetarian yum cha restaurant located just down the stairs from St Mary's Cathedral over looking Cook and Phillip Park. It's a vegan restaurant and has a wide range of enticing and tasteful healthy yum cha options (all vegan). Fantastic on a sunny day. Open on weekends too. Kids can run around safely in the park while you linger over coffee.

Makoto Sushi Bar

phone: +61 2 9283 6767

address: 199 Liverpool St

Decent sushi bar, higher quality than your standard sushi train. Makoto offers sushi, sashimi, along with a range of small cooked dishes. Open 7 days, with dinner starting from 18:00.

Ichi Ban Boshi

phone: +61 2 9262-7677

address: Gallerias Victoria Shopping Centre

Fantastic ramen soup. The Tantanamen (Spicy sesame base pork ramen) is a very large and delicious soup. Restaurant gets very busy at any time past 11:30 till around 14:00. Expect to wait 10-20 minutes for a table in the peak times.

phone: +61 2 8297 4111

address: 24 York Street

Large German restaurant that is part of a chain with authentic Bavarian beer and somewhat authentic German food.
Splurge
Sydney's top-end dining scene is world class, with prices to match. Some of the best restaurants in Australia are listed below, and many of them feature on the San Pellegrino list of the Top 100 restaurants in the world.
Drink
Bars
Gilt Lounge Bar

phone: +61 2 9262 0000

address: 49 Market St

In QT Sydney Hotel, 5PM New bar opened September 2013. Extensive wine and cocktail list in modern eames-style setting. Located next to State Theatre.
Small bars
Sydney has recently relaxed its licencing legislation, leading to many experimental style small bars as an alternative to the pubs and beer halls.
Since I left you

Stich Bar

Mojo Record Bar
Pubs
Red Oak

address: Clarence St

The only pub with onsite brewery in the City Centre, and the brewing is well refined here, with a wide choice, mostly Baviarian in style. Modern decor, popular with the office crowd on Friday lunchtime and Friday night. A variety of ways to taste the beers, with combined food and beer tasting plates available

3 Wise Monkeys Pub

phone: +61 2 9283 5855

address: 555 George St

The 3 Wise Monkeys is a very popular pub with a younger crowd, only a block south of Town Hall station in the cinema district. It has live music seven nights a week.
Live music
phone: +61 2 9550 3666 (box office)

address: 624 George St

The metro, in the cinema district near Town Hall, is a live music venue for Australian and overseas acts. Usually standing room only, and active mosh pit at the front, with an active vibe.
Gig guides
The Drum MediaIs a free, weekly music publication. You can find a copy at most music stores around the city and the inner suburbs.

Metro is the Sydney Morning Herald's entertainment lift-out, published every Friday.
Sleep
Budget
There is little budget accommodation in this district. There are some backpacker hostels but generally cheaper accommodation is found in the surrounding areas around Central Station in the
City South
.
Mid-range
address: 27 Park St

Park Regis City Centre is perfectly located in the very heart of the Sydney CBD, adjacent to Darling Harbour and Hyde Park, the hotel is literally surrounded by Sydney's best shopping, entertainment and sightseeing. Views from the 45th floor rooftop pool and observation deck are guaranteed to leave a lasting impression. Rooms from $132.

Rendezvous Studio Hotel Sydney Central

phone: +61 2 9212 2544

address: 803 George Street

A vibrant hotel and accommodation solution, combines clean lines, contemporary style and a personal feel.
Splurge
Stay safe

In the daytime Sydney City is a busy location with high pedestrian activity. The biggest threat to your safety during the day is traffic, so take care when crossing roads with high traffic volumes and one-way flows. Occasionally there is a blitz on jaywalking, so look-left, look-right, and look around for police at the intersection before crossing on the red.
If you're out late, stick to popular areas and main streets. The main business area of skyscrapers and office building area north of Park and south of Bridge St becomes very quiet at night as the office workers return to the suburbs. Late at night anti-social behaviour and even some alcohol-related violence is possible around the George St Cinema strip (between Bathurst Street and Liverpool Street) and the northern (harbour) end of George St towards the rocks (north of Bridge St). The harbour end of George St is very busy on Friday and Saturday nights, with large numbers of people arriving in the city to go to the nightclubs, many of them already having started drinking hours ago. On other nights the area around the Quay down to the Opera House is very pleasant. It has a variety of restaurants and bars, a great view, and is safe.
On the trains late at night stay close to the guard's compartment which has an exterior blue light. There is an emergency assistance button on every platform and by the entrance to the train carriages on more modern trains.

Connect
Internet

Some convenience stores have a terminal or two although prices are high and computers can be antiquated and filled with malware. Expect to pay around $2.50 per 10 min.
For free Wi-Fi in a comfortable environment, try the NSW State Library (free password at the circulation desk) or the Sydney City Library in the Customs House.
Free is also available in numerous supermarkets, shopping centres and food courts, where you'll be asked to give up a social media account in return for access. Try Westfield in Pitt St Mall, MetCentre, Woolworths in Pitt St, and many more.
Most cafes offer Wi-Fi to their customers, although they almost always require a password.
4G Internet is available everywhere in Sydney on all networks.

Phone

Public phones are fairly common in the CBD, although seldom used. You can also use them to send text messages, domestically or internationally.

Cope

SmareCarte offer luggage storage on Loftus Street at Circular Quay. They also offer a transfer service to their facility at Sydney airport.

Go next