Sydney/City East
Immediately to the east of the
City Centre
and also adjacent to
City South
is an area of laneways, nightlife, cafes, pubs, bars and entertainment. Sometimes referred to as the "Inner East" it is an area where many choose to stay, and many more visit.
From the tiny wine and tapas bars to the "Klondike-like saloons", the City East is one of Sydney's favourite areas to visit for a night out.
The central location also makes it a popular place to stay for budget and upmarket travellers alike.
In addition to the entertainment and commercial aspect of the area, the district is home to many people, and boasts some of the most densely populated and lively postcodes in Australia.
Understand
Orientation
The following areas and suburbs make up the City East district:
Kings Cross
Kings Cross
is the city's red light district, busy all hours of the day and night. The area, which is called "the Cross" by locals, is a lies within the larger surrounding suburbs of
Potts Point
,
Elizabeth Bay
and
Rushcutters Bay
.
Darlinghurst & East Sydney
Darlinghurst
& East Sydney is the area lying between Oxford St and William St. Good eating, including Sydney's original "Little Italy". The Darlinghurst section of
Oxford Street
including
Taylor Square
is the centre of Sydney's world-famous gay scene.
Woolloomooloo
Woolloomooloo is on the harbour, and a rough naval areas is now gentrified, with finger wharf apartments and modern Australian bars and restaurants in an historical setting.
Paddington
Paddington
is one of the Sydney's premier boutique shopping areas. Everyone will enjoy a daytime stroll through the area, with its great coffee shops and pubs.
Surry Hills
Surry Hills
is terraces and quaint parks, and an ideal place to fraternise with the locals in the many down-to-earth pubs. The
Crown St
area has some of Sydney's best eating — tapas, Asian, Middle Eastern and Indian food. Great for a night out.
Moore Park
Moore Park is for sports, and the entertainment quarter — football, cricket, movies, shopping, markets, circus and restaurants.
Get in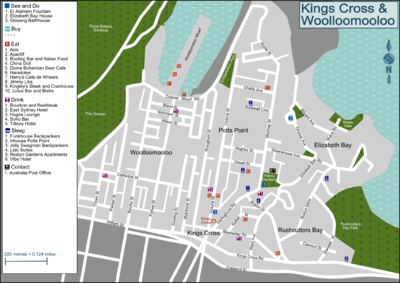 Trains and a maze of bus routes run through the area. From the city, its often possible to walk to where you want to be. Parking is restricted nearly all the time on any day of the week, although cruising around the back streets is an option if the parking fairy is smiling upon you.
Kings Cross
can be accessed by bus or train to Kings Cross Station, which is on Darlinghurst Road. The train station exits deliver the visitor into the southern end of the main Kings Cross entertainment district. The 323, 324, 325, and 326 buses also run from Circular Quay, up Elizabeth Street and along William Street. You can also walk from the City Centre to Darlinghurst Road in around 20-30 minutes.
Oxford Street
has a long strip of night clubs, bars, restaurants, fashion boutiques and other retail activities running it's length. It starts in East Sydney at Hyde Park and runs through Darlinghurst, Taylor Square and on to Paddington. You can use the train station at Museum to enter Oxford Street from the Hyde Park end. This station is just near the start of Oxford Street, and you can walk the length of it in 45 minutes or so. The 'strip' unofficially ends around Queen Street in Woollahra. If you want to get directly to your destination, you can catch one of the stream of buses that go up Oxford Street. Routes 333, 392, 397, 373, 394, 399, and 377 run from Circular Quay and Elizabeth Street and up Oxford St at least as far as Taylor Square.
Surry Hills
is adjacent to Central station and runs up the hills to the east toward Moore Park. Walk east from the station through Sydney's commercial fashion quarter and up toward Crown Street. Crown Street is serviced by bus routes 301, 302, and 303.
Woolloomooloo
lies to the north of William Street across from the Domain and the Royal Botanic Gardens and runs down to the old wharves at Woolloomooloo Bay. Stairs link Art Gallery Road down to the finger wharves. The walk will take around 20 minutes from the city or Martin Place or St James Station. The walk is slightly shorter from Kings Cross Station, but a little less scenic, just follow Victoria Street from the station north to the water. Alternatively the 311 bus links Woolloomooloo, Kings Cross, Darlinghurst Road, Oxford Street and Railway Square every 15 minutes or so. If you are driving, you can park in
The Domain car park
, which is a short walk away, or cruise around the back streets if you are feeling lucky.
Moore Park
has a frequent bus service from the city. Consider the Metrobus 10, which leaves Town Hall every 10 minutes or so. The 392, 394, and 396 all continue from Oxford Street along Moore Park. You can buy a combined train/bus ticket from any station to Moore Park. During events extra buses run to Moore Park from Central Station. These buses leave from near the Chalmers St exit. These buses do not accept Multi tickets, but do except combined train/bus tickets to Moore Park. During events you may want to consider just walking from Central - you will see many people doing the same, the walk will take around 30 minutes. There is a multi-storey parking lot at Fox Studios (The Entertainment Quarter) which sometimes offers free parking for 3 hours, but charges a flat fee during events. Traffic around the area can be congested during events.
Get around
To get around the area, most locals walk. Expect to see lots of other pedestrians around Oxford St, William St and Darlinghurst Road most times of the day and night.
Kings Cross can be a jam for cars both in peak hours on weekdays, and late at night.
Almost everywhere has either limited parking (one to two hours) or parking meters. Expect to pay for parking if you drive. Moore Park has three hours free parking, except during sporting or large entertainment events, when you can expect to pay a larger flat fee.

See
Museums and galleries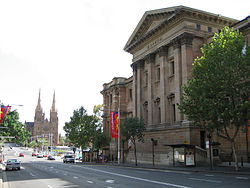 Please see the City Centre article for more comprehensive details on The Art Gallery of New South Wales and other nearby public Art Galleries and Museums
The City East precinct is home to an extensive range of private art galleries with a high concentration in the Paddington area.
Other attractions
Parks
Although the district is densely populated and space is certainly at a premium, there are parks and open spaces around.
Some of Sydney's other large and popular parks and gardens lie just beyond the boundaries of the district. The
Royal Botanic Gardens
,
Domain
and
Hyde Park
form part of the north-western boundary of the district and lie in the
City Centre
.
Centennial Park
and the 'greater'
Moore Park
area is just to the south-east of the district in the
Eastern Suburbs
.
Events
Do
Other attractions
Movies and theatre
Live music
There are numerous live music venues scattered throughout the inner east area, catering to all sorts of music from local up-and-coming bands to international touring acts.
Swim
Sydney is well known for its beach culture but people do not have to go all the way to the coast to have a swim. There is a long tradition of Public baths in Sydney. Some of the old ones remain, such as at North Sydney at the base of the Sydney Harbour Bridge next to the
Luna Park
entrance. Several of these Public baths or swimming centres are directly adjacent to the City east precinct or are within walking distance.
Sports fixtures
Moore Park is one of the main sporting precincts in Sydney. Most weekends during winter will feature games of any one the three football codes played in Sydney. Cricket and soccer are played in summer.
The Sydney Football Stadium, known commercially as Allianz Stadium, is a rectangular pitch catering for rugby league, rugby union and soccer, while right next door the Sydney Cricket Ground hosts cricket and Australian Rules. A number of clubs are based at Moore Park:
Buy
Oxford Street
Home to a huge range of
boutique shopping
, fashion, quirky gift stores, book shops, and everything in between. Great for an afternoon's
window shopping
and casual discovery. Max out your credit card at one of the many higher end clothing and accessory shops running down Oxford Street. Featuring some of Australia's most popular brands and designers - Sass and Bide, Lisa Ho, Morrissey, Scanlan and Theodore and Kitten. Be sure to explore the side streets such as
Elizabeth St
and especially
William St
for the newer, funkier labels such as Ginger and Smart and the ever present Collette Dinnigan.
Paddington Fresh

phone: +61 2 9380 9988

address: 242 Oxford St

Fresh produce markets.

address: 395 Oxford St

Every Saturday 10AM-5PM. Held in the grounds of Paddington Uniting Church, just off Oxford St. Paddington Markets has been in operation since 1973 and is a stylish stall venue for designers, jewellers and craftsmen. Not many true bargains to be had, but perfect for unusual gifts and clothing, as well as some mainstream items. Fantastic for people-watching.

phone: +61 2 9331 1103

address: 207 Oxford St

Trading for over 20 years, the Bookshop is one of Sydney's premier retailers of gay and lesbian books, magazines, calendars and DVDs. Great for a browse.
Crown Street, Bourke Street, South Dowling Street
At the 'off' Oxford Street end of these three streets can be found a developing precinct of some eclectic and more edgy shops than many of those on the Darlinghurst section of Oxford Street.
Wheels and Doll Babies

address: Crown St, Surry Hills/Darlinghurst

Edgy biker and hooker-style alt club and street clothing.
Eat
Kings Cross
Aperitif

phone: +61 2 9357 4729

address: 7 Kellett St, Kings Cross

Hidden away in a leafy corner of Kings Cross. With the kitchen open until 2AM most nights of the week, this is one of the few options in Sydney for a late night meal that doesn't involve standing and looking up while ordering. Spanish menu featuring tapas and other plates best for sharing.

phone: +61 2 9361 3884

address: 175 Victoria St, Potts Point

Good simple Italian food in cosy but trendy surrounds. Eat or just enjoy a drink or two at the bar.
Darlinghurst & East Sydney
There are two main eating strips in the Darlinghurst & East Sydney area. Victoria St in Darlinghurst is home to a good array of quality restaurants for all budgets. East Sydney is Sydney's original
Little Italy
and many Italian restaurants are to be found on and around Stanley St.
phone: +61 2 9331 7871

address: 348 Victoria St, Darlinghurst

Italian pasta restaurant. Patrons sit at a huge communal table which dominates the room. Good food and service.

Almond Bar

phone: +61 2 9380 5318

address: 379 Liverpool St, Darlinghurst

Funky Middle Eastern restaurant reflecting the Syrian background of the owners. Carol and Sharon Salloum are warm and charming hosts.

phone: +61 2 9332 1129

address: 135 Crown St, East Sydney

Popular East Sydney pizza and pasta restaurant from early evening until late at night. Can be very noisy, but lots of fun for larger groups.

Bill and Toni's

phone: +61 2 9360 4702

address: 74 Stanley St, East Sydney

One of the original restaurants of Little Italy on Stanley St. Pastas, but the schnitzel with cheese is a highlight. Have your post-prandial coffee and gelato or cake in the San Siro coffee lounge downstairs.

phone: +61 2 9332 4052

address: 116 Surrey St, Darlinghurst

A cosy Italian restaurant that fills up quickly and for good reason too. The menu is small enough to fit on a chalkboard, though the waitstaff will walk you through it anyway. A meal usually starts off with cheeses such as buffalo and burrata paired off with side dishes, and a selection of cured meats like beef carpaccio. The star is their cacio e pepe, a simple dish of spaghetti, cheese and pepper, mixed together in a giant Parmesan wheel right at your table.

The Original Balkan Restaurant

phone: +61 2 9331 7670

address: 249 Crown St, Darlinghurst

Very popular family-run Croatian restaurant specialising in grilled meats and seafood. The Balkan has been a Darlinghurst stalwart for over 40 years.

Thada Thai Cuisine

phone: +61 2 9360 6455

address: 245 Victoria St, Darlinghurst

Thai food that's always fresh, good and quick. Takeaway or eat in the casual and bustling restaurant. One of several Thai places in the immediate vicinity.

The Bunker

address: 399 Liverpool St, Darlinghurst

Tiny cafe in the middle of Darlinghurst, coffee, snacks, breakfast and lunch.

Tigerbakers Cafe

address: 292 Victoria St, Darlinghurst

Relaxed and welcoming. The walls and tables feature the work of local artists and are constantly changing.

address: 227 Victoria St, Darlinghurst

A Sydney institution, with Ferrari-driving Eastern suburbs socialites rubbing shoulders with taxi drivers. Breakfasts, foccacias, salads, pastas, main dishes, cakes and coffee. The Tropfest short film festival started in this cafe in 1993. Decide what you want from the menu board first, spot a free table and tell the cashier your table number when you order and pay.
It's also worth having a wander to the 'Paddo'
Five Ways
which is north of Oxford St in central Paddington. It's a loosely Parisian-inspired collection of cafes and restaurants nestled among five corners which meet at one roundabout. Coffee at Heeley's is highly recommended.
Woolloomooloo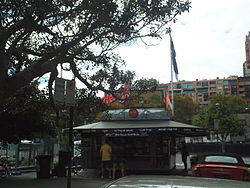 The finger wharf at Woolloomooloo is home to some of the most exclusive (and pricey) restaurants in the district. Lunch on the wharf is a favourite of Sydney's high-flying banking and business types, as well as the occasional media or sporting celebrity. Beautiful views of the Sydney skyline and Woolloomooloo Bay.
Surry Hills
There are a huge number of restaurants on Crown St between Oxford and Cleveland Sts and down some of the side and parallel streets like Foveaux St and Bourke St. Quality tends to be pretty good as rents are high and bad/unpopular places tend to close down quickly.
There are also a number of cheap but tasty South Indian restaurants on Cleveland St between Bourke and Crown Sts.
phone: +61 2 9360 4762

address: 359 Crown St, Surry Hills

Cafe renowned for its scrambled eggs, sweet corn fritters and ricotta hotcakes. A Sydney favourite when it comes to brunches. Also has branches in Darlinghurst (433 Liverpool St) and Woollahra (Queens Court, 118 Queen St)

phone: +61 2 9332 3300

address: 3/355 Crown St, Surry Hills

The signature restaurant from TV chef Kylie Kwong, this is definitely a cut above most other Chinese restaurants. Produce is seasonal and mostly organic. No bookings, so get there at 5:45PM to line up or leave your mobile number and have a drink or two at the Dolphin hotel across the road.

House

phone: +61 2 9280 0364

address: 202-210 Elizabeth St, Surry Hills

Authentic north-eastern (Issan) Thai cuisine. There is a nice outdoor area and an adjacent pub where you can wait for your table.

phone: +61 2 9699 8977

address: 145 Devonshire St, Surry Hills

Japanese and European food. There's an open air bar up from the restaurant section with nice seating although a limited selection.

phone: +61 2 9699 8663

address: 470 Cleveland St, Surry Hills

Delicious and cheap South Indian vegetarian restaurant that specialises in thalis, dosas, idlis and other treats. Also has a good range of Indian sweets such as gulab jamun and a range of burfis. There is a tandoori (ie. non-vegetarian) restaurant upstairs.

phone: +61 2 9357 6100

address: 490 Crown St, Surry Hills

A good local sushi restaurant. The dishes are light and tasty, but not particularly large. Beautifully fitted-out interior. They don't accept dinner bookings so arrive early or be prepared to spend up to 1 hr at the bar on busy nights.
Drink
Kings Cross
Kings Cross
is the
red-light district
, but don't let that put you off it if that is not your scene. There are many pubs and nightclubs here, but it is still strip clubs that are the most prominent. There are brothels and some street prostitution as well. The strip clubs aren't the sort of place you would go for a drink and regard the entertainment is a sideshow. They also tend to be a bit dingy, where the nightclubs and pubs in the area generally are bright, with a vibe. Due to the licensing laws and the state government's reaction to recent fatal brawls, the drinks on sale are limited and expensive, lockouts occur at 1:30AM and last drinks is at 3AM.
address: 22/154 Brougham St

Sydney's oldest jazz cellar once played host to the likes of Sarah Vaughan and Frank Sinatra. Now it has a small friendly bar upstairs and a downstairs room with regular performances of music, cabaret and comedy. Get some pizza from Bash, the Syrian guy next door.
Woolloomooloo
phone: +61 2 9358 1975

address: Cnr of Crown & Cathedral Sts, Woolloomooloo

They call themselves the last "Country Pub" in Sydney and are proud to have no poker machines in the building. Nothing fancy here, but the place is relaxed and down-to-earth. Good drinking.

phone: +61 2 9368 1955

address: 12–18 Nicholson St, Woolloomooloo

A popular spot with the CBD after-work crowd during the week, while on weekends the upstairs balcony is a good place to enjoy some quiet(ish) drinks and music. Food is served in the contemporary style, Italian restaurant downstairs or eat at the bar from the cafe menu.
Oxford Street
Nightclubs
address: 16 Flinders St

One of the premier gay night clubs in town. Upstairs features trance and hard house on F, Sa and Su, while downstairs has funkier music and shows on Thurs and Sun nights. The venue often has short live performances in the middle of the night. Usually open from 10PM-dawn, often still going at 10AM. The last Friday of every month, Arq hosts on of Sydney's biggest lesbian nights, named Moist.

address: 85 Oxford St

Gay venue that has a leather bar upstairs, and a bar downstairs. The downstairs bar is open daily and hosts popular drag shows on Wed-Sun. Upstairs has a cover charge and downstairs is free.

address: 175 Oxford St

Drag shows, dancing and cocktails. Spread across 3 floors. The bottom floor tends to play the camp 1980s/90s hits and hosts the drag shows, whereas the top two floors play dancier music.
Bars and pubs
The Columbian Hotel

address: 117 Oxford St

One of the most popular gay bars in the area, especially with straight people. The beautiful people sit at the open table facing the street to be seen.
The Oxford Hotel, On the corner of Oxford and Burke St is a great place to visit. The basement contains Gilligan's, home to the famous Oxford Smash cocktail.

Palms

address: 124 Oxford St

Gay bar/dancing area underground. Music is anywhere between the 1970s and today. Attracts a mixed, generally friendly and unpretentious crowd. Very small, so expect long queues on Saturdays.
Darlinghurst & East Sydney
phone: +61 2 9331 3672

address: 306 Liverpool St, Darlinghurst

Trendy retro-styled pub with a couple of bars and a bottle shop. A good place for a quiet drink or to get a big night started. There is an outdoor area with a bar on the first floor.

phone: +61 2 9380 5311

address: 360 Victoria St, Darlinghurst

Popular neighbourhood bar, attracts a diverse clientele of locals, staff from the nearby St Vincent's Hospital, as well as gay guys. Burgers from a local restaurant, The Burger Joint, can be ordered at the bar.
Paddington
phone: +61 2 9331 3200

address: 85 Underwood St, Paddington

Cosy local favourite tucked away in amongst the terrace houses of Paddington.

phone: +61 2 9331 2604

address: 237 Glenmore Rd, Paddington

Located in a prime position at the Paddo Fiveways, the Royal is a good spot for a drink before having a meal at one of the surrounding restaurants, or at the hotel.
Sleep
The area hosts some of Sydney's most prestigious hotels, and some of the less desirable places! The Sydney landmark, the Boulevard Hotel is near the Cross, on William Street. This area is the hotspot for backpackers in Sydney - Hostel joints are everywhere and bring a wonderful influx of young independent travellers to the area which really add to the vibrance. There are also a few mid-range hotels scattered around.
Kings Cross
The Kings Cross area is one of the main backpacker hubs in Sydney. The majority of the backpacker hostels around the Victoria St area will not accept travellers with Australian passports. Some won't accept New Zealand travellers or those above a certain age.
Oxford Street
Sullivans Hotel

phone: +61 2 9361 0211

address: 21 Oxford St Paddington

Visitors suggest trying to get a courtyard facing room, as those facing Oxford St can be noisy
Surry Hills
The Sebel Surry Hills Sydney

phone: +61 2 9289 0000

address: 28 Albion St, Surry Hills

phone: +61 2 9212 1111

address: 212 Riley St, Surry Hills
Connect
Australia Post
address: 50-58 Macleay St, Potts Point

address: Suite 1 Gnd Flr 1 Oxford St. Darlinghurst

address: 246 Oxford St, Paddington 2021
Contact number: Australian national contact: 13 7678, International contact +61 3 8847 9045
Cope
Fitness
City Gym Sydney, 107–113 Crown St, East Sydney. Heading north out of Darlinghurst is one of the premier fitness and bodybuilding gyms in East Sydney.

address: 63 Oxford St, Darlinghurst
Yoga
Surry Hills and Paddington have many yoga centres and training facilities.
phone: +61 2 9211 4111

address: Level 1, 84 Mary St, Surry Hills

Vinyasa Yoga integrates yoga postures and breath to effect your body, mind and spirit.

Ashtanga Yoga

phone: +61 29360 7602

address: 17 Oxford St, Paddington

phone: +61 2 9356 4999, +61 419 232990 (mobile)

address: 256 Crown St, Darlinghurst

Created to build a strong body and nervous system, classes are conducted in a room heated to 38 °C.
Health
For a serious medical emergency you should call 000 from any phone for immediate attention of the emergency services
.
Stay safe
Kings Cross is frequented by drug-users, sex-workers and drinkers, all of whom influence the general vibe of the locale. The area is lively, well lit and always full of travellers and residents going about their business all days and nights of the week. Most people there don't cause problems. Ignore the touts and stay out of fights. Be careful in the less well-lit laneways and alleys as, although they are rare, muggings and violence do occur. The area is popular with large groups of men, and sexist leers and remarks are not uncommon.
Be a little careful on Friday and Saturday nights along Oxford Street, particularly the stretch from around Taylor Square to Liverpool St/College St. There are a lot of late-night venues here and the area is very popular for bucks' parties and the like. If you keep to yourself and avoid large groups of males, it's very unlikely that you'll find trouble.
Surry Hills gets its share of drunks as well at night, so be aware of alcohol-fueled violence. During the day it has a light, residential feel, and you should have no problems. At night there are quiet laneways, and overall the area is quiet. Keep to the main roads.
Problems are unusual at Moore Park. Sporting events and concerts in Sydney tend to be convivial, with any rivalries limited purely to banter.
Call 000 for immediate emergency services assistance
or 131444 for NSW Police Service, non-emergencies.
phone: +61 2 9265 4144

address: 151-241 Goulburn St, Surry Hills

Kings Cross Police Station is located close to the El Alamein Fountain in Fitzroy Gardens.
Go next
The City East area is a wonderful place to stay as it is central to so many of Sydney's attractions and gives access to transport such as rail and bus services to explore further afield. It is also close to the airport making it an easy destination for an international or interstate arrival or departure. Many attractions are within walking distance, including the Central Business District, Sydney Opera House and Sydney Harbour. The inner Sydney area, often referred to as the 'Inner City' is a great place to walk with many parks and gardens to take a rest in and most areas of the city and nearby inner city areas have cafes, bars and restaurants in abundance to help keep thirst and hunger at bay.
City Centre
The busy centre of government and finance, but also home to many famous attractions. The city has many fine restaurants, museums and art galleries, the botanic gardens and the Domain, the Conservatory of Music, a large public library and plentiful shopping for all tastes and budgets.
The Rocks
Just to the west of Circular Quay on the headland that provides the city end to the Sydney Harbour Bridge. Look west toward the inner harbour Goat island and the old maritime suburb of Balmain and east toward the Opera House and the small island of Fort Denison. Now a cosmopolitan area with many tourist oriented shops, bars and an at times rowdy nightlife in some parts. The Rocks includes the first colonial village of Sydney, many old workers' cottages and the iconic Harbour Bridge at the far end on Millers Point.
Darling Harbour
This precinct is home to an extensive leisure and entertainment area immediately to the west of the Central Business District (CBD). See restaurants, boardwalks, aquariums, wildlife, and museums including Australian National Maritime Museum all by foot or above by monorail.
City South
The Haymarket, Chinatown and Central Station area is home to markets, cafes, Chinese culture and cuisine, and some cheaper accommodation and shopping.
Eastern Suburbs
For more shopping look at Double Bay in the shopping quarter toward the water for upmarket boutiques and other shops and also along New South Head Road. Also Woollahra, Rose Bay and further on to Vaucluse for shopping restaurants, cafes and historical attractions.
City West
The fish markets, Powerhouse Museum, find a maritime pub for a drink, visit the Star City Casino and the old docks area of the inner west containing art galleries, exhibition spaces, apartments and restaurants.