Sydney/Cronulla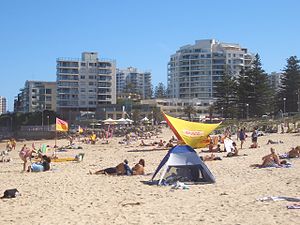 Cronulla
is a beachside suburb in the
Sutherland Shire
in southern
Sydney
.
Get in
Cronulla is the only Sydney beach located on a train line and has a large amount of free parking along the foreshore. This makes it one of the most accessible of Sydney beaches.
By train
There is a direct train service from Sydney City to Cronulla, operated by
Transport NSW
. Trains arrives every 15 minutes and the trip takes around 55 minutes. If coming from Sydney Airport take the train from the airport to Wolli Creek and change to a Cronulla bound train.
By bus
The 962 links Cronulla to Menai and Padstow in Sydney's
south west
.
By car
It is a 45 minute drive
by car
from Sydney City centre, or 30 minutes from Sydney Airport. Continue to drive south past the airport along Botany Bay and continue to follow the signposted route to Cronulla. There is no charge for parking at the Cronulla beaches or anywhere in Cronulla. Parking time limits do apply in places so check before you leave you car because parking inspectors are quite prominent in the area.
By ferry
There are hourly ferries from Bundeena, across Port Hacking bay.
By bike
The cycle route from
Homebush Bay
to Kurnell passes near to Cronulla. It is a pleasant and largely off-road cycle from Botany Bay to the northern Cronulla beaches. From the cycleway along Captain Cook Drive, follow Elouera Road into Cronulla. There are some cycle facilities on this road. If you want a quieter route, or if you are in a hurry to get to the beach, turn first left off Elouera Rd, and follow the beach into Cronulla, or stop for a dip at Wanda.
Get around

Once you are in Cronulla, the shops, North and South Cronulla Beaches, and Gunnamatta Bay are within walking distance of the accommodation spots and the train station. The north end of Cronulla mall aligns with North Cronulla Beach, the centre (Surf Road) aligns with South Cronulla Beach. The far southern end of the mall, past the station, is Gunnamatta Bay.
Walking 1km along the beach esplanade northwards will get you to Eloura Beach and a further 1km will get you to Wanda Beach. Walking southwards along the ocean will get you to Shelly Beach and then Bass and Flinders Point.
You can drive and park within Cronulla, but parking can get difficult during summer, especially if there is a surf carnival on, or on a sunny summer weekend, and especially at South Cronulla beach.
There are buses from Cronulla and Caringbah stations that service surrounding areas . They will get you closer to the Eleura or Wanda beach than the train does. The catch is that they run infrequently, every hour or so on weekdays, and every couple of hours on weekends. They also wander around the area rather than travelling directly, taking around half an hour for the trip.
Taxis are available at the station.
Bike hire is available at Chain Reaction Cycles on the Kingsway east of the mall. Cycles aren't allowed on the beachfront esplanade.

See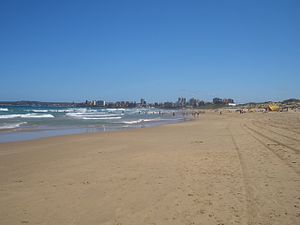 Cronulla BeachThere is no one Cronulla Beach, but rather South Cronulla and North Cronulla Beaches separated by a headland and connected by a waterfront walk. Both beaches have grassy park areas behind them suitable for picnics etc. South Cronulla is more protected, and tends not to have the stronger currents and waves of the more northern beaches.

Eloura Beach and Wanda BeachNorth Cronulla, Eloura and Wanda are all part of the same long stretch of sand. These beaches are further to walk, but often offer easier parking and less crowds. They also may be less sheltered than South Cronulla. The length of sand here is greater than any of the other Southern Sydney beaches.

Bass and Flinder MemorialBass and Flinders discovered the Port Hacking waterway around Cronulla. A memorial to them and explanation of their journey is on the headland near the entrance to Port Hacking. Nice views across the river and ocean from here.

Gunnamatta BayGunnamatta Bay is on the bay side of Cronulla. It has a large netted enclosure for swimming, and no waves. It has a large deep water section, where you can swim laps, etc. Although diving is a bad idea, the water is plenty deep enough to jump off the wharf, and there are plenty of kids doing just that on a summer weekend. A coffee shop, beach, and park.

Darook ParkDarook Park is also on the bay side of Cronulla.
Do
SurfingIs available at all the Cronulla ocean beaches. Surfboard hire is available at Wanda Beach and at Cronulla Surf School located at North Cronulla

SwimmingYou can choose to swim in the surf, or the rock pools at the ocean beaches, or in the calm waters of the bay.

WalkingAlong the esplanade. Head south from North or South Cronulla beaches, you can walk from an hour or so along this paved waterfront path.

SunbathingJust lying on the beach doing nothing

Snorkeling

address: Cronulla, NSW

There are some beautiful reefs in the Cronulla with most in the South. If you follow the coast line of Cronulla you'll come across 2 parks the first one is called Shelly Beach and the next Oak Park. These are awesome places to go and see the reefs of Cronulla and if you;re even more adventurous you could go across to Bundeena, which has a vast area of reef which most of the time you'll have to yourself. :)

Scuba Diving
Movies and BooksIf reading is your thing there is a modern and comfortable library on the mall, with lots of space for lounging around with a book. . There are also a movie cinemas accessible from the northern end of Cronulla Mall (located on the Kingsway next to McDonalds), showing all the latest flicks. You will always get a seat.
Buy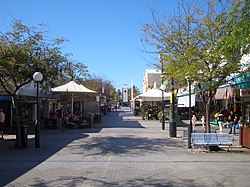 Cronulla Mall
Runs between Cronulla Station and the Kingsway. It is an outdoor pedestrian precinct bordered by shops and cafes. It has a beachware stores, other fashion stores, as well as supermarkets, bakeries, and take away food.
Miranda Fair
is the major shopping hub of the
Sutherland Shire
, around 5km from Cronulla.
Eat
Cronulla Mall
is filled with take-away places, alfresco cafes, and restaurants with just about every kind of food. Good for lunch, coffee or a cheap meal, or an evening meal.
North Cronulla Beach
has a selection of restaurants just in front of the beach, good for dinner, or breakfast by the waves.
South Cronulla Beach
has a selection of cafes, fish and chips and ice-cream, great to eat in the park or on the rock wall with your feet in the sand. All the beaches have kiosks open when the beach is busy if you don't want to move your towel.
Coffee & Quick Snack
GrindLocal institution, good coffee, with queues out the door in the mornings. Also among the most expensive take away espresso in town. They usually have an extra special grind available, for an extra price.

Nulla NullaAn eat-in coffee shop. It is a great place to go for a good coffee and food. Expect to pay restaurant prices.

True BrewProbably some of the best coffee you'll find in Cronulla, run by a man who seems to be obsessed with it. There is also an incredible amount of gourmet teas, snazzy jaffles, and home-made syrups - request a vanilla-cinnamon milkshake (it may not be on the menu, but it's to die for). price-$3-4 for a coffee, probably $6 for a jaffle
Take away
Flavour of North India Ready made Indian, at value prices, located on the south side of the mall. Don't confuse it with the other Indian takeaway on the mall (Handi Ghandi).
Montein Tong, A Thai Take-Away and eat-in restaurant located about 3 shops up from Flavour of North India. This Thai place is always busy, has been there forever, and serves reasonably priced food. If you don't like the Thai here, then you have an issue with the taste buds of a generation of Cronulla locals.
The Best Noodle Inn, 2 shops from Flavour of North India, it hosts a variety of Asian dishes at a very cheap price. Make sure you try the cheap but tasty $3 satay rice. A local favourite indeed
Tarkan's, A great Turkish pide and kebab shop open from 11AM to 1PM F-Su and 11AM-10PM every other day. A favourite after a late night. Located across from the Post Office on Cronulla Mall. You will not miss it, it is bright pink.
Eat-In (Budget)
JD's Bar and Restaurant$10 steaks each and every night and a variety of other foods with a great pub atmosphere definitely a place to go with a group of friends.

Zink Bar, located right at the end of the Kingsway in the North Cronulla Strip of restaurants, they have $13 steaks and a wide variety of food and drinks, in a vibrant atmosphere. (02-9527-9111)
Eat-In (Mid-range)
Hog's Breath Cafe a steak house located by North Cronulla Beach a little further down from Zink bar and up from Sealevel, a family favourite not quite as expensive as Summer Salt or Sealevel but can be hefty if taking a large family.

Little ItalyA great Italian restaurant with a large variety of pizza's and many Italian dishes, it also does take-away and home deliveries.
Eat-In (Splurge)
Cronulla has some of the premium restaurants in the region, with seafood the speciality.
Sea Level

address: url=

Seafood restaurant. Book ahead, as it tends to be popular

address: 103 Ewos Parade, Cronulla

Modern styling, and popular for weekend breakfast. Certainly one of the more expensive breakfasts in Cronulla though. Great views of the water. Try the Affagato on a summer's day for the perfect ice cream and coffee mix.

address: Mitchell Road, Cronulla, in Eloura Surf Life Saving Club

Cronulla's most expensive and elegant restaurant. Full degustation menu available, but still does kids meals!
Drink
Northies Bar and RestaurantOne of the most famous drinking holes in Sydney.Northies is famous for its great atmostphere and great location. Cronulla loves to drink and you will see locals (and ring-ins) out on Friday, Saturdays and Sundays (day and night) at Cronulla's favorite drinking spot. Very popular and crowded spot located directly across from North Cronulla Beach. On other weeknights, it is actually a nice spot for dinner and a casual drink not too far for the beach. The restaurant is reasonable, and has kids meals. Sit inside to escape the cigarette smoke.

address: 38 Gerrale Street

An RSL with a great sports bar and cocktail room, it also host a pokie room. It has a nice view of the beach.

Fusions Nightclub

address: 1/84-86 Cronulla Street

Although no where as good as a night club in the city, fusions can be quiet handy. It is across from Gloria Jeans on Cronulla Mall and costs $10 for entry after 9PM.

address: 461 Captain Cook Drive

If you are looking for more of a club atmosphere, or just a place you can gamble away all your money and drink at a reasonable price then this is it. Hosting a huge pokie room and television area if your keen on watching the Rugby League. It is the club of the local Cronulla Sharks football team. This venue is in Woolooware, around 3km from Cronulla, and around 1km walk from Woolooware station.
Sleep
Connect

Cronulla library has free WiFi for 4 hours per day during opening hours. Some coffee-shops also offer free WiFi.

Go next
A ferry leaves from Cronulla every hour to Bundeena on the edge of
Royal National Park
. Bundeena has its own bay beaches which are quieter than Cronulla, and a small selection of restaurants, take away places and coffee. Catch the ferry from the ferry wharf on the Gunnamatta Bay side of the railway behind the station. Don't miss the last ferry back. The timetable is on the wharf.