Sydney/Darling Harbour
Darling Harbour
is a leisure and entertainment precinct, in central
Sydney
. It extends to Pyrmont and Ultimo, and contains The Star and Pyrmont Bay, including Harris St.
Understand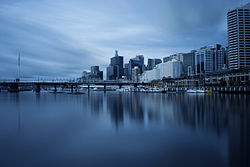 Darling Harbour is an extensive area almost completely dedicated to entertainment and tourism. For many decades acting as the core of the working port of Sydney, Darling Harbour was developed for the Australian Bicentenary in 1988. It has the National Maritime Museum, Sydney Aquarium, Wildlife World, and a Madame Tussaud's museum. It is home to Sydney's largest exhibitions and conferences
Darling Harbour
is a small inlet, ringed by attractions and pedestrian boardwalks facing the water. The Pyrmont Bridge is a wide pedestrian and cycle swing bridge that crosses the inlet, linking the two sides and forming a loop walk around the area. The area has fantastic water views, ice-cream, playgrounds, parks, fountains and often free attractions on weekends.
There is nowhere to swim, but if it is hot, feel free to run child-like under the many fountains in the area.
During the day, the area attracts visitors, city workers, and exhibition and convention attendees, getting busy on summer weekends and school holidays. On weeknights it has a particular vibe, with popular restaurants by the water, and people just out strolling around. On Friday and Saturday nights, the place is populated by club goers and can be quite crowded.
The Pyrmont Bridge forms a historic centrepiece to the area, but don't expect any other history to discover - outside of the museums that is. The redevelopment of the area has swept away all that used to be. However, the suburbs of Pyrmont and Ultimo, 200 metres or so from the water's edge, have many of the original pubs and terraces that were previously inhabited by the dockers and warehouse workers during previous life of the area.
Get in
Walk
Darling Harbour is within walking distance of most points in the
Sydney CBD
.
From the Pitt St Mall: From the northern side, walk west down King St until you come to King St Wharf and the Darling Harbour footway. From the southern side, walk west down Market St to the Pyrmont Bridge.
From Town Hall walk downhill (west). Follow the signs from Town Hall Station and the Kent St Arcade.
From Chinatown and central station walk west (downhill) past Paddy's Markets and the Entertainment Centre into south Darling Harbour.
There are a number of access methods to Darling Harbour that have steps, but a level alternative route is signposted, or an alternative lift is provided. The Darling Harbour access at the west of Market Street has level access with a lift at the eastern end of Pyrmont Bridge providing access to the bridge and water level.
By train
Catch a
Sydney Trains
to Central or Town Hall stations. From Town Hall, follow the signs to Darling Harbour out of the station, exiting via Town Hall Square. Walk downhill (west) for two blocks to the eastern edge of Darling Harbour. From Central walk down into
Haymarket
(Chinatown), and then walk west to the southern end of the Darling Harbour district.
By light rail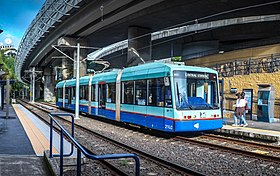 The Dulwich Hill
Light Rail
line is the ideal way to access Harbourside, The Star Casino or the Fish Market. You may board from its starting point at Central station or catch it en-route at Capitol Square or Paddy's Markets in
Haymarket
. It runs 24/7 between Central Station and The Star, other stations have services every 10-15 minutes between 6AM and 11PM (midnight on F Sa).
If you are going to Cockle Bay, the aquarium, or King St Wharf on the eastern side of Darling Harbour from the
City
, the light rail will take you further away from where you want to be. It only serves the western side of Darling Harbour, and you will have to walk back to access Cockle Bay or Aquarium.
There is level access at all light rail stations.
By car
Darling Harbour is accessible by car:
From the north cross the Harbour Bridge and head west onto the Western Distributor and then take the exit to Darling Harbour.
From the city, head down Market St (west), and follow the signs and exit at Darling Harbour.
From the east or south of the City, consider the Cross City Tunnel (toll applies), and follow the signs.
Like the
City
, parking in Darling Harbour is expensive but a number of parking stations are available. Expect to pay up to $30 for a day of parking. Some cheaper parking options are around near the Ultimo end of Darling Harbour, for around $15. It's often worth booking ahead online.
By ferry
If you are travelling from Circular Quay you have an option of the
Sydney Ferries
, the government owned standard green ferries, or the
Matilda Rocket ferries
.
Sydney Ferries depart Circular Quay wharf 5. They accept Multi tickets, or a single ticket will cost $5.80. They stop at Darling Harbour King St Wharf 3 on the eastern side, and at Pyrmont Bay Wharf at the very northern tip on the western side, past the Maritime Museum. Ferries depart approximately every 20 minutes, and run M-F from 6:45AM to 10PM, and Sa Su public holidays 8AM to 10:15PM.
Matilda Rocket departs from the Harbour Master's Steps on the west (left) of Circular Quay. They arrive just by the Aquarium very close to the Pyrmont Bridge, at a different wharf to the Sydney Ferries. They charge $5.70 for a single ticket and issue their own tickets. They don't accept the Multi (but do issue their own day passes, just for their ferries). The frequency varies, depending on demand. They run at least every hour from 10AM until 5PM.
The ferry trip takes 25 minutes or so, as the route isn't that direct by water. The ferries all need to pass under the Harbour Bridge to get to Darling Harbour. The white ticket booth at Circular Quay is selling tickets for the Matilda Rocket. Proceed to Wharf 5 directly if you wish to board a Sydney Ferries service.
The Parramatta River Ferries arrive and depart about every hour at Darling Harbour King St Wharf 3, heading upriver towards
Sydney Olympic Park
and
Parramatta
.
Again, if your interest in
getting in
is purely utilitarian, it may be quicker to walk, or take a train or bus service. To get from Circular Quay to Darling Harbour by ferry can easily take 50 minutes if you just miss a ferry. By comparison it is only around 30-40 minutes to walk there. However if you need a reason to take to the Harbour on a ferry service, then this is the perfect excuse!
By bus
The 389 bus from Bondi and Town Hall does a whole loop around the entire Pyrmont and Ultimo area, going to the Star City Casino, and the Maritime Museum lower level road. The bus runs every 10-15 minutes from around 6AM until midnight.
If you have a Sydney Explorer pass, the red Sydney Explorer buses have several stops around Darling Harbour, stopping on the roadside of the Maritime Museum, and at the transport interchange between Harbourside and the Convention Centre, and by the side of IMAX.
By bike
Pyrmont Bridge, the centrepiece of Darling Harbour, is a shared pedestrian and cycle space. Separated cycleways lead east into the city and Kent St cycleway, west to Union Square and Anzac Bridge, and south along Darling Drive towards Central and Ultimo. Cycling around Darling Harbour is tolerated in the quieter times of the morning, but crowds make it all but impossible at the busier times of day.
Get around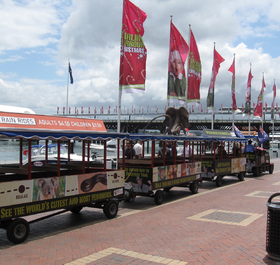 The area is designed for walking. It is generally flat, car-free in most parts, with footways connecting to the Casino and to the Powerhouse Museum. There are directional signs to the major sights scattered around and maps available at the tourist information.
There is a little motorised train that does a loop around precinct, useful for tired little (or big) legs. At $4.50 for adults and $3.50 for children one-way, this makes it one of the most expensive one-way trips for children anywhere in Sydney, so it's best to think of it as a ride rather than a form of transport. It does go all the way from the far side of Tumbalong Park to the Aquarium, so it can save some walking, but is slow and won't save much time compared to walking, if any.
If you are right at the southern end of Darling Harbour by the Entertainment Centre or the Powerhouse Museum, then it might be worthwhile getting the light rail if you are going right to the Northern end at the casino.
Around the water's edge and the surrounding parkland, the terrain is flat and accessible to wheelchairs and prams. There are lifts to access Harbourside, King St Wharf, and Cockle Bay Wharf. Darling Harbour is a newer area and accessibility has been considered in its design.
There are lots of fountains at the southern end of Darling Harbour, and you will have to walk around them. If you notice people taking an apparently long route, and can see a quicker way to cut across Tumbalong Park, you will find that you have to join the main pathway to go around the fountains. If time is of the essence, then following signs and people who look like they know where they are going, will usually be quicker than meandering around the landscaping.
See
Darling Harbour is a great place to take in the city lights at night time, as you walk through the district or sit by the bay.
Attractions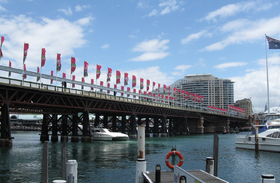 Museums
phone: +61 2 9333 9240

address: Aquarium Pier

It features a variety of personalities, mostly Australians such as Hugh Jackman.

Australian National Maritime Museum

phone: +61 2 9298 3777

address: 2 Murray St

Two floors of internal exhibits, outlining the maritime role in Australia's history. Houses significant full scale exhibits. Outside there are ships and submarines to explore.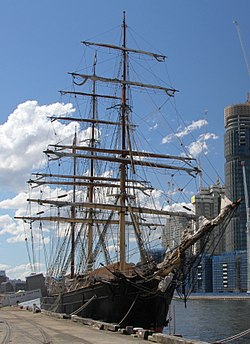 phone: +61 2 9298 3888

address: Wharf 7, 58 Pirrama Road

The Fleet restores and operates a number of historic vessels including the barque James Craig. In 2003 the International Congress of Maritime Museums gave the James Craig the Maritime Heritage Award. The offices, model workshop, some displayed boats, and the library are on Wharf 7 located in Darling Harbour. The James Craig is alongside the wharf.
Events
Tumbalong ParkAt first look, appears a bit like an oval, but is actually a large open space with a stage for outdoor performances. Something going on here most weekends, and a good place to lay out a picnic blanket

International Convention Centre Sydney

address: 14 Darling Dr

Sydney's main exhibition and convention centre. This new convention centre was built to replace the old convention centre and the Sydney Entertainment Centre to the tune of $1.5 billion. The centre is used for exhibitions across the year, as well as for music acts, talks and concerts in the two large theaters on either side of Exhibition centre.
Do
Play on the free children's playground.
Jump through the fountains and run up and down the spiral fountain outside the Convention center.

address: King St Wharf

Bowling, Karaoke, music, drinks

phone: +61 2 9777 9000

address: 80 Pyrmont Street, Pyrmont

Has undergone a large renovation to market a wider range of experiences, with new gambling tables and machines and bringing in several celebrity chefs. Mostly inwards facing and doesn't make the most of its views. Still offers a good choice of bars, cocktails, sports bars and food open until late. No significant access to under 18s.

phone: +61 2 9281 3300

address: 31 Wheat Rd

The IMAX in Darling Harbour is being redeveloped and is closed. It will reopen as one of the largest in the world, with new-release IMAX movies in normal format and 3D.
Harbour cruises
Depart from the King St Wharf on the eastern side of Darling Harbour, or from
Circular Quay in the City
There all types to choose from.
Buy
phone: +61 2 8398 5700

address: 2-10 Darling Drive

This shopping centre has a large collection of souvenirs, and other Australiana. Its open until 9PM most nights, whereas the rest of the City shopping usually closes at around 6PM. There is also a selection of fashion, arts & crafts, and music.

address: Corner Pyrmont Bridge Road &, Bank St

You can get fresh fish to cook at home. They also run a number of restaurants and a cooking school. Sydneysiders stock up on seafood in the week before Christmas, and at Easter, making it exceptionally busy. Ample parking available.
Eat
There are lots of places to eat at Darling Harbour. It is literally lined with restaurants, alfresco cafes, bars, and take-aways, and is a great place to go in an evening for dinner overlooking the water and the city skyline. On popular days there are concession stalls selling ice-creams, drinks etc. all over the place, again, at higher prices than you would expect to pay elsewhere.
Generally no need to book a restaurant on a weeknight, as it is always possible to get a table somewhere by just strolling around the harbour, picking something that appeals.
Those with an aversion to second hand cigarette smoke, should note that smoking is generally permitted at some of the outdoor alfresco bars overlooking the water. Sitting inside means that you won't get bothered by cigarette smoke, but you also miss the best locations. Smoking laws now mean you can't smoke in eating areas, so sitting in areas that serve food eliminates this issue.
King St Wharf
King St Wharf
is a newer development on the eastern side of Darling Harbour, adjacent to the city at the western end of King St, north of the aquarium.
Cockle Bay
On the eastern side of Darling Harbour, adjacent to the city, at the western end of Market St. South of King St Wharf.
Harbourside
On the western side of Darling Harbour, over the Pyrmont Pedestrian Bridge from the city and Cockle Bay.
The Darling Harbour provides a lovely and relaxed venue for eating out. There are also some very good Thai, Malaysian and Indian restaurants providing very good food at reasonable prices in Darling Harbour.
Pyrmont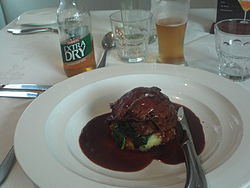 Drink
For a modern styled bar, with plenty of space, facing the promenade to the water, try:
Bungalow 8

address: King Street Wharf

Cargo Bar & Lounge

address: King Street Wharf

With a waterside location, Cargo has become one of the most hottest locations in town. Be sure to grab a drink there at sunset for some impressive views. Caters for a diverse crowd, from younger party-goers to after-work business types, and tourists. Hard to feel out of place there.

address: Cockle Bay, next to the bridge

Nice views, good on a summer afternoon or warm evening. Busy on Friday and Saturday nights. Basic Australian barbecue food, not too pricey, sausages and salad, etc. Upstairs from Pontoon is the Wallaby Bar, but there is no wildlife, just tributes to the Australian Rugby Union team all around the room. However don't expect a quiet place to watch the rugger, its is very busy location, with a young crowd, and queues Friday and Saturday nights.
For a more traditional pub feel, try:
Pyrmont Bridge Hotel

phone: +61 2 9660 4933

address: 96 Union Street, Pyrmont

Simple, no fuss establishment, popular with the locals and hospitality workers in the area as well.

phone: +61 2 8295 9999

address: 111 Sussex St

Very popular pub. Serves food as well, but worth making a reservation if you intend to eat there.

Pumphouse TavernAround 10 beers draught on tap, and around 100 available in total. Modern faux-rustic in style, attracts a young after work crowd. Generally busy, but even more after work on a Friday evening. Balcony restaurant upstairs. Pizza served in the bar area. View out onto the courtyard, good for people watching but no water views.
For nightclubs try:
phone: +61 2 9266 0600

address: Cockle Bay Wharf, Darling Park

Purpose-built "international super nightclub". Big and international with a cover charge of at least $10 to match.
Sleep
Budget
There isn't any Budget options available in the Darling Harbour precinct. But, you will find a number of Backpacker Hostels and economy hotels in the
City South
district, namely in Haymarket, and near Central station. Many of these places are in short walking distance to Darling Harbour, or only a few stops on the Dulwich Hill Light Rail line.
Mid-range
Carlton Crest Hotel

address: 169-179 Thomas St

It's in the theatre district, and has over 251 rooms. Guests have access to a rooftop bar, heated pool and acclaimed restaurant.

Four Points by Sheraton

phone: +61 2 9290 4000

address: 161 Sussex St

Darling Harbour. Australia's largest hotel, with 630 rooms at a location on the CBD side of Darling Harbour. Darling Harbour at the door, and a short walk to the city centre.

phone: +61 2 9563 0888

address: 50 Murray St

Economy international hotel, right on the western edge of Darling Harbour, near Harbourside

Medina Grand, Darling HarbourGreat location, next to King St Wharf on the city side of Darling Harbour.

Novotel Sydney Hotel on Darling Harbour

phone: +61 2 9934 0000

great views and the convenience of three modes of public transportation at your doorstep.

The Star Hotel

phone: +61 2 9777 9000

address: 80 Pyrmont Street, Pyrmont

The obligatory large hotel located in The Star casino complex. Don't expect the kind of accommodation deals you would find in Las Vegas however, unless you quality for admission to the Inner Sanctum.
All the pubs in Pyrmont have accommodation, varying in quality, offering a real alternative style from the normal city accommodation.
Holiday Inn Darling Harbour Hotel

phone: +61 2 9291 0200

address: 68 Harbour St

At the southern end of Sydney's precinct. You can travel around the city area on the local free bus or efficient Light Rail from the nearby stop at Paddy's Markets
Stay safe

There is a police station and first aid station at the tip of the harbour. The area is quite well patrolled, and generally busy, and it is a comfortable area to walk in the daytime and into the evening.
Late on a Friday or Saturday night there is drunken behaviour. After 10PM or so on a weeknight the area can get quiet, if there are no events on that night.
There is no fence around the harbour, and the water is deep. Watch and ensure young children don't fall in. Ladders are located at regular intervals, and life rings are scattered around as well.

Cope

Toilets are found under the Pyrmont Bridge on the eastern side, next to first aid, in Harbourside and Cockle Bay Wharf, and next to the curtain fountain at the southern end precinct. They are available at many other locations as well. Baby change facilities are available there too.
Like in Circular Quay, there are often quite elaborate busker shows put on next to Harbourside. These shows are professionally organised, and train backpackers to put on juggling shows. Although free to watch, part of the training is a hard-sell to solicit donations of up around $20 at the conclusion of the show, and they will try to humiliate anyone walking away without paying, or only leaving coins.

Connect

There are coin operated internet access terminals on the ground floor of Harbourside. There are public phones distributed about the precinct.
If you are attending a convention, ask the conference organisers about Wi-Fi access in the convention centre.
There is a McDonald's restaurant in Harbourside, with a free Wi-Fi hotspot that covers a section of the food hall. Really easy to use without buying any food there.

Go next
The
rest of the city
is just at your eastern doorstep, but if you have made it this far west, why not keep going to Sydney's
Inner West
. Still plenty of restaurants and cafes, with a more inner-city residential feel.