Sydney/Eastern Suburbs
The
Eastern Suburbs
of Sydney are located between Sydney City and the coast, on the southern side of the harbour. It is one of the most popular areas for visitors to Sydney, and includes the iconic
Bondi Beach
and Watsons Bay. It is well-served by public transport, with most points being within 30 minutes travel from the city.
Understand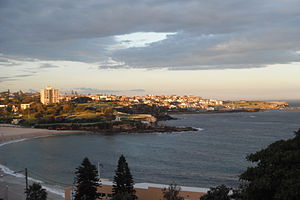 The Eastern Suburbs is a high density residential and tourist area. It has extensive frontages on the Harbour with some of Sydney's best views and most expensive real-estate. The Ocean beaches are separated by towering sandstone clifftops and headlands. This part of Sydney has a choice of over 20 different beaches. Sydney's eastern suburbs connect through to the
City Centre
through the
City east
precinct and adjoin the
City south
precinct toward the south of the city and on further toward the Kingsford Smith International airport at Mascot.
Harbourside
The eastern suburbs lines the southern side of the harbour from the city to South Head, with some of Sydney's finest views, and most expensive houses. Potts Point and Elizabeth Bay almost form part of Central Sydney. Some interesting areas are Rushcutters Bay, Darling Point, Double Bay, Rose Bay, and Watsons Bay and South Head.
Oceanside
Bondi Beach is the world famous beach, but there are others, Tamarama Beach, Bronte Beach, Clovelly Beach, Coogee Beach, Maroubra Beach and Malabar Beach. Coogee is popular with backpackers, but also is considered a quaint family suburb
Get in
By bus
Sydney Buses runs extensive services throughout the Eastern Suburbs. Most originate from Circular Quay in the city. There are three main bus routes from the city:
Anzac Parade (to Clovelly, Randwick, Coogee, Maroubra and La Perouse), with 373 being a frequent service and the main connection to Coogee via Randwick.
Oxford St (to Bondi Junction, Bondi Beach, Bronte Beach)
William St/New South Head Rd (to Rose Bay, Double Bay, Vaucluse, Watsons Bay)
City Sightseeing operates a hop-on hop-off bus touring the Eastern Suburbs, which travels east along the southern shore of the harbour to south head, through Double Bay out to Watsons Bay and South Head before tracking down the coast through Bondi Beach, before heading directly back to the city.
By train
The Eastern Suburbs Line goes to Kings Cross, Edgecliff and terminates at Bondi Junction, where passengers can interchange with buses. The train does provide a speedy alternative to taking a bus all the way from the city.
By car
Most places in the Eastern Suburbs are accessible by car. However travelling to and parking at popular beachside locations during summer weekends and holidays can be frustrating and time consuming.
See
Ocean beaches
Swim, surf, walk or explore the Eastern Suburbs beaches. All of them have public transport access by bus, check
Transport Info
for more information .
From North to South
Bondi Beach. World famous surf beach. Pretty beach, nice for swimming, walking, with plenty of food and accommodation places lining the shoreline. Parking and car access can be extremely difficult summer weekends, and challenging even at other times. Public transport access is bus from the City, Bondi Junction, or Watsons Bay.
Tamarama Beach. A small surf beach 2km south from Bondi Beach. Worth a walk along the cost from there. The walk, although nice, is not quite as pretty as walking from Clovelly. Only kerbside parking. Public transport is by direct bus, or walking from the bus at Bondi Beach.
Bronte Beach. A nice surf beach around 3km walk south from Bondi Beach, much smaller than its northern neighbour. Good for walking. Nice ocean rock pool for swimming. Nice beachfront park with barbeques. Popular with surfers. Car access and parking can be difficult summer weekends - get there early or late if you want to drive. Public transport access is very easy from Bondi Junction, with very regular buses stopping right at the beach.
Clovelly Beach. Clovelly is a beach like no other in the area. If you are looking for a safe, wave free swim, then Clovelly is for you, but be prepared to swap the natural beauty of Sydney's other beaches for a beach that resembles a cement basketball court. There is a long bay, a breakwater, and calm swimming. It is a great location for walking, with headland walks heading north and south. The walk north to Waverley Cemetery popular and spectacular. The kiosk is now an upmarket cafe, so this is a good place to pack a picnic. Parking can be difficult, at peak times, but it is usually possible to find a spot somewhere. If you are not satisfied with Clovelly's man-made feel, follow the path south to Gordon's Bay where you will find an astonishing deep bay, popular with backpackers and the nimble of foot (the water is best accessed by climbing over rocks.
Coogee Beach. A pretty and popular beach - equally good for its cafe, pub and people-watching scene as it is for the water and sand. A little smaller than Bondi but with a similar feel, with a nice mix of locals, Sydneysiders and visitors. There is usually a wide area between the flags. Coogee Beach is not known as a surfing beach because of its shallow shore break, caused by a steep drop off from the shore. Even for beginners the waves are usually not be suitable. There are plenty of facilities here - Coogee has pubs, restaurants and takeaway places. It's easy to access via frequent services from the city. Parking and car access can be difficult on summer weekends and holidays - and most parking spots are paid and limited to 4 hours.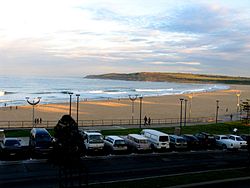 Maroubra Beach. A long popular beach, with good facilities and great waves. You will always find a spot on the sand at Maroubra, but gets crowded swimming between the flags. Large parking lots, which do fill up summer weekends. Probably a little less scenic than the beaches further north, as it lacks the cliff headlands, therefore probably not as good for walking. A cafe and kiosk on the beach, open even during winter.
Malabar Beach. Sheltered at the end of Long Bay, Malabar is not the beach for surfers. It is a smaller, quieter beach, often not crowded at all. Not favoured much because of its poorer water quality. It is not patrolled by lifeguards. Parking is usually available.
Little Bay. A beautiful, calm little bay (hence the name) surrounded by cliffs. Rather untouched, save for an amenities hut, this beach is accessed by traveling through old hospital grounds — Prince Henry Hospital — that have now been converted into retirement villages and upper-class neighborhoods. There are a couple of shops located on Anzac Parade, which is about 10 minutes walk away from the beach. The beach is dog friendly, good for snorkeling and kids, although this beach is not patrolled by lifeguards. Has a nice quiet atmosphere. Best accessed by car or any south-bound bus services running along Anzac Parade, such as the 392.
Harbour Shoreline
See the different aspects of the harbour to walk, admire the views. Take a swim in the Sydney Harbour. You can access all of the harbour shoreline by
ferry or bus
.
From the city to the heads
Rushcutters Bay

address: New South Head Road and New Beach Rd

Rushcutters Bay has many small parks, the largest and most popular being at the southern end of Rushcutters bay. These parks are busy on weekends with walkers, people exercising their dogs, picnicers and locals playing ball games. Rushcutters Park at the southern end has a cafe located toward the centre near the water. To the north west the bay sweeps toward Elizabeth Bay. Further along the bay on the eastern side New Beach Road passes the Yacht club and marina complexes have restaurants, cafes, shops and boat servicing operations catering to local boaters and visitors. Parking can be difficult at times.
Towards Darling Point there is more parkland lining the shoreline. The bay was originally called Blackburn Cove honouring the Master of HM Armed Tender Supply and still has a small Naval depot. The area was popular for cutting the reeds often used as roof thatching in the early days of the colony. The name hence became established as the 'Rushcutting Bay'. The bay was fed by a creek with two arms; one rising in present day Darlinghurst and the other, Glenmore Brook, rising in Woollahra and which passed through lower Paddington. This lower valley of Paddington also carried the name Lacro. If you walk further north and toward the east to Darling Point there is a ferry wharf there to catch a ferry to the City or onwards eastward along the harbour shoreline .
Double Bay. Best known for its shopping, restaurants, and cafes. A marina and a ferry wharf dominate the harbourfront. Swimming isn't popular here, and the waterfront park is a little worn. There is an enclosure further east, but you can't walk to it along the harbour front. The shopping district used to be irreverently referred to as "Double Bay-double pay" due to the range of upmarket and exclusive boutiques situated there. The bay itself has extensive mooring areas for private water craft. Public transport access by ferry or bus.
Rose Bay. See the seaplanes take off and land. This was the original international airport for Sydney when the airlines operating toward the Pacific, SE Asia and onward to Europe used seaplanes. The old seaplane terminal and airport administration building has been converted into use a waterfront restaurant. The water landing strip remains in service and is generally used for light seaplanes doing charter work and scenic flights northward to Palm Beach. Scheduled operations for the large seaplane flights ceased in the 1970s when the seaplane operations servicing pacific islands to the east were replaced with land based aircraft operated from the main international and domestic airport at Mascot toward the south of the city. Look at the harbour views. Not really a swimming place and can feel a bit like a harbourside transport hub at times due to the ferries and the buses coming and going. There is an enclosure for swimming at the headland on the east of the bay, which is nice to cool off. The bay has extensive mooring areas for private water craft. Parking is tight. Public transport access by ferry or bus.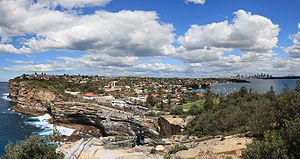 Watsons Bay. Famous for its seafood, city and harbour views. Immensely popular on summer weekends, it can be impossible to park anywhere close. Visit Nielsen Park and the famous Gap above the sandstone cliffs at South Head, it has stunning views and is part of an extended coastal walkway. Sadly the Gap also has a macarbre history as the site of many mysterious deaths and many suicides Public transport access by ferry or bus.

Harbour Bridge to South Head and Clovelly-walking routesA development of the Sharing Sydney Harbour Access Program (SSHAP) including the Sydney Harbour Foreshore Authority and NSW Maritime and Department of Planning. A shared vision to improve public access and enhance the recreational enjoyment of Sydney Harbour and its tributaries for the people of Sydney and visitors to the City. Extensive information and downloadable maps and brochures are available at the website. This program has established pathways to follow the coastline and access many of the smaller parks and reserves that line the harbour shoreline.
La Perouse and Botany Bay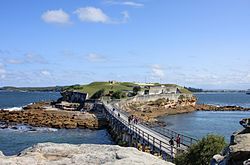 La Perouse was the site of some of Australia's earliest European influenced history and is named after a French explorer Jean François de Galaup de Lapérouse, who was commissioned by King Louis XVI of France to explore the Pacific. The La Perouse area has also been an aboriginal reserve, a defence site and even a home for hundreds of homeless Sydneysiders during the Great Depression. Much of the area is now a national park, and there are cliffs, inlets, bays, and walking trails to explore. Visit on a summer Sunday, and you will see Sydney in full recreation mode, with boomerang throwers, kite fliers, beach goers, fishermen, walkers, and picnic blankets with fish and chips. You might even catch the snake man showing Australian native snakes, all for a dollar in the hat at the end of the show.
The voyage of Lapérouse
Lapérouse landed in Botany Bay on 26 January 1788, only days after the First Fleet arrived in Australia and just as the British were leaving for Port Jackson. Contrary to popular belief, the French did not have orders to claim Terra Australis for France, having been directed by the French government to observe the founding of the British Colony, and their meeting with the British was cordial.
In Samoa there had been a skirmish with the inhabitants, killing 13 members of the French expedition and injuring Father Reçeveur, expedition naturalist and chaplain, who later died at Botany Bay. He was buried at Frenchmans Cove below the headland that is now called La Perouse.
The French stayed for six weeks and the last official sighting of the French expedition was in March 1788 when British lookouts stationed at the South Head of Port Jackson saw their ships set sail. The entire expedition was wrecked on the reefs of Vanikoro in the Solomon Islands during a cyclone sometime during April or May 1788 — the circumstances remaining a mystery for the next 40 years.
Frenchmans Beach at La Perouse. This is a swimming spot on Botany Bay. It is a fairly average beach, but has an interesting westerly outlook which allows you see the sun setting over the bay, which is very unusual in Sydney, where looking over the water usually means you are facing east. Accessible by car or bus.

Kamay Botany Bay National ParkAt La Perouse has a museum explaining the interesting history of the area. The Kamay Botany Bay National Park takes its name from the Kamay people (the Spear people) of the nearby Cook's river and Botany Bay. There are walks and great views over the ocean and the bay. The park contains rich marine environments and remnants of the heathland vegetation which Banks and Solander, Cook's botanists, first studied in 1770. You can explore the Banks-Solander track, with its fascinating insights into the once-widespread vegetation communities that Cook's botanists explored in 1770. Or learn about Australia's Aboriginal history and European Colonisation, told in the Lapérouse Museum and the Visitor Centre. Enjoy the Cape Baily Coast Walk, with its windswept heaths, historic sites and spectacular coastal views. All easily accessible by car or bus.

Bare Island Fortsits in the entrance to Botany Bay linked to the mainland by a wooden bridge. Was built to protect the entrance to Botany Bay, and later used as a Veterans Home. Old fortifications and bay views.

La Perouse Congwong Bay Beach. Little Congwong Beach is an unofficial & secluded clothing optional beach located at La Perouse, which is reached only by walking through the Botany Bay national park. Little Congwong Beach has been used peacefully by naturists for more than 40 years. Make your way to La Perouse on Botany Bay and park in the car park just north of Bare Island. Walk down the steps to Congwong Beach then left across the rocks to Little Congwong Beach, the second bay. This beach is very popular on summer weekends. Little Congwong is small, and has been described as the most beautiful beach oasis in Sydney.
Parks and gardens
Centennial Park
phone: +61 2 93396699, +61 412 718611 (24-hour ranger assistance)

address: Oxford Street, Centennial Park

This is a large formal park in Sydney eastern suburbs with its own internal road and walking trail system, grand avenues, historic buildings, lakes and many groves of shady trees dotted with picnic areas. Bike and walking trails, horse trails and equestrian facilities, some restaurant, cafe and kiosk facilities are available. This park is both a playground and a giant green lung for the city. Popular all days but especially on the weekends. Centennial Park covers 220 hectares and draws more than 3.6 million visitors annually.
address: Belvedere Amphitheatre, Centennial Park

CyclingThe main circuit is 4 km in length, and there is a separate, much smaller circuit, for children just learning to ride.

*

Centennial Park Cycles

phone: +61 2 93985027

address: 50 Clovelly Road, Randwick

Cycle hire

Roller-blading

address: Centennial Park

*

Roller Bladers Total Skate

phone: +61 2 9380-6356

address: 36 Oxford Street, Woollahra

hire blades
*

Centennial Park Cycles

phone: +61 2 93985027

address: 50 Clovelly Road, Randwick

hire blades

phone: +61 2 93605650

address: Centennial Park

Centennial Park has a 3.6km horse riding track and the Centennial Parklands Equestrian Centre is nearby.

phone: +61 293809350

address: Centennial Homestead, Grand Drive, Centennial Park

Centennial Parklands Dining incorporates a restaurant, café, kiosk and several outdoor areas. Contemporary style menus
For maps of the Centennial park precincts and facilities visit Centennial Park maps .
Moore Park
phone: +61 2 93396699, +61 412 718611 (24-hour Ranger assistance)

To the south east corner of this part of Sydney, this 115 hectare open park area has sport fields used by local the local community, bike and walking tracks run through the park area and Kippax Lake, a small lake near the sports stadiums is a pleasant area for picnicing or relaxing on days without major functions in the adjoining facilities. This park is also the site of Sydney Boys High School and Sydney Girls High School, the ES Marks Athletics Field, an 18-hole Group One Championship Public Golf Course and Driving Range, tennis courts and netball courts and is a green buffer zone connecting thru to the Centennial Park a little further to the east. Moore park adjoins the Sydney Football Stadium and Sydney Cricket Ground.
Harbourfront parks
phone: +61 2 9391-7000 (Monday to Friday 8AM-5PM), +61 293917000 (after hours service - Ranger or emergencies)

address: adjacent to Royal Cruising Yacht Club and extensive private mooring facilities at Rushcutters bay.

Busy on weekends with walkers, people exersising their dogs by throwing balls and frisbees to them, picnickers sit about on the lawns and local people play come together to play informal ball games. The park caters for community sports such as cricket, rugby union and soccer. The park has a cafe and kiosk located toward the centre near the water that serves light meals, drinks and other refreshments.

phone: +61 2 9391-7000 (Monday to Friday 8AM-5PM), +61 293917000 (after hours service - Ranger or emergencies)

address: at the northern end of Darling Point at the end of Darling Point road

This small pretty park is the location of the Darling Point ferry wharf. The park comprises grassed landscape terraces stepping down to the harbour foreshore and the public ferry wharf. Set in the grounds of the original McKell mansion people picnic and relax amongst the footings and small remnant walls of the old mansion. It has become a popular site for weddings. The park was established in 1983-1985 with the heritage listed Canonbury Cottage becoming the centrepiece of the Park.

address: Vaucluse Road, Vaucluse

Established as a public reserve in 1911. Nearby is a 1.5-km 'Hermitage Foreshore' walk through park and bushland running along the western edge of Vaucluse between Nielsen Park and Bayview Hill Road. Has a scenic harbour swimming beach protected by a shark net during the summer months, picnic areas, meals and refreshments available at the Nielsen Park kiosk. See map and details of locality.
Historical Sites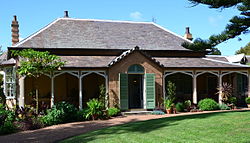 Bronte House - An Historic house up Bronte Road from the north end of the beach. Bronte House.
The Historic Waverley Cemetery is on the south head of Bronte. It is Australia's oldest European graveyard, and contains a mausoleum designed by Walter Burley Griffin, the architect who designed Canberra.

address: Wentworth Road, Vaucluse

(Historic Houses Trust) - first built in 1803, Vaucluse House is one of Sydney's oldest residences on a grand scale. The house and gardens are open to the public.
Do
Moonlight Cinema, in the warmer months at Centennial Park and also the nearby Botanic Gardens in the City.
Picnic in Centennial Park, just go relax in the wonderful expanse of this sprawling park

Play golfIn Moore Park.

Go to the Cinemas at Double Bay, the historic Ritz Cinema at Randwick or to the Entertainment Quarter for movies and many other entertainment venues.
Go to the beach. Pick any one of the iconic eastern suburbs beaches and enjoy the sand, surf and parade of Australian city beach culture.
Hang out with the tanned set at Double Bay.
Take a walk. Sydney's Great Coastal Walk - Barrenjoey to Royal National Park, this seven day walk traverses the great urban coastal walk of Sydney. The walk can be broken into distances and times of one's own choosing and may be walked in either direction south from Palm Beach or north from Cronulla. There is no need to do the whole walk and a visitor can just access any part of the coastal walk they choose to experience either for a few metres or a few kilometres. For full details information and brochures see details for walks including Harbour Bridge to South Head & Clovelly and Clovelly to Cronulla. There are additional details available for Sydney Harbour coastline walks . See also The best of Sydney walks.

phone: +61 2 9340-1411

address: 34 Murray St, Bronte 2024

Surfs Up Surf School is a fully accredited surf school which runs year round. Learn to surf on a day trip, weekend overnight camp or on a Sydney to Byron Bay surf tour. Local pickups daily in Bondi Beach, Coogee, Bronte, Kings Cross and Central. Lessons from $89 for a full day surf tour. Includes transport, equipment, lunch and instruction.
Coogee Bowling and Tennis Club - a popular place to play social tennis or an afternoon of bowling. The tennis club also has space to host parties.
Gordon's Bay - ( Also has a local nickname - Thomo's the origin of which appears to be unknown. ) a small rocky inlet just north of Coogee Beach, accessed from the cliff walk, popular for snorkeling. There is an underwater snorkel trail there for the adventurous.
Randwick Rugby - Coogee is the location of the home ground of Randwick Rugby Union Club, one of the main teams in the Sydney rugby union football competition. Alternate weekends see Randwick and an opposing team battle it out on Coogee Oval, just over the road from the beach - a great way to spend a winter afternoon.
Buy
Shopping malls
Westfield Bondi JunctionOne of the main shopping malls of Sydney, and easily the largest in the Eastern Suburbs, is right above the station in the heart of Bondi Junction. Hundreds of retailers and food outlets. Can be very busy. Take a walk outside the mall while you are there, the surrounding area, including Oxford Street Mall also contains a wide variety of shopping and eating destinations.
Markets
Paddington Markets - Held every Saturday from 10AM in the grounds of Paddington Uniting Church, Oxford St. Expect handmade goods, vintage bargains, international foods, etc.
EQ Village Markets - Fresh produce markets held in the Entertainment Quarter, Moore Park. Regional produce and gourmet foods. Wednesdays and Saturdays from 10AM. On Sundays, the EQ Village Sunday Market offers a greater variety of goods including clothing, jewellery, toys and homewares.
Bondi Markets - Held every Sunday from 10AM at Bondi Beach Public School. A very popular place for local students, families and bohemian types, especially on weekends in Summer. Home-made and vintage clothing (often from up-and-coming designers), jewellery, art, homewares, etc. Reasonably cheap.
Antiques - Stores in Woollahra, Charing Cross.
Eat
address: 347 Clovelly Rd Clovelly

Italian Pizzeria and Restaurant. View menu online.
Doyles, fish and chips at Watsons Bay.

Danny's Seafood Restaurant

phone: +61 2 9311-4116

address: 1605 Anzac Parade, La Perouse NSW 2036

Good seafood restaurant with outdoor balcony and views of the sunset over Botany Bay.
Burnie's at 48 Burnie Street. Fabulous breakfasts and a sublime single origin roasters coffee menu is organic and gluten free open 7 days Breakfast and lunch
The Jilted Anchovy at 350 Clovelly Road does great pizzas.
Drink
The Eastern Hotel at Bondi Junction is popular with young crowds on Wednesday nights, one of the more renowned mid-week venues in Sydney. Expect to pay at least $10 in cover charge.
Around the beaches, there are many modern pubs, such as the Clovelley Hotel, Beach Road Hotel Bondi, and Coogee Beach Palace, which serve food and alcohol, as well as having gaming facilities and live entertainment. Other large, well-renovated pubs sit a little further back from the beach, such as the Royal Hotel in Randwick, and the Doncaster Hotel in Kensington.
Cheaper drinks can be found at RSLs, which will always have bistros and gaming, as well as various other facilities - try Coogee RSL on Carr St.
Around the University of New South Wales, pubs and bars serve the student population - the campus bar serves cheap drinks, especially at Happy Hour (5-6, 5-7 on Wednesday). The Regent Hotel in Kingsford is also a popular student haunt.

address: Corner of Coogee Bay Road and Arden Stree

On a summer's day it is a great place to enjoy a relaxed drink or meal. There's an outdoor beer garden which is popular in summer, and kept warm in winter by outdoor heaters. In the evenings, it can get more lively, with live music, and a younger crowd of backpackers, locals and visitors from around Sydney.

address: Dolphin St, Coogee

The Legion Club, with a balcony (with high glass) overlooking Coogee beach the Legion has long been the secret watering hole of Coogee locals. Cheap drinks and a relaxed atmosphere, midweek trivia and live music at weekends the legion is an attractive alternative to people of all ages.
Sleep
Hotels and hostels are available throughout the Eastern Suburbs.
Bondi Beach
is one of the main areas for backpacker and budget accommodation in Sydney.
Stay healthy
For a serious medical emergency you should call 000 from any phone for immediate attention of the emergency services
.
The Prince of Wales Hospital is the major Public Hospital servicing the Eastern suburbs. It is on a large Randwick campus which also incorporates The Prince of Wales Private Hospital, The Royal Hospital for Women and Sydney Children's Hospital with The University of New South Wales located on an adjoining campus.
phone: +61 2 93822222

address: High Street & Avoca Street, Randwich

The Public Hospital has 440 beds and almost 3,000 staff. The Prince of Wales Hospital has a relatively small but highly complex caseload with more than 30,000 acute patients admitted and about 40,000 patients treated in the Emergency Department annually.

phone: +61 2 93821111

address: High St, Randwick

NSW Health Department.

phone: +61 2 93826111

address: Barker Street, Randwick

The Royal Hospital for Women has been one of Australia's foremost specialist hospitals for women and babies, since its early beginnings as New South Wales first 'lying-in' hospital for women in 1820. As a principal teaching hospital of the University of NSW in the fields of obstetrics, gynaecology and neonatology the Royal has a history of innovation in women's health care services, teaching and research. Royal Hospital for Women is part of Prince of Wales Hospital.
Public Hospital emergency departments are open 24 hours a day, including public holidays
.
.