Sydney/Inner West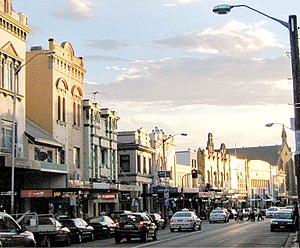 The
Inner West
of Sydney stretches from the small inner city suburb of
Chippendale
(south of Central Railway Station) to the secondary railway hub and business-retail centre of
Strathfield
and also
Sydney Olympic Park
to the west. Particular areas of interest to the traveller include
Newtown
,
Glebe
,
Balmain
, and
Leichhardt
.
The Inner West suburbs are among the oldest parts of Sydney. They developed along
Parramatta Road
, which runs to
Parramatta
at the source of the Parramatta River. The architecture of the Inner West ranges from terraced houses to small mansions and reflects its development in the Victorian (1840–1900) and Federation (1901–1914) periods. The area is quite culturally diverse and its proximity to the central business district makes it popular with commuters and an alternative base for business.
Get in and get around
By bus
From the
city
, various Sydney Buses routes run regular services to the Inner West. Route numbers in this area begin with 4 or 5; useful routes include the 431-434 to Glebe/Balmain, the 436-440 and Metrobus 10 to Leichhardt, 422-428 to Newtown, the 480-483 to Strathfield Station and the 500 route up Victoria Rd through the suburb of Drummoyne. Most buses are "Prepay Only" between 7AM and 7PM; you must buy tickets from designated outlets such as newsagents or convenience stores, as they are not available for sale on board.
The Inner West suburb of Burwood is the north-west terminus of the route 400 bus which runs from Bondi Junction to the airport. Using this bus and changing onto a train is a cheaper alternative to using the train directly from the airport. However, the bus is subject to Sydney traffic, and a train will usually be better for time.
By ferry
Ferries run a scenic route from Circular Quay in the city centre to the area via the inner harbour and the Parramatta River, stopping at various wharves along the way. The most useful for travellers are the wharves at Balmain.
By light rail
The inner West can also be reached by the
Sydney Light Rail
, which travels from Central station via
Darling Harbour
to Glebe and onwards to Dulwich Hill. This is an interesting way to travel, as it follows the old goods (freight) lines which serviced Sydney's ports.
By train
Only the more southerly parts of the district are served by rail lines:
The Inner West line passes through this district, stopping at Redfern, Macdonaldtown, Newtown, Stanmore, Petersham, Lewisham, Summer Hill, Ashfield, Croydon, Burwood and Strathfield. Newtown, with its eat street and bars, is serviced every 15 minutes until late. Strathfield is a major interchange station, and has very frequent services to the city.
The Bankstown line stops at Erskineville, St Peters and Marrickville.
See
Suburbs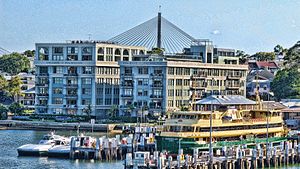 Interesting areas include the student-orientated suburbs of Newtown and Glebe, the once-working class, now-fashionable Balmain peninsula, the European chic of Leichhardt and Petersham, and the Asian bustle of Burwood, Ashfield and Strathfield.
Newtown's main street, King Street is architecturally probably the best preserved Victorian high street in Sydney. Neglect preserved it in the first place - no money was to be made by knocking things down in the twentieth century, and now regulation favours conservation rather than demolition. Along its length you'll find the usual mix of shops in a major city's boho zone: secondhand book shops, over thirty (at last count) Thai restaurants, Vietnamese restaurants, cafés, clothing shops and an assortment of odd quirky little places.
Glebe also has some intact 19th-century terraces. The main shopping strip is Glebe Point Road, home to many specialty stores, cafés and restaurants. An unexpected sight is the Sze Yup Temple on Edward St, dedicated to Kwan Ti — a 3rd-century Chinese folk hero. In its 110 or so years, it has burnt down twice and been twice restored.
Balmain was once an industrial working-class neighbourhood, but its proximity to the city and prime waterfront estate attracted richer folk. It's now a trendy village of upmarket residences, cafés and restaurants. Gentrification has led to some interesting quirks: the heritage-listed Working Men's Institute is occupied by a restaurant, and the industrial monster of the Colgate-Palmolive Building, a former soap factory, now houses posh harbourside apartments which can be seen when taking the ferry to Balmain.
Strathfield has a few well-preserved Victorian country mansions built on wide tree-lined avenues by wealthy merchants in the 1880s. Some have been converted into schools. One notable precinct is the Woodward Avenue Heritage Conservation Area, bounded by The Boulevarde, Woodward Avenue and Albyn Road. Today Strathfield vies with Eastwood for the title of Sydney's Little Korea, and much of the shop signage is in Korean.
Burwood is 10 km west of the Sydney central business district, the administrative centre for the local government area of Burwood Council. Burwood Heights is a separate suburb to the south. The Appian Way is a street known for its architecturally designed Federation-style homes.
Parks and gardens

Directly south of the Sydney Harbour, the Inner West has plenty of quiet bays and headlands with views, although they will be much easier to reach by car or ferry. If you're fit and adventurous, go for the Bay Run, a mostly flat 7 km stretch that sticks close to the Iron Cove Bay waterfront passing through 7 Inner West suburbs.
Glebe Foreshore Parks

address: Chapman Rd, Glebe

Four different parks (Federal Park, Jubilee Park, Bicentennial Park and Blackwattle Bay Park) with the Anzac Bridge in the background. A mix of grasslands, sport fields, playgrounds and wetlands make for a wide area to explore. There is a walking path along the foreshore all the way from the Fish Markets to Annandale, with a Light Rail station conveniently at each end. A short walk further into Annandale along Johnston St will show you a series of gothic mansions and Federation houses - keep going to Booth St, where you can get a bus back to the city, or one block further to see the Hunter Baillie church, which once had the tallest spire in Sydney.

Ballast Point Park

address: Ballast Point Rd, Birchgrove

A former Caltex industrial site now returned to the authorities and made greener. Offers panoramic views of the Harbour Bridge and Sydney city skyline from a high vantage point.

Birchgrove Park

address: Grove St, Birchgrove

Contains Birchgrove Oval, the spiritual home of rugby league in Australia after it hosted the first professional matches in 1908. A family park that has good views of the Harbour Bridge.

Camperdown Memorial Rest Park

address: Australia St, Newtown

Located just two blocks behind King St, it has lots of open space and plenty of street art and graffiti on the walls surrounding the park, as well as an atmospheric cemetery in the adjoining church. Sit on the grass and people-watch, there's always someone out of the ordinary. The Newtown Festival is held here in November.

Sydney Park

address: Sydney Park Road, Alexandria

A large park (40 hectares) at the very southern end of Newtown's King Street, it was a former brick pit that was filled with the city's rubbish in the 1970s and 1980s before being topped with soil and landscaped. The 3 former trash hills make excellent viewing locations, where you have views from the airport to the city. Rolling hills, native plantings, engineered wetlands and the historic remains of the brick works make this park an inner Sydney landmark. Almost the entire park is an off-leash area for dogs, making it a destination for pet-owners while the open fields and steep grassy hills make it a favoured destination for determined exercisers.

Iloura Reserve

address: Balmain East

Sweeping views of the city and Harbour Bridge.
Museums and art galleries
phone: +61 2 95602541

address: 55 – 59 Flood Street, Leichhardt

Boomalli Aboriginal Artists Co-operative is one of Australia's longest running indigenous owned and operated art galleries. It promotes urban indigenous art that sometimes has trouble being shown as authentic indigenous art in the mainstream.
University of Sydney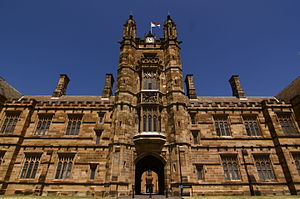 The University of Sydney was founded in 1850, the first university in Australia and Oceania. Located right at the boundaries of central Sydney and the Inner West, its Camperdown campus has grand sandstone buildings with detailed stone carvings and is well worth a visit. It takes 20 minutes to walk from Central station and you'll pass through Victoria Park, a large quiet haven bounded by two busy roads. The University also houses a few interesting museums and galleries, which may be closed over the Christmas break.
The Clock Tower, a classic example of Neogothic design, sits at the end of the long walkway from Victoria Park. On the other side of the building is the Main Quadrangle, which has a single jacaranda tree in the courtyard that can be caught in full purple bloom during late spring.

Nicholson Museum of Antiquities

address: Main Quadrangle

Contains the largest collection of antiquities in Australia, featuring ancient artefacts from Egypt, the Middle East, Greece, Rome, Cyprus and Mesopotamia, collected by the University over many years. Also mummified cats and humans.

address: Top floor of Macleay Building

The oldest natural history museum in Australia, largely kept in storage, but they have quite a collection of insects from Darwin, Raffles and other keen entomologists.

address: War Memorial Arch, Quadrangle

Houses more than two thousand artworks — a diverse collection of Australian, Asian and European paintings, prints, watercolours, drawings, textiles, photography and sculptures.
Do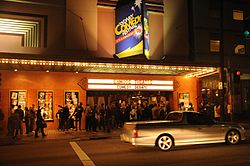 Shows and acts
Events
phone: +61 2 9550 1078

address: Camperdown Memorial Rest Park, Newtown

Features local bands, crafts, food and cultural activities.
Newtown and Enmore are also home to the Sydney Fringe, Sydney Mardi Gras Fair Day, zine and comic fairs, Walk The Streets, and other alternative festivals and activist events during the year.
Sports
Buy
Markets
The regular markets in Glebe and Rozelle (near Balmain) are a great place to shop with the locals and look for unusual bargains. Held in the grounds of the local public primary schools the Glebe markets are on every Saturday and the Rozelle markets on Saturday and Sunday.
The Carriageworks in Redfern hosts the Eveleigh Markets, which consist of a farmers' market selling local farmers and producers of artisan food products, held every Saturday 8AM-1PM, and an artisans' market for local and independent artists of all types to exhibit and sell their work.
The Marrickville Organic Food Markets are held at the Addison Road Centre and has a good mix of organic produce straight from the farmers, secondhand items and food stalls in a leafy compound. Held every Sunday from 8AM to 3PM. There's also Reverse Garbage inside, which sells bits and pieces of things saved from the dump.
The Sydney Markets at Flemington are a whole lot messier than the Queen Victoria Market in Melbourne, and even a little maniac on Fridays and weekends, but there's undoubtedly a wide range of cheap fresh vegetable and fruit produce under one big warehouse. There are gorgeous flowers on sale if you get there early (before 9AM). There's also an assorted secondhand market on Saturday.
Books
Shopping malls
Eat
The Inner West is really a great place to eat, with a choice of "Eat Streets", where you can get to, and stroll along and do some menu inspecting before you choose your favourite.
Ashfield
Contains a large population of Chinese people and is known among the Sydney Chinese community as 'Little Shanghai' where you can find a decent amount of cheap and authentic Chinese/Shanghainese food not far from the station along Liverpool Road.
New Shanghai Chinese Restaurant

phone: +61 2 9797 7284

address: 273 Liverpool Rd, Ashfield

This restaurant which originally started in Ashfield has now opened branches around Sydney and even a branch in Shanghai. Try the shenjianbao (fried pan dumplings) and xiaolongbao (soup dumplings). Be careful of the hot soup inside these dumplings!
Burwood
A highly multicultural suburb, located about 15 minutes from Central Station, there are a few dining options to be had which are particularly convenient if you are staying in the area. Burwood Road is where you will find most restaurants and businesses. Conveniently located right at Burwood Station, if you head left/south upon exiting you will find many Asian restaurants and businesses, whilst heading to the right you will find a range of outdoor dining cafés and restaurants and Westfield Burwood.
Fuji Teppanyaki Japanese restaurant

phone: +61 2 9745 3188

address: 246 Burwood Rd, Burwood

They serve the usual sushi and sashimi, but their specialty is hot-plate style cooking show (teppanyaki), which the chef cooks and serve all the fresh produce in front of you.

Seabay handmade noodle restaurant

phone: +61 9745 2238

address: 181 D Burwood Rd, Burwood

A unique Northwest Chinese style of cooking and amazing value for money make this a great experience, and the meat dumplings are especially delicious.

Tim Ho Wan

phone: +61 426 788 708

address: 173-175/100 Burwood Rd, Burwood NSW 2134

Famous dim sum chain from Hong Kong. One of the first stores to open outside Asia.
Balmain
Balmain is a cosy neighbourhood with lots of cute houses and quirky shops. Ballast Point Park is a great spot for a picnic with a view over the Harbour bridge. You can get to Balmain by ferry or bus. There are also a lot of pubs around and a good selection of restaurants, mostly located around the main street, Darling Street.
Pomegranate Thai

phone: +61 2 9555 5693

address: 191 Darling St

Excellent and authentic modern Thai food.

Riverview Hotel

phone: +61 2 9810 1151

address: 29 Birchgrove Road, Balmain

You can choose to eat in the dining room upstairs but you can also choose from a selection of the same menu and eat in the bar. The menu is Modern Australian and courses are well thought through and executed. The bar also offers tasting plates and pizzas.

phone: +61 2 9555 5924

address: Shop 90-91, 24 Buchanan St, Balmain (White Bay)

This is a bit further out of Balmain in a more residential area, but they serve excellent authentic Italian pizzas.
Glebe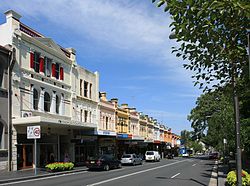 Concentrated on Glebe Point Road, there is a variety of excellent restaurants to suit a range of budgets.
Almustafa

phone: +61 2 9660 9006

address: 23 Glebe Point Rd

Authentic Lebanese family friendly restaurant with cosy atmosphere. Great for vegetarians. BYO wine.

phone: +61 2 9660 3797

address: 37 Glebe Point Rd, Glebe

Cozy vegetarian café with a slightly Parisian bohemian air, particularly known for their great desserts and coffee. Stays open very late on Friday and Saturday nights for those in need of a sugar or caffeine fix at the end of a big night. A Glebe institution.

Glebe Point Diner

phone: +61 2 9660 2646

address: 407 Glebe Point Rd

Modern Australian with French influences with a carefully selected seasonal menu. Fine dining feel but a relaxed and un-pretentious atmosphere.

Inferno

phone: +61 2 9211 4141

address: Broadway Shopping Centre, 2 Bay St, Broadway

One of a small chain of family friendly gourmet wood-fired pizza joints. Favourites include the Inferno pizza and the Rising Sun pizza. They have a nice brucshetta too. Keep an eye on them when they open wine for you: they're a bit cavalier about the cork.

The Boathouse on Blackwattle Bay

phone: +61 2 9518 9011

address: Located at the end of Ferry Rd

Fine dining, Modern Australian, specialising in seafood.

Tom Yum Tum Gang

phone: +61 2 8065 0859

address: 249 Glebe Point Road

Busy local spot for flavoursome Thai food.
Leichhardt
Norton Street is Sydney-speak for Italian. Norton Street contains a mix of residential buildings, restaurants (Italian and others), cafés, eateries and individual retail outlets, including several bookstores and grocery shops. There are also hotels, a Palace Cinema and two of the suburb's three shopping centres: Norton Plaza and the Italian Forum. Thai, Brazilian and Lebanese restaurants have also opened in Leichhardt. There are a few more Italian options in nearby Haberfield.
The Italian Forum has a handful of restaurants that can be a little pushy for custom, however it is quite quiet and relaxed and the restaurants tend to be authentic and good quality; definitely worth the walk down the steps from Norton St to peruse the menus!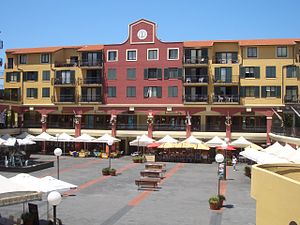 Braza Churrascaria

phone: +61 2 9572 7921

address: 13 Norton St, Leichhardt

Popular Brazilian BBQ restaurant in Leichhardt - all you can eat for $42 (and rising). Extremely busy on weekends, so bookings are advised. Not recommended for vegetarians!

Bar Italia

phone: +61 2 9560 9981

address: 169 Norton St, Leichhardt

A Leichhardt institution renowned for their award winning gelato - which attracts lines that go out the door on Friday and Saturday nights (and constantly increases the price). Bar Italia also have a strict rule of nothing but regular milk in your coffee - so if you want soy or skim get your coffee elsewhere. Staff can sometimes be abrupt and rude, but it's well worth it for the gelato. Late at night, you might also spot left-wing politicians holding secretive meetings out the back.

Cafe Jolly

phone: +61 2 9560 2434

address: 158 Norton St, Leichhardt

Popular Italian style restaurant in Leichhardt. Reasonably priced and very tasty food. Extremely busy on weekends, so bookings are advised.

Jasmin 1 Lebanese

phone: +61 2 8084 2692

address: 118 Marion St, Leichhardt

Great value tasty Lebanese restaurant in Leichhardt.

phone: +61 2 95601349

address: 137 Marion St, Leichhardt

Authentic Napolitan restaurant in Leichhardt.

La Disfida

phone: +61 2 9798 8299

address: 109 Ramsay St, Haberfield

Excellent authentic Italian pizza. In Haberfield, which is down the street from Leichhardt. A bus from Norton St or Marion St can get you there in about 5 minutes.

Martini

phone: +61 2 9568 3344

address: Level 1 99 Norton St, Leichhardt (enter through Palace Cinemas)

This place sells the typical woodfired pizza and pasta, but go here for the movie meal deals where you get a pizza or pasta and a movie ticket for around $15 - almost the price of an adult movie ticket.

Ocean Foods

phone: +61 2 9181 4336

address: 154 Lyons Rd (Cnr Gipps St), Drummoyne

Some people claim (including the shop) that this is the best fish and chips around. Prepare for a queue if you come on a Friday night or the weekend.

phone: +61 2 9799 9531

address: 145 Ramsay St, Haberfield

This place is famous for their ricotta cheesecake, but they also serve hot foods such as foccacia and arancini.

phone: +61 2 9569 1600

address: 146 Norton St, Leichhardt

Delicious Thai restaurant in Leichhardt. Very reasonably priced authentic tasting Thai. Extremely busy on weekends, so bookings are advised. Recommended for vegetarians!
Marrickville
Located 7 km from the CBD, Marrickville is well known for its multicultural working class Greek and Vietnamese heritage built under the flight paths of Sydney airport. These days, some describe it as the 'new Newtown' as it is now an emerging area popular with students and artsy types. Trendy cafes and bars mix with old school good value eateries in this suburb.
phone: +61 2 8065 0844

address: 314 Illawarra Road Marrickville

Housed in what was once a thread store, this cafe is one of the most popular in the area. Producing much of their own chutneys, pickles and relishes, they have an ever changing seasonal menu and are well known for quality coffee.

phone: +61 2 95602574

address: 296 Marrickville Rd Marrickville, Marrickville

After 12 years at The White Cockatoo Hotel, Goni's has now relocated with the same old menu. Known for their gigantic schnitzels, this place is perfect for those with an appetite on a budget. One schnitzel can easily feed two people.

Marrickville Pork Roll

phone: +61 420 966 368

address: 236a Illawarra Road, Marrickville

This very popular outlet is well known for selling one of the best Vietnamese Banh Mi in Sydney. At $4-5 they are considered a bargain and often there will be a line up at lunch time. There is also a branch in nearby Ashfield.
Newtown
The King Street strip is a cheap eats paradise, with food from all corners of the globe, including a strong Thai presence. Try also the Portuguese bakeries of nearby Petersham for their famed
custard tarts
.
phone: +61 2 9519 5111

address: 37a Copeland St, Alexandria

A small gourmet café opposite Erskineville Park, mixing French cuisine with Indian spices. Their homemade speciality jams are sensational. A popular breakfast spot for locals, expect to wait for seating on weekends. Mains $15-20.

Carlisle Castle Bistro

phone: +61 2 9557 4852

address: 19 Albermarle St, Newtown

Located within the backstreets close to Newtown Station, this pub is frequented by locals and has a less chaotic atmosphere compared to the pubs on King Street. The bistro has good value, high quality food within an informal dining atmosphere and makes a great place to spend an evening with a few drinks and a meal.

Crispy Inn Bakery

phone: +61 2 9557 3910

address: 203 King St, Newtown

Across the road from yet another 7-Eleven, and much more interesting. They're always baking, so there's always something fresh. They have a variety of pies, cakes, rolls, and loaves.

phone: +61 2 9517 1133

address: 597 King St, Newtown

Located at the south end of King Street as part of the Botany View Hotel, this bistro provides some of the best value 'gastropub' food in Sydney. Enjoy live music and a beer with your meal! As with many pub bistros in Australia, service is informal and you collect your meal from the counter.

phone: +61 2 9519 5330

address: 115 King St, Newtown

A specialist 100% vegan Chinese restaurant and grocer. They do an all vegan buffet - but beware, they charge according to the weight of food on your plate and include the (very heavy) plate's weight.

Guzzle Tandoori

phone: +61 2 9557 3537

address: 453 King St, Newtown

Excellent authentic Pakastani meals, typically about $15/person. Save some room for the dessert naan, delicious!

phone: +61 2 9550 6015

address: 341 King St, Newtown

"Contemporary cuisine giving classic dishes a modern twist." Not many tables so be sure to make a reservation. Top quality for Newtown.

Pho 236

phone: +61 2 9550 2480

address: 236 King St, Newtown

Perhaps the best pho you can get this side of capitalism. Cheap, exotic flavors and modest surrounds. Generous portions and amazing food.

Rowda Ya Habibi

address: 101 King St, Newtown

This dingy looking store is far and away the best place for a take away doner kebab in Newtown. Unlike other Newtown kebab stores, which seem to largely cater to drunk people stumbling out of pubs, Ya Habibi's kebabs are fairly authentic (the tabouleh and sauces are made by the owners, and they include a very tasty pickled red cabbage), and at $5.50 for a falafel roll or $6.50 for chicken or lamb, are actually a little cheaper. Also worth checking out are their dolmas ($1.50 each) and their large, soft and delicious pieces of Turkish delight (80 cents each or $5 for a box, but most of the time the box is worse value).

phone: +61 2 9557 7790

address: 512 King St, Newtown

Artisan and minimalist cuisine with great coffee. Creative dishes.

Sushi Wow

phone: +61 2 9517 1796

address: 235 King Street, Newtown

Sushi train restaurant offering a reasonably-priced, quality selection. There is also a menu for those who prefer non-sushi train options.

Thai La-ong

phone: +61 2 9550 5866

address: 89 King St, Newtown

Thai La-ong has some of the spicier dishes among Newtown's many Thai restaurants. Their yellow curry and pad see eiw are worth a special mention. The restaurant is not air-conditioned and can be a bit uncomfortable on hot Sydney summer nights. Mains approx $10, but daily lunch specials include a plethora of generous mains for $6.

phone: +61 2 9519 8050

address: 294 King St, Newtown

One of Sydney's premier Thai Restaurants with understated black and white decor and awesome but relatively pricey food. This place won Thai Restaurant of the Year for several years running many years ago, and one taste of the food will show you why. It has since expanded three times and incorporates a Thai gift shop.

phone: +61 2 9519-7880

address: 1 Brown St

Lots and lots of different good-sized pies to try out, from sweet to savoury, along with a variety of sides. Serves both coffee and craft beers as well.
Drink
The Inner West suburbs of Glebe and particularly Newtown have a thriving nightlife scene. Newtown is renowned as one of Sydney's main alternative suburbs and is also frequented as a nightlife hotspot away from the chaos of the CBD. King St is lined with many funky pubs and bars and it is convenient to walk from Newtown Station to most of these venues.
Newtown
Bank Hotel

phone: +61 2 9557 1692

address: 324 King St, Newtown

This is an enormous pub only 2 minutes walk from Newtown train station. Wednesday night is lesbians' night. Look out for half-priced cocktails early in the night and cheap jugs of beer. Level access and lift, disabled toilet on lower ground floor.

Town Hall Hotel

phone: +61 2 9557 1206

address: 326 King St Newtown

Dirty, noisy and seedy, this pub is otherwise known as The Townie and is the best place in Newtown. Older residents of Newtown and horse race punters drink downstairs, everyone else heads upstairs to Platform 8. Home to most of Sydney's indie band scene at one time or another.

address: Erskineville Road, Erskineville

The Imperial, 5 minutes from the heart of Newtown is a gay and lesbian pub and nightclub which features entertainment late Th-Sa. This pub was featured in the opening scene of 'Priscilla, Queen of the Desert'.
Other Suburbs
AB Hotel

phone: +61 2 9660 1417

address: 225 Glebe Point Road, Glebe

Formerly The Ancient Briton) This hotel has just undergone major renovations and is looking great with a Russian theme inside. The AB claims to have Sydney's coldest beer on tap. It's a large and not terribly crowded local pub with pool tables, couches and a bar made out of a fishtank. Cajun food is served daily, about $15 mains including Jambalaya, fried chicken, fish cakes and sweet potato pie.

phone: +61 2 9712 1199

address: 613 Great North Road, Abbotsford

Sydney's original rowing club, established in 1870, is a historic site with a chic and contemporary venue on a glorious riverside setting, just 20 minutes ferry ride from Circular Quay (adjacent to Abbotsford Wharf). With fresh seafood available everyday for lunch and dinner, an expansive beverage list and live music on the riverside deck Thursday, Friday and Sunday, it's the ultimate setting for the archetypal Sydney experience.
Sleep
Annam Suites Cascata

phone: +61 2 9569 0547

address: 5 Croydon St in Petersham

A boutique executive apartment building located just 10 minute drive from the CBD. Architecturally designed with many features like the striking steel and glass waterfall tower lift and magnificent views of the Sydney skyline and Harbour Bridge from most of the executive apartment suites. The apartments feature all the latest in stainless steel appliances, 2 bathrooms one with a bathtub, 32'' LCD TV and a beautifully appointed interior design furniture package.

Summer House Newtown

phone: +61 2 9550 3236

address: 5-11 Egan St, Newtown

Located in a quiet side street off bustling King Street, Summer House Newtown is a purpose built hotel/motel offering excellent quality accommodation no matter what your needs. From comfortable doubles with private bathroom to multi-configuaration family rooms or even hostel beds, Summer House offers a complete range of options for the budget traveller looking for true value for money. Facilities include a solar heated pool surrounded by a tropical courtyard with bbq area; large fully equipped communal kitchen; laundry; TV lounge with free internet terminals; free Wi-Fi in all rooms, on-site security parking (fee)

Broadway University Motor Inn

phone: +61 2 9660 5777

address: 25 Arundel St, Glebe

This motel has basic rooms in the usual motel style: double beds, television, small private bathrooms. It is within easy walking distance of Glebe Point Road, and is also on several major western bus routes. It is located about 10 minutes bus ride from the city. Double room $140 per night for two people.

Glebe Point YHA

phone: +61 262 264

address: Glebe Point Road, Glebe

A backpacker hostel located on the major Glebe Point Road food area.

Harbour Breeze Lodge

phone: +61 2 9181 2420

address: 5 Collingwood St, Drummoyne

Clean, quiet, budget accommodation especially suited to holiday-makers, business-people, working-travellers and students who require affordable three-star accommodation just minutes from Sydney CBD by ferry or bus. The stately Victorian building has a leafy rear garden, bright and spacious rooms, and an upstairs guest balcony that attains fresh gentle breeze off harbour waters. Weekly rates are available for all lengths of stay.

The Abbey On King

address: 379 King St, Newtown

Offers backpackers and budget minded travellers a friendly atmosphere and a clean, secure place to stay in the heart of cosmipolitan Newtown. Predominantly dormitory style accommodation with some single and double rooms. Features include an internet lounge with fast connections, a fully equipped kitchen and dining facilities, laundry and ironing facilities, free linen, large showers, crystal clean amenities, free pay TV, storage lockers and safety deposit boxes.
Connect
phone: +61 2 9367 9266

address: Piazza Level, Italian Forum, 23 Norton St Leichhardt

The library has computers with Internet connections that you can use for free for 2 hours, and also free Wi-Fi.
Cope
The Marrickville Metro shopping centre (34 Victoria Road, Marrickville) has two supermarkets, a Kmart and a typical range of specialty stores.
Church St Medical Practice (Church St, Newtown) is one of the best general practice clinics in the Inner West.
Go next