Sydney/Macquarie Park
Macquarie Park-Ryde
(also known as the 
Northern Districts
or
Inner Northwest
) is the metropolitan area on the northern bank of the Parramatta River and is bordered by Lane Cove National Park to the east and north and
Parramatta
and the
Hills District
to the west.
Understand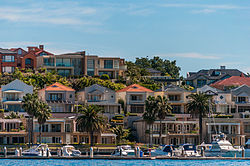 The Macquarie region has a diverse mix of peoples, cultures and cityscapes and offers the curious traveller an opportunity to see a different side of
Sydney
. There are four main areas of Macquarie to explore.
The first of which are the suburbs that sit along the northern edge of Parramatta River and include suburbs such as
Hunters Hill
and
Woolwich.
These suburbs are filled with 19th century buildings overlooking the water and is home to some of the wealthiest people in
Australia
. There are also many parks and reserves in the area with views of the water and great picnic spots.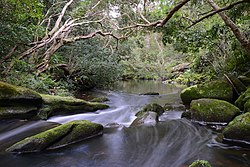 Further north of the river is an area famous for its diversity and great food. In the suburb of
Eastwood
in particular, you will find large numbers of wealthy East Asian families and international students who have come here for the schools and universities nearby. The Chinese, Korean and Japanese restaurants here are some of the best in Australia. Eastwood also holds a number of cultural festivals throughout the year.
Further north of Eastwood and reaching the upper limit of the region are the suburbs of
Beecroft
and
Cheltenham.
These suburbs are hidden gems and have lush tree lined streets with grand heritage homes, a quant shopping village that is reminiscent of old an English town and an abundance of golf courses, grass tennis courts and nature reserves.
Finally, to the north east is
Macquarie Park
and
Macquarie University
. This area was originally developed to be similar to the area surrounding Stanford University in Palo Alto, California and is now Australia's undisputed high technology hub. Travellers that come here will find large campus style office buildings for companies like Microsoft and Oracle as well as the lush rolling lawns of the university. The central hub of this area is Macquarie Centre, a sprawling shopping mall and Sydney's second largest. Macquarie Park is also the gateway to
Lane Cove National Park,
a large park that borders the region to the east. The park contains the picturesque Lane Cove River, walkways, picnic spots and a campground.
Get in
The region is well serviced by public transport with trains, buses and ferries servicing the area.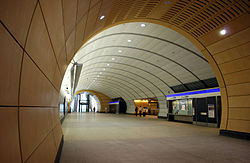 By car
If you intend to go to the business area in the northwest, take the Gore Hill Freeway, Lane Cove Tunnel and M2 Motorway from the city. If you intend to visit the Hunters Hill and Woolwich peninsula, take Victoria Road all the way to the Gladesville Bridge and you're there.
By train or metro
There are 4 train lines that service this region. The technology park in the northeast has Metro stations at North Ryde, Macquarie Park and Macquarie University. The middle of the region is served by a picturesque above ground line (T9 Northern Line) and has stops has stops in Eastwood, Epping and Beecroft. The infrequent and quaint Carlingford line (T6) serves the western fringe. There is also an intercity line (Newcastle and Central Coast Line) that stops at Eastwood and Epping and connects you to the Central Coast and Newcastle.
Much of Macquarie Park (including the Macquarie Centre) is best accessed from Macquarie University station.
By bus
Buses from the city (departing from the Queen Victoria Building near Town Hall and also from Wynyard and Central) travel frequently to Macquarie Park and Epping The is also a bus (Route 545) that travels between Chatswood and Parramatta via Macquarie Park on a very regular basis.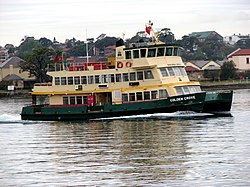 By ferry
There are regular ferries from Sydney and it makes a great way to get to places near the Parramatta and Lane Cove Rivers. The Parramatta River Line (F3) leaves from Circular Quay and has stops at Woolwich, Huntley's Point and Meadowbank. The Lane Cove River Line (private operator) leaves from Circular Quay and has stops in Hunters Hill and Lane Cove.
By bicycle
There is a separated bicycle path for most of the distance between the
city
and the Macquarie region. When riding from the city simply head over the Sydney Harbour Bridge and follow the signs to 'Macquarie Park'. Once you are in Macquarie, there are a number of bicycle paths (some separated, some shared with other road users) that can safely get you around the region. Be mindful that like most of Sydney, the Macquarie region has hills, but no extended climbs.
By foot
Like much of suburban Sydney, this area is not easy for walking due to size and infrastructure. A hike through the middle using the Lane Cove National Park is possible.
See
Suburbs
Hunters HillHunters Hill was settled in 1835 and therefore has plenty of pretty old buildings and churches. One of the most significant is Fig Tree House which was built in 1833 by pioneer businesswoman and ex-convict Mary Reibey (who now appears on the A$20 note). The majority of the other houses were build by Frenchman Didier Numa Joubert, who bought 200 acres of land from Mary Reiby and used seventy stonemasons from Italy to construct solid artistic houses.The best way to see historic Hunters Hill is to simply hop off the ferry and walk around.

Eastwoodhas a large number of wealthy Asian students and migrants (mainly due to the university and schools nearby) and therefore has a bustling town centre with genuine Chinese, Korean and Japanese food and festivals. Outside the town centre, you will find tree lined residential streets with a number of federation and bungalow style homes.

BeecroftWell off the tourist trail, Beecroft has a quaint community minded village filled with shops and cafe's. Surrounding the village are lush tree lined streets with grand heritage homes, grass tennis courts and golf courses. Beecroft is easily accessible by train and has a heritage, country style train station.

Macquarie ParkThe premier technology and pharmaceutical hub of Australia contains many campus style office buildings for companies like Microsoft and Oracle. Macquarie Shopping Centre, Sydney's second largest, is located here. To the east of Macquarie Park is Lane Cove National Park.

EppingFairly quiet suburb with just a few restaurants, shops and parks. It connects two different train lines as well as many buses, and therefore useful base for exploring.
Parks and gardens
Woolwich Lookout and Clarks Point Reserve

address: Woolwich Road, Woolwich

Clarks Point Reserve offers picnic grounds overlooking Sydney Harbour with distant views of the bridge and city. This spot is also popular for fishing, sailing and stand-up paddle boarding. Above the reserve is Woolwich Lookout and is worth going up to see the view.

Lane Cove National ParkThis is the closest national park to the centre of Sydney, and it is an oasis of green natural habitat in the middle of Sydney. The Great North Walk runs through it, and the area between Lane Cove Road and Delhi Road is very popular for its numerous barbecue spaces and easy walk by the Lane Cove River. You can hire a boat and explore the area from the river, or camp in the camping site.
Macquarie University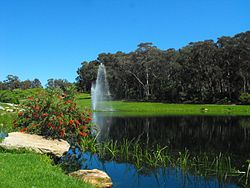 While not as historic or as grand as its competitor in the
Inner West
, Macquarie is still a unique Australian university with over 126 hectares of rolling lawns and natural bushland. It is one of the only campuses where you can see natural wildlife wandering around and stopping human traffic. Nestled in the trees are modern Brutalist style buildings designed by renowned architect Walter Abraham. The campus features a modern library, museums, art galleries, a sculpture park, an observatory, sports facilities and a hospital. If you happen to visit the campus, here are the main attractions:
Central Courtyard is at the centre of the campus and fans of archieture will appreciate the Brutalist style concrete buildings that surround it.
University Lake is a picturesque spot to relax in the sun and read a book with the university's students. There are plenty of ducks and fish in the lake to watch and play with.
Macquarie University Art Collection emphasises contemporary Australian art. Its main pieces can be found in the art gallery (building E11A) while its large sculpture collection is scattered throughout the campus.
Museums including the Australian History Museum (Building W6A Level 1), Museum of Ancient Cultures (Building X5B, Level 3), the Biological Sciences Museum (E8B-110), and the Downing Herbarium (Room 148 in Building E8C). Museums are generally open Monday to Friday, 9am - 4pm.
Do
Events
There are a small number of events held annually in the area.

Culture
Spectator sports
Walking
Fitness and recreation
Buy
Markets
Eastwood Night Markets

address: Eastwood Plaza, Rowe Street, Eastwood

Festive atmosphere with bright lights and food stalls serving everything from noodles to pop cakes plus fashion bargains, jewellery, toys and roving entertainment including children's activities and free face painting.

Epping Twilight Market

address: 29 Oxford Street Epping

Organic foods and a variety of fresh produce (including fruits, cheeses, olives, oils, sweet and baked items, pastas, cakes and pastries, plants and herbs), and unique hand-crafted items and giftwares.

Hunters Hill Organic Food & Farmers Market

address: Riverside Girls High School, Huntleys Pt Rd & Victoria Rd

Selling great local fresh food and other goodies
Shopping malls
The area is in abundance of enormous (but generally soulless) shopping malls.
phone: +61 2 9887 0800, +61 2 9887 0888

address: Cnr Herring and Waterloo Roads, North Ryde, NSW 2113

The second biggest shopping mall in Sydney, Macquarie boasts a good variety of shops, an ice skating ring and a multi screen cinema. There is also a large food court with a number of cheap eats and tables that overlook the ice skating ring.

Top Ryde CityOnce considered Macquarie's poor cousin, Top Ryde underwent a major renovation in 2012 and now features a good variety of stores and an outdoor alley with restaurants and cafe's.
Shopping streets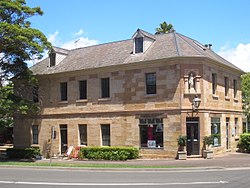 Despite the popularity of shopping malls, a couple of small shopping streets are making a come back.
Hunters Hill Village

address: Corner of Alexandra Street and Ferry Street

While certainly not a destination in it's own right, Hunters Hill village is small but charming mix of boutique shops, galleries and cafe's and is worth checking it out if you are in the neighborhood.

Beecroft Village

address: Hannah Street, Beecroft NSW

Here you will find eclectic stores selling quirky giftwares, children's bookshops, and boutique clothing. The village is right next to Beecroft Train Station.
Eat
Eastwood
If you are craving East Asian food then Eastwood is the place to go. Prices vary and depend on if they are targeted towards international students or wealthy Asian families and businessmen. Restaurant turnover is high in Eastwood and finding the newest and hottest restaurant is easy as there will be a long line of people trying to get in. If in doubt, try any of these classics that have stood the test of time.
Chinese
Eastwood Garden Peking Restaurant

address: 167 Rowe St, Eastwood

The Beijing dish of duck and pancake is not done better anywhere in Sydney and that's why after many years it's still hard to get a table.

K & J Takeaway

address: 1 Lakeside Rd, Eastwood

This was the first genuine Chinese noodle shop to open in the early days of Eastwood and long-term locals will recall being shocked at seeing pigs blood soup on the menu. It took a while for the locals to build up the courage to try this place but it didn't matter as international students came in droves. The shop that resembles more of a street food stall is still going strong serving students well over a decade later.
Korean
Myung-GA BBQ

address: 120 Rowe St,Eastwood

This is not the fanciest looking place however BBQ and hots pots are the real deal and the price is good.
Japanese
Sakae Yakiniku House

address: 1/6 Hillview Road, Eastwood 2122

Hidden away on level 3 of an nondescript building similar to those in Japan, this place offers great quality beef. It's a little expensive (similar to Japan again) so be prepared.

Zenya Noodle Bar

address: 217 Rowe St,Eastwood

Classic Ramen dishes as well as well as amazing Teriyaki chicken.
Hunters Hill / Woolwich
This is an upper middle class area and restaurants here are expensive. If you are on a budget and want to check out the area it's best to bring a packed lunch. Otherwise, splurge and enjoy.
Cucinetta

address: 103 Woolwich Road,Woolwich

This Italian represents classic Sydney dining. Great food, great service and of course a view of the sparkling harbour in the background.
Other suburbs
There are pockets of good food in suburbs not listed above. Here is a list of the best ones.
address: 287-297 Lane Cove Road, North Ryde

This popular restaurant is the best Malaysian restaurant in the area.

Wing Wah Chinese Restaurant

phone: +61 2 9807 6585

address: 122 Blaxland Rd Ryde

Provides fresh and hearty Chinese food at affordable prices. Offers eat-in, take-away and home delivery if you live nearby. Try one the chow meins with crunchy noodles.

BCD Tofu House

phone: +61298684300

address: 74-76, Shop 10, Rawson St. Epping

Authentic Korean restaurant with good range of spicy and mild tofu soups, as well as other Korean dishes.
Drink
It is fair to say there is a lack of good bars (or even just bars) in the area. Here is a list of places scattered in the area.
Pubs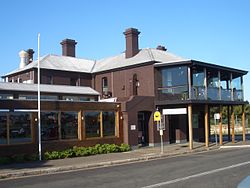 Woolwich Pier Hotel

address: 2 Gale Street, Woolwich NSW 2110

Not your average pub, this places serves great steaks and Sunday roasts with views over the harbour and Sydney city in the distance. Mains start at $20 and go to about $40.

Hunters Hill Hotel

address: 64 Gladesville Rd, Hunters Hill

Not as good as Woolwich Pier Hotel down the road, but still serves a good selection of beers and food with distant views of the city and harbour.
Bars and clubs
Tracks Nightclub

address: underneath The Epping Hotel

Wednesday nights is popular with students and has DJs playing through the night. Friday night has piano players while Saturday night is live music.
Hump NightclubLocated within The Ranch Hotel, Hump Nightclub is a popular student party venue near Macquarie University. Happy hour is from 8:30 - 10:30 and entrance is normally free. Queues to get in are surprisingly long and the venue often reaches capacity so best to arrive early. If you're not seeking the student party vibe, give this place a wide berth.
Sleep
Camping
phone: +61 2 9888 9133

Located within Lane Cove National Park, this campground and caravan park is surrounded by nature and has access to the river. Voted the best Caravan Park & Campground in Australia 2008 by the National Tourism Industry. Only 10 km from the Sydney Harbour Bridge and located within the Lane Cove National Park. 300 caravan, camper van and tent sites. 28 fully self-contained cabins with all linen and towels supplied. Fantastic public transport links. Very friendly and helpful staff.
Budget
These are the cheapest (but not necessarily good) hotels to stay in the area. There are no hostels.
Metro Inn Ryde

address: Cnr Victoria Rd & Bowden St Ryde

features a restaurant, an outdoor pool, and a bar/lounge. Free WiFi in public areas and free self parking

The Ranch Hotel

address: Cnr Epping & Herring Rds Macquarie Park

Along with a restaurant, this smoke-free hotel has a bar and a complimentary children's club. Free continental breakfast is provided, as well as free WiFi in public areas, free self parking
Splurge
Been a non tourist area, the only 4 and 5 star hotels are located near the business area in Macquarie Park.
Courtyard by Marriot North Ryde

address: 7-11 Talavera Road, North Ryde

offers spacious rooms with views of Lane Cove National Park and the business park. Some rooms include a balcony and split-level suites are available.

Meriton Serviced Apartments North Ryde

address: 88 Talavera Road, 2113 Ryde, Australia

offering luxurious self-contained accommodation with equipped kitchen and lounge areas. 1 GB of free Wi-Fi every day
Connect
Libraries
There is a library near almost every town centre. They are open Monday to Friday and Saturday mornings and all provide full internet access. Bookings are taken, and you may need to book at peak times.

Wi-Fi
Most coffee shops have WiFi. Shopping centres also offer free WiFi.

Internet cafes
There is an absolute abundance of internet cafes that are primarily used for gamers in Eastwood and Epping. These advantage of internet cafes is they open very late into the night.

Go next