Sydney/Parramatta
Parramatta
is a western district of
Sydney
, a city in its own right within the Sydney Metropolitan Area and the second oldest European settlement on the Australian mainland.
Located 24 km from
Sydney CBD
and just 6 km from
Sydney Olympic Park
, Parramatta is both the demographic heart of the Harbour City and one of its most historic neighbourhoods.
Understand

Parramatta is on the upper reaches of the Parramatta River, that flows into Sydney Harbour. It was inhabited by the Barramatugal Aboriginal people. Originally called Rose Hill by the Europeans, the name was changed in line with a colonial policy of using Aboriginal names for places already named by Aboriginal people. Parramatta is likely a variation on Barramatugal.
Parramatta was the earliest vice-regal home of colonial Sydney. An agricultural settlement was established there within weeks of the first fleet arriving from Britain. The present day Sydney CBD was established as the colony's port settlement to service the more desirable Parramatta which became the preferred home of governors and the privileged free settlers in the early years of the colony. Sydney soon began to eclipse Parramatta in both size and importance over the next century, however it was the establishment of Parramatta that allowed the future global city to survive and then thrive.
Fast forward to the 20th Century.Parramatta became less of a discrete town or city following post-WWII suburban development, and as such became the centre of Western Sydney.
It is now recognised as Sydney's "Second CBD" with many companies and state government departments having their headquarters exclusively in the rapidly consolidating city.
In the 21st Century, Parramatta again serves the whole of Sydney as an economic powerhouse constituting a large percentage of Sydney's economic output and workforce.
Parramatta is again looking to its waterfront as a centre of community activity, with the tourist information centre itself located next to the Lennox Bridge on the river. The city celebrates its vibrant multicultural community, and the eat street along Church Street at night makes it one of the best places to dine in Sydney. Most of Australia's earliest colonial buildings remain standing and open for visitation. In fact, there are more heritage listed buildings in Parramatta than Sydney's historic Rocks quarter.
Parramatta has elegant parks, the world class Riverside Theatres, and other attractions that make it a must-see destination within Greater Sydney. The ferry trip under the Harbour Bridge and up the Parramatta River makes the trip to Parramatta worthwhile simply for the journey itself.
There are many more attractions for the visitor to discover, and Parramatta is indeed one of Australia's best kept tourism secrets.

Climate

Parramatta's climate is similar to coastal Sydney, but the cooling effect of the Pacific Ocean seabreeze on hot summer days has its limit at around Homebush Bay. Being further inland makes Parramatta on average a few degrees cooler in winter and a few warmer in summer. Rainfall overall tends to be slightly less too.

Get in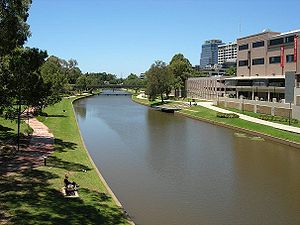 By car
Parramatta is located next to the M4 Western Motorway. Parramatta is well signposted from the motorway. Surrounding suburbs also have signposted exits from the city.
If you are in no hurry you can use Victoria Rd or Parramatta Rd. Traffic between Sydney City and Parramatta during peak hours can be extremely slow. Easily twice as long as the time taken for the trip during off-peak times.
By train
Parramatta is well served by
T1 Western Line trains
to Central Sydney & the North Shore. Trains run at least every 10 minutes and take 30 minutes for the trip. From the City, single fares cost $4.95 peak with Opal.
Penrith
, Blacktown, Richmond and Strathfield are also on the T1 Western Line, making trips to these centres quick and simple. Trains to and from the
Blue Mountains
on the Blue Mountains Line also stop at Parramatta.
Connections to Liverpool can be made on the T5 Cumberland Line which travels directly to Liverpool.
Sydney Olympic Park
can be reached by changing at Lidcombe for the "Olympic Sprint" train.
By bus
Parramatta is a hub for many buses, which operate from a bus interchange near the station. If you coming from the city, or near a train station, the train will usually be quicker than the bus.
See
Transport Info
for the best route from where you are.
Metrobus M52 operate every 10-20 from Circular Quay via George St and Victoria Road. The trip takes over an hour end-to-end.
The 545 bus offers a frequent service to Chatswood via North Ryde, but again, if you are doing the entire trip from Chatswood, probably quicker to get the train.
The North-West T-Way is a dedicated bus route to link Parramatta to Rouse Hill, and the Liverpool-Parramatta T-Way links Parramatta with Liverpool via Bonnyrigg.
Metrobus M92, M91 connect to Hurstville in Southern Sydney and Sutherland. Again, if you're going the distance, the train will be quicker.
Metrobus M60 links the Hills District and Hornsby.
By ferry
Wharf Closure
The Parramatta Wharf is closed for six months from May 2019, and there are no ferry services operating to Parramatta
The
Rivercat ferry service
runs between Circular Quay to the Parramatta Wharf. Its a very pretty and relaxing way to for a traveller to visit. It takes a fair bit longer and costs more than the train, if you have already "done" the harbour. Note that the ferry will not go all the way to Parramatta when river levels are too low, and you will have to swap to a bus at Rydalmere. It is about five minutes walk to the centre of Parramatta from the wharf.
At $7.35 for a one way trip, it is an expensive trip or a cheap 30-minute harbour cruise, depending on which way you look at it.
By bicycle
The Parramatta Valley cycleway offers off-road and quiet road cycling to Parramatta from
Sydney Olympic Park
and Putney. It is quite well signposted, and should be possible to cycle without a map. It has pretty sections following the Parramatta river from Putney and Sydney Olympic Park as far as Rydalmere, passing by University of Western Sydney and a small industrial area before the residential streets of Parramatta. It would be quite possible to hire bicycles from
Sydney Olympic Park
and cycle to Parramatta if you would like a bit of a ride. The bicycle will come in handy to see the sights of Parramatta as well.
Starting from Pyrmont Bridge in the city, and following the signed route towards Drummoyne, Gladesville, Putney and then Parramatta it is also possible to cycle from the City to Parramatta on off-road or on quiet roads, the circuitous route is nearly 30km, but you miss the a couple of hairy sections around Concord that the more direct route encounters.
Although not as scenic, the Parramatta to Liverpool Railtrail links Parramatta with Liverpool on largely off-road paths. The off-road cycleway extends from Parramatta all the way to Windsor through Westmead and along Old Windsor Road.
Get around
By bus
The Loop is the City Council's free bus. The bus runs every ten minutes around a loop that covers most areas of the city, indicator boards on the bus make it easy to find your stop. Operates 7AM till 6:30PM Mon-Fri, 8AM till 4PM Sat., and stops at:
# Parramatta Station (Darcy Street, other side of the station from Westfield).
# Westfield (Argyle Street) Westfield shopping Centre, Church Street Mall/
# Law Courts (Marsden Street - south) Parramatta Park
# Cathedral (Marsden Street - north) St Patricks Cathedral, Prince Alfred Park, Riverside Theatres
# Leagues Club (OConnell Street) Parramatta Swimming Centre, Parramatta Stadium and Leagues Club, Parramatta Park
# Church Street North (Church Street - north)
# Prince Alfred Park (Church Street - mid) Prince Alfred Park, Riverside Theatres, Parramatta Heritage and Visitors Centre
# Lennox Bridge (Church Street - south) Eat Street, Riverside Theatres, Parramatta Heritage and Visitors Centre, River Walk
# Phillip Street (Phillip Street - west) Retail, Eat Street and Dining
# The Wharf (Phillip Street - east) Parramatta Wharf -Rivercat Terminal, River Walk, Harris Park Heritage Walk
# Charles Street, Commercial Offices
# Macquarie Street, Post Office, Commercial Services and Retail, Lancer Barracks and Military Museum
By foot
The CBD area of Parramatta is quite small and can be easily walked.
By train
Parramatta has one main railway station. Its suburbs of Harris Park, Granville, Rosehill and Westmead also have railway stations.
Westmead station is on the
Western Line
and can be accessed by taking a train west from Parramatta (towards Blacktown, Penrith, or Richmond). Harris Park and Granville are also on the Western Line and can be accessed by taking a train east from Parramatta (towards the city). Rosehill is on the
Carlingford Line
and requires taking a train east from Parramatta to Clyde station and then changing trains one stop to Rosehill. Note that although Rosehill is closer to some attractions like the Rosehill Racecourse, the Carlingford Line is only served hourly by trains outside of peak times due to extremely low usage and it's single track bottleneck. You can walk to Rosehill from Parramatta in less than half an hour, and to Harris Park in around 15 minutes.
By car
There is a general shortage of on-street and free parking in Parramatta. Expect to have difficulty parking in the CBD on weekdays, and near the shops on weekends. Paid parking is usually available and is considerably cheaper than in the Sydney CBD. Westfield has free parking for the first three hours.
See
The Parramatta
Tourist information and Heritage Centre
, is where Church St crosses the river at Lennox Bridge. It has a free exhibition showing the history of Parramatta from colonial to modern times.
Historical Landmarks
As Parramatta was the first site of European settlement outside Sydney it contains many historical landmarks. How interesting this is to you, will depend on your historical perspectives. The oldest buildings here date to the colonial settlement in the early to mid 1800s.
Old Government House
, and
Elizabeth Farm
are the two primary historical sites.
Open to Visit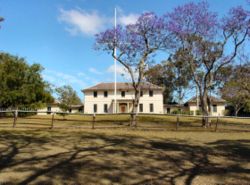 phone: +61 2 9635 8149

address: Parramatta Park

The site of the residence of early colonial governors, today a UNESCO World Heritage site. It was especially important during the term of office of Governor Lachlan Macquarie. On the third Friday of each month, ghost tours of Old Government House are available.

phone: +61 2 9635 9488

address: 70 Alice Street, Rosehill

Commenced in 1793, Elizabeth Farm contains part of the oldest surviving European building in Australia, built as the home of John and Elizabeth Macarthur. As such, it was the birthplace of the Australian wool industry and was an important social, political and cultural centre of the early colony. Elizabeth Farm's deep shady verandahs (inspired by colonial homes in India) became the prototype for the Australian homestead. The interiors contain reproductions of furniture, portraits and objects belonging to the Macarthurs, allowing a 'hands-on' experience of early 19th century life. Elizabeth Farm is situated in a recreated 1830s garden and contains early plants from the Macarthurs' time.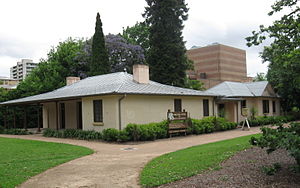 There are also historical sites at Queens Wharf, and Parramatta Park. See the
Parks
listings below.
Historical Properties Now Used for Commercial Purposes
address: 85 George Street

Parramatta. Built in 1831, and now a cafe. Have a coffee, and a slice of history.
Harrisford, George Street. Original site of the Kings School
Kia Ora House, located at 64 Macquarie Street. This house was built by James Houison in the 1840s
Former Cumberland Building, Land and Investment Company (now a restaurant). Built in the year 1889 to resemble the famous... " Santa Maria Del Fiore" (The Florence Cathedral – Our lady of the Flower) in Florence Italy. It is now Liana's Restaurant ( see EAT below)

phone: +61 2 9635 8043

address: 19 George St

Located at the corner of George & Marsdens Streets, Parramatta The hotel was licensed and founded in 1796 and is the oldest hotel in Australia still functioning.
Historical Properties Now Used for Public Purposes
Parks
phone: +61 2 8833-5000

address: Cnr Macquarie & Pitt Streets

Includes the Tudor Gatehouses on Macquarie St and George St, Governor's Bath House, Old Dairy and Boer War Memorial. There is also a substantial cycling track, and walks. The park has two restaurants, the upmarket Lachlans, located within Old Government House and the less-expensive Parramatta Park cafe, located right on the river. As well as a number of historical buildings the park includes the Rumsey Rose Garden, which has a significant heritage rose display, Wisteria Gardens, which are part of Cumberland Hospital (and are only open to the public for the last 2 weeks in September and may be entered either through the park or the hospital), and Murray Gardens, a small garden next to O'Connell Street and the Tudor Gate House.
Cemeteries
St John's Cemetery

address: O'Connell St,between Argyle and Campbell Sts

Australia's oldest Christian cemetery. The oldest surviving grave is Henry Dodd (1791). The Reverend Samuel Marsden is also interred here.
St Patrick's Catholic Cemetery, corner of Church St & Pennant Hills Rd, dates from Governor Macquarie's time.

All Saints CemeteryContains the grave of noted explorer Gregory Blaxland, who led the first expedition across the Blue Mountains.

Mays Hill CemeteryLand grants were made in 1839 and 1849 to establish Presbyterian and Baptist cemeteries which soon expanded to include burials for other denominations. Regular tours are held by the Friends Of Mays Hill Cemetery.
Churches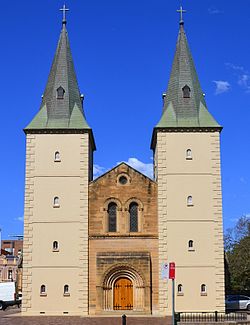 St Patricks Catholic Cathedral

address: 1 Marist Place

This is the cathedral church for the catholic diocese of Parramatta, which stretches from Granville in the east to Mount Victoria in the west. Although the cathedral was only built in the 1930s it is interesting because it was burnt down in 1995 and rebulit in 2003. The new cathedral incorporates the old church with a new wing designed by Romaldo Giurgola who designed Australia's Parliament House in Canberra.

address: 187 Church Street

The cathedral was built over many years but work commenced at the time of Governor Macquarie. It is Australia's oldest continually functioning church. There is a tour of the chapel available on Thursdays and Fridays. Services are conducted in four languages: English, Mandarin, Cantonese and Farsi (Persian).

phone: +61 2 9630 1567

address: 29 Elizabeth St

Corner of Victoria Road and Elizabeth Street. It was completed in 1847 and is of a "Victorian Academic Gothic" style of architecture

Leigh Memorial Church

phone: +61 2 9891 2277

address: 119 Macquarie Street

It was originally a Methodist church. It was completed in 1885 it was dedicated to Samuel Leigh, the first Methodist Minister in Parramatta

phone: +61 2 9689 2899

address: 40 Alice Street, Harris Park.

The church was built in 1970. It is home of Sydney's Maronite Catholic community. The church is adorned with a 5 metre high statue of the Virgin Mary. The statue has caused much controversy and was replaced by the current smaller statue in 1980.
Other Places of Worship
phone: +61 2 9687 1695

address: 217 Great Western Highway, Mays Hill

Mays Hill. The temple is dedicated to the Tamil Hindu deity.

phone: +61 2 9646 5972

address: 15-19 Gelibolu Parade, Auburn

Built in classical Ottoman style, the Sunni mosque is mainly used by Western Sydney's Turkish community.

phone: +61 2 9643-1919, +61 423 341 604 (mobile)

address: 286 Cumberland Road, Auburn NSW 2144

The first Hindu temple of Australia. Constructed in 1977, its growth in recent years reflects the increasingly multicultural landscape of the Parramatta area.
Bridges
Parramatta River runs through the Parramatta CBD. There is a weir at Charles Street which is the limit of navigation from Sydney. Between the Charles Street Weir and the O'Connell Street Weir the river is really only a wide canal, though there are a number of pleasant riverside walks including walks by the northern bank by the Riverside Theatres and on the south bank through the new Justice Precinct. The river widens upstream of the O'Connell Street Weir. There is another weir damming the river further upstream in Parramatta Park. There are a large number of bridges spanning the river, in the city centre. In order they are -
Gasworks BridgeMacarthur Street near its junction with George Street. The bridge was built in 1885. It is supported by large sandstone piers and was a significant bridge construction when built. See Riverside walk below.

Charles Street Weir, marks the upper reaches of the present day tidal influence on the river, you can walk along the river from here until the Marsden St Bridge.

Elizabeth Street Footbridge

address: Elizabeth Street

A pedestrian bridge over the Parramatta river.
Barry Wilde Bridge, crosses the Parramatta River at Smith Street. Prior to the construction of the Charles Street Weir this was the uppermost reaches of the tidal influence of the Parramatta River.

Lennox BridgeChurch Street. This bridge is the most famous, and is one of the oldest in Australia. It was built by the colony's first superintendent of bridges (David Lennox) in the 1830s. It is on the site of the first recorded crossing point on the Parramatta River. The bridge has been classified by the National Trust. See Riverside walk below.

Marsden Street Bridge.
Marsden Street Weir, this weir holds back the Parramatta River and was the source of Parramatta's first water supply built under instruction from Governor Macquarie. The current weir is not the original weir. Prior to the Marsden Street bridge being constructed the weir was the Marsen Street crossing but frequently flooded.

Bernie Banton Bridge

address: O'Connell Street

Named after a famous Australian asbestos victims rights campaigner.
Do
Events
Foundation Day
in early November celebrates (appropriately enough) the foundation of Parramatta.
Parramasala
- the Australian Festival of South Asian Arts
Walks
Riverside Walk - a walk along the Parramatta River from the Ferry Wharf to the Lennox Bridge in one direction and from the ferry wharf to the Gasworks bridge in the other direction. It shows the history of the area from an indigenous perspective, featuring indigenous interpretive art. Near the Gasworks bridge a giant artwork is a re-interpretation of a colonial military Sentry Box which used to stand near the artworks location in the first years of the British colony.

Life Along The RiverbankDownload the podcasts here, walk along the riverbank and experience life in the 1800s

DigiMacqDownload the podcasts hereand walk through Governor Macquarie's Parramatta. This was developed as part of the Lachlan Macquarie Bi-Centenary in 2010

Harris Park Heritage WalkA walk through Harris Park passing many of the historical sights of the area such as Experiment Farm, Elizabeth Farm and Hambledon Cottage. Best to start the walk at the Parramatta ferry wharf, and follow the signs, or print out the map before you start, or continue on from the Riverside Walk above.
Cinemas
Cinema - Greater Union Multiplex - cinema mulitiplex including gold class cinemas, located at Westfield Parramatta
Culture
Riverside TheatresA popular Sydney theatre, showing a mix of amateur productions and professional shows. Ticket prices usually compare favourable with the downtown theatres.

phone: +61 2 9687 6090

address: 45 Hunter St

An artists studio with an Art Gallery.

Heritage CentreHas a permanent exhibition on the Burramatta Aboriginal people as well as temporary exhibitions on the settlement of the Area
Sports
To Watch
Parramatta StadiumHome to the local Parramatta Eels rugby league team and Western Sydney Wanderers football team. Games on every second weekend during the winter (Eels) and summer (Wanderers).

Rosehill Gardens RacecourseHome of the Golden Slipper, the world's richest race for two year olds ($3.5m) held in April. Also regular race meetings throughout the year.

Parramatta RacewayHome of monster trucks and demolition derbys.
To Play
Buy
Shopping Malls
Parramatta WestfieldIs one of the largest shopping malls in New South Wales. Its easily accessible to the train, and like Chatswood offers an easily accessible alternative to city shopping. It has two department stores (David Jones & Myer), Target, K-Mart, Supermarkets, and loads of specialty and fashion stores, as well as food court, restaurants and cinemas.

Church St, is the main street shopping strip in Parramatta CBD. This area struggled for many years to compete with the large enclosed shopping malls, and can be a little dingy, but makes a change from the environmentally controlled alternatives. Church Street is a mall between the railway and Macquarie Street. It contains a number of arcades including the Queensland Arcade, Connection Arcade and Greenway Arcade

Merrylands MallIs located adjacent to Merrylands station. Its feature tenant is a large Kmart as well as target. Whilst it has recently almost been completely rebuilt it is similar to many shopping malls found around the Sydney suburbs.
Markets
North Rocks Bring & Buy Markets - market for second hand goods such as tools, clothing, plants, bric-a-brac and books etc. Average 110 stalls. Markets are held every Sunday from 7AM to 1PM. Entry by donation to Rotary charities. Royal Institute for Deaf & Blind Children (carpark), North Rocks Road, North Rocks (opposite Westfield Shopping Centre)

phone: +61 2 9806 5824

address: Centenary Square, Parramatta

Established in 1791, this is the oldest fresh food market in Australia. There are about 20 stalls selling high-quality food (both primary produce and cooked meals), ranging from honey, grass-fed meat and fruit to cakes, gözleme and hot Indian curries.
Eat

Parramatta has many restaurants, from the budget to upmarket. $50 mains are certainly not uncommon in the nicer establishments, so if you are on a budget, check the menu carefully.
Restaurants are located in three broad precincts plus nearby Harris Park and Parramatta Park/Westmead:

Eat Street
Eat Street is at the northern end of Church Street. The largest number of restaurants are between Phillip Street and Market Street.

Phillip Street/George Street
Phillip Street and George Street run east-west from Marsden Street down to the ferry wharf.

South Church Street
South Church Street is south of the railway line and north of the Great Western Highway. Heading away from the railway down Church Street is a small chinatown.

Harris Park
Harris Park is located to the east of Parramatta, it has its own railway station but is within easy walking distance of Parramatta. It is famed for its Indian restaurants.

Parramatta Park & Westmead
Parramatta Park is located at the western end of the city. Westmead is located to the west of Parramatta, on the other side of Parramatta Park.

Drink
Pubs
There are pubs galore in Parramatta.
address: 135 George Street

Located near the Gasworks Bridge, the new Sentry Box and Queens Wharf. It includes acentral courtyard 'Garden Bar'and also the Gasworks Nightclub.

address: 74 Church Street

This is an Irish themed pub and includes a steak house. It is located in the south Church Street area near 'Auto Alley"

address: 100 George Street

It includes a Thai restaurant and a nightclub

Rose & Crown

address: 11 Victoria Rd

address: Cnr Hassall and Station Street

It includes a bistro
Westmead Tavern, 24 Railway Parade, Westmead

phone: +61 2 9637 2288

address: 284 Parramatta Rd, Granville

address: 19 George Street

Founded in 1796, the Woolpack is one of the oldest Hotels in Australia. The hotel has a Thai restaurant
General RW Bourke, 76 Church Street
Hotel Parramatta, 10 Darcy Street
Royal Oak Hotel, 387 Church Street

Tollgate Hotel625 Church Street

phone: +61 2 9633 3887

address: Level 1/215 – 217 Church St

Designed and built in 1928, offering a wide variety of cocktails, beers and ales, wines, champagnes and spirits.
Night Clubs
Clubs
Parramatta Leagues ClubThis is the home of the Eels Rugby League Football club. Includes the Tingha Palace Chinese Restaurant and a number of cafes (Cafe 88 and Cafe Tahoe)

Wentworthville Leagues ClubThe club is undergoing redevelopment which will expand the premises.
Sleep
City Centre
Budget
Mid-range
Splurge
Near Rosehill
The following hotels are all located along James Ruse Drive or just off it, close to both Rosehill Racecourse and about 5 minutes drive from the City centre


Near Westmead
Connect
Parramatta has well developed contact facilities. Internet cafes, public phones, all 3G mobile networks, post offices, are all readily available. Parramatta library offers Internet facilities.

Go next
If you are staying in Parramatta you have a thirty minute headstart to the Blue Mountains over those staying in the city.
Cumberland State Forest is an urban forest located at 95 Castle Hill Road Pennant Hills.
Fairfield is a multicultural suburb southwest of Parramatta, which is only a 15 minute train ride (Cumberland Line).