Sydney/Sydney Olympic Park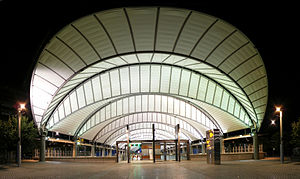 Sydney Olympic Park
is an area 15 km west from
Sydney City
. It is on western reaches of Sydney Harbour, and was the home of the 2000
Olympic Games
.
The Sydney Olympic Park area, together with the surrounding areas on the Parramatta River including the neighbouring suburbs of Newington and Wentworth Point, a wide variety of sporting events, including athletic, aquatic, archery, Australian rules football, cricket, football, tennis, hockey, skateboarding and more. It is also home of open spaces and parks such as Bicentennial Park, Newington Armoury, Wentworth Common, Blaxland Riverside Park, Woo-La-Ra and Wilson Park.
The venues are also used for conferences, and music and family events, including the Royal Easter Show in April. When there are no events on, the area around the station and the main venues can become very quiet. At 6PM most evenings, you can have Olympic Boulevard largely to yourself.
Access to the area and to the parklands is free, although parking can be expensive.
Get in
By train
Olympic Park is accessible through its own At most times you must travel to Lidcombe station and transfer to the T7 Olympic Park Line (Olympic Park sprint). On weekdays, trains leave Lidcombe Station every 10 minutes, while on weekends, trains leave every 10-20 mins. During major events, direct trains to Olympic Park also run from Central, Redfern and Strathfield stations, and sometimes also from other locations. Olympic Park station is wheelchair accessible.
Some parts of the park Bicentennial Park in particular -- are actually closer to , although still within easy walking distance of Olympic Park station. During major events, travellers from the north may be encouraged to use Concord West rather than Olympic Park even for central events. Concord West is wheelchair accessible. It is also $1.80 each way cheaper to travel to Concord West than Olympic Park.
By bus
Sydney buses provide regular services from Strathfield and Rhodes stations by the route 525 and 526 buses.
Parramatta
station has route 525; Route 401 from Lidcombe station goes to the Olympic Park and Route 533 from Chatswood.
Unless you are already at a bus departure point, the train will usually be quicker.
For
major events
, like sporting events, and the Easter Show, the
major event bus service
operates, providing frequent event buses from most corners of Sydney. For smaller events, like football matches, a handful of buses may run to a timetable on the major event bus routes.
By ferry
Sydney Ferries
has a passenger wharf for on the Parramatta River. The wharf, which was used for the Olympic Torch journey to the stadium, is around 2 km from the Olympic Stadium area and other attractions served by the Railway Station, but is much closer to the Millennium Parklands, Newington Armoury and many of the area's cycling tracks.
By car
Travel from Sydney City follow the A4 via Parramatta Road to the M4. Take the Sydney Olympic Park exit after the beginning of the motorway.
Homebush Bay Drive (A3) and Parramatta Rd (A4) both pass Sydney Olympic Park. Follow either of these A roads, and follow the signs to Sydney Olympic Park.
Major event parking is available in large multi-story car parks for $25. Parking in the multi-storey carparks at other times is on a sliding scale up to $25. There is often free parking available at the aquatic centre if there are no major events on at the time. There is free parking in Bicentennial Park during the day, limited to 4 hours on weekdays. Traffic can be heavy during major events, but parking is usually available for all but the most major events. Check the
Sydney Olympic Park website
for details of parking and activities.
By bike
Several of Sydney's cycle routes converge on Sydney Olympic Park. The Cooks River Cycleway from Botany Bay. The Parramatta Valley Cycleway is linked by a cycle bridge over the Parramatta River linking Rhodes and Meadowbank (and on through Bicentennial Park). Cycling around when you get there is easy, with many paths and bicycle parking provided.
Get around

The train station and the bus stops is easy walking to the arenas, Olympic Boulevard, Bicentennial Park, and the Aquatic Centre. There is a bike hire centre as well.

See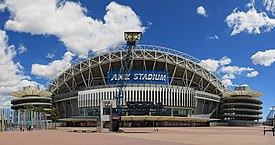 Park Venues
Locals usually go to Sydney Olympic Park to see events such as sporting matches, music acts, or conventions. They are held at one of the following venues. Some venues may have tours.
Other Venues include the Quaycentre (a multipurpose hall), Athletic Centre, Hockey Centre, Archery Park and the Sports Centre.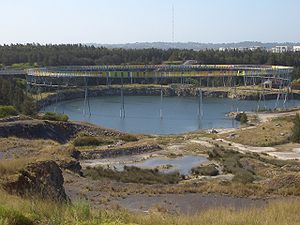 Historical Sites
Brickpit Ring WalkHomebush Bay was an industrial site before it was remodelled as Sydney Olympic Park. The brickpit area was preserved because the post-industrial area was also habitat to several species of rare frogs, including the endangered green and gold bell frog. The brickpit site has a high elevated walkway ringing the site. The engineering is quite impressive. There are interpretive displays as you walk the ring. It is unlikely that you will see any of the tiny frogs all the way down in the water filled pit, but there are binoculars if you wish to try your luck.

address: Jamieson Street

This was an anarmament depot for over 100 years, before being decommissioned in 1996 to be used a part of the athletes village for the 2000 Olympic Games. Now, the site is used for a variety of Tours, as a Bird Sanctuary and Art exhibitions.
Do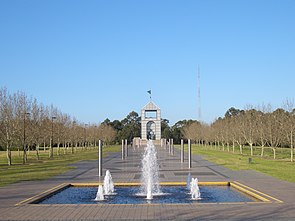 CycleSydney Olympic Park offers possibly the most extensive and pleasant recreational cycling opportunities in Sydney, with water and park views, and some interesting historical sites to explore. Bike Hire is available from the Visitors Centre in Bicentennial Park. Get a copy of the bike circuits map from the visitors centre or online. There are three planned routes that are marked by coloured discs on the edge of the path. Paths tend to be quieter away from the picnic areas of Bicentennial park.

Get wet at Cathy Freeman Park

address: Olympic Boulevard

The Olympic Cauldron, which was the centrepiece of the water themed opening ceremony is now a large fountain that the kids (or adults) can run under. The park can also be used for picnics.

Have a barbecue at Bicentennial Park

phone: +61 2 9714 7300

address: Bicentennial Drive

While you're there walk, cycle or fly a kite. Bicentennial Park is a 100-hectare park created to celebrate Australia's bicentenary in 1988. Although older than Sydney Olympic Park, it is now part of the Sydney Olympic Park precinct. Facilities include electric barbecues, extensive gentle paths suitable for children cycling and for wheelchairs, and enormous amounts of grass on which to picnic or play sports. It is popular with families. Admission and parking is free but hard to find around lunchtime on some weekends, and it may be simpler to walk from the train stations.. There are also a number of other parks, including

address: Marjorie Jackson Parkway, Sydney Olympic Park

, and

address: End of Jamieson Street, Sydney Olympic Park

phone: +61 2 8459 7433

address: Cnr Grand Pde & Orana Parade

A privately run skatepark with an indoor street and outdoor vertical set-up. They regularly run classes and programs for beginners. Check their Facebook page for availability.

Swim at Sydney Olympic Park Aquatic Centre

phone: +61 2 9752 3666

address: Cnr Olympic Boulevard & Shane Gould Ave

This complex was built for the Olympics and houses the main competition pool. Many state and national swimming events are still held here. It contains a 50-m competition pool, a 50m training pool, children's pools, a waterslide and a spa, sauna and gym. Worth checking that no major events are on if you plan to visit just to use the pools.
Annual events
phone: +61 2 9704 1111

Sydney Showground, 1 Showground Road, Sydney Olympic Park. The Show is held every year in Olympic Park in the fortnight around Easter. The show is the most prestigious agricultural show in New South Wales. Competitive exhibits of livestock and produce are theoretically the point of the show, but for many visitors the main attractions are the fairground food and rides and the showbag pavilion in which large bags of themed merchandise are sold, with themes ranging from superheros to chocolate. Ticket prices are $43 for adults, $27 for children and $33 for concession holders though there are also early-bird offers where the prices are slightly cheaper. All tickets include free travel on public transport to the show; as using private transport is discouraged there are no cheaper tickets exclusive of transport.
Buy
Shopping opportunities are limited within Sydney Olympic Park. But there are a number of small shops and convenience stores around the Park. Other shopping centres and local supermarkets can be found in Newington, Wentworth Point, Rhodes or Lidcombe.
phone: +61 2 9748 9800
address: 3-5 Underwood Rd, Homebush
Just outside of the Sydney Olympic Park precinct, this is an Outlet shopping centre with a Food Court.
Eat
Near Olympic Boulevard and the Arenas
In the way of fast food, there is a McDonald's, Subway, Oporto's and a Gloria Jeans coffee shop in the stadium area, and not much else. Gloria Jeans has seating and a courtyard area often not crowded when there are queues at the other fast food places. These can close before some evening events finish.
The Brewery
serves food until a bit later.
phone: +61 2 8762 7959

Lobby of the 5-star Pullman at Sydney Olympic Park hotel, corner of Olympic Boulevard and Herb Elliott Avenue, Sydney Olympic Park. Contemporary International Cuisine in a stylish modern setting, open for breakfast, lunch and dinner.

phone: +61 2 8762 7523

Lobby of the Novotel Hotel, corner of Olympic Boulevard and Herb Elliott Avenue, Sydney Olympic Park. Modern Australian dining.

Food Alert

phone: +61 2 9746 6969

address: 10 Dawn Fraser Avenue

A Turkish take away shop selling kebabs, salads, fish and chips and burgers. Open for Breakfast.

phone: +61 2 9746 0554

address: 8 Dawn Fraser Ave

Steakhouse restaurant.

phone: +61 2 9763 5206

address: Shop8/5 Australia Ave

A bit of a walk, but still a good local Thai restaurant that also does pick up delivery.
Bicentennial Park
There is a kiosk in Bicentennial Park, near the kids playground. Open for lunch only. Good for ice-creams on a hot day.
phone: +61 2 9764 9900

address: Bicentennial Dr

A cafe within the Waterview centre at Bicentennial Park. It serves breakfast and lunch 7 days a week.

phone: +61 2 9763 7530

Waterview Convention Centre, Bicentennal Park, Sydney Olympic Park. Bel Parco is an Italian restaurant, open 7 days for lunch and dinner.
Near the Ferry Wharf (Wentworth Point)
phone: +61 2 9475 6555

address: 3A/21 Bennelong Pkwy, Wentworth Point

A licenced restaurant specialising in mediterranean cuisine. Expect Pizzas & Pastas, and lots of seafood.

K-Food Garden

phone: +61 0450 749 369

address: 10 Burroway Rd, Wentworth Point NSW 2127

A Korean Cafe & Restaurant. Your main dish of Korean Fried Chicken or Bulgogi will also come with a variety of side dishes.

Cucina Viscontini

phone: +61 2 9739 8888

address: Shop 4a/b The Piazza, The Waterfront, 21 Bennelong Road Homebush Bay

A family-owned and operated Italian café which also operates as a restaurant on Thursday, Friday and Saturday nights. Most mains are in the $20-30 range; lunch snacks from $10-20. Make sure you order the bruschetta as an entree, their pizzas are highly recommended too.
Drink
There is not much nightlife to speak of on non-event days. On event days, the atmosphere changes - depending on who and what is playing.
phone: +61 2 8762 1293

Under the Novotel Hotel, corner of Olympic Boulevard and Dawn Fraser Avenue. A pub with a bistro and live sports on 12 screens. Live entertainment on Fridays. Open from 11AM into the night. A quiet and pleasant spot for a drink and a feed on any normal day of the week. On event days, they get out their plastic glasses, security fences, and seats are at a premium. Arrive near to event time and expect a queue to get in.
Sleep
A wide range of local accommodation options are available within the precinct. Availability varies on what events are happening, but expect the 2 weeks that The Sydney Royal Easter show to run to be booked out in advance (sometime in March-April), and major concerts & sporting events to be also booked out.
Budget
Ibis Budget Sydney Olympic Park

phone: +61 2 9648 3862

address: 8 Edwin Flack Avenue

An 156 room economy hotel, 750m from the Olympic Park Train Station. Expect small rooms with basic amenities. Parking is limited and is first come first serve.

phone: +61 2 9737 8139

address: 1 Jamieson Street, Silverwater

The Lodge has dorm accommodation for 6-8 people per room. It is primarily designed for group accommodation, particularly school & holiday camps for children.
Mid-Range
Novotel and Hotel Ibis Sydney Olympic Park

phone: +61 2 8762 1111

address: 11 Olympic Boulevard

These two hotels, sharing facilities, offer 321 rooms in two styles of accommodation.100m from the Olympic Park Train Station. Facilities include two bars, two restaurants, 9 conference rooms and wireless access. Undercover car park is available, fees apply. Committed to preserving the environment they are the few hotels in Sydney to have achieved an ISO14001 Certified environmental standard rating for environmental management systems.

phone: +61 2 9033 2000

address: 6 Edwin Flack Avenue

A serviced apartment style hotel just outside the Park precinct. Around 850m from Olympic Park Train Station. The hotel has 140 apartments including Studio size or 1, 2, and 3 bedroom rooms. All rooms have some form of kitchen, and Conference facilities, On site car parking, Gym, Internet & Wifi, 24-hour reception & tour assistance are available. They also offer long stays.
Splurge
phone: +61 2 9134 4000

address: 1 Carter Street, Lidcombe2141

A serviced apartment style hotel a little outside the precinct and local stores, but 950 m walk to Olympic Park Station, and close by the Athletic Centre. 153 apartment-like hotel rooms including Studio rooms and 1, 2, 3, & 4 bedroom suites, the rooms have Wifi, a Fitness Centre, Pool & Sauna. There's no restaurant on site and room service is done using online food delivery.

Pullman Hotel at Sydney Olympic Park

phone: +61 2 8762 1700

address: Corner of Olympic Boulevard and Herb Elliott Avenue

260m from Olympic Park Station, this is Sydney's first 5-star hotel outside of the city centre. 212 rooms, including 14 suites, Pullman facilities include executive floor and lounge, 24-hour gym, business centre, 24-hour IT solutions manager, restaurant and bar. The hotel uses 40% less energy than most equivalent 5-star hotels, with solar panels on the rooftop supplementing power consumption. A specific focus in the hotel construction has been on the selection of natural materials.
Connect
There are some free public Wi-Fi spots about in the event precinct. The area is also well covered by normal telco providers.

Go next
If you are staying at Sydney Olympic Park, you are about equidistant from
Sydney City
and
Parramatta
. Stay on the M4 past Parramatta, and in 90 minutes or so you could be in the
Blue Mountains
.