Sydney/Upper North Shore
The
Upper North Shore
is a leafy and affluent residential area to the north of the heart of
Sydney
. It is east of the Lane Cove river, north of Chatswood and south of the uppermost border of Hornsbyshire council area.
Understand
The Upper North Shore starts north of Chatswood and stretches all the way to the Hawkesbury River. It consists of mainly residential and bushland suburbs, with the apartments and high density of the
Lower North Shore
giving way to the detached houses in the leafy suburbs of Killara, Pymble, Turramurra, Warrawee, Wahroonga and Hornsby and further north to villages carved out of the bush near Berowra and Mt Colah.
Containing some of the oldest residential areas of Sydney, the North Shore is known for its extensive gardens and mature European trees, making it one of the most attractive areas within the Sydney metropolitan area. This is particularly true in November of each year, when the blossoming of the Jacaranda trees provides streetscapes of bright purple flowers.
Get in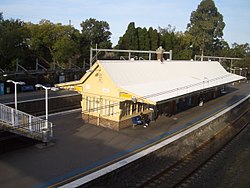 The North Shore train line and the Pacific Highway provide the spine of the region, running parallel to each other for much of their length.
is a major station on the North Shore line. All trains on this line, including expresses, stop there.
is a terminal station for both North Shore lines, as well as providing onwards services north through the
Central Coast
,
Newcastle
and beyond.
Get around

Trains and public buses are available, mainly centred around a city commute. You'll probably be able to get to a single destination and return to the city by public transport easily enough, but touring the area requires a car. The main road linking the North Shore suburbs together is the Pacific Highway in a northwest to southeast (and vice versa) direction.

See
phone: +61 2 8448 0400

address: Entry from Rosedale Road or Vista Road, St Ives

A must-see for birdwatchers, conservationists and people with a passion in Australian botany. The nature reserve contains some of the last remaining blue gum forests which once ruled over much of Sydney. Rainbow lorikeets, king parrots and silvereyes are a sample of the birds you will find here.

phone: +61 2 9424 0353

address: 420 Mona Vale Road, St Ives

The Ku-ring-gai Wildflower Garden features scenic landscape including bushland, gullies, ponds and waterfalls. It is a great spot to have a picnic or go bushwalking/hiking. The picnic area is quite often visited by swamp wallabies so this is a good spot to see these animals relatively close to the city.

phone: +61 2 9989 8020

address: 71 Clissold Road, Wahroonga

The first building designed by the renowned Australian architect Harry Seidler. This famed piece of Australian modernist architecture, built in 1948-1950, has been preserved in its original condition and features panoramic views of Kuringai National Park.

Hornsby Water Clock
Do
phone: +61 2 9416 8555

address: 112 Pacific Highway, Roseville

Family-owned, independent cinema with a focus on art house. Runs films not shown in the big multiplexes.

Lindfield Rocks

phone: +61 2 9424 0754

address: 62a Tryon Road, East Lindfield

The oldest bouldering site in Sydney. Very popular among rock climbing enthusiasts and accessible to beginners.

Ku-ring-gai Chase National ParkLarge national park to the north of Hornsby until the Hawkesbury river.

phone: +61 2 9144 5110

address: 361b Bobbin Head Rd North Turramurra 2072

Public golf course with scenic views. The flattish terrain and golf lessons available make it particularly attractive for beginners though it is probably not challenging enough for pro golfers.

phone: +61 2 9424 0353

address: 420 Mona Vale Rd, St. Ives

Every year the St. Ives Showground turns into a bustling village from the Middle Ages. Events include a jousting tournament, a trebuchet demonstration, seeing fully armoured knights, a reenactment of hawking as well as a lavish medieval feast.
Buy
phone: +61 2 9449 9242

address: 15 Stanley Street, St Ives

South African grocery and butchery. If you're after traditional biltong, boerewors, droëwors or any other authentic South African foodstuff, it will be here.

Westfield HornsbyA large shopping centre with cinemas, supermarkets, cafes, restaurants etc. Right next to station.
Eat
phone: +61 2 9880 8020

address: 308 Pacific Highway, Lindfield

Serves light Thai meals quickly. You barely have enough time to sit down or grab some BYO alcohol from the shop around the corner before the food is ready. It is popular with university students from the nearby campus of the University of Technology, Sydney.

phone: +61 2 9416 5026

address: 366 Pacific Highway, Lindfield

A local bistro that serves French meals with a modern twist.

Lotus Inn

phone: +61 2 9489 5740

address: 41 Redleaf Avenue, Wahroonga

A$10-20. Serves Chinese cuisine mainly. It is the most popular and well known Chinese restaurant within the area. It is BYO Wine only with no corkage, and there is a bottle shop just down the road. It is approx. 3-5minute walk from the station and is generally full on Friday, Saturday, and Sunday's. Try the Sizzling Beef.

phone: +61 2 9489 4797

address: 4/100 Pacific Hwy, Waitara

The restaurant looks plain and drab but the South Indian dishes are reasonable for budget eaters.
Drink
Sleep
phone: +61 2 9487 3355

address: 18 Ingram Road, Wahroonga

Comfortable motel with swimming pool and a quality Indian restaurant and steakhouse.

phone: +61 2 9477-5555

address: Cnr Hunter & Burdett Street, Hornsby

This pub style accommodation is not too flash but cosy. Inside there are a few bars, bottle shops and a Thai restaurant.

Killara Inn Hotel & Conference Centre

phone: +61 2 9416 1344

address: 480 Pacific Highway, Killara

4 star hotel on the Pacific Highway with friendly service and clean and comfortable rooms.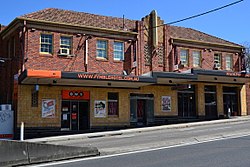 phone: +61 2 9144 1039

address: 1134 Pacific Hwy Pymble

Budget, old-style looking hotel with pub and free parking.
Go next
Within Sydney
Take a break from the nature walks and dive into the Northern Beaches via the A3.
Further away
Brooklyn is a pleasant town on the banks of the Hawkesbury river, just a few stops north on the train line.