Symi
Symi
is a small island of the
Dodecanese
group, north of
Rhodes
.
==Understand==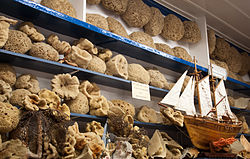 Symi
(often also spelled
Simi
) is a small island (22 sq. miles, pop. about 2,500) with perhaps the most beautiful harbour in Greece. It's one of the friendliest places in Greece.
In the nineteenth century Symi grew wealthy from the sponge trade: boats sailed as far afield as the coast of North Africa and the sponge fisherman were away from home for months on end. Sponges are still sold in local shops, but are now all imported. The harbour is a protected site, since most of the buildings are Neo-classical in design and date from the 19th C.
Get in
By boat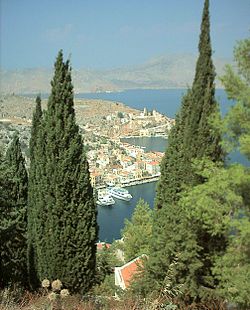 Ferries, and fast catamarans operate several services daily between Rhodes and Symi and also pass through less frequently en route to other islands in the Dodecanese chain.
Get around

There is a busy little bus that runs from Yialos through Chorio to Pedi throughout the daytime and evening.

See
Panormitis - Monastery at the south of the island - accessed by boat or car
==Do==
Climb the stairs in
Yialos
. Get out of the touristy centre of the harbour.
Symi offers a fantastic landscape for walkers, particularly in the Spring or late summer when it is not too hot. The terrain in places can be tough but rewarding.
Catch a boat to one of the beaches or circumnavigate the island.
Eat
Anywhere in the old town. Harbour restaurants can be more expensive.

Drink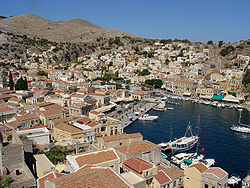 Bars in the harbour are relaxed and easy going; there are also bars in the upper town.
Sleep

Symi town gets extremely crowded in season with visitors, both day trippers and those staying longer, and even in shoulder season it can be difficult to find accommodation on weekends and holidays without advance booking.
One well established travel agency that can help with finding accommodations is Kalodoukas Holidays , 85600 Symi, Dodecanese, Hellas. Tel: +30 2246 0 71077, fax: +30 2246 0 71491, mobile: 6948808011 email . They can also handle other travel activities like cruises and boat rental. They have an office near the harbor (inquire locally for directions.)
Symi is full of characterful villas and houses. You can stay in a restored house in the old town, Chorio, but you'll need to climb the numerous steps to get back and forth to the harbor, and it will take some time to learn how to find your apartment in the maze of streets and alleyways. Or you can opt for harbour side views in Yialos. There is also accommodation in the quiet beach villages of Pedi and Nimborio.
==Go next==