Syracuse (New York)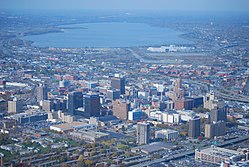 Syracuse
is a city in
Central New York
. With a population of 145,000 in city proper and 662,000 in its metro area, Syracuse is the fifth largest city in the state of New York, and the third largest in Upstate New York.
Get in
By bus/train
William F. Walsh Regional Transportation Center
, located at 131 NBT Bank Parkway just north of downtown, is the city's central rail and long-distance bus hub.
By plane
Syracuse Hancock International Airport

phone: +1 315 454-4330 (Airport Information), +1 315 454-3263 (City of Syracuse Department of Aviation)

address: 1000 Colonel Eileen Collins Boulevard

Mostly served by Delta Air Lines/Delta Connection, United Express, and American Airlines. Limited service from JetBlue. Although an international airport, the only international service offered is Air Canada to/from Toronto International.
By car
Travel from the four cardinal directions is served by two Interstate highways.
Get around
By car
A car is probably the best way to get around Syracuse, especially if you are going to places away from downtown. Thanks to its many Interstate highways (I-90, I-81, I-481, and I-690), nearly everywhere in the Syracuse area can be reached within a 20-minute drive. Make sure you have a map and pay attention to the street signs. There are some streets in the downtown area that go from being two-way to one-way, which is not always clear on a map.
On foot
You can walk to most of the destinations in downtown Syracuse from a parking lot or the Centro bus terminal.
By bicycle
Most of the downtown area is relatively flat, but keep in mind that the Syracuse University area has many steep hills and the residential areas surrounding downtown have quite a few hills as well. What some people will do is catch a ride on the bus downtown, placing their bike on the bike rack on the front of the bus and then use their bike once they reach downtown, thus avoiding the steep hills. E-bike rentals are available throughout the downtown area via
Sync Bike Share
.
By bus
The
Centro Bus System
provides a fair alternative to driving to most locations, with a fare of $2 within Syracuse and additional fares to outlying suburbs, such as to
Auburn
for $4 and to
Oswego
for $5. Buses can come sporadically, especially if you plan to ride the bus outside of Downtown Syracuse, so check the bus schedule online in advance. If you have to transfer to another bus, be sure to ask the bus driver for a transfer card so that you don't get stuck paying double fares for the same trip. Centro offers discounts for senior citizens, persons with disabilities and children. The buses are accessible to people with disabilities and the bus drivers are instructed to let a person with a physical disability on before letting other passengers on.
address: 599 S. Salina St

The central hub for all Centro bus routes, located right in Downtown Syracuse. Offers public restrooms, bicycle racks, and an information booth.
By taxi
There are several taxi services listed in the Syracuse phone book that you can choose from. It will usually take anywhere from 10 to 30 minutes for a taxi to come pick you up but it can be useful if you missed the last bus of the day. At the airport there is usually no wait, as there is a well-frequented taxi stand at the end of Terminal A. Ride-hailing services including Lyft and Uber are also available.
See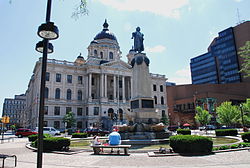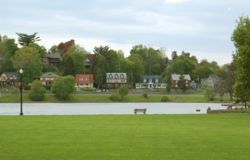 Up-to-date information about happenings in Syracuse can most easily be found in the weekly
Syracuse New Times
, available for a fee at supermarkets and convenience stores. Syracuse's only major print newspaper,
The Post-Standard
, publishes a Weekend section in its Thursday edition containing upcoming events in the
Central New York
area.
Online calendars of upcoming events are offered by local media groups:
Museums
Parks and outdoors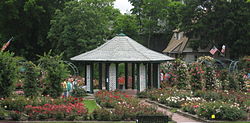 Do
phone: +1 315 928-3737

address: 3179 Erie Blvd E

Indoor trampoline park and obstacle course chain.
Live theater and music
Sports
Festivals
Syracuse has gained the nickname "the City of Festivals" for good reason. There are numerous festivals year round. The following are just a few of the festivals that are held in and around the City of Syracuse:
Jazz in the Square This jazz festival is seen as a downtown replacement for the M&T Jazz Fest which has moved to the Onondaga Community College campus.
Latin American Festival
February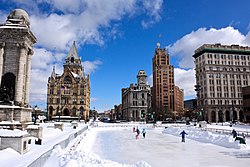 March
The Syracuse St. Patrick's ParadeIt was founded by an honored local journalist, Nancy Duffy. The parade has been celebrating St. Patrick's Day since the early 1980s.
June
July
August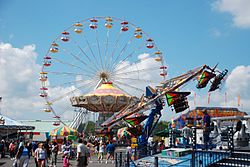 September
Buy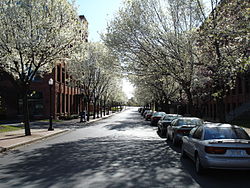 address: 310 W. Jefferson St

Independent music shop, used and new, with CD players to listen to any open album for as long as you want. Movie selection on second floor. Open late.

address: 625 Burnet Ave

Camera supplies
Souvenirs, gifts, novelties
address: 441 S Salina St

Bx 350.

Enchanted Bazaar

address: 118 W Jefferson St

Way Off the Beaten Path

address: 136 Walton St
Shopping areas and malls
General retail opportunities like supermarkets, big-box stores, and casual dining can be found in Syracuse's immediate suburbs on commercial strips including:
To the west: West Genesee St in Camillus.
To the north: US 11 (Brewerton Rd) in Salina, West of the Syracuse Airport.
To the east: NY 5 (Erie Blvd E) in DeWitt.
Eat
Diner
phone: +1 315 471-6258

address: 325 S Clinton Street

phone: +1 315 425-0353

address: 110 Wolf St
Budget
address: 1600 West Genesee Street

The biggest deli sandwiches around and a friendly mom and pop feel have created an almost cult following to this little sandwich shop.

Varsity Pizza

address: 802 S Crouse Ave

Heid's

address: 305 Oswego St, Liverpool

Heid's is known for two things: long lines and the hot dogs that are responsible for those long lines. Ordering is simple: anything that isn't a hot dog or a coney gets ordered first after you get in the door, including their delicious grilled cheeses and super-thick milk shakes; at the end, once you get to the cash register, you simply order how many hot dogs and coneys you'd like. If the retro-style of the restaurant isn't to your liking, you can always cross the street and sit by Onondaga Lake.
Mid-range
Splurge
phone: +1 315 475-1111

address: 238 W Jefferson St

Great Thai food in a formal but not snobbish atmosphere. Pad Thai is fantastic as is the green curry.

phone: +1 315 474-1153

address: 311 South Franklin Street

Nice and original Italian food, great wine list, and friendly service. Can be a bit expensive but worth every cent.

phone: +1 315 446-1771

address: 3687 Erie Boulevard E
Drink
Syracuse has two major nightlife districts. The largest is Armory Square downtown, followed by Marshall Street on University Hill.
address: 165 Walton St

Clark's Ale House

phone: +1 315 479-9859

address: 100 E Washington St

Faegan's Cafe & Pub

address: 734 S. Crouse Ave

A common hangout place for students at Syracuse University, usually not quite as hectic as some of the other bars near campus, this place has more of a relaxed sit down atmosphere.

address: 253 East Water Street

69 beers on draft at all times, an always changing selection. Full menu all day as well as $2 beer specials from open to close.
Coffeeshops & cafes
phone: +1 315 440-6441

address: 401 S Salina St

Freedom of Espresso

address: 115 Solar St

phone: +1 315 410-0090

address: 110 Harvard Pl

phone: +1 315 478-0000

address: 719 E Genesee St

All vegan cafe.

phone: +1 315 428-0844

address: 108 E. Washington St.

Has a wide variety of loose-leaf teas, bubble tea, small meals and Japanese desserts in a laid-back atmosphere.
Sleep
Airport
Downtown
University Hill
The University Hill neighborhood is directly adjacent to Downtown Syracuse and is home to Syracuse University, SUNY Upstate Medical University, and SUNY College of Environmental Studies and Forestry.
Suburbs
There are several hotels near Carrier Circle in DeWitt, directly accessible from the New York State Thruway's Exit 35, and 15-minute drive to/from Downtown Syracuse during non-peak hours.
Cope
Radio
Radio stations serving the Syracuse area include:
News/talk: WAER 88.3 FM (NPR), WRVD 90.3 FM (NPR), WSYR 570 AM/106.9 FM (conservative)
Television
Major television stations serving Syracuse include:
WSTM Channel 3: NBC
WTVH Channel 5: CBS
WSYR Channel 9: ABC
WCNY Channel 24: PBS
WSYT Channel 68: Fox
Connect
Libraries are your best bet for public Internet access, unless you can find a Wi-Fi hot spot elsewhere. Fortunately, the city and its suburbs have an excellent network of libraries, the
Onondaga County Public Library System
. There are eleven library branches in the city, and more than twenty in the suburbs.
phone: +1 315 435-1900

address: 447 S Salina St

This is the main library for the county, and the biggest of the branches. It's in a large glass building called The Galleries.