Szczecin
Szczecin
, (pronounced
Shchetsin
, German:
Stettin
, Latin:
Stetinum
) is a maritime port city and the capital of
Zachodniopomorskie
in
Poland
. The city has a population of over 400 000, with almost 800 000 living its metro area, and is one of the seven largest metropoles in the country. It lies in the northwestern corner of Poland, very close to the German border. It is easier to get to Szczecin from some parts of Germany, notable from
Berlin
, than it is from much of the Polish territory. For a significant part of its history, Szczecin was a part of Germany, and in other periods, of Denmark and Sweden.
Szczecin is Poland's third-largest port and much of its industrial base used to be a part of an important shipyard. But the city is not on a seaside, but rather on the river Odra (German:
Oder
), some 20 kilometres south of the Baltic Sea as the crow flies, and many more by road. Many visitors to Poland are also unaware of Szczecin's architectural attractiveness, as the large parts of the city were designed by Baron Haussmann, the same man who designed the boulevards of
Paris
.
Understand
The place now known as Szczecin was first mentioned in written history in 1st century when West-Roman historian Tacitus located East Germanic tribe of Rugians somewhere in the area; the Rugians left in 5th Century during the Great Migration. Sometime in the 8th century Western Slavic tribe of Pomeranians built their stronghold here. In 10th century the town was mentioned as "one of major in Pomerania" in Abraham ben Jacob's chronicle. In approximately 1080 its area was incorporated into Poland, but within eight years, the town was controlled by the Dukedom of Pomerania, and five years later, Denmark. In 12th century when its competitor,
Wolin
(also known as Veneta in medieval chronicles) declined Szczecin began to prosper from trade and became one of the major Baltic sea harbours. Its name was first recorded in 1133 as "Stetin".
In 1181 Pomeranian dukes joined Holy Roman Empire. In 1243 Szczecin got city rights before it became member of the Hanseatic League in 1278. Until early 17th century the city was the capital of Pomeranian Dukedom, then in 1630 when local dukes died out it became part of Sweden, then Kingdom of
Prussia
, then for a brief period, due to Napoleon's conquests, the French Empire. Beginning in the 18th century, the city was a part of
Germany
and served as the "port of Berlin". During World War II the city was hit hard by Allied bombers - city centre, Old Town and industrial areas were totally ruined. After the Soviet forces invaded Nazi Germany in 1945, according to Potsdam Conference agreements, Poland annexed all lands up to the Oder river, expelling the native German population and extending the border to include Stettin. Poland thus gained control of the city.
In more recent history, the city was (with
Gdańsk
) one of the birthplaces of Solidarity movement.
An unusual feature of Szczecin is its urban planning - many roundabouts and wide avenues. Stettin was rebuilt in 1880s using designs by Georges-Eugene Haussmann, who also did the urban planning for Paris. His design style is still being used for newly-built (or modified) city areas.
The maritime industry is still strong with a busy port and repair shipyard, and it is a center of service industries in Poland. Szczecin is sometimes considered one of most liberal Polish cities.
Get in
By plane
Solidarity Szczecin–Goleniów AirportRyanair operates daily flights between Szczecin and London (Stansted), and 2 flights per week to and from Dublin and Liverpool. LOT has several flights daily between Szczecin and Warsaw. Eurolot has flights from Szczecin to Kraków (both direct and via Poznań, 4 times a week) and to Rzeszów (twice a week). Norwegian operates two flights per week from Szczecin to Trondheim and Oslo. SAS operates the route Szczecin to Copenhagen.
You can reach the airport by car (the journey may take up to 1 hour, depending on traffic), by taxi (about 120 zł), or by minibus - LOT operates a minibus to and from the airport for all LOT's flights (free of charge for passengers), leaving from LOT's office (al. Wyzwolenia 17) about 90 minutes before departure, and Interglobus has minibuses for all international flights. A railway service links the airport's terminal directly with Szczecin's main railway station and with
Kołobrzeg
.
Due to Szczecin's proximity to
Berlin
, you may also use the latter's airports to get to Szczecin. From there, you can reach Szczecin by minibus (numerous Szczecin-based companies, including Atlastransfer -
Berlinia.eu
and
Interglobus
, operate regular services to Tegel and Schoenefeld airports at attractive prices), by car or by train in 2–3 hours.
By train
Szczecin Główny railway station
Polish State Railways (PKP)
has connections to and from all major Polish cities. There are several trains daily to and from
Warsaw
- travel time on express or Intercity trains is less than 6 hours, but minor delays are not uncommon. To
Poznań
, travel time is about 2.5 hours (from 40 zł), with frequent trains running throughout the day. There are also frequent trains to
Świnoujście
(2 hours).
German Railways
has train connections from
Berlin
,
Amsterdam
,
Prague
and many cities in neighboring
Mecklenburg-Western Pomerania
.
The cheapest way to get to Berlin is by joining a group of up to 5 people riding on one Berlin-Brandenburg Ticket, which is valid from 9 am to 3 am the following day for travel on all local and regional German trains and on local public transport systems in all cities and towns, including Berlin and Szczecin. The ticket costs 28 euros, so one person can travel for about €5. The groups often form spontaneously before departure or on the train itself. There is also the new Berlin-Stettin-Ticket for €10 per person one way.
Berlin-Stettin-Ticket, Brandenburg-Berlin-Ticket, Brandenburg-Berlin-Ticket Nacht, Mecklenburg-Vorpommern-Ticket, and Schönes-Wochenende-Ticket are valid for routes to and from the city of Szczecin and for the entire public transport system in Szczecin.
You even can get from or to the Danish border via Schleswig-Holstein-Ticket, valid in the regional trains of Mecklenburg-Vorpommern, Hamburg, Schleswig-Holstein until Padborg or Tonder (DK) with a surcharge of €2,50 for the ride from the Polish border to Szczecin.
By car
You can reach Szczecin by car from major Polish cities, including
Warsaw
,
Poznań
,
Gdańsk
,
Wrocław
, and also from
Berlin
. Thanks to its location close to the border and direct link with the German motorway system, Szczecin has the best road connection with Western Europe of all Polish cities.
The main route to Szczecin from Berlin is the E28 (German: A11, Polish: A6). The journey takes about 2 hours, depending on traffic. Note that the German A11 motorway is undergoing continuous improvements, resulting in some disturbances in certain sections.
Travelling by car to and from other parts of Poland can be troublesome - the traffic is pretty heavy, the distances are large and there is a general shortage of motorways. It also takes quite some time - for example, the trip to Gdańsk (350 km) usually takes 4–5 hours, and to Warsaw (520 km along national road no. 10) you need at least 6–7 hours, even if you don't follow the speed limits too strictly.
You can also reach Szczecin from
Sweden
(
Ystad
) and
Denmark
(
Copenhagen
) using the ferry connections to and from
Świnoujście
. From there, the journey takes about 1.5 hours, although this road gets completely jammed on summer weekends. To avoid traffic jams in high season, follow the yellow "tourist route" ("Trasa turystyczna") signs. These will take you along B-roads, bypassing the most crowded section of national road no.3.
By bus
Many international and domestic connections (see
Poland#By bus
).
By boat
Szczecin is situated on the banks of the Oder (Polish:
Odra
) and Regalica (branch of the Oder) rivers and Lake Dąbie, near the Szczecin Lagoon. There is a number of marinas, most of them situated in the northern districts and on the shores of Lake Dabie.
In April 2008, hydrofoil service was re-established between Szczecin and Świnoujście. Bosman-Express hydrofoil runs twice a day from the Wały Chrobrego embankment, reaching Świnoujście in about 75 minutes. Tickets are a bit overpriced at 50/70 zł (economy/VIP class - but don't expect any luxury), and there are discounts for children and groups. There is a snack-bar on board, beer is served. There is also a small viewing deck. Along the way you can see some quite interesting industrial sights in the northern part of Szczecin.
Despite being a restored Soviet-made Meteor, now equipped with new engines, the hydrofoil is the quickest way to get to Świnoujście - it moors at the left (western) bank of the Świna, so the passengers avoid the need to use the ferry.
Get around
Szczecin is split in two parts (Lewobrzeże and Prawobrzeże) named after their location on banks of Oder (Lewobrzeże = left bank) and Regalica (Prawobrzeże = right bank) rivers. The port is situated in between. City centre and most of attractions are situated in Lewobrzeże.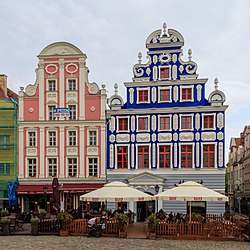 Public transport
Szczecin has extensive public transport network covered by trams and buses. See the maps (
dziennej
= by day,
nocnej
= by night,
tramwajowej
= trams) and schedules . You can also install the timetables on your mobile phone: for J2ME compatible phones and Symbian: MPK Mobile , for Android and Windows Phone: Transportoid .
Tickets
Tickets are randomly checked by plain clothed inspectors; fines are severe and can be a major hassle. Tickets are available at all newspaper stands and you can buy them from the driver after 18:00. If you have an account in Polish bank you can also use your mobile phone . Rush hours are 7:00-8:00 and 16:00-17:00, night hours are between 23:00 and 5:00. Tickets for express buses are twice as expensive. You can change between lines freely as long you stay within time limit (the exception is changing from "normal" bus or tram to express bus). Prices:
15 minutes: 2.00 zł
30 minutes: 3.00 zł
1 hour: 4.00 zł
2 hours: 5.00 zł
24 hours: 12 zł
5 days: 35 zł
Family weekend ticket: 14 zł - valid on weekends for one or two adults with at least one child up to 16 years old.
There are also tickets valid for 10 days, a month and a quarter.
Remember to stamp your ticket immediately after you board the tram/bus.
Brandenburg-Berlin, Mecklenburg-Vorpommern, Schleswig-Holstein, Schönes Wochenende and Brandenburg-Berlin Nacht tickets issued by Deutsche Bahn are valid for public transport operated by ZDiTM (trams and buses) in Szczecin. Monthly/quarterly tickets issued by ZDiTM are valid for DB trains within the city (Szczecin Główny-Szczecin Gumieńce) .
Lines
0 - tourist tram line
1-12 - trams
50, 100 - tourist bus lines
51-111 - buses
A, B, C, D, E, F, G - express buses
521-534 - night buses
7xx - free buses (to and from shopping malls)
Tourist lines
Tourist lines (vintage trams and buses) operate in July and August on Saturdays and Sundays. The fare costs 3 zł (paid to the driver). Line numbers: 0 (tram), 50 and 100 (buses).
Railway
If you want to go to or from the city centre (station name: Szczecin Główny) to districts of Dąbie, Gumieńce, Podjuchy, Zdroje, Zdunowo or Załom (or nearby suburban towns of
Goleniów
,
Gryfino
or
Stargard
), the fastest way might be the train. Check times with PKP ; you have to buy separate ticket (6 zł, one way, no matter how many stops), the exception are trains operated by DB (see above).
By foot
City center can be covered by foot (depending on your fitness, etc.). Look for the red line on the pavements - so called "red walk" which connects nearly all the attractions within the centre. This is by far the best way to discover the centre on foot, as all attractions are marked by a number (there are about 40) on the pavement, so you won't miss one. At each of them there is a sign explaining some details about the sight.
The red line starts and ends at the train station. When you exit through the main entrance, turn left on the sidewalk and look for it, some of the paint may have already vanished. Close to the start is also a map showing the route and the attractions. You can get a similar map that also includes the red line at the tourist information center.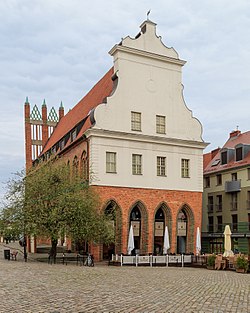 By car
Streets in Szczecin are (compared to other Polish cities) easy to navigate and not congested.
Parking within the centre during business hours (8:00 - 17:00, from Monday to Friday - after 17:00 and on weekends it is free) is paid; the pay depends on the zone and parking time. You can buy tickets from vending machines. Most of malls have free parking, and no one will check if you visited the mall or just used free parking opportunity.
DUI is serious criminal offense (up to 3 years in prison) and the police have no mercy for drunk drivers - many of "zero tolerance for drunk drivers" programs ongoing in Poland have started in Szczecin.
Because of major renovation works in the city centre and Niebuszewo district held this year expect detours and/or traffic jams, especially during rush hours. If you stay in the city consider leaving your car on parking and using public transport.
By bicycle
There is network of
bicycle
paths connecting the city center with the suburbs. You can take your bike on public transport for free (outside rush hours).
If you want to see Szczecin from the bicycle but don't have one you can rent it using the Bike S Szczecin system, which is a system of city bikes available for everyone to rent. They have several hire and drop off stations over the center of the city.
If you happen to be present in Szczecin on any last Friday of the month, feel free to join the Critical Mass - the start point is Plac Lotników square, 6:00 pm.
By taxi
Hail taxi cab from the street or stand only in emergency or if very tired/drunk! It is much cheaper to call for one - ask locals for numbers or see taxi advertisements, they are nearly everywhere. When you call, ask the operator when the taxi will arrive and then look for car plastered with number of company you called.
There is taxi "mafia" operating from stands near railway station, popular clubs, hotels etc. - avoid these rip-offs, they are
very
expensive!
Taxi fare within the centre shouldn't cost you more than about 12-15 zł. Fare from left side of the river (Lewobrzeże) to the right side (Prawobrzeże) or the other way is about 40-50 zł. Fares during the night are slightly more expensive. All officially registered taxis have meters, the driver should turn them on just after you enter. For payment have cash ready, only the minority of taxi drivers have necessary equipment for payments with debit or credit cards. Ask if in doubt.
Some of taxi companies operating in the city:
Auto Taxi: +48 91 4535555
City Taxi: +48 91 4335335
Express Taxi: +48 91 4261038
Euro Taxi: +48 91 4343434
Gold Taxi: +48 91 8122222
Granada Taxi: +48 91 4554554
Szczecin Taxi: +48 91 4835835
See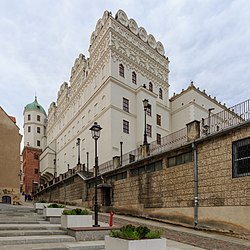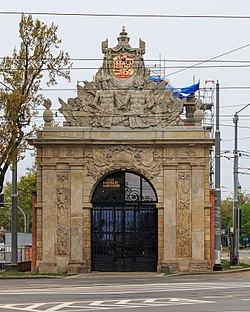 Pomeranian Dukes CastleHouses a museum, restaurants and cafes, and also houses tourist information office, you can get some free maps, pamphlets etc.

Old TownJokingly referred to by locals as "Brand New Old Town" (its reconstruction only started in late 1990s and is ongoing), it has some nice houses rebuilt to original plans. Many shops, restaurants and cafes. There is a museum situated in the Old Town Hall.

Kamienica LoitzówInteresting tenement near the Old Town. Go from Old Town in direction of Castle, and you'll see it after about 20–30 meters on the left side. It is painted flashy orange, you can't miss it.

Wały ChrobregoA promenade with great views on the Oder river and port. Many cafes are situated here. See the museum (Muzeum Morskie), situated just in the center of Waly which houses some artifacts from history of the city and has big collections of African and maritime artifacts.

Katedra św. JakubaLarge Gothic cathedral.

Park KasprowiczaCity park spreading through nearly all of the city. Behind the City Council.

Park ŻeromskiegoAnother city park, situated in the center of the city between Waly Chrobrego and Pazim/Galaxy.

Cmentarz CentralnyThird-largest cemetery in Europe.

S-1 blast & fallout shelterLargest in Poland. Two tours to choose: World War II or Cold War.

Pionier CinemaOldest cinema in the world still in operation (est. 1909)

Railway suspension bridge on Regalica

address: Podjuchy district, ul. Szklana Huta

Something for railway fans, the only one of a kind in operation in Poland.

Emerald LakeLake, artificial cave and forest area (Puszcza Bukowa) situated in Zdroje district. Many great views on the city and nice area for hiking and bike riding.

Pałac pod Globusem

address: Pl. Orła Białego

The building where two rulers of Russia (Catherine II and Maria Fiodorovna) were born

address: Niemierzyńska 18A

Has nice collection of vintage cars, motorcycles, buses and trams
Parisienne Sub-Urb: Many historistic and art nouveau boulevards in Prussian pseudo-Parisienne style around Plac Grunwaldzki, Jagiellońska and Wielkopolska streets.
Do
phone: +48 91 4309510

address: ul. Małopolska 48

Szczecin's symphony orchestra that has its origins in 1948. Since 2014 they perform in the prominent and award-winning building designed by the Spanish Studio Barozzi Veiga. If you don't have time for a concert, the building is also worth a visit.
See the panorama of Szczecin - from the cafe on top of Pazim building, just by Galaxy shopping center (admission free), from St.Jacob's Cathedral tower (paid admission) or from one of the towers of Pomeranian Dukes Castle.
Take a trip through Szczecin's waterways and port - many boats go from the river bank near Wały Chrobrego.
Kayak through the city and lower Oder valley - if you don't have your kayak you can borrow one at Kąpielisko Dziewoklicz (ul. Autostrada Poznańska, public transport - bus No. 61, stop "Dziewoklicz") or any of the neighbouring towns situated by the Oder river - look for wypożyczalnia kajaków (kayak rentals) or kajaki (kayaks).
See dancing fountain near Teatr Pleciuga (ul. Wielkopolska). It might not be the most impressive fountain show in the world but still it's nice eyecandy and it's free. The show lasts 30 minutes and starts every summer day at 21:30.
Events
Juwenalia 16–20 May
Baltic Rock Meeting 25 May - 3 June
Dni Morza / Days of the Sea June
Boogie Brain Festival October
Learn
Maritime University of Szczecin
University of Szczecin
West Pomeranian University of Technology
Pomeranian Medical University
Academy of Arts
West Pomeranian Business School
Work
English teachers and IT developers/engineers are in high demand.

Buy
Szczecin has many shopping malls:
Auchan - situated in Ustowo. Don't go there if you don't have a car, the place is totally pedestrian unfriendly.
Carrefour - situated near Media Markt (mall with electronics) in Pomorzany district. Open 8:00-21:00.
CH Ster - situated near Castorama (big shop for DIY builders) in Gumience district, nearest mall from the German border. Open 8:00-21:00.
CH Turzyn - another mall in the center. Open 8:00-21:00.
Kaskada - the newest and the biggest shopping mall in Szczecin, best brands and spacious foodcourt. Open 9:00-21:00.
Galaxy shopping mall - many outlets of major brands. Situated in the center,near Kaskada. Open 8:00-21:00.
Tesco - another one, across the street of the Carrefour mentioned above. Open 24/7.
Eat
You will easily find global favorites like hamburgers, hot dogs, kebabs, pizza, etc., but for unique Szczecin twist on
fast food
try
paszteciki
(plural, singular is
pasztecik
) - which are kind of deep fried cake with meat or cheese and mushrooms filling. They taste best hot and combined with a cup of
barszcz czerwony
(red beetroot soup).
Budget
Turysta Milk Bar, Obrońców Stalingradu 6a (open 7:30-18:30)
Zacisze Bar, Asnyka 19 (Niebuszewo district)
Akademia Kulinarna, Mickiewicza 45 (open 9:00-17:00)
Mid-range
Amar, Śląska 9 (open Monday-Friday 11:00-19:00, Saturday & Sunday 12:00-17:00) - vegan & vegetarian. If you are on limited budget, order their "danie dnia" (dish of a day) and/or "zupa dnia" (soup of a day) which are always very affordable.
Camarillo, Mściwoja 8 - fusion
Green Way, Krzywoustego 16 (open Monday-Friday 10:00-21:00, weekends 11:00-19:00) - vegetarian
Splurge
Bombay

address: Partyzantów 1

Indian food.
Chief, Rayskiego 16 - all kinds of sea food
Ładoga, Jana z Kolna - Russian
Sake, Piastów 1 - Japanese
Columbus - On Waly Chrobrego by Marine Academy

phone: +48 914880163

address: Waly Chrobrego 1B

Good Polish food. Chrobry is located under a dome supported by pillars. There is a bar and a two-story restaurant below ground and also serving upstairs between the columns with a view over the Oder.
Colorado - on Waly Chrobrego by Polski Theatre
Karczma Polska - Lotnikow Square
Drink
The majority of pubs and bars can be found in the old town (
Stary Rynek
) or around ul. Bogusława in the middle town area. Expect to pay between 6 zł and 8 zł for a large beer and around 6 zł for a 50ml shot of vodka.
address: Pl. Batorego 4

Restaurant during the day, live music and/or DJs on weekend nights.

address: Niepodległości 22

Every day parties! Music: 70s, 80s & 90s. Karaoke Nights, Student Nights, Every Weekend Parties & Afterparty till 6AM

address: ul. 3 maja

Funk, hip-hop, house, etc.

phone: +48914853161

address: Powstańców Wielkopolskich 20

Something for blues (and rock) fans - live music, jam sessions, etc.

phone: +48914341303

address: ul. Piłsudskiego

Very popular among the students; rock/alternative party every day, live music from time to time.

address: ul. Bogusława

Italian food restaurant during the day, DJ parties on weekends.

Piwnica Kany

address: Plac Piotra i Pawła 4/5

Pub belonging to Kana alternative theatre, popular among students and artists (and theatre visitors). Has free wireless Internet (ask the bartender for the password).

address: Partyzantów 2

Live rock music, karaoke, you name it.

address: Mariacka 26

jazz, all that jazz. Often live.

address: Felczaka 9

Restaurant during the day, disco on weekends, live jazz every Monday.
Local beer, local vodka
Bosman beer is made by local brewery. There are variants with red (czerwony) and green (zielony) label, both of them are lager. You can buy it at most of general stores and some pubs.
Taverna pub has its own microbrewery making lager and porter type beers.

phone: +48 91 4335484

address: ul. Partyzantów 2

Nice beer hall with good beer and cheap food. TVs on the wall show sports.
Starka is a special kind of seasoned vodka made by Polmos Szczecin distillery. There are variants which are 10, 18, 25 and 50 years old. You can buy them at Polmos store (situated corner of Jagiellońska and Bohaterów Warszawy streets); as you can guess, Starka is rather expensive (especially the 50-year-old one) and available only in limited amounts. You can also tour the factory , which is quite interesting, tasting Starka is included with the tour (email them for booking and information).
Sleep
Budget
Mid-range
phone: +48 91 4817700

address: Ul. Wyszyńskiego 30

ibis
Splurge
phone: +48 91 4340050

address: Ul. Plantowa 1

phone: +48 91 4243532

address: Al. Wojska Polskiego 75

Radisson BLU

Novotel

phone: +48 91 820 7711

address: Aleja Wyzwolenia 50
Connect
Free Wireless Internet
Alter Ego, pl. Batorego 4
Brama Jazz Cafe, ul. Hołdu Pruskiego 1
City Council building, pl. Armii Krajowej 1
CH Galaxy, ul. Wyzwolenia 18
whole ul. Bogusława
every KFC outlet
every McDonald's
Książnica Pomorska (public library), ul. Podgórna 15/16
Szczecin-Goleniów Airport
Park Kasprowicza (city park), Jasne Błonia (whole area between City Council building and "Three Eagles" monument)
Piwnica przy Kanie, pl. św. Piotra i Pawła 4/5
Politechnika Szczecińska - Wydział Mechaniczny (Technical University of Szczecin), al. Piastów 17
Pub Colorado, Wały Chrobrego 1a
Uniwersytet Szczeciński - Wydział Nauk Ekonomicznych i Zarządzania (University of Szczecin), ul. Mickiewicza
Wyższa Szkoła Administracji Publicznej (Higher School of Public Administration), ul. Marii Curie-Sklodowskiej 4
Zachodniopomorska Szkoła Biznesu - Budynek A (West Pomeranian Business School), ul. Żołnierska 53
Stay safe
Szczecin used to be infamous in Poland for its organized crime, but these days are long gone - nearly all the gangsters are dead or in prison. Now it is a very safe city. However, you should stay away from some of its "bad" suburbs, like Gocław, especially after dark.
Be careful when crossing streets - jaywalking is a crime in Poland and the police often lie in wait for tourists crossing streets when the pedestrian crossing is on red. If stopped, claim that your money and passport are in your hotel and you may get away with it.

Cope
Consulates
Cyprus, ul. Śląska 7, +48 91 4330766
Czech Republic, ul. Monte Cassino 27, +48 91 4237980
Denmark, ul. Piłsudskiego 1a, +48 91 4330930
Estonia, ul. Kurza Stopka 5/cd, +48 91 8123827
France, ul. Skłodowskiej-Curie 4, +48 91 4761546
Germany, ul. Chodkiewicza 2a, +48 91 4850657
Kazakhstan, ul. Grodzka 14/14, +48 91 3264011
Mexico, ul. Energetyków 3/4, +48 91 4624371
Norway, ul. Niepodległości 17, +48 91 8121430
Slovakia, ul. Skłodowskiej-Curie 4, +48 91 4890661
Sweden, ul. Skłodowskiej-Curie 4, +48 91 4862673
United Kingdom, ul. Starego Wiarusa 32, +48 91 4870302
Go next
On the mainland:
On the
Wolin
island: