Szentendre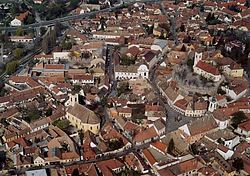 Szentendre
(Serbian: Сентандреја, Croatian: Senandrija, Ancient Latin: Ulcisia Castra) is a small town on the Danube River, 19 km north of
Budapest
,
Hungary
.
Understand
This charming little town, whose name means "Saint Andrew", is known for its well-preserved houses and churches, many built in a Balkan style as the area had been settled by Serb refugees.
Today the town's best-known inhabitants are artists, and small galleries can be found on every street corner.

Get in
By train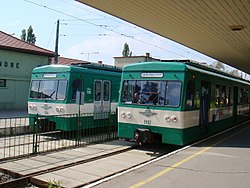 Szentendre Suburban Train Station

phone: +36 26 311427

address: Dózsa György út 1-3

Szentendre is not on the state railway lines. The only train connection is the HÉV, Budapest's suburban railway. Szentendre is easily reached on the H5 HÉV suburban railway line from Batthyány tér (on the "Piros Metro", M2 red subway line) in Budapest. Trains leave every 10-30 minutes and take 40 minutes to reach the town. There is a bicycle storage. Timetable here
In winter time, it's quite warm in the middle of the carriage, but may be chilly if you sit near the doors.
You can get on board with a regular BKV ticket or pass in
Budapest
, which is valid to the city limit. Once the train leaves Budapest, the on-board conductor sells you the "extension" ticket for Ft 310 each, one way.
Every second H5 train from
Budapest
only goes halfway, to Bekasmegyer. You can either wait for the next one or take it to Bekasmegyer and wait for the next train there.
Other notable places to get on the H5 train are Margit bridge Buda side (from 4-6 tram) and Arpad bridge Buda side (tram line 1).
By bus
Szentendre bus station

phone: +36 26 311-996

address: Dózsa György út 5/7

Buses leave daily from Budapest's Újpest-Városkapu bus station (on the Metro blue line) and take about 25-30 minutes to arrive. There are also direct bus connections from other towns on the Danube bend. Esztergom is about an hour and a half and Visegrád is about 45 minutes away. Timetable here.
By boat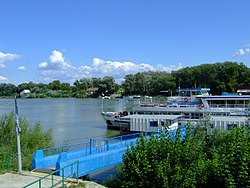 phone: +36 26 312-690

address: Czóbel sétány / Sziget u.

From May to September you can reach Szentendre by riverboat every day from Budapest, Vigadó square or Batthyány square Ft 2000. In April and October boats are operated every Saturday and Sunday. You can find the timetable here . Boats departs also to other settlement of Danube Bend as: Leányfalu, Tahitótfalu Ft 1000, Visegrád Ft 1500.

Szentendre Ferry pier

address: Duna korzó

Ferries to Szigetmonostor for passangers. From Szigetmonostor: 06:00
*, 07:10, 08:30-19:30 hourly. From Szentendre: 06:05*, 07:15, 08:35-19:35 hourly. * only weekdays
Szentendre Ferry pier for cars

phone: +36 20 3894752

address: Moricz Zsigmond road off. Office: Szigetmonostor 2015, Rév út 1

Take a boat to Szigetmonostor, Szentendre Island (it is 31 km long with an area of 56 km²). Some less interesting sights as Trinity church (1752), Catholic parish (1740s) and Reformed church (1771), remains of ancient roman bridge can be see there.
By bicycle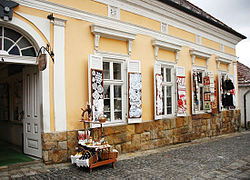 Biking to Szentendre makes an enjoyable day trip, at 25 km from downtown Budapest. With a minimum level of traffic, this family-friendly route will take you through a varied mix of environments and terrain, with plenty of interesting stops along the way.
Start your journey by crossing the Szabadság or Chain Bridges, heading north on the Buda-side bike path. This shady path runs nearly the entire length of the river in Budapest, and is a great place for people watching and picture-taking. Keep heading up the river, watching out for sleeping homeless people as you wind through the underpass at Margit Bridge and following the yellow-painted markings of the path. Cruising next to the HÉV tracks, this section takes you past some of the diverse residential areas of Budapest, from cushy and historic uptown Buda to Soviet style housing blocks.
Your first test of navigation will be after going under the Árpád Bridge and suddenly finding the bike path to have disappeared. Take a left, wind through the gates by the bus stop and continue up Tavasz Street, next to the bridge ramp. When you see a giant OTP building, make a right turn onto Polgár Street and cruise through the housing developments until you hit a dead end at Bogdáni Street. Go right, follow the street until you see the graffiti wall on the left, and then continue along the path next to the tracks. Once the graffiti ends you will see a place ahead and to the right to cross the tracks and resume your way along the bike path, which veers away from the tracks and towards the main entranceway of the Sziget Festival Island.
Take a left and ride along the Jégtörő Street path, then a right at the intersection into a few hundred meters of rough but leafy streets, which will spit you out along Keled Street, with the embankment on your left. Follow this for half a click, cut through the car-width tunnel on your left, and continue to the right in the direction of the river. Before you reach it there will be a bridge to cross on your left, which leads to the hottest summer escape within the confines of the city – Római part. Stacked with food stalls, "beaches" and outdoor pubs, this makes an ideal stop for lunch.
Once satiated, return to Nánási Street and continue north. The road name becomes Királyok, and you will follow it for at least 5 km before taking on your next big piece of navigation. Street bikers and families should take a left on Hadrianus Street, which will take you up to a busy road crossing and resume the bike path going north all the way into Szentendre. Off-roaders (in spirit and in equipment) can choose to continue straight along Királyok, turning right at a banked canal and following a lovely and twisting path through wildflower fields and canopied forest before bushwhacking back to the main road. You may have to cross the highway without the benefit of a crosswalk.
Once in Szentendre, grab a lángos and enjoy the town. If you're too tired to make the return trip you can always load your bike onto the HÉV and ride back to town. The total riding time for this trip is 1.5-2 hours barring no serious stops and the terrain is almost universally level, with mostly smooth concrete. You will need at least a liter of water per person for each direction, a good map, and a good headlight, as many of the sections of bike path are poorly lit at night.
Get around
The HÉV and bus station are located next to each other, about a ten minute walk from
Fő tér
, the main square in the middle of town. From there, Szentendre is easily covered on foot. If you're planning on visiting the
Skanzen
the bus leaves roughly every hour from stop 7. Buy your tickets in advance (Ft 230), or from the driver with an extra fee (Ft 300).
Tourinform Office

phone: +36 26 317965, +36 26 317966

address: Dumtsa J. u. 22.

Free maps, brochures, Souvenir selling.
See
Don't worry too much if you miss the sights listed before: most of the fun of visiting Szentendre is wandering around the streets and visiting the little shops and galleries. Notice the almost intentional lack of straight lines, right angles and spotless surfaces: everything is a bit crooked, slanted, or cracked resulting in an overall warm and cozy feeling. Try to take sneak peeks over fences, through cracks on gates or open doors for a glimpse of hidden treasure.
Memorial Cross, Fő tér. Commemorates the town being spared from a plague epidemic in the region.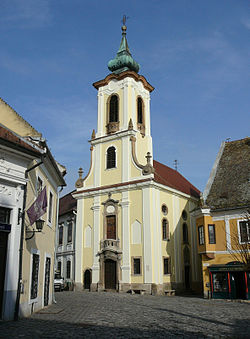 Blagovestenška Church

phone: +36 26 310554

address: Görög utca, Fő tér

Contains intricate icons and rococo windows. Founded in 1752. The patron saint of the church is the Annunciation to the Blessed Virgin Mary. The east-west oriented church was built in baroque and rococo style. Mid-Tower shaped main facade divided into three stages by four pilasters. The main facade is richly decorated by columns, parapet balcony, oval and tiered arched windows. Front tower is 28 meters high. Above the stone frame, oak side entrance is in curved frame a St. Constantine and St. Helen's mural. In addition to the entrance located a red marble tomb with Greek inscription from 1759. The nave is covered three intermittent chest barrel vault, the stone choir is covered by Czech vault cap. The pictures of the iconostasis Zsivkovics Mihailo (1776-1824) Serbian painter (from Budapest) created between 1802-1804. Since the late 1920s, the regular rituals are no longer present in the church. The church now serves mostly as a museum. Pics about the church
Museums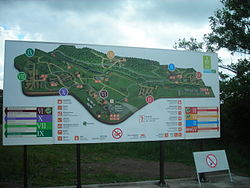 Many of Szentendre's museums are run by the Ferenczy Museum Center, which offer a combined ticket to visit all of their museums for little more than the price to enter one. In listings below, these combined rates are marked with an asterisk(*).
phone: +36 26 502500

address: Sztaravodai út

Easily reached by bus from the Szentendre HÉV (communal train) station. This is a huge tract of land to which ancient buildings have been moved from all parts of the country. Small farm villages, mostly with thatched roofs, now dot the landscape, along with barns, outbuildings and even churches. Many are furnished inside. Buy the English guide book, some of the attendants are very knowledgeable (and some not so) but few speak English. You could spend a whole day there (even several) and still have things left to see. There are many ongoing events offered, especially for families with children.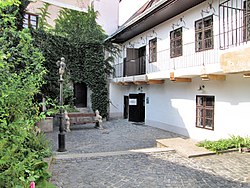 Ámos Imre - Anna Margit Collection

phone: +36 20 7796659

address: Bogdányi u. 10-12.

The museum presents the lifework of tragic Imre Ámos and his wife, Margit Anna, and was opened in 1984. This permanent chronological exhibition, consisting of a significant number of artworks held in a downtown historic monument civil apartment, graphically presents the life and painting of these significant artists in a comparative fashion. The museum can be found in the Paulovics House, which is a listed building.

Ars Amandi Panoptikum and Museum of Oldtimer bikes

phone: +36 20 4315095

address: Malom u. 4/a

phone: +36 20 779 6657

address: Dumtsa Jenő u. 10

Jenő Barcsay is a decisive artist of 20th-century Hungarian painting and graphic art. A representative of figurative constructivism, creator of mosaics and tapestries, and author of Anatomy for the Artist, Barcsay lived and worked in Szentendre throughout his long life. The museum gives home to temporary exhibitions of Hungarian contemporary art.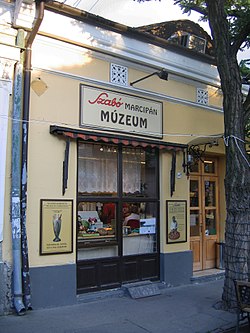 Marzipan Museum and Confectionery

phone: +36 26 311931

address: Dumtsa Jenő u. 14.

A colorful exhibit made entirely out of marzipan. One room is dedicated entirely to Hungarian artifacts: the turul monument in Tatabánya, the parliament in Budapest, the Hungarian Royal Crown, and busts and pictures of various kings, queens, and other famous Magyars. There is also a large collection of cartoon characters to delight children, musical memorabilia (including a life-size Michael Jackson commemorating his first concert in Hungary), and even faux furniture and needlepoint. Afterward you can buy several custom-made candies in the shop.

Memorial House of the painter Tibor Boromissza

phone: +36 26 311364

address: Dunakorzó 4.

Tibor Boromisza painter lived in this house from 1955 until his death to 1960. He is a founding member of the local Art Colony.

phone: +36 26 302 512, +36 30 222 7800 (cell)

address: Dózsa György út 22.

Gold and diamond rings since 2000 in Hungary. Visit Europe's largest diamond & jewelry centre. Take a Free Diamond Tour. The tour include an exhibition about how featuring the lifestyle of royalty in the last 1000 years, a movie about the Diamond, visiting the showroom with unique Caprice jewelry and watch collections at first-hand prices here could be learn some about the history of opal mining in Hungary, further seeing the Diamond Room where you will get some knowledge about how is loose diamonds and diamond investment, last part a visit in 'Hungarian Gallery' where are varied collections of Hungarian craftsmen and Silver.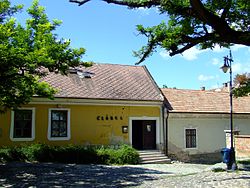 phone: +36 20 742 3145

address: Templom tér 1

Béla Czóbel, considered to be the most French of the Hungarian painters, is an internationally recognized representative of modern Hungarian fine arts. He was the first artist in Hungary to have a museum dedicated to him in his own lifetime—here in Szentendre, where he was also nominated as honorary citizen and where he probably spent most of his time besides Paris. The exhibition Czóbel Reconsidered in the freshly renovated museum on Church Hill presents the painter's rich career in chronological order.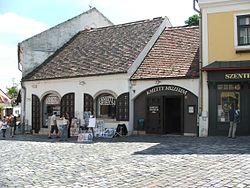 phone: +36 20 779 6657

address: Fő tér 21.

The permanent exhibition featuring János Kmetty's lifework was opened in 1981 in a former 18th-century Dalmatian trading house on the southern part of quare. The artist's widow donated his husband's legacy to the museum. It holds primarily graphics, atelier sketches, oil paintings from the 1960s, glass window designs and stained glass windows as well as some exceptionally valuable contemporary paintings.

phone: +36 26 310244

address: Rákóczi utca 1

Folk Arts collection of Pest county. It's in one of the oldest preserved rural character, charming buildings of Szentendre. The basement makes unique this 18th-century building, because it gives the impression this is a storey house. The stone-walled cellar contents clay plastered three rooms with foot thick beams, spun twigs. The ceiling of the basement is covered with the original 18th-century wide plank elements.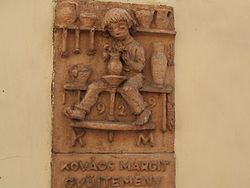 phone: +36 20 779 6651

address: Vastagh György u. 1

One of Szentendre's most popular museums, opened in 1973, presents the lifework of Kossuth Prize-laureate ceramic artist Margit Kovács (1902–1977). The collection was donated in 1972 by the artist, who is considered to be the innovator of Hungarian ceramic art. The over 300 works, embracing the entire lifework of Kovács, are figural compositions. The second-floor gallery of the new wing presents the reconstruction of Margit Kovács's home on Pozsonyi Road with her potter's wheel. The official copies of her most well-known ceramics are on display in the last room. The blind and visually impaired can also touch these.

phone: +36 26 314-280

address: Dózsa György út 1-3

The museum consisting of five exhibition rooms and two display halls. Located in one of the reconstructed covered depots (origin 1914) displaying the transport history of the capital and its neighbourhood.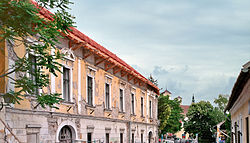 phone: +36 20 779 6657

address: Kossuth Lajos utca 5.

Established as the local history collection of the town in 1951 and named after artist Károly Ferenczy, the museum was relocated to a historic monument building, the 18th-century Pajor Mansion in Kossuth Lajos Street in 2013. In 2016 the museum changed its name to Ferenczy Museum Centre, and today it owns a uniquely rich collection of Szentendre's painting, graphic art, sculpture, and numismatic art. On the second floor of the building's old wing one may get a taste of the works of The Eight, founders of the old artists' settlement in 1926. The exhibition is being rearranged. There are two temporary exhibition halls on the first floor. The works of contemporary Szentendre artists are exhibited in Szentendre Hall, whereas in Barcsay Hall projects of national and international artists can be viewed.

phone: +36 20 779 6657

address: Hunyadi utca 1.

The memorial museum presents Lajos Vajda's surreal, expressive self-portraits, paintings, drawings, photomontages, and last works, the large-scale charcoal and ink drawings on wrapping paper. The Hungarian state purchased a significant part of the lifework from the artist's widow, Júlia Vajda, in 1979 and donated one hundred pieces to the Ferenczy Museum.
The museum opened on 22 December 1986 in a porticoed bourgeois apartment built at the beginning of the last century offering a nice view of the Danube. It is a venue with a permanent exhibition of works by 20th-century Hungarian class.ics. The garden of the museum features works of contemporary Szentendre-based artists. A Vajda exhibition will be opened in November 2018.

phone: +36 30 9311442

address: Fő tér 1.

Located in a monument house. On the ground and the first floor musical instruments can be seen in the last 200 years. Phonograph, gramafonok, flute player and musical clocks, pianos, barrel organs, whistle chests, huge musical maschines shown here.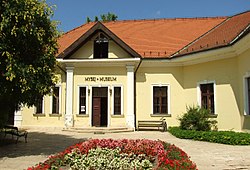 Serbian Orthodox Ecclesiastical Art Collection

phone: +36 26 312399

address: Pátriárka utca 5

Hungarian Orthodox Church art beautiful artefacts: icons, Prayer- Gospel and books, goldsmith- and textile items, artistic wood carvings

phone: +36 20 779 6657

address: Fő tér 2-5.

Szentendre Gallery, hosting temporary exhibitions, is on the first floor of Trade House's historic monument building on Szentendre's impressive Main Square. Due to its traditional role and central situation, it is one of the most significant exhibition spaces of the Ferenczy Museum Center. A bookstore selling the museum's publications and a restaurant are in its direct vicinity, and the local history exhibition is in its basement.

Mészáros Dezső Sculpture Collection

phone: +36 26 310244

address: Dunakanyar körút

An open air sculpture park. Limestone statues can be seen here.

Hubay House

phone: +36 26 500230

address: Bercsényi u. 1

A museum containing gorgeous vintage Christmas ornaments dating from the 1800s to the 1950s.
Roman Lapidarium Castrum
Art galleries
Hubay House - Christmas Exhibition and Salon

phone: +36 26 500230

address: Bercsényi utca 1

Gift shop and exhibit place. To each festival of the year offers the unique and special decorations and furnishing accessories. Goblins and mini bells, decor stars and nutcrackers, Christmas tree ornaments accessories.

phone: +36 20 779 6657

address: Bogdányi út 32.

The 19th-century building of the former sawmill is one of the most interesting and special exhibition venues in Hungary. Based on a idea of painters Dezső Korniss and Pál Deim, the gallery was opened to the general public on the initiative of For Szentendre's Art Foundation in cooperation with the Szentendre Architects' Club in June 1999. The aim of the founders was to establish a modern artists' center. The museum hosts temporary exhibitions.
It is the atmosphere, the diverse, special spaces, and the over one and a half decades of professional history of the ArtMill that makes it a definitive center for contemporary art not only on a local, but also on an international scale. It is the third most important exhibition space in Hungary thanks to its features and its temporary exhibitions visited by a large number of people.

Gallery Ecclesia

phone: +36 26 314576

address: Alkotmány utca 2

Small art shop.

phone: +36 26 501060

address: Bogdányi utca 51.

Temporary exhibitions of contemporary artists.

Art - Decor Gallery

phone: +36 26 302198

address: Bercsényi u. 3

Temporary exhibitions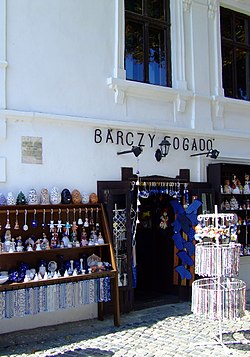 phone: +36 26 310934

address: Kálvária út 18

Temporary art exhibitions

Ceramics Workshop Gallery

phone: +36 20 9427759

address: Szentlászlói út 177.

Unique design and decorative objects, wallpapers, paintings, ceramics and jewelery, cozy lamps are made in workshop gallery

phone: +36 26 317925, + 36 30 9417896

address: Bercsényi utca 4

Three-six exhibits per year. Sells graphics and sculptures of classic, modern and contemporary artists.

phone: +36 26 500390

address: Fő tér 20

Contemporary works of local artists

The National Wine Museum and Labirintus Restaurant

phone: +36 26 317054, +36 30 2748571 (Mobil)

address: Bogdányi utca 10

Presentation wine regions of Hungary, exhibition of wine and winery tools. Wine tasting and shopping.

phone: +36 26 312577

address: Fő tér 14.

Printmaking of graphics between the 16th-20th century.

Szántó Memorial House and Tabernacle

phone: +36 30 9322900

address: Alkotmány utca 3

Historical exhibit in a former Jewish temple.

Péter Pál Applied Art Gallery

phone: +36 26 314510

address: Péter Pál utca 1

Contemporary exhibition of novice artists.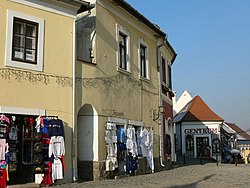 phone: +36 26 313649, +36 30 2966254

address: Bogdányi utca 14

Textile works of Anna Regős.

'Y' Gallery

phone: +36 26 314332

address: Dalmát utca 9

Temporary exhibitions of contemporary artists. Apartment Gallery with Hungarian and foreign contemporary and classic paintings and graphics.

phone: +36 26 316001

address: Péter Pál utca 6

Avant garde art works.
Further afield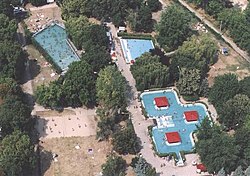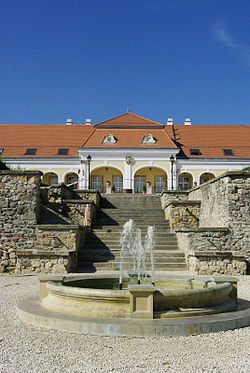 LeányfaluA holiday resort place. - Local and Literature Historical Collection of Leányfalu - (Hu:Leányfalu Hely- és Irodalomtörtényeti Kiállítóhelye. Loc:Móricz Zsigmond út 153. Phone: +36 70 6014110, jekelyteri@gmail.com. Opening hours: On W and F 13:00-17:00, Sa 09:00-13:00), - St Anne Parish Church, built in 1892, the oldest public building of the village (Hu: Szent Anna plébánia templom. Loc: Szent Imre herceg útja 14. Phone: +36 26 383091, ZSzalay@t-online.hu), Calvinist Church (Hu: Református Templom. Loc: Erkel utca. Phone:+36 26 395128 — kovach.t@freemail.hu), - To Do: - Thermal swimming pool (Hu:Termálfűrdő. Loc: Móricz Zsigmond út 142. Phone: +36 26 383370 +36 70 3394794, Opening hours: daily 06:00-19:00. Full day adult HUF1850 (2014)), - Hiking, walking path in to Danube-Ipoly National Park. - Stay: About a half dozen guesthouses and boarding houses waiting you. Ask about at Village House (Loc: Móricz Zsigmond út 126. Phone:+36 26 383-014. M 14:00-18:00; W 08:00-12:00, 14:00-16:00, F 8:00-12:00) or on Web. - eMagyaroszág point in the Ravasz Laszlo Library, free internet for 30 min. (Hu: Ravasz László Könyvtár. Loc: Móricz Zsigmond út 124, M 14:00 -18:00; Tu 09:00-12:00, 14:00-18:00; W closed; Th 14:00-18:00; F 09:00-12:00, 14:00-19:00; Sa 09:00-12:00)

PomázPomáz is the entrance of the Pilis. A couple of local exhibits, a palace hotel can be see here. Also there are walking tours and other outdoor activity options.
Do
Events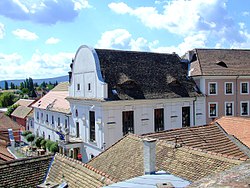 Spring Days (• Szentendrei Tavaszi Napok) - Mar.
•Summer Festivals - Jun to Aug: •
Farewell (Szent Iván napi búcsú) - Jun 24.
Folk Dance Fest ("Tiszta forrásból" Néptánc Fesztivál) - Aug.
•Summer Concerts (Régi Zenei Nyári Akadémia hangversenyei) - Aug.
• Serbian Fest (Szerb búcsú) - Aug 19.
Open Air Theatre of Main square in Baroque environment• (Fő téri Teátrum nyári szabadtéri előadásai)
• Danube Super Marathon (Duna Menti Szuper Maraton),
Sport Festival (Sportfesztivál),
• Basketball Championship of Pest County (Pest Megyei Utcai Kosárlabda-bajnokság).
Walking
Take a stroll along the widing streets that lead upwards towards the hill overlooking the town. There is small viewing area overlooking the red-slate rooftops and if you look carefully you may even see the strange blue angel perched atop of one of the nearby church roofs.
Try to get lost in the small alleys and stairways.
Biking and Walking tours
:
The S-marked hiking trails start in Szentendre suburban railway terminus. Pass the Kő Mountain (366 m) and the Cseresznye Hill (299 m) further takes to the Lajos-source.
The Bükkös creek Valley bike path running to the Dömör gate
From the Open Air Ethnographic Museum a bike path leading to the Pap meadow. then forward to Visegrad.
Other sports
The city is the ideal destination for water sport fans. The water-skiing and jet skiing is also available for use on the Danube. In the town is located a small boat harbor.
More tennis courts are also available.
Buy
There is absolutely no way you can leave Szentendre without tasting even the smallest amount of the famed marzipan produced (or at least sold) there. Marzipan creations come in all shapes and sizes, and are perfect both as a dessert to have with coffee on the spot, or as souvenirs.
In winter time, most non-purely touristic shops close as early as 15:00 (at least in Sa).
Belle Epoque - The Family Run Folk Art Shop

address: 4 Bogdanyi Street

'Country style' interior decoration articles and authentic artisan souvenirs. The shop offers table linen, handwoven kitchen towels, century old crochet hook laces, decorative covers, old Hungarian folk outfits, embroidered pillowcases. A few paces from "Fo ter" (Main Square), Belle Epoque operates in a typical Szentendre Mansion which has been built in 1860 and is now a national monument. The shop is equipped with beautiful, century-old furnishings.

Szamos Marcipán Édességbolt

phone: +36 26 310-545

address: Dumtsa Jenõ u. 14

A marzipan store in the same building with Marzipan Museum.

music shopGreat selection, and host is extremely helpful with recommendations, at least in local music.
Eat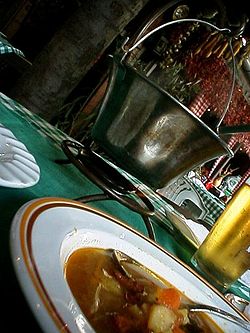 phone: +36 26-310-819

address: Péter-Pál utca 1/a

This well-known restaurant is popular with tourists, but for a reason: the attractive interior is decorated like a Hungarian farmhouse and the food is quite good. Gulyas soup is what the restaurant is most famous for, and it's served in a funky manner (see photo). Open 12:00-22:00 daily.

phone: +36 26 311-484

address: Dumtsa Jenő u. 7

Located on one of the main street; moderate prices and good cuisinealthough nothing really special found so far.

Langósone of the best langós in the country (so the locals say). This is just a small counter on your left after the first few pubs when you get to the small path going along the river.
Drink

In winter, hot wine is extremely cheap.

Sleep
Hotel Panzió 100, is a family-run hotel in the middle of a wonderful landscape along the Danube.
Kentaur Hotel, along the Danube, in the heart of Szentendre.
Szent Andrea Pension is located in the most beautiful town of Dunakanyar. It is near the Pismány mountain, in a very silent and beautiful environment.

Wild Grape Guesthouse9 km from Szentendre in Pilisszentlászló village in the heart of Duna-Ipoly National Park. It is a family-run guest house / hostel.

phone: +36 26-501-360

address: Bükkös part 16

First 4-star spa hotel in the centre of Szentendre with 22 individual rooms, a restaurant, a panoramic terrace, a café bar, a spa with jacuzzi, bio and Finnish sauna, infrared and steam cabin, an ice grotto, massage and beauty services, 24/7 reception. Adults only!
Connect
Szentendre postal code is: H-2000. Area Phone code: 93 (From Hungary first call:+06, from abroad +36).
Main Post Office of Szentendre

phone: +36 26 311322, +36 26 500357

address: Kossuth Lajos utca 23-25.

Mobile phone charging, cash withdrawals from (major) card, news, stamps.
Go next