Szombathely
Szombathely
is the centre of Vas county in
Vas County
in
Hungary
.
Get in
The nearest international airports operate in Vienna, Bratislava, Graz, Budapest, Sármellék.
Szombathely Airfield

address: Gencsapáti and Söpte villages

Serving for sporting and recreational purposes. Used only by low-power and glider aircraft.
By train
By bus
Szombathely Bus Station

phone: +36 94 312-054

address: Ady tér 3.

Regularly departs to Kőszeg, Győr and Sopron. Vasi Volan is the local service provider.
Get around
The city has an extensive network of local buses. The local bus transport provides the Vasi Volán.

By bike
The city has well-developed bicycle path is nearly 33 km long (2012). The bike routes connect the individual parts of the city and tourist sights. The most beautiful path at quayside of the Gyöngyös creek. Out of the city: Bike path leads toward Bulcsu village to 'Írottkő' Nature Park and Vashegy (Iron Mountain) bike lanes.

See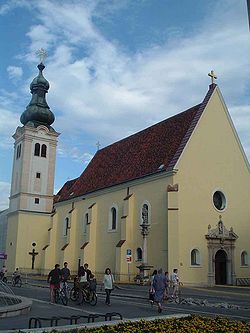 Arboretum of Kámon

Cathedral

Franciscan Church and Monastery of Szombathely

phone: +36 94 311-689

address: Aréna u. 1 /A.

This is a former Franciscan Church, built in Gothic style in 1380s. In 1630 with a tower expanding and slightly modified in Baroque style. The temple main asset a picture of the altar showing the city in 1716, this is the oldest authentic portrayal about Szombathely. On the wall of the sanctuary can be seen a 14th-century Gothic fresco fragments probably depicting St. Elizabeth.
Museums
Diocesan Collection and Treasury

Northern Waterworks of SzombathelyThis is an industrial history museum.

Gothard Astrophysical Observatory Museum

Iseum Savariense Archaeology WorkshopThe ruins of the shrine of the goddess Isis (Iseum)

Rescue museum of Fusz Erno

Ruin Garden of Járdányi Paulovics Istvánwith the remnants of the Amber Road

Savaria Museum

Smidt Museum

Visitor center of St. Martin

Szombathely Military MuseumMilitary history collection

Szombathely Picture Gallery

Museum Village of VasOpen Air Museum
Further afield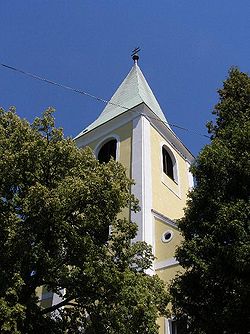 BalogunyomCatholic church

BozsokSibrik-Palace, Ruins of Batthyány Castle, Jewish meadow (Zsidó-rét)

BucsuThe ruins of the Roman aqueduct.

CákWine Cellars, Maria Farm of Eresztvény-valley, Chestnut walkway, peachy Lebanese cedar conifer

CsempeszkopácsCatholic church

CsepregCatholic Church, St. Catherine's Chapel and Convent, Schöller Castle

JákNational Level Protected Roman Church and St. James Chapel

KámJeli arboratum

KőszegszerdahelyCatholic church, Water mill, Chestnut Alley

RábatöttösCatholic Church

SorokpolányAssumption Roman Catholic Church (15th-century Gothic )), external walls are remains of frescoes. Szapáry Mansion built in the mid-19th century, eclectic style.- The Szapáry mausoleum, was built in 1878 in neo-Renaissance style.

SárvárNádasdy Castle and Arboretum founded in 1802, St. Ladislaus Church, St. Nicholas neogothic church, Calvary church, Hatvanys Deutsch Palace, In 1701 erected the Christ-column. Here passes through the Countrywide Blue Tour.

SzelesteVirgin Mary of Alsószeleste Church, St. Joseph's of Felsőszeleste Church, Castle of Szentgyörgy, Festetics-Szentgyörgyi-Horváth-Palace, Arboretum, Festetics Palace, Thermal Spa. The Countrywide Blue Tour passes through the village

TömördChernel Mansion and its park, Nagy Lake, Church of St. Helena ruins of the Fort Ilona. The Countrywide Blue Tour passed the village.

VasvárPeace House - here signed the treatment of Vasvár, Dominican Convent and Church, Roman rampart remains, Chapel of Szentkút, Lake of Szentkút

VelemSchulter's water historic mill,St. Vitus Chapel; Stirling villa, now creative house; Szépkilátó rock; Chestnut groves; medieval castle ruins and ancient citadel (1st millennium BC)

VépErdődy Mansion and Arboretum
Do
Baths
Swimming Pool and Thermal Bath

Lake's Bath
Events
'Bartók Fesztivál és Szeminárium' - Festival and Seminar
'Bloomsday' - a cultural event organized around the Leopold Bloom family house (can be found here )
'Lamantin Jazzfesztivál' - Jazz Festival
'Mediawave Nemzetközi Film és Zene fesztivál' - International Film and Music Festival
'Savaria Történelmi Karnevál' - The annual 'Savaria Historical Carnival', held in mid-to-late August, with colorful Roman-age programmes including gladiator fights, Roman theatre and a historical parade on the main square
'Iseumi Szabadtéri Játékok' - (Outdoor Games of Iseum) - opera and musical performances in the world's third largest Iseum (a kind of ancient sanctuary)
'Márton-napi Vásár' - (St. Martin's Day Fair)
'Szent György-napi Vásár' - (St George's Day Fair)
'Savaria Nemzetközi Táncverseny' - International Dance Competition
Szent Márton európai kulturális útvonal - St. Martin's European cultural route
Hiking
The Countrywide Blue Tour
(in Hungarian:
Országos Kéktúra
, Kéktúra or simply OKT) is a part of the Hungarian section of the European Long Distance Walking Route E4. The route starts atop the Irottkő Mountain (884 m) on the Austrian-Hungarian border a short distance from Szombathely.
Theaters
Eat
Gödör (A Haspártiak Vendéglője)

phone: +36 94 510 078

address: Hollán Ernő utca 10-12

A very Hungarian restaurant, with hearty dishes and portion sizes that exactly reflect the fame of Hungarian hospitality. The prices are more than fair for the amount of food you get served. Special recommendations are Mrs Viczak's Secret (fried chicken breast filled with a cream cheese, herb, ham, and kernel corn filling), Tower of Babel (Steak, hash browns and smoked cheese on a toast bread, topped off with a sunny-side-up), Pan-baked Pork Knee (Tepsis Csülök - pork knee baked with potatoes, sausages and eggs), or for bigger families or groups, one of the multi-person platters. They charge a nominal fee of Ft 50 for boxing the leftovers - but you will need it!

Móló Café & Restaurant
Sleep
phone: +36 94 513 800

Claudius Hotel

phone: +36 94 313 760
Connect
Tourinform Szombathely

phone: +36 94 317269

address: Király u. 1/a
Go next