Tønder
Tønder
is a beautiful town located in the southern part of Denmark. Tønder is the oldest market town in Denmark. Today Tønder is a modern town with factories and modern schools. Big companies such as Hartmann, Hydro and Ecco are located in Tønder. The city is surrounded by beautiful nature and it makes for some pleasant strolls on the ditches.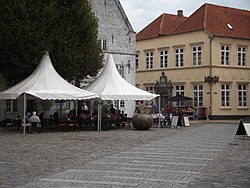 Get around
Tønder is small enough to be navigated on foot. Buses leave to the villages dotted around the city from the bus station.

See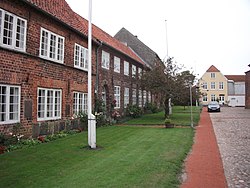 phone: +45 74724990

address: Storegade 14

Museum about the house and Bobbin Lace

The Zeppelin- and Garrison Museum

phone: +45 74727254

address: Gasværkvej 1

There was a German Zeppelin base here from 1914 to 1918. See the remains of the only existing foundations of Zeppelin sheds in Europe.

phone: +45 74728989

address: Kongevejen 51
Do
Tønder Festival One of Europe's biggest folk festivals is held the last weekend of August.
Eat
There are several cozy cafes around the square (Torvet)
Drink
Not many options for having a long night out in Tønder, unless you hit the festival. But these places normally see a relatively large crowd, especially Friday and Saturday. Thursdays get busy sometimes too, but it is pretty much hit and miss.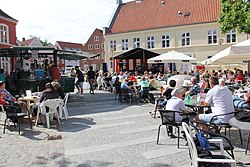 QueensLocated just next to Cafe Victoria, this small club occasionally offers special events and gets quite crowded. The music is what you would expect, nothing great but makes for a decent night.(popular amongst gay)

Central Halle

address: Vestergade 11

a small bar popular with the old timers as well as the "gymnasium" students. Definitely the best place to talk to people and play billiards (not pool though!). Can get pretty rowdy at times and is often very crowded in the wee hours, or just after a party at the gymnasium has ended.

Cafe VictoriaA good place to get some food and enjoy a couple of beers. Thursday from 10:00-23:00M as well as Friday afternoon is "Blaa Time" (Blue Hour), where beers are half price.

BarkleysAfter a couple of bad years Barkleys got a new owner and now is it the most popular nightclub/bar in the city centre. Always worth a visit!

phone: +45 21824602

address: Frigrunden 3

This small cosy cafe is a great place to relax and have a drink.
Sleep
phone: +45 7472 0011

address: Ribelandevej 56

phone: +45 74725806

address: Grænsevej 8, Sæd

Nice family run Bed & Breakfast, in a restored traditional inn - probably the cheapest option in Tønder. Located about 3km outside the city. Call in advance for pick up service.
They also offer a city house located in the heart of Tønder, just 5 min walk from the town market (450kr - room for 4 people).