Taal
Taal
is a municipality in
Batangas
. The old downtown (
Poblacion
) is noted for its Spanish colonial architecture, creating a feeling of nostalgia for the Spanish-era Philippines. The municipality's
poblacion
is designated as National Historical Landmark by the Philippine government.
Being about a two-hour drive from
Metro Manila
, Taal is an easy getaway from the concrete jungle and chaos there, a much closer alternative to the better-known heritage town
Vigan
. There are many tourist-oriented businesses; you may find a heritage house with a cafe or a bed and breakfast in it. Even the 7-Eleven store near the basilica is built in colonial-style architecture to blend with the surroundings.
Taal is just across a small river from the larger town of
Lemery
. Taal is inland on higher ground to the southeast.
Understand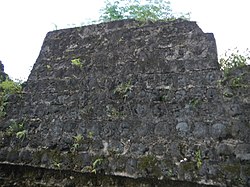 "Taal" can be ambiguous; it can also refer to Taal Volcano and the surrounding Taal Lake. This guide covers the town of Taal; the lake and volcano are covered separately as
Taal Volcano
.
This page also covers the smaller municipality of
San Nicolas
. The original Spanish town — founded by Augustinian friars in 1572 and the original capital of
Batangas
, then called
Bonbon
— was in that area and was destroyed by the 1755 eruption of Taal Volcano. After that, the capital was moved to what is now
Batangas City
, and a new town of Taal built near the Our Lady of Caysasay Shrine. The nearby municipality of San Nicolas was formed out of the northernmost
barrios
(present-day barangay) of Taal, on the south shores of Taal Lake.
Orientation
The downtown (
Poblacion
) area contains the historic landmarks, the major public market, and the town hall.
The
Taal-Lemery Bypass
or
Diversion Road
runs along the hypoteneuse of an approximately right triangle whose short side goes through downtown Taal and long side through downtown Lemery. It is a developing area, with hotels and residential subdivisions. It also has a large new hospital; Lemery has others but Taal does not.
Along the highway between downtown Taal and the intersection with the bypass are most of the balisong knife manufacturers; see
#Buy
. That area also has several new subdivisions.
Climate
Taal has a dry season between November and April, with precipitation for the rest of the year.
Get in
Travel from Manila to Taal takes about two hours, or longer depending on traffic conditions.
By car the usual route is taking STAR Tollway, exit to Jose P. Laurel Highway (Route 4) in
Lipa
, then follow the highway between Lipa and Santa Teresita (Route 433) and Route 436. Alternately, travel via
Tagaytay
on the Diokno Highway, then Route 436 to reach Taal. However that route is not for the faint of heart; the Diokno Highway is scenic, but also dangerous due to many ravines, some of them not protected by guard rails, and the narrow winding road.
There are many buses that go to Lemery, where one can easily get a
tricycle
to Taal; see
Lemery#Get in
for further info and listings. Some bus and
jeepney
routes (e.g. from Lipa) pass through Taal. Others take the Diversion Road and can drop you at the intersection where that branches off from the highway that goes into downtown Taal; tricycles are usually available at that intersection.
Get around
The heritage town area of Taal follows a rough grid plan, typical in Spanish-era town centers, characterized by narrow streets intended for foot and animal traffic. Some streets maintain the cobblestone pavement, where others have been repaved as concrete roads. Most visitor destinations in Taal can be reached by walking.
Pansipit BridgeConnects Taal and Lemery
Tricycles
operate in the heritage town, and throughout the rest of Taal and Lemery. Fares generally run , depending mainly on distance but also on
bargaining
.
Jeepney
(mainly on Lemery-Lipa or Lemery-Batangas routes) pass through the town and provide a cheaper way to reach destinations on major roads. For example, a tricycle between downtown and the Food Streat will cost but jeepney is per person. If you are going into
Lemery
, a jeepney () will get you into the town but you will likely need a tricycle (perhaps ) to get to your final destination; it is easier to just get a tricycle all the way (around , though they may ask for ).
See
Churches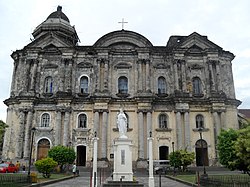 Taal BasilicaA fine old church built in Spanish times to replace an earlier one destroyed by a volcanic eruption. The front has a neoclassical facade with lots of columns; the back of the building has high windowless stone walls and looks more like a medieval European fortress than a church. Local tourist literature says it is the largest Catholic church in Asia.

Shrine of Our Lady of CaysasayA pilgrimage site just north of the heritage town, with a flight of 125 steps leading to the shrine.
Heritage houses
Taal has many houses built in the
bahay na bato
architectural style; most are ancestral homes for prominent families. Some well-known ancestral houses:
Agoncillo Ancestral House

address: Calle Marcela Agoncillo

The birthplace of Marcela N. Agoncillo who was known as the maker of the first official Filipino Flag during the Philippine revolution against the Spanish authorities. The different flags of the revolution are also prominently displayed at the site.
Apacible Ancestral Houses
Goco House
Ylagan-De la Rosa Ancestral House

Casa Villavicencio

address: Calle Gliceria Marella

Heritage home owned by Gliceria Marella Villavicencio's family, and a site of a meeting of the La Liga Filipina with Jose Rizal and Andres Bonifacio.
Museums and galleries
Galleria Taal

address: Calle Marcela Mariño Agoncillo

Heritage home, turned to a museum with exhibits of old photographs of the Philippines, and vintage cameras
There is also a
motorcycle museum
in nearby Lemery.
Do
Festivals
El Pasubat Festival - from the abbreviation of Taal's local products, namely empanada, longganisa, panutsa, suman, Barong Tagalog, balisong, tapa, tamales, tawilis, and tulingan, this annual festival, during April, showcases the local industries of the town.
Feast of St. Martin of Tours - Religious observance dedicated to the town's patron saint, Saint Martin of Tours, November 11th. Celebrations begin at the Taal Basilica, where children recite poems and images of St. Martin of Tours are presented. A horse-drawn carriage racing is done at the lakefront of San Nicolas, where racers from parts of Luzon participate. A candlelight procession is held at the night, where the images of St. Martin are paraded through the old downtown.
==Buy==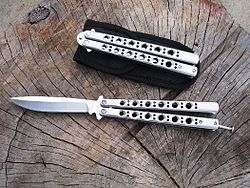 The
Batangas
region is famous for
balisong knives
(butterfly knives); in particular, these were a popular souvenir for American servicemen in the
Vietnam War
era. Taal is the main center for their manufacture. They can be found in the market area or at the factories; there are several of these along the highway east of downtown in Balisong barangay and the adjacent Tierra Alta barangay.
Balisong are folding knives that can be flicked open with one hand, though it takes skill. Learning how to do it with a sharp knife often leads to cut fingers, so most vendors also sell safer 'practice knives'; new balisong users should get one of these as well as the real knife. Flick knives are
illegal in many countries
so trying to bring a balisong knife home as a souvenir is not a good idea for most travellers; it may be confiscated by Customs and charges might even be laid.
One gets the impression that everyone in Taal must get married at least twice a year, since there are so many shops selling wedding dresses in the market area. Many of these are decorated with embroidery, applique and beadwork; the work is generally of high quality and often quite elaborate. Most shops also offer other clothing for women and
Barong Tagalog
, Filipino formal wear for men, some also have other embroidered items such as cushion covers or wall hangings, and a few have Western-syle formal mens' wear. In many shops the work is done on the premises and most of these will be happy to create made-to-order items.
Taal Public Market

address: Calle Ananias Diokno

Visitors can buy local delicacies such as empanada, longganisa, panutsa (peanut brittle), tapa, and tawilis.
The north and east sides of the market have many stores catering to the tourist trade with embroidered goods, wood carvings and assorted souvenir items.
Krisdale SupermarketNot a large or remarkable store; Taal residents generally go to SM or Robinson's malls in Lemery for serious shopping. Krisdale (pronounced about like "crystal") is useful for routine items and as a landmark for some tricycle or jeepney journeys.
Eat
There are several small cheap places serving Filipino food in and near the public market. That area also has several more upmarket eateries:
Bistro Taal

address: Calle Conchita Lualhati

Large place with good a/c and free WiFi. Does a lot of wedding receptions and other Filipino family events.

Cafe VueloSmall, clean & modern. Good coffee, and a menu that includes several breakfast options and some pasta. Nothing on the menu is over . Free WiFi.

phone: +63-43-740-1828

address: Calle Jose Diokno

Boodle is a large platter with rice in the middle and many other dishes around it; it serves four to six people. This place offers several different boodles at , including a seafood boodle and one with dishes originating from Taal like adobong dilaw and tawilis. Boodelitos at serve two. Also various lesser dishes, starting around , coffee, drinks, and free Wifi. They have another location in the SM Mall in Lemery.

Mita's CanteenFilipino food and some pasta. All seating is on a covered patio, no air conditioning but it has shade and often a breeze.
There are other places east of the market area:
Arko de TaalNice decor, large patio area with smoking permitted on parts of it, mainly Filipino food. Free WiFi, live acoustic music on Friday & Saturday

Food StreatA couple of dozen food stalls built into old shipping containers around a courtyard area with seating. Three 40-foot containers to a side, stacked two deep. Second floor has more stalls and seating on a balcony. A range of food including various Filipino items of course, but also places specializing in pizza, Mexican food, Korean food, shawarma, and sushi. Several have burgers and at least two offer BBQ ribs. On weekends (Friday-Sunday), a live band and usually a large and lively crowd. During the week it is quieter, with only recorded music. About ten minutes and by tricycle from downtown Taal.

Zoe's KitchenA small place with a limited menu, mostly pasta or Filipino rice plates. Clean and pleasant. There is a stand selling various souvenir items out front, including nice balisong knives (see #Buy), many with bone or horn handles.
Drink
Queen's Resto-BarFilipino food, beer, pool table, free Wifi. Live band on weekends, karaoke at other times.
Sleep
Accommodations around Taal are generally upmarket, as one room can cost above a night, but cheap by international standards. Nearby
Lemery
offers cheaper alternatives, with rates from up. Most tourists visit Taal in the day, and find accommodation elsewhere in the province. Bed and breakfast places are cheaper, but still steep by Filipino standards.
The downtown area is inland, but there are beach resorts along the highway going south from Taal or north from Lemery.
Historic district
address: 28 H. del Castillo Street

Paradores del Castillo looks more of a heritage house than a hotel, except for modern comfort like A/C. Rooms provide a view of the historical downtown. There are food and laundry service available on site.
Out of downtown
Taal Imperial Resort and Hotel

address: Diversion Road, Tulo

Mansion-like resort with private swimming pool. Option of shared rooms with double-deck beds or deluxe rooms with twin beds. All rooms have A/C.

Casa Cecilia

phone: +63-48-408-0046

address: Diversion Road, Carsuche

Air-conditioned rooms, with an option of single or double bed. Laundry service available. Has a function room and gazebo.
Go next
Just across the Pansipit River is the municipality of
Lemery
, which has more shopping options and less expensive hotels. You can either take the jeepney, bring your car, or go on foot into that area.
For those seeking beach resorts, nearest choices include
Mabini
in the south, or
Calatagan
,
Nasugbu
, and
Lian
. Lemery does have some beach, but not as numerous as those far to the west.