Tacoma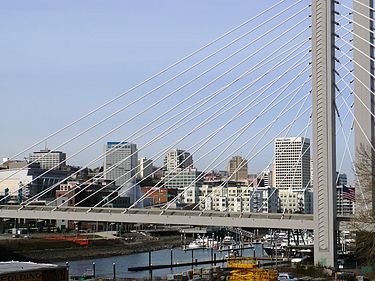 Tacoma
in the
state of Washington
, is the state's second-largest city, with just under 200,000 residents.
Understand
Tacoma often gets a negative description reminiscent of the one given to
Oakland
,
California
. These negative vibes are equally unrealistic and often come from those who have never lived in or even visited the city. While it has neither the tourist amenities of its neighbor
Seattle
to the north nor the suburban safety of
Olympia
to the south, you can certainly spend a few pleasant days in Tacoma and see the city's dynamic art scene and its great ballet.
Get in
By plane
The (
SEA
) is the nearest airport for commercial flights. It is 25 mi/40km north of Tacoma. Sea-Tac airport serves much of the greater Seattle Metropolitan area and the Pacific NW. Options besides taxi/limo or rental car are:
Sound Transit Rt #574Daily express bus between Lakewood, Tacoma, Federal Way, Kent, SeaTac light rail station and the airport.

phone: +1 425 981-7000

Operates shared and private shuttle services between the airport and hotels & residents within the Tacoma-Seattle-Bellevue-Everett corridor and its vicinity. Catch them at the 3rd level of the parking garage. During the morning commute hours (7-10AM), it may not be best to take this transportation if you go to downtown Seattle unless you have a lot of baggage to take care of; the more spacious Link Light Rail trains will get you there for about the same duration or even quicker. Walk-ins are allowed for trips from the airport (shared vans only), reservations necessary for trips to the airport.

Capital AeroporterFor areas mainly south of the airport (Tacoma, Olympia, Auburn, Kent, Chehalis, Centralia, Shelton).

phone: +1 360 876-1737

address: (scheduled stop) Dennys Restaurant @ 5924 6th Ave (6th & Pearl)

Connects the airport to Tacooma, Gig Harbor and the Kitsap Peninsula. They go south on I-5 to Tacoma and over the Narrows Bridge along WA Hwy 16 to get to the Kitsap Peninsula rather than going across on the ferry from Seattle. They also have a separate run between the airport and the Lewis-McChord Joint Military Base. Be sure to have a valid DoD ID card to enter Lewis-McChord.
By car
Tacoma is along Interstate 5 (I-5), approximately 35 mi south of Seattle (35 min), 293 mi (5 hr) southwest of Spokane, and 143 mi (2.5 hr) north of Portland.

From Interstate 5 (I-5) Tacoma is accessed from exits #136 ("Port of Tacoma") through #127 ("S Tacoma Way/WA-512 to Puyallup") along I-5. To get to downtown, exit off at the Interstate 705 off ramp at Exit 133, just beyond the Tacoma dome if going south from I-5, or continue along I-705 past downtown to Schuster Pkwy to get to old town, north Tacoma and the Ruston Way waterfront. Continue to the next exit along I-5 to 132B to get to WA-16 going west towards Gig Harbor, Bremerton and for additional access to other parts of town. To get to Joint Base Lewis McChord continue south past WA-512 to exits #125 ("Bridgeport Way/McChord Field"), #123 ("Thorne Ln"), 122 ("Berkely Ave nearest access to Madigan Hospital and Camp Murray"), 120 ("Joint Base Lewis-McChord") which is the location of the main gate & visitors center into the base, or 119 (Dupont-Steilacoom Rd). Access to the military base is controlled and a valid Dept. of Defense (DoD) ID and vehicle decal are required to be allowed through. Otherwise see the visitors center off of exit 120. Exits 119-125 will come first before getting into Tacoma if going north on I-5 from Olympia.
From Interstate 90 (I-90) coming from eastern Washington exit off at WA-Hwy 18 at Exit # 25. Go south on WA Hwy 18 through Tiger Mountain, Convington, Maple Valley and Auburn to Federal Way where WA-18 merges into I-5. Follow signs to I-5 south to Tacoma.
From Kitsap Peninsula Go south on Hwy 3 and follow signs for "WA-16 EAST to Port Orchard - Tacoma". Continue south along WA-16 through Gig Harbor and across the Tacoma Narrows Bridge into Tacoma. There's a toll to cross the Narrows Bridge into Tacoma but no toll coming the other way into Gig Harbor. There are 5 exits into town from along WA-16 between the bridge and where the highway ends at I-5. Follows signs for I-5 "To Seattle" and exit at the next exit to I-705 to get downtown otherwise follow signs for I-5 south "To Portland" to get to the south or east part of town.
By bus
The bus station for Greyhound, Northwestern Trailways, Sound Transit, Intercity Transit, Pierce Transit & Link Light Rail is at the Tacoma Dome Station Parking Garage Buildings at 510 - 610 E Puyallup Ave (facing E Puyallup Ave), between East E St and East G St, one block north of Freighthouse Square (2501 East D St). Greyhound, NW Trailways and a taxi stand are at the west building while Sound Transit, Intercity & Pierce Transit buses are next door in front of the east building. The Link Light Rail to downtown Tacoma is at the opposite side of the parking buildings along E 25th, between the E Parking Garage Building and the Freighthouse Square building:

phone: +1 253 383-4621

address: Tacoma Dome Station, W Parking Bldg @ 510 E Puyallup Ave

Travels primarily on Interstate 5 (Seattle, Tacoma, Olympia, Centralia, Kelso/Longview and Portland.) Passengers transfer in Seattle, Olympia or Portland to get to additional destinations. Bolt Bus connenects Seattle, Tacoma and Portland with no additional stops between Tacoma and Portland

phone: +1 509 838-4029

address: Tacoma Dome Station, W Parking Bldg 510 E Puyallup Ave

Goes north to Seattle and Everett along I-5 and then east to Lake Stevens, Leavenworth, Wenatchee, Ephrata, Moses Lake Ritzville & Spokane along US Hwy 2 and I-90. In Tacoma they stop at both the Greyhound station and the Amtrak station down the road.

phone: +1-888-889-6368

address: Tacoma Dome Station, E Parking Bldg @ 610 E Puyallup Ave

Operates express routes between Lakewood, Tacoma & Seattle.
phone: +1 206 553-3000

Operates buses in and around Seattle and the surrounding cities and suburbs in King County. Nearest transfer points to King County Metro from Tacoma are in Auburn, Federal Way/NE Tacoma and the Tahlequah ferry terminal (Rt #118, 119) in the south end of Vashon Island.
phone: +1 360 786-1881

address: Tacoma Dome Station, E Parking Bldg @ 610 E Puyallup Ave

Operates express buses from downtown Tacoma and the Tacoma Dome Station down to Lacey (Rt #612) and Olympia (Rt #612) via Lakewood Station and Lakewood P&R during the work week only. The #620 bus operates from the Tacoma Mall down to Olympia via Lakewood and Lacey on weekends only with no service to downtown Tacoma or Tacoma Dome Station. They operate local buses in Lacey, Olympia and Tumwater.
phone: +1 253 581-8000

Operates local routes on buses that run on natural gas and connect with other regional transit systems. Pierce transit can also be tracked with a free smartphone app from One Bus Away that provides easy access to real-time transit information for the Puget Sound region and beyond. From the Tacoma Dome Station they go out to the surrounding cities and towns of Federal Way (#500,501,574); Fife (#500); Lakewood (#574, 594 or #3 from downtown); Point Defiance Pk & the Ferry Terminal (#11, The #41 bus going from Tacoma Dome Station to downtown becomes the #11); Puyallup (#400); Gig Harbor (#102 during weekday rush hour or the #1 or #2 from downtown to TCC Transit Center & transfer to Rt #101); downtown Tacoma & UW Tacoma (13, 14, 41, 500, 501, 586, 594 & Link Light Rail)
By train
There are two train stations. The Amtrak station is 0.5 mi or 0.8 km east and at the opposite side of Puyallup Ave from the Tacoma Dome station next to the railroad yard at 1001 E Puyallup Ave. The Sounder Train Station is in the middle to the west end of the Freighthouse Square Building, entrance at 425 E 25th. Both are well marked. Construction is underway in the west end of the Freighthouse Square Building, next to Sounder, for a new Amtrak station and was scheduled to open fall of 2017.

address: Freighthouse Square @ 425 E 25th St

Sound Transit operates commuter trains up to Seattle in the morning and down to Lakewood via Tacoma Dome and South Tacoma in the afternoons. They also operate additional trains for the Mariners and Seahawks home events.

address: 1001 E Puyallup Ave

The following are the Amtrak routes serving Tacoma:
Amtrak Cascades runs between between Seattle and Portland 4x daily serving Tukwila, Tacoma, Lacey (Olympia), Centralia and Kelso in Washington state. They run from Seattle to Vancouver via Everett, Mt Vernon & Bellingham 2x daily and from Portland to Eugene via Oregon City, Salem & Albany 2x daily. Additional service from Seattle to Vancouver and from Portland to Eugene are provided on the Amtrak Thruway Bus.
Amtrak Coast Starlight makes an once daily trip in each direction between Seattle and Los Angeles along the same route with the same stops as the Amtrak Cascades (except Tukwila & Oregon City) between Seattle and Eugene, OR.
By ferry
phone: +1 206 464-6400

address: 5810 N Pearl St

There is a ferry connecting from Point Defiance Park in North Tacoma and Talehquah in the south end of Vashon Island. Don't plan on walking anywhere when you get to Vashon Island; you'll need a car to get anywhere worth seeing. Some people bike around the island, but be prepared for major hills. You can continue to Seattle or Port Orchard by crossing the island to the other ferry on the north end of the island.
The county also operates a small car ferry from Steilacoom (at south end of town) to Anderson and Ketron Islands.

phone: +1 253 238-8400

address: (port terminal) 500 E Alexander

Operates more as a private shipping company than a "ferry" for shipping of personal vehicles and/or personal household goods up to Anchorage AK for those moving between the lower 48 and Alaska. They offer twice weekly sailings up to Alaska.
Get around
By car
The area's roads are designed more or less around a grid system, where most roads are numbered based on their distance from the city center. Addresses also conform to the numbering of the roads around them. Nearly all streets run with the compass directions. "A" Street, one block east of Pacific Ave (SR-7), divides east from south while Orchard Street divides south from west. 6th Avenue and Division Avenue divide north from south. The numbered roads run east-west, parallel to 6th Avenue, while the named roads run north-south (except for one corner in the North End where everything is rotated by 60°). The addresses on the opposite side of Commencement Bay towards Federal Way between the bay and the King/Pierce County line are in the northeast (NE) part of town. The addresses in Gig Harbor & Key Peninsula all have northwest (NW) designations and Lakewood and Steilacoom are in the Southwest part of town with SW addresses. This also applies to much of the extended areas of unincorporated Pierce County, though the addresses in places like Fife, Milton, Puyallup & Sumner have their own numbering system and are not based on Tacoma's numbering system. Some of the same streets will change names when it crosses from one city/municipality to the next.
By bus
Tacoma LINK A light rail/streetcar line that runs between Freighthouse Square (near the Tacoma Dome and the train station) and downtown, with a stop that serves the Washington State History Museum / University of Washington, Tacoma area. Trains runs every 10-20 minutes, and the fares are free.
Pierce Transit operates local buses in and around Tacoma, Lakewood (200s, Rt #2, 3 & 594 from downtown), Puyallup (400s, Rt #402 from Tacoma Dome), Steilacoom (Rt #214 from Lakewood); Federal Way (Rt #500, 501, 574, 578), University Place (Rt #2 & 53) and to Lewis-McChord from Lakewood Towncenter (Rt #206). They operate limited services to Gig Harbor, Sumner and Bonney Lake and no service to Mt Rainier or anywhere in rural Pierce County.
See
Point Defiance Park
Point Defiance is a 700-acre city park featuring old growth forests, gardens, the
Point Defiance Zoo and Aquarium
, Owen Beach, Fort Nisqually Living History Museum, as well as a playground, picnic areas and countless hiking trails. It is the north end of Tacoma and is accessible from I-5 by following I-705 past downtown to Schuster Pkwy which goes along the Ruston Way waterfront to N 51st & Pearl. Go north on Pearl (right turn from N 51st coming from Ruston Way) into the main entrance of the park. From Hwy 16 go north on N Pearl (WA-163) into the park. By bus the #11 goes from downtown (10th & Commerce) to the park. From the Tacoma Dome station take the #41 bus going into downtown which becomes the #11 bus so no transferring of buses needed.
Museums
Tacoma is home to a variety of interesting museums:
Fort Nisqually Living History Museum

phone: +1 253 591-5339

Fort Nisqually, the first European settlement on Puget Sound, was a bustling center of trade that expanded into a large-scale agricultural enterprise.

phone: +1 253 272-2750

address: 705 Dock St

The Foss Waterway Seaport celebrates & exhibits Tacoma's rich maritime heritage—past, present and future. Located on the waterfront in a century-old wooden wheat warehouse, built for cargo arriving by rail and departing by sail ("where rails met sails") during the early years of Tacoma.

phone: +1 253 779-8490

address: 2702 East D St

More than 400 cars are on display in this densely-packed four-story museum. Vehicles of note include a 1948 Tucker, of which less than 21 are on public display, and the Flintmobile used in the 1994 Flintstones film. Expect to spend 2 hours or more to see the whole museum. The permanent collection can be a bit repetitive, while rotating exhibits like supercars or alternative propulsion are more engaging. Fairly educational, but younger children may be bored by the "do not touch" displays, with only a slot car track ($3) and a racing simulator ($8) to break the monotony.

Stratford House

address: 2715 North Junett Street

It is the exact reminiscence the home of the Stratford family of the high school romantic comedy movie 10 Things I Hate About You (Julia Stiles, Heath Ledger, Joseph Gordon-Levitt, 1999). Though the house is occupied, it offers a wonderful view of the house and of downtown Tacoma. Filming is also set at Stadium High School, 10 minutes away by car.

phone: +1 253 272-4258

address: 1701 Pacific Ave

phone: +1 253 627-6031

address: 1501 Pacific Ave

phone: +1 253 284-4750

address: 1801 Dock St

You can cross to or from this museum on the Chihuly Bridge of Glass - and no, the bridge is not made of glass - it's 500 feet long, over Interstate 705, with glasswork exhibits.

Washington State History Museum

phone: +1 253 272-3500

address: 1911 Pacific Ave

Founded in 1891 and now into its second century of service, the Washington State Historical Society is dedicated to collecting, preserving, and vividly presenting Washington's rich and varied history. The Historical Society is comprised of a family of museums and research centers, offering a variety of services to researchers, historians, scholars, and the lifelong learners.
Other
Do
Buy
address: 2501 South D St

It was built as a warehouse and train station for the Milwaukee Railroad in 1909. It features ballrooms for rent, antique shops, small art galleries, a coin shop and eating places inside. It is also the location for the Sounder Train Station. See "#By Train" above.

address: 4502 S Steele St

Tacoma Mall hosts Nordstroms, Macy's, JCPenney, Forever 21 and numerous other shops & restaurants in the mall and in the immediate surrounding area not part of the mall (Best Buy, Chick fil-A, Costco, Pier One Imports, Dollar Store, Ashley Furniture, REI, Albert Lee Appliances, amongst others). There are other smaller strip malls & free standing establishments radiating east-west along S 38th from I-5 to S Union; and south along Tacoma Mall Blvd, that parallels I-5, from the 4700 block down to the 7200 block. MC, Visa, Discover and/or travelers checks accepted in many of these establishments.

Tacoma Place

address: 1901 S 72nd St

Tacoma Place is a very popular place amongst locals living in nearby neighborhoods and travelers passing along the freeway or staying in nearby hotels south of S 72nd. There are numerous shops & restaurants such as Winco Foods, LA Fitness, Mattress Depot, Olive Garden, Popeyes, Applebee's, Pho Ever, Dairy Queen, Shari's, Starbucks, Subway, etc. There are other smaller strip malls, hotels and free standing establishments nearby (such as Home Depot, Bass Pro Shop, Burger King, Hooters, IHop, etc) south of 72nd along S Hosmer between the 7200 and 8400 blocks and along Tacoma Mall Blvd, that parallels I-5 (at the other side), from the 7400 block up towards the Tacoma Mall at the 4700 block.

phone: +1 253 584-2056

address: 8012 S Tacoma Way

Almost anyone who grew up in the Tacoma area has fond memories of the B&I Circus Store, a landmark on South Tacoma Way for more than 60 years, where once you could wrap your face in cotton candy while exchanging stares with a live gorilla named Ivan. Ivan is gone now (having moved to the Atlanta Zoo in 1995 and died in 2012), and B&I has morphed into a new kind of wonder — a primarily Latino marketplace where fancy boots, wigs and costumes, retro video games, streetwear, and a large arcade are interspersed with dollar stores, used computer parts, and other niche bargain vendors. Photos and newspapers commemorate B&I's history, a stark contrast to the dilapidated structure that remains today.
phone: +1 253 272-0334

address: 743 Broadway

Multi-level, maze-like antique store with a variety of different local shops scattered inside. They offer a range of products such as furniture, home decor, vintage toys, posters, etc.

phone: +1 253 272-7077

address: Organization Office @ 902 Market St

At the markets, farmers, ranchers and nursery growers offer various conventionally and organically grown fruits, vegetables and pre-cut, pre-packaged meats (usually fish, pork or eggs) and live ornamental and food plants for gardening. There are other artisan food producers offering prepared products, ranging from fruit jams to farmstead cheeses, breads and pastries, pickles, pasta, chocolate, and more. The markets occur once weekly in different neighborhoods from the first week of May or June to the last week of August or October in the following locations:
Sundays 10AM-2PM @ 5005 N Ruston Way (Grand Plaza at Point Ruston Condos near Farrelli's) from June through Sept.
Tuesdays 3PM-7PM @ 3500 McKinley Ave E (Tacoma Christian Center parking lot at E 35th & McKinley) from June-Aug.
Thursdays 10AM-3PM along Broadway between 9th & 11th Ave in downtown from May to Oct. The market closes at 2PM from Sept to Oct.
phone: +1 253 961-3666

address: Organization Office @ 2702 N Proctor St

Some of the vendors at the other farmers markets during the week are also regulars at the North Proctor market too. The organizers of the Saturday Proctors Market is a different entity than the Tacoma Farmers Markets (in the above).
Eat
6th Avenue
has some affordable restaurants. Most of the suggested venues below are along 6th Ave between Sprague and Union. Sixth Ave divides north from south so some of the listed establishments in the below may be in the north or the south side of 6th Ave.
phone: +1 253 383-7000

address: 2701 6th Ave

Moderately priced, Italian/Mediterranean, lunch & dinner.

phone: +1 253 272-7770

address: 2810 6th Ave

Pricey Argentinian dinner.

Gateway to India

phone: +1 253 552-5022

address: 2603 6th Ave

Inexpensive Indian lunch & dinner. They serve lunch buffet

Shakabra

phone: +1 253 572-2787

address: 2618 6th Ave

Casual breakfast spot with hearty English-style breakfast dishes such as egg dishes, sausages & pancakes all day, plus burgers & sandwiches at lunch.

phone: +1 253 627-4282

address: 1716 6th Ave

Inexpensive Southern/Soul lunch & dinner.

phone: +1 253 627-5889

address: 3023 6th Ave

Inexpensive pan-Asian lunch & dinner.

Silk Thai

phone: +1 253 756-1737

address: 3401 6th Ave

Mid-priced, lunch & dinner, delicious Thai dishes.

phone: +1 253 759-1999

address: 3518 6th Ave

A pizzeria that is a popular hangout place for college students from the nearby UPS and UW Tacoma.
Downtown Tacoma
has a wide range of restaurants, from fine dining to casual. Most of the downtown restaurants suggested in the below are in the immediate areas surrounding the University of Washington Tacoma campus, Tacoma Convention Center and Union Station which are along the Link Light Rail route. They could also be located elsewhere such as towards the Stadium District north of downtown such as Maxwell's (one of the suggested venues).
phone: +1 253 272-1510

address: 2119 Pacific Ave

Pricey, steaks & chops, dinner.

phone: +1 253 535-3939

address: 2121 Pacific Ave

Pricey, fondue, dinner.

phone: +1 253 627-3535

address: 1502 Pacific Ave

New American. Steaks & seafood, lunch & dinner. Known for Tacoma's Best Happy Hour. Celebrity Chef Gordon Naccarato

phone: +1 253 272-8200

address: 1924 Pacific Ave

Not pricey (and rather enjoyable), pan-Asian, lunch & dinner.

Maxwell's

phone: +1 253 683-4115

address: 454 St Helens

Moderately priced, dinner & cocktails, Northwest small plates.

Johnny's Dock

phone: +1 253 627-3186

address: 1900 East D St

Steak and seafood, great views of downtown and the Museum of Glass.

The Rock, Wood Fire Kitchen

phone: +1 253 272-1221

address: 1920 Jefferson Ave

offers a great lunch or dinner, inexpensive pizza and pasta
Hilltop
just up the hill from Downtown Tacoma has many choices for dining. Most of the mentioned venues in Hilltop are clustered around S Martin Luther King & S 11th St. They can be located further north or south along S MLK and east or west along the cross streets too.
phone: +1 253 572-9491

address: 1012 Martin Luther King Jr. Way

Vietnamese cuisine with a mix of Thai. The spacious dining room allows for large groups. LeLe is popular spot for lunch with downtown workers.

Pho Boc Cafe

phone: +1 253-272-7270

address: 1143 South 11th St

A popular spot for pho in Tacoma. Cash only.

Pho King

phone: +1 253-272-6287

address: 1020 Martin Luther King Jr Way

Popular pho & Vietnamese food. Very affordable. Has vegetarian pho.

Thai Garden

phone: +1 253-627-2590

address: 1202 South 11th St

A bit of a hole in the wall but a great place for affordable Thai food in Tacoma. Service is fast and pleasant.

phone: +1 253-572-4549

address: 1324 Martin Luther King Jr. Way

Tacoma's only all vegan restaurant adds a Jamaican flair to all of their food. Service can be slow but is worth the wait. Meat eaters will love the flavors and won't know the meat is missing.

The Fish House

phone: +1 253-383-7144

address: 1814 Martin Luther King Jr. Way

offers Southern cooking at affordable prices. Small place so you can always get orders to go.

phone: +1 253-627-4899

address: 911 S 11th St

A popular BBQ joint in Tacoma.
South Tacoma
has wonderful Asian restaurants.
Wendy's IIInexpensive Vietnamese cuisine, lunch and dinner.

The Palace Restaurant

phone: +253 581-0880

address: 8718 S Tacoma Way

Informal Korean restaurant. Cook at the table or order ready to eat. Lunch, dinner, drinks. Open late.

Tacoma Szechuan

phone: +253 581-0102

address: 9601 S Tacoma Way

Authentic Chinese food. Moderate prices. Lunch, dinner, bubble tea.
Lincoln District
has international flavor.
Vien Dong

phone: +1 253 472-6668

address: 3801 Yakima Ave

Excellent & authentic Vietnamese restaurant. Low to moderate prices. Well known locally & busy at lunch. Excellent pho soup.
Drink
phone: +1 253 627-8588

address: 1022 South J St

Around the corner from where the Tempest used to be is 1022 South. Featuring a huge list of traditional, and some very non-traditional, cocktails, they turn out some astonishing flavors.

phone: +1 253 272-3435

address: 611 N Pine St

In the trendy 6th Avenue area. A great beer list and karaoke on Thursdays make this bar very popular with college students from the local University of Puget Sound.

phone: +1 253 627-3186

address: 1900 East D St

Old-school, straight-out-of-the-1970s flava from the Naugahyde swivel chairs to the odd touches of brass. They serve workmanlike drinks, but they've got a great deck and happy hour prices apply during any televised sporting event.

address: 635 St Helens Ave

In Downtown's St. Helens Neighborhood caters to a mostly gay crowd. On weekend nights The Mix is packed with 20- and 30-somethings having a good time.

phone: +1 253 404-0273

address: 739 St Helens Ave

Tacoma's largest gay nightclub, in the Theater District in Downtown Tacoma. During the week the club is low-key but on the weekends the club gets busy with dancing all night long.

phone: +1 253 683-4606

address: 203 Tacoma Ave S

Excellent Mediterranean-themed fare. One of the hot spots in the popular Stadium district.

Tacoma Wine Merchants

phone: +1 253 779-8258

address: 21 N Tacoma Ave

Located in the Stadium District, this cozy, European-style wine bar offers over thirty wines by the glass. Cheese plates, panini, soups and salads available.
Sleep
Downtown
North End
The North End neighborhood is an upscale neighborhood especially those closer in and north of downtown and along the waterfront (Stadium District and Old Town). Except the Silver Cloud by the waterfront most of the accommodations in the North End are in large (historic) homes that have been permitted and converted to board guests as a Bed & Breakfast.
phone: +1 253 272-1300

address: 2317 Ruston Way

Waterfront hotel on a two-mile long scenic waterfront road (Ruston Way) and park.

phone: +1 253 272-1300

address: 705 N 5th St

A highly rated, luxury six-room bed and breakfast hotel in the Stadium district.
South Tacoma
The South Tacoma accommodations are near some of the large shopping complexes as well as quicker access to the Lewis McChord military reservation. The accommodations are typically lined up along S Hosmer at the 7400 block (accessed off of S 72nd at Exit #129) and more between the 8000 block and the 9200 block where S Hosmer become S Steele (accessed from Exit #128 if going north bound I-5). They're the typical national chain hotels and motels, located off of the freeway for someone needing a break from a long day of driving. They're also surrounded by several restaurants such Ihop, Burger King, Jack in the Box, Subway, etc. for a place to get a quick bite to eat as well:
Stay safe
While Tacoma's crime problem has improved over the past decade, the city still has a high crime rate relative to other Northwest cities. Much of the crime is concentrated on the Hilltop and Eastside neighborhoods. The Stadium District area has the lowest crime rate in the city and Downtown has a low crime rate compared to downtown areas of other cities (including Seattle), however visitors should be cautious as in any urban area. Visitors should also be careful when entering the surrounding suburbs of Lakewood, Spanaway and Parkland. Crime problems in Lakewood sometimes run over into near by Parkland. As always when traveling alone or at night, avoid poorly-lit areas with little foot traffic.

Connect
The area code for the Tacoma area and South King County is
253
.
phone: +1 253 292-2001

address: 1102 Tacoma Ave S

Issues one-hour guest passes for Internet terminal use. Numerous branch libraries scattered around Tacoma. Free wi-fi available to public while the libraries are open. Wi-fi shuts off 30 minutes before the libraries close and stays off until the library opens again.

phone: +1 253 471-5384

address: (downtown post office) 1102 A St

Zip codes for Tacoma, University Place, Parkland, Spanaway, & Lakewood typically range from 98402 through 98498. The zip codes for other surrounding cities can be 980xx and 983xx as well. There are numerous post office branches in different neighborhoods and at least one (or more) in each adjacent city/municipality serving the other zip codes.
Go next
Near Tacoma are some other things worth visiting, listed roughly north to south:
To the northwest, the waterfront town of Gig Harbor. I-5 to exit 132 (WA Hwy 16) A great place to see the bridge is by visiting the park below and slightly adjacent to the Tacoma Narrows Bridge. Going north from the bridge, take the first exit (24th St NW) and follow the signs (several left turns). On a very clear day, Mount Rainier will be in the background to the east, beyond the waterway.
Seattle, north of Tacoma, has a lot to do for visitors.
To the northeast, Rhododendron Species Foundation and Garden, and the adjacent Pacific Bonsai Museum in Federal Way, just off Interstate 5.
Wild Waves, a water-themed amusement park, also in Federal Way, just off Interstate 5.
To the south, Lakewold Gardens Estate, in Lakewood.
Also to the south, Northwest Trek, a 615-acre park that is home to more than 200 North American animals.
To the southeast, Mount Rainier National Park, and the nearby Mt. Rainier Railroad.
To the southwest is Washington's easygoing capital city, Olympia.