Taganga
Taganga
is a small fishing village 5 km north of
Santa Marta
at the
Caribbean coast
in
Colombia
.
Understand
Taganga is a great and idyllic fishing village. Many tourists, local and international, visit this beautiful place every year. It has great charm and the surrounding attractions are plenty.
Although Taganga is a popular place to go, it has also its share of challenges with the infrastructure and public services which is work in progress. It still has charm and might be a nicer place than Santa Marta to explore the surrounding attractions or do some diving.

Get in
By bus
Frequent minibuses (collectivos) go from Carrera Quinta (5th), in Santa Marta to the center of Taganga for COP$1,400 per person (August 2016). It's about 15 minutes and a beautiful ride. You can get off at the Mirador and walk down to town.
Berlinas bus company offers shuttle tickets from Taganga hostels to
Cartagena
at around COP$35,000. DivaExpe (see tour operator) sells tickets.
By taxi
Taxi fare from bus terminal of Santa Marta to Taganga starts from COP$7,000, but drivers usually charge more for foreigners. Be sure to negotiate before you take. The fare from the main beach of Santa Marta (Carrera 1) to Taganga starts at COP$10,000 and rises to COP$12,000 on Sundays, holidays and nights. For cruise ship passengers arriving in Santa Marta there are plenty of taxis and mini-buses waiting in a gated police controlled area to take you.
By boat
There is a daily boat service to and from El Cabo San Juan in the
Tayrona National Park
. It departs for El Cabo at about 9:30AM, and arrives back at Taganga at 4PM. The 1 hour boat ride can be really rough in the open ocean. Protect your belongings with plastic bags, because you can get wet through, especially in the back of the boat. There is a fixed price of COP$40,000 each way. The entrance fee for the National Park has to be paid at the beach.
See
Taganga is surrounded by beautiful desert mountains covered in natural flora and fauna. There are millions of lovely fish and corals which can be reached by short walks and snorkeling out to corals. People watching and good mellow times are to be had along the beach road and loads of beautiful tourists.

Do
SwimmingThe main beach is shared with the harbor of Taganga. It's small and simple but good for swimming. It is very crowded with Colombian tourists on weekends.

Walk to Playa GrandeA 25-minute walk north of town lies Playa Grande, definitely better than Taganga's beach but maybe even more crowded (follow the coast line to the north and take the path which seems to end at a house). It is also possible to take a boat to get there (from COP$3,000 per person) or one of the more remote beaches in Tayrona Park like Concha, Chengue, Neguanje (from COP$30,000 per person for a return trip) - real unspoiled paradise. There are no people except some fishermen.

phone: +57 312 510 4791

address: Carrera 2, #17a-20

A longer walk goes to Bonito Gordo via a steep but rewarding mountain path and from there on the Bahia Concha. Reserve a full day for this and ask around to decide if you need to contract a local guide. You can spend the night at Bonito Gordo or Bahia Concha, but you may need to take your own hammock. Thui Tours organizes a guided walk, in partnership with a local environmental foundation, Fundacion Calipso, to Bonito Gordo where they manage a protected area of the reef for study. It is possible to snorkel here. For the return journey you are able to retrace your steps, take a bus to Santa Marta, or via boat to Taganga.

phone: +57 5 4210870

address: Calle 18 #3-31

The best way to see Tayrona park, unspoiled beaches and dense tropical forest away from the heat up in Sierra Nevada.

Tayrona National ParkAn unspoilt natural paradise of jungle, birds, ocean, and absolutely gorgeous beaches. A boat leaves for the backpacker beach haven of El Cabo every morning around 10AM. If you find enough people there is also an boat heading for playa cristal.

MincaYou can also be in the Minca, a small town in the Sierra Nevada Santa Marta in less than an hour. You can get there by bus or taxi. A taxi should cost from COP$35,000 to 40,000.

Hike to the Ciudad Perdida de Teyuna (Lost City)Takes several days and is quite pricy. To be organised with tour companies or in your hostel.
Tour operator
phone: +57 5 4219092

address: Calle 11 # 3-05

This office offers free information in English, Spanish and French. It promotes local operators for short treks, fishing, diving and ecolodges around Tayrona park. The office represents the local indigenous community Wiwas agency which organizes the Lost City trek with an indigenous guide explaining the culture, the Lost City story and the nature of Sierra Nevada. Also a good source of practical Taganga information such as accommodation, restaurants, bars, events and transportation.
Scuba diving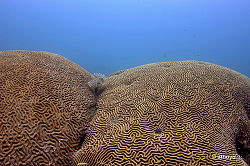 Taganga has become a popular
scuba diving
spot. Diving spots are usually near the small island "Aguja", a part of
Tayrona National Park
. The underwater of Taganga has a big diversity of marine life. There are a dozen diving schools in town, but be careful where you do your courses. There are many reports of travelers doing their courses, paying and never receiving any certificate.
Be careful for your safety
: some diving centers have pretty old equipment, never follow safety rules such as safety-stop and even skip important skills/exams during the course or have dive masters teaching courses, check if you will be with a real instructor. For more information check
padi alerts
.
A small review of available dive centers:
Aquantis Bed Breakfast & Diving

address: Calle 18 No 1-39

Organized and honest, classroom with AC, long dives. Includes coffee, towels, books and warm shower after diving; and you do not have to carry or wash your equipment. Small groups, fantastic food. Great people, amazing service, you can stay in the dive center for hours meet each other before and after the dives.

phone: +57 5 421 91 46

address: Calle 12 No 1-40

Calipso is the only center that offers a Tayrona Park Safari, where people can spend 2 nights in hammocks on a beautiful beach in the park and dive. The diving is good. They are also pioneering a project to restore coral, which is rapidly degrading worldwide. In conjunction with the C-Force Foundation they are growing coral in a coral nursery. They are the only agency doing this in Colombia and one of the few in the world. You can even take a coral growing/ gardening course. The people are really kind and you can stay at the center before your safari. (note per http://www.calipsodivecenter.com.co/en-us/secpages/voluntariado_EN.php it is a 4-week full-program US$2,000) Calipso is a member of NAUI, the second largest Scuba Diving Association in the World. Any certification between NAUI and PADI is mutually recognizable, but this is NOT a PADI facility according to the PADI website.

phone: +57 5 421-9224

address: Calle 18 No 1-69

German-owned diving center. Price for OW+Advanced COP$1,300,000 (COP$670,000 for OW). One of the most professional diving centres, headed by a well known PADI course Director. Has a swimming pool inside and well-maintained equipments, also are very strict about safety local regulations. This is the place where instructors from Colombia, come to take their course, as they are a PADI 5
* Instructor Development Dive Resort. Even some divers from the Colombian Navy come to take courses here. Without any doubt has the best boats in town, 2 well-maintained very comfortable Catamaran boats. And there for the only ones that could take you to the furthest dive sites on the Park. They also let you dive until your tank reaches reserve, no time policy (as some others in town do). Courses could be taken in different languages: English, Spanish, Portuguese, French, German and some others. Has free amazing coffee at the shop, kind and nice staff. Could be a little bit pricey compared to other dive centers in town, but the price is still way below average worldwide, totally worth it if what you're looking for is safety, comfort and a good experience. You also have the option of getting accommodations on their facilities.
phone: +57 5 421 5349

address: Carrera 2 No 18A-22

Tayrona is the oldest dive center in Taganga. This is where Colombian anti-narcotics policemen take their courses. They also know great sites for diving in the areas of the Tayrona national park. The instructors are very experienced and staff is very nice. They also offer accommodation in very clean rooms with sea view. The founder and owner, known as "muñeco" is one of the best PADI instructors in Colombia. They take great underwater pictures for no extra charge. They also have very good equipment. Courses can be taken in English, Spanish or German.

address: Calle 15 No 1 B – 40

Excellent courses, serious about safety, excellent teaching, great dives.

Nautilus

address: on the waterfront

A little bit cheaper than others but not always the newest equipment.
Volunteering
UNILOT

phone: +57 5 421 92 17

UNILOT is Divanga's foundation in tourism research (Unilot means "Unidad de Investigacion-Accion Local en Turismo"). B.A. graduates travellers can participate in sustainable tourism research, the foundation is linked with the local public University Universidad del Magdalena. You can ask for free accommodation and food against research work, may be on the field, surveys or secondary research directed by Master degree graduates

Coral Conservation Program

phone: +57 5 4219146

address: Calle 12 No 1 - 40

Volunteer in Coral Conservation Program Santa Marta - Taganga

Midwater marine nurseryCalipso Dive Center and Tayrona National Park in Taganga Colombia are running a midwater marine nursery to recover species of corals around the marine area, control lion fish, educating the local fisherman and monitoring the coral reef. This is a opportunity for volunteers to enjoy scuba diving and support conservation.

Taganga Schwarb
Buy
Get homemade seasonal sweets and delicious frozen fruit treats at Kelly seasonally.
ATM BancolombiaThere is only one ATM of Bancolombia in town. Reports that the ATM is broke or out of cash are common, so maybe it is a good idea to bring some money from Santa Marta. Paying with credit cards is quite common in international hotels or at booking agencies.
Eat
Overpriced, mid-quality restaurants that specialize mainly in fish dishes are clustered on the beach. But it's worthwhile to walk up two blocks.
You can buy fresh fish from fisherman at the left side of beach from afternoon into the evening - large fishes go from COP$5,000 per fish. They will cut it for you and give you just the fillet if you want.
Republika Taganguera Divanga's French Restaurant/Bar/Swimming pool. Located in DIVANGA nice hostel with swimming pool 2 blocks straight from Delfin Hostel on the beach. good vibes. +57 5 421 90 92
Che Luis, usually very crowded with locals/Israelis. Mostly an Israeli place and very loud as well.
El Reef, Cra1 # 15-09. Great panini sandwich and good salad. The speciality: very good waffles with ice cream and nutella.

Café Bonsai

phone: +57 5 4219495

address: Calle 13 # 1-07

Great breakfasts (freshly baked breads, wholegrain or rye sour dough, creamy yogurt with homemade jams and granola). Lunch with excellent sandwiches, big, fresh and tasty with some extremely nice sauces. Also available: Lunch Salads, Colombian excelso arabica coffee or tea, tasty brownies, really fresh variant of mojito. AC, WiFi and great music. Café Bonsai also offers Spanish instruction.

Babaganoush Restaurant/Bar

phone: +57 3188681476

address: above dive center tayrona

A restaurant opened by the previous (Dutch) chef from Casa Felipe. Beautiful place with nice sea view, lounge area and terrace, international cuisine, pumpkin soup, beef carpacio, vitello tonato, curries, tikka masala, pastas, fresh fish fillet, filet mignon with red wine or blue cheese sauce, homemade desserts. Sunset happy hour 17:00-21:30.
Drink

It would be good idea to take a couple of "Stubbie Coolers" (Australian vernacular for an item which keeps the beer in your bottle cooler or longer) as the heat in Taganga will have you drinking warm beer by the time you are at the end of your drink.

Sleep
Casa Blanca

phone: +57 5 421 9232, +57 300 805 4968

Opened in 1998 by Colombian/Swiss team Carlos Botache and Bernard Gusten, Casa Blanca has become a favorite amongst beach-loving travelers and provides an excellent base for those taking dive courses in town or those wanting to make the most of their time by the sea. Prices are COP$18,000 pp with a COP$2,000 single supplement. Double rooms are COP$40,000. Heavy drug influence on beach in front - be careful at night.

phone: +57 5 421 90 92

address: Calle 12 with 4

Backpackers' bed and breakfast. Includes a beautiful swimming pool that creates a great social area. The staff is friendly. Comfortable and clean rooms with shower/toilet at COP$34,000 per person, in dorm COP$29,000 including internet and a generous breakfast. The view from the roof is fantastic, especially at sunset and a roof top bar plays excellent music. There is also a comfy TV room with cable TV and DVD player, an internet room with free high speed internet and Wi-Fi access and a restaurant inside serving excellent food. Free luggage storage. Discount for Hostelling International members.

Casa DivangaDivanga's little sister at one block down. You get access to Divanga's pool. Shady patio and communal kitchen. Spanish courses available. Includes a tourism information point with Taganga's map and full information about Tayrona park.

phone: +57 5 421-8041

address: Calle 17 # 2-36

Hotel Oso Perezoso is a three-story structure, perfectly designed to catch the cool breezes of Taganga and enjoy a chill atmosphere amid a 360-degree view. The first floor has three rooms and a store, free bag storage, and a book exchange. The second floor has four bright guest rooms with views of the ocean that open onto a breezy open-air corridor. The third floor is a gorgeous rooftop Tsunami bar and cafe with WiFi internet (COP$5,000 extra), a 800GB jukebox, plenty of room for hammock chillin' and a sassy parrot. From here you can watch the sun rise over the mountains, watch the sun melt into the Caribbean, sip on a cold beer, and order something from the full-service restaurant. Restaurant and bar are open to the public. Room prices range from COP$15,000 a night per person (hammocks), to COP$20,000 a night per person (first floor), to COP$28,000 per person per night (on the second floor). All rooms have private baths, excluding hammocks. Big breakfast is included with each room rate.

phone: +57 5 421-9101

address: Carrera 5A 19-13

Popular hostel. Several apartments some with kitchen, dormitory and hammocks if everything else is full. There is a communal kitchen, internet facilities, free wifi, laundry service, nice terraces and a friendly staff. Always crowded by backpackers. 15 minutes by walking from the beach.

phone: +57 5 4219048, +57 3202589677

address: Calle 9 No. 3-116

Clean and comfortable en-suite dorms and privates, a roof bar, garden swimming pool, tour info, private diving instructor, lost city treks, jenga tournaments, super friendly staff, 24-hour reception, free storage, internet acces, free Wi-Fi, book exchange, laudry service.

ReyMARInManager Chichi has 50 years of fishing experience. Family serves nice food next door.

phone: +57 5 421 91 41, +57 316 648 0731

address: Sector Dunkarinka Cabaña 1-100

Nicely placed at the entrance of the town, it has hammocks, private rooms with bathroom, "cabañas" (two rooms, sitting room with kitchen, shower with toilet). Beautiful views on Taganga and the bay.
Another option is to ask around for an apartment to rent. There are gringo shacks and guest houses all over the town. Usually, most places to stay that are geared towards foreign backpackers will have all the creature comforts (read: running water). Taganga has a long history of people's belongings disappearing as everyone in town often have keys and people lose stuff the day they are scheduled to leave. There is always the option of find a person who's renting a room in their house, or seeing who's out of town and turned their home into a temporary guest house. It's a great way of meeting people and really getting to know a town as interesting as Taganga. If you do this, be sure you trust where you are staying, and bring your own locks as a precaution. Also, Taganga has no water due to political issues, so there are times where water can be an issue.

Casa CalucaPopular holiday apartment for holiday weekend, short term, and long term rent. In a quiet area with sea views over Taganga. COP$40,000 per day, or COP$650,000 per month.

phone: +57 (305) 8133691

address: Calle 10 # 3-04

The location is good, bus stops in front of it, wide and fully equipped kitchen to cook fresh fish, nice terrace and garden with hammocks, friendly people. 5 min walk to the beach.
Connect

There is a great little internet cafe a block to the west of the police station and ATM, which adds little friendly touches like the occasional cup of water.

Stay safe

Taganga had a difficult time a couple of years back with drug dealers, robbery and less than ideal police behavior, but it is a town full of hard working friendly people and it has slowly been recovering since, still regular precautions should be taken, enjoy your visit exercising discretion and caution.
There are quite 7 small beaches outside of Taganga (15 minutes walk), which are connected by walking paths covered by vegetation. These paths are not well illuminated, so precautions must be taken on late hours when there are not many people walking to and from. Do not walk there by yourself. Wait for a small group. If you carry valuables with you and don't feel adventurous, it's better to take a boat (3 minutes; COP $5.000).

Go next
Ciudad Perdida — Taganga, even more so than Santa Marta, is the main jumping off point for the famous trek, and you should be able to arrange a trek on short notice with any of the hostels or tour companies dotting the main road.
Tayrona National Park — an unspoilt natural paradise of jungle, birds, ocean, and absolutely gorgeous beaches. A boat leaves for the backpacker beach haven of El Cabo every morning around 10AM.
Santa Marta — Blue collectivos leave for Santa Marta every 15 minutes or even more often, passing the roundabout at the malecon (COP$1400). They pass along Av. del Ferrocarril and Santa Marta malecon at Carrera 1C.