Tagaytay
Located at a mountain ridge on southern
Cavite
, the city of
Tagaytay
provides a mildly cool refuge from Manila's gritty side. It is the
unofficial
"Second Summer Capital" of the Philippines, and its relative proximity from Metro Manila draws local and foreign tourists alike. Despite the city's association with scenic
Taal Volcano
and the lake surrounding it, being in neighboring
Batangas
province, Tagaytay has many hidden things beyond the first impressions. Once a sleepy mountain town, Tagaytay has been a home to many things worth visiting: scenic viewpoints, religious sites, dining, and a new arrival, shopping malls.
Understand
Rising at about , Tagaytay is cooler than the lowlands of Cavite, and some rich residents, both Filipino and foreigner, have set up mansions near to the scenic views of mountains and the dominating Taal volcano and lake. It is a city of 70,000, scattered in 38 barangays.
Tagaytay is unofficially called the "Second Summer Capital of the Philippines" by locals and tourists in comparison to
Baguio
; official statistics as of 2015 record 500,000 tourist arrivals. Tagaytay becomes crowded during Christmas and Holy Week, so the main highways to the city becomes jammed.
Name
Tagaytay's name is derived from the Tagalog word for "mountain ridge", but there is an urban legend circulating by word of mouth to describe the origin of the city's name. The tale describes the orgin of the name "Tagaytay" as coming from the yells of a boy who were hunting with his father on the location of the current city. The boy shouted "
Taga, itay
" after his father hunted and caught one, and this words echoed at the mountain, that led to the name.
Orientation
Tagaytay, despite its city status, looks more of a aggregation of villages and towns, with subdivisions — gated or not — and farmland in between, however, large urban developments like high-rise condominiums and shopping malls have arrived in Tagaytay, and traffic jams have become a problem during peak season.
Important to local orientation are the main roads and the major junctions, which form the commercial centers.
Aguinaldo Highway
is the east-west artery and main commercial street, becoming
Tagaytay-Calamba Road
to Picnic Grove and People's Park east of the central roundabout, Tagaytay Rotonda.
Tagaytay Rotonda
, aka
Olivarez Junction
(after the eponymous college and mall complex), has two large malls and the roundabout where Aguinaldo Highway turns to the west.
Mahogany Junction
, and the
Kaybagal
area, rather two barangays with directional disambiguation on their names, has the casino, city hall complex, public market, the Sky Ranch theme park, the Summit Ridge mall, and the Taal Vista Hotel. Between the Mahogany and Olivarez areas are the strip of cliffside restaurants with views of Taal volcano and lake (and
Batangas
province), and a row of retreat houses.
Western Tagaytay
, which blurs into the adjacent municipality of Alfonso, has
Crossing Mendez
, another junction with a commercial strip, some accommodations, the Puzzle Mansion, and Zoori (Zoo and Residence Inn).
Climate
Tagaytay has a mild climate and dramatic scenery, which makes it popular with residents of
Manila
. Average temperatures range from to . There are three seasons, a cool dry season, hot dry season (summer) and the wet season. Peak seasons are the cool dry season, which includes the Christmas and New Year period, and the hot dry season, which includes the Holy Week peak period.
The
cool dry season
from December to March is the most pleasant season to visit, with daytime highs below the 30s and nighttime lows from and below, and not much rainfall, except in December.
The
hot dry season
is characterized by daytime highs at , but is short, only lasting between April and May, and the weather becomes variable by May. While the humidity can make the heat unbearable, Tagaytay generally does have cooler temperatures, so many tourists flock the city during Holy Week.
Rainy season
covers much of the year, from June to November, but the weather can be changeable. July and August has the most rainfall, and it's best to avoid those months.
Get in
Tagaytay is south of Manila, and is easy to reach than the more popular Baguio. While it's possible to reach the city by bus, many travelers bring a car.
By car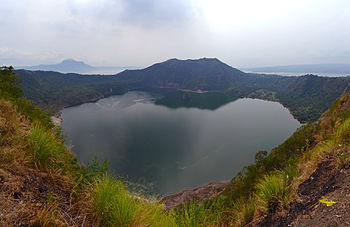 Most tourists to Tagaytay bring a car, making all major road entry points packed during times. Tagaytay is a hour from Manila under proper traffic conditions, but expect travel to be 1½-2 hours due to traffic jams or an occasional rainstorm.
From Manila
From Manila, the main highways to Tagaytay are the moderately congested
Santa Rosa-Tagaytay Road
(Route 420), the most traveled route with a interchange with the South Luzon Expressway (SLEX) on the Santa Rosa end, and the perennially snarled
Aguinaldo Highway
(Route 62 in Bacoor, Route 419 between Bacoor and Silang, Route 410 from Silang to Tagaytay).
Many travelers from Manila drive to Tagaytay via SLEX. Most leave at
Santa Rosa Exit
, which directly connects to
Santa Rosa-Tagaytay Road
(Route 420), but it gets snarled during weekdays or peak season, so there are alternatives:
Via Eton City Exit: Exit SLEX at Eton City, then follow the dual-carriageway Greenfield Parkway, and turn left to Santa Rosa-Tagaytay Road. The roads from Eton City exit are lightly traveled, so it is being promoted as an alternate route to Tagaytay.
Via Carmona Exit: Exit SLEX at Carmona, then follow Governor's Drive through Carmona, then turn left at Carmona-Silang Road. It bypasses Santa Rosa-Tagaytay Road to the north and useful if you are making side trips to Silang, but leads you through barangays in the middle of nowhere and local processions can slow traffic down.
For the two options mentioned, 1 hour and 30 minutes is a good rule of thumb, if accounting for traffic.
It is also possible to exit at
Mamplasan
in
Biñan
, but until the partial (or full) opening of Cavite-Laguna Expressway (CALAEx), you must follow a section of Greenfield Parkway where a sticker is required for passage, and is not useful for a casual traveler. From the roundabout at the western end of the restricted section, you can reach Santa Rosa-Tagaytay Road via Laguna Boulevard, or Greenfield Parkway.
Via MCX and Daang Hari: Exit into Muntinlupa-Cavite Expressway (MCX) in Muntinlupa, which ends at a roundabout with Daang Hari at the southern tip of Las Piñas. Afterwards, follow Daang Hari with an option of traveling up to Aguinaldo Highway in Imus, or turning into Molino-Paliparan Road into Dasmariñas, where you turn right to Governor's Drive to Palapala Junction. Approximate travel times are 1 hour, 50 minutes to 2 hours, if accounting for traffic conditions.
Via CAVITEX: Take the Manila-Cavite Expressway (CAVITEx, or Coastal Road), exit at Bacoor, and follow Aguinaldo Highway all the way to Tagaytay. This is no longer a recommended option due to traffic jams along stretches of Aguinaldo Highway, and a trip can take about 2 hours or more.
For those taking Aguinaldo Highway or Governor's Drive on their road trip, beware of a
travel restriction
in force from December 2018, where vehicles cannot travel through those mentioned roads based on the final digit of their license plate number during weekdays.
By bus
Tagaytay is well served by buses from Metro Manila, but delays from traffic jams remain. Most buses to Tagaytay depart from
Parañaque
and head for other towns further inland within southern Cavite or to
Western Batangas
via Aguinaldo Highway. Buses going to Tagaytay can be found where they show "via Tagaytay" on their signboards. For a complete list, see
Parañaque#By bus
.
There are two bus companies which has trips terminating at Tagaytay.
San AgustinLinks Tagaytay with Parañaque, Nasugbu, and Balayan. Most buses run from Parañaque to Nasugbu or Balayan, but there are some trips which terminate at Tagaytay.

StarlinerDepartures from Parañaque. Buses are in a yellow, orange and red livery.
Tagaytay does not have any bus stations; instead, buses stop at major road junctions:
Tagaytay Rotonda
(aka. Olivarez, the junction of Aguinaldo Highway and Tagaytay-Calamba Road),
Mahogany Junction
(the intersection of Mahogany Avenue and Crisanto M. delos Reyes Avenue), and
Crossing Mendez
(junction between Aguinaldo Highway and Tagaytay-Mendez Road). Buses terminating at Tagaytay generally turn around past Mendez or at the roundabout.
Regardless of carrier, the bus fare to Tagaytay from Parañaque is approximately as of 2019. A trip from Nasugbu costs around , and Balayan from .
Alternative routes from Manila
If you don't bother taking a bus plying Aguinaldo Highway through congested suburban Cavite, you may consider taking the DLTB bus from
Pasay
and headed for Nasugbu via Carmona for , or take a bus to
Santa Rosa
, then transfer to a jeepney. The DLTB bus fare may cost as twice as the usual fare from Parañaque, but it saves time otherwise wasted on a traffic jam.
Bus travel via Santa Rosa, coupled with a jeepney trip to Tagaytay is a possible option, especially if you are coming from the airport or from Metro Manila's financial centers. There are many possible combinations, based on your starting point.
From NAIA: UBE Express operates premium buses to Nuvali (with a transfer to a jeepney from there) or Robinsons Santa Rosa Market. If you took the bus to the Robinsons mall, you must transfer to a jeepney plying the National Highway and get down at Balibago, where the jeepneys to Tagaytay depart. The fare is about .
From Pasay or Cubao: Jam and Jac Liner has buses to Balibago Complex from either point, with departures every 30 minutes. Fares start from . to . They provide a more direct connection with the jeepney terminal, which is within walking distance.
From Makati: Tas Trans operates another premium bus from The Circuit to Nuvali via Santa Rosa Exit.
By van
UV Express (formerly known as FX and GTExpress) also provide service to Tagaytay from Manila, especially EDSA Rotonda, Shaw Crossing, Buendia and Alabang. Fares range from to .
By jeepney
Tagaytay Jeepney Terminal

address: Santa Rosa-Tagaytay Road, Iruhin West

This terminal has a simple shelter for passengers, but passengers board from the sidewalk.
There are jeepneys to and from
Santa Rosa
and
Calamba
, but almost all jeepneys headed for the terminal near the public market are unfranchised (
colorum
) vehicles, given the virtual lack of traffic enforcement in the more rural areas where they run. That said, jeepneys are the only connection to Tagaytay if you stopped at those cities and backtracking to Manila or Batangas is not a better choice or not in your itinerary.
By boat
The nearest ports are in
Batangas City
and
Manila
, both with connections to local public transport.
From Batangas port
From Batangas port, there is one local jeepney route out of the port, which unfortunately does not serve the central bus station, but it's easy to find a connection as you enter downtown Batangas. Tricycles are the only direct option to reach the bus station, but there is a risk of rip-offs (a charge for a long-distance tricycle ride is not uncommon within Batangas City).
At the bus station, options are:
Provincial buses: BSC (Batman Starexpress) has hourly departures to Nasugbu from Batangas. Get down at the Palico roundabout, where you can catch another bus on the direction of Tagaytay. A trip from Batangas to Palico takes about 2 hours with traffic in account, and about a hour to Tagaytay from Palico. The fare is about to Palico, and to Tagaytay from Palico.
Minivans: There are UV Express to Calamba or Dasmariñas. From Calamba, transfer to another van are available. From Dasmariñas, buses are available outside the bus terminal. They are often not a comfortable and affordable option; vans tend to be cramped, and the fares are twice as the bus. Beware of unlicensed ones though.
Get around

Tagaytay does not have any taxis, and they are not available from the malls either; the few taxis are generally those who pay thousands of pesos to get to the city from Manila. There are jeepneys across town, but almost all run to nearby towns and municipalities. Within Tagaytay, you'll either get around by car or if you don't drive, by tricycle or jeepney.

By jeepney

Jeepneys are common. Fares are usually around , sometimes a little more depending on the distance.

On foot

At the Tagaytay visitor's center and near the zip line is quite easy to walk and explore.

See
Most tourists visit Tagaytay to view
Taal Volcano
, is an active volcano with a large crater lake with a small cone rising in the middle. Though part of nearby
Batangas
province, tours to the are mostly organized from here (see
#Do
). You can just view the volcano from the slopes of the city; trips to the volcano are expensive though to local standards, but reasonable to foreign standards, especially if you bargain.
11th Airborne Division MarkerOn February 3, 1945, the 11th Airborne Division of Lt. Gen. Robert L. Eichelberger's 8th U.S. Army airdropped military supplies and personnel together with the Philippine Commonwealth troops on the Tagaytay Ridge amidst enemy groundfire. Their mission was to secure Tagaytay City and guarantee the easy flow of troops and supplies to Manila, an action later proved as significant to the liberation of Manila. A marker was erected at the Silang Crossing to honor the event.

41st Division USAFFE Marker

address: Tagaytay-Nasugbu Road, Kaybagal South

Tagaytay played a significant role in Philippine history. During World War II, Filipino soldiers and military officers found refuge on its vast forests and ridges. It was used as landing site and sanctuary for the Filipino USAFFE soldiers and paratroopers on their way to liberate Manila on February 3 to March 3, 1945. The 41st USAFFE marker is a place where one can know more about Tagaytay's rich political history. It is adjacent to the Metro Tagaytay College of Business and Arts in Brgy. Kaybagal South.

Divine Word Seminary

address: SVD Road, Mag-asawang Ilat

One of biggest schools of theology in the Philippines in terms of population and land area, is also one of the oldest religious institutions in the city. It is run by Divine Word Missionaries also known as SVD.

The Flower FarmOn a windy slope of a hill sprawls a flower farm that keeps Manila abloom whole year round. This five-hectare flower farm has many varieties of flowers, such as chrysanthemums with assorted colors, gerberas, carnations, roses, and anthuriums. It is in Barangay Guinhawa, Tagaytay City. From Tagaytay City, the farm is a brief 10-minute drive from the Aguinaldo Highway.

Japanese Friendship GardenThis garden was constructed to inculcate the value of freedom, peace and international unity into the hearts and minds of the people. It is in front of Development Academy of the Philippines Conference Center, in Brgy. Sungay East.

One DestinationThis travel spot in the sky city is a strip of fancy restaurants and bars. Being the nightlife hub of Tagaytay, it offers varied cuisine and entertainment to tourists. Some of the noted establishments around are Dencio's Grill, Pancake House, Starbucks Coffee, Yellow Cab, RSM, Leslies, Max's Restaurant, Cliffhouse, Antonio's Grill, and Henlin.

People's Park in the SkyA blending of natural and man-made attractions, poised on the highest point of Tagaytay City and the province of Cavite. It stands on a of solid ground and overlooks four bodies of water – Taal Lake, Balayan Bay, Laguna de Bay and Manila Bay - including nearby mountains. It is located at Dapdap West and Dapdap East, approximately east from the Tagaytay City Circle. The Palace In The Sky the main attraction of the site was designed to be the presidential guest house of former president Ferdinand Marcos, this complex was never completed. It is, however, now open to the public as a vantage area for viewing the Taal Volcano. The place is a short drive from the Aguinaldo Highway in Tagaytay City. It is 15 minutes' drive from Aguinaldo Highway.

Pink Sister's ConventBehind the bars and glass of the Adoration Convent of Divine Mercy are those who answered the call to live in silence. Located at the Holy Spirit Drive in Barangay Maitin in the city, the convent often called the Pink Sisters Chapel has endless visitors carrying their own list of prayers. Also included in their visit is the chance to see nuns praying with them 24 hours a day, seven days a week, although they can only be seen behind the iron grilles of the altar.

St. Anne's ShrineThe shrine is a small garden where a grotto of the Virgin Mary stands, surrounded by well maintained shrubbery and flower garden. In front of the grotto is a small grass clearing, which is conducive to quiet reflection. It is in Barangay Sungay, Tagaytay City. From Manila, take BLTB buses that pass by Barangay Silang Crossing to the Tagaytay Marker. At Tagaytay Marker, alight to take a utility jeep leading to Barangay Sungay where the gate of the Shrine can be spotted from the road. It is about 2 hours' drive from Manila.

phone: +63 921 323-3389

address: Tagaytay-Nasugbu Road, Kaybagal South

amusement park opened in 2013, with an assortment of rides, restaurants and souvenir shops. It houses the Ferris wheel Sky Eye.

Tagaytay Picnic Grove

address: Tagaytay-Calamba Road, Sungay East

Tagaytay's playground is the popular Picnic Grove, a large park that features huts and tables for picnicking, horseback riding, a restaurant, an eco-trail boardwalk, a zipline and cable cars on the gentle slopes of the Tagaytay Ridge. It is a prime location, providing the finest view of the volcano far below.

Tierra de MariaA Catholic sanctuary garden known for its 50-foot statue of the Virgin Mary found right beside Tagaytay Picnic Grove. Catholics consider this as the HOME (Haven Of Meditation and Enrichment) of the Blessed Virgin Mary
Do
Taal Volcano
Many travellers to Tagaytay include a tour to Taal Volcano to their itinerary. Tours are expensive to locals, but can be less costly if you ignore some tourist frills like horses or tour guides. Foreigners will find the costs a good deal depending on the season.
As of October 2018, the total time & budget for only Taal lake daytrip from Manila:
2 hours one way: Manila to Olivarez ( per person)
1 hour: to reach the spot where you board the boat, lunch, gather other passengers if you are bold, etc. ( in a 3-wheeler trike, one or two persons)
45 minutes: boat ride ( per boat, another per person for the various taxes, tolls, etc. ( for entry, for bridge)
45 minutes to go up on a horse. ( per head for a horse). A guide costs per group, but it is not necessary, since the horse owners accompany you anyway.
30 minutes up there to do sightseeing, click photographs,
30 minutes to go down on a horse (cost included in the cost of going up)
45 minutes: boat ride (cost included in the boat ride)
1 hour: to reach the bus, wait for the bus, etc. ( per 2-wheeler, one or two persons)
2 hours: back to Manila. (cost: per person)
Leave Manila before 10AM for seeing the sites in good daylight!
Total time if you go from Manila 9 hours, (a day trip), not counting your commute time in Manila, to and fro the bus terminal.
Buy
Small shops line the roadway as you come into the area, the vegetables and fruits are fresh and good quality.
The area is also famous for its Buko Pie.
There is also the Good Shepherd Convent (like the one in Baguio) and you can get your favorite Ube jam, pili, etc. In addition to that you can also get their buko pie for which Laguna/Cavite is known.
Malls
Ayala Malls SerinOne of the newer malls, part of real estate conglomerate Ayala's development Serin, beside the Our Lady of Lourdes Parish.
Eat
Budget
address: Aguinaldo Highway, Kaybagal South
Mid-range
address: KM 58 Aguinaldo Highway, Maharlika West

Provides authentic Filipino cuisine, best if you are seated at the back, which has great view of Taal Volcano. They also provide catering for large events. The ambiance is good especially for lovers and families too. A very cool place specially starting during the "ber months", from September.

Neul Borm

address: Tagaytay-Nasugbu Road corner C.M. Delos Reyes Avenue, Kaybagal South

Reasonably priced Korean dining, complete with hot pot and soju.
Splurge
Antonio's

phone: +63-917-899-2866

address: Tagaytay–Nasugbu Road, Purok 7, Niogan
Drink
Coffee - Coffee shops are abundant in the city proper, some of the noted ones are Starbucks Coffee and Bag of Beans.

Sleep
Budget
phone: +63 46 860 0221

address: Kaykulot Rd. Sungay East

Modern well maintained facilities, air-conditioned rooms with cable TV

phone: +63 46 695 6349

address: Barangay Sungay East, Tagaytay City, Philippines

Double and Family Rooms with TV and DVD player, and their bathroom has a hot and cold shower.

phone: +63 46 438-6686

address: #2 Hollywood Subdivision, Brgy. Tolentino East

All rooms are equipped with air-conditioning, TV with cable channels, dvd player, breakfast, hot and cold shower with hygiene kit. Some of its facilities and services are mini-gym, mini-garden, kitchen facilities and housekeeping service.

Keni PoIn the heart of Tagaytay.

Starflower Tourist Lodge

phone: +63 2 8684579

address: Km 62 Barangay Mendez West, Aguinaldo Highway

Starflower Tourist Lodge in Tagaytay provides you with expansive views of Taal Volcano and Lake, and surrounded by rolling hills and lush greenery. It is an affordable retreat for any traveler. The lodge's low-priced accommodations are a place where you can put your feet up and enjoy the mountain breeze coming in from the balcony.

phone: +63 46 413-4284

address: Tourism Ave. Hollywood Subd., Brgy. Francisco

17 comfortable and quality rooms, fully serviced and furnished to international standards.

Gloria De Castros Store.

phone: +63 46 773-0138

address: Leynes Talisay.

Single/double fan room with own bathroom. Has a restaurant.

phone: +63 46 483 1942

address: 5950 Aguinaldo Highway, Tagaytay City
Mid-range
Splurge
Stay safe

Tagaytay is a safe place to visit, and the locals are very nice, just beware of the usual things in Tagaytay such as scammers and pickpockets; in short exercise the usual level of common sense when travelling.
Beware of the obvious scams and ensure that if you are visiting Taal volcano or any other attractions with guides that they have the proper identification usually administered by the Philippine Tourist Board.
As with all tourist destinations, they like to "plus plus" everything, that is add the taxes and the tourist fee on later, so make sure that you ask for the complete price inclusive of tourist fee. It is recommended that if you visit Taal Volcano and you go horseback riding, that you demand to pay your guide a tip and forego paying as a tour guide fee at the ticket office as this ensures that your working guide actually gets paid as they get undercut from the ticket office; a tip of usually suffices.

Connect

Police, Medical and Fire: 911. 911 may also be texted from cellphones.
Tourist hotline: +63 2-5241728, +63 2-5241660
Immigration hotline: 527
Directory assistance: 187 (fee applies)
Mobile phone reception is good in the area.

Go next
Indang
, a quiet, off-the-beaten-track municipality with some historical sights and some resorts, can be reached within 15 to 30 minutes.
Western
Batangas
can be reachable by a 30-minute or 1-hour road trip. Nearest places are:
Nasugbu — The touristic and commercial center of the region, with luxury beach resorts, mountain hiking, and a few sights.
Taal Volcano
can be visited without having to book a tour in Tagaytay, but tend to be expensive if a tout approaches you on the Batangas side.
Talisay
is the main entry point, within the designated park boundaries, and has luxurious lakeside resorts, but its town center has little to nothing to see.