Taipei/East District
The
East District
(or Xinyi and Daan) of
Taipei
is the financial and commercial centre of Taipei.
Understand
As home to the Taipei City Hall, Taipei Convention Hall, the Taipei World Trade Center, Taipei 101, Taipei City Hall, and various shopping malls and entertainment venues, the East District is considered the most modern and cosmopolitan district of Taipei.
Much of the district used to be wetlands, explaining the abundance of space for construction projects as this was one of the last places in Taipei to be developed.

Get in

The East District is fully or partly served by MRT red, blue, green and orange lines, depending on the line. In addition it is also served by a number of bus lines.

See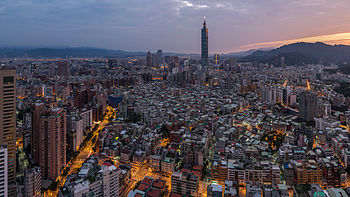 Taipei 101 Indoor ObservatoryThe world's second fastest elevators will zip visitors up to the 89th-floor observation deck in a mere 37 seconds. It's worth taking a ride up, as the views are stunning. The best time to visit would be in the late afternoon when you spend a couple of hours and see both day and night views of Taipei. Don't forget to look toward the middle of the Indoor Observatory, where you'll see the world's largest spherical tuned mass damper (one of three) that keep the building steady. Also, it is probably best to come early (around 08:55) or you will have to stand in line for 15–60 min.

Taipei 101 Outdoor ObservatoryYou can also go up to the outdoor observatory on the 91st floor (while it's possible to go to the outdoor observatory in a wheelchair, the view is negligible, as the concrete railing is too high to see over). Often only the elevator side remains open and you cannot walk a circle—if this is important to you, ask ahead.
Yongkang StreetThe lanes and alleys around Yongkang Street and Yongkang Park are packed with specialty restaurants, gift shops selling Taiwanese handicrafts, and distinctive cafes. A great place to spend a few hours strolling around.
Do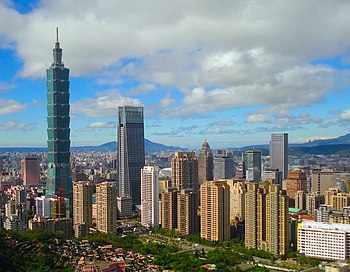 Elephant Mountain Hiking TrailA short walk from Taipei 101 in Xinyi District. Very steep steps lead up into a shaded, forested hill overlooking the city. Elephant Mountain, about 200 m high, is one of the Four Beasts Mountains, and paths from here go up to higher peaks in Nangang.
Buy
There are a variety of department stores in this area since this is the financial centre of the city.
Shopping malls
Eslite Mall

address: 245 Dunhua South Road

An upscale market-style shopping center with a 24 hour book shop (with a good English selection) on the second floor and ethnic music store in basement.

phone: + 2 2723 2220

address: No 11 Songgao Road

The flagship store of the Eslite Company is an eight-storey building devoted to books and creative and innovative products and music. Up-scale food court in basement. Cafes on various floors. Worth a visit even when not shopping.

Taipei 101 MallAttached to the tower is a large, upscale mall. While the stores are unremarkable in that they offer the same brand-names as stores in other major cities around the world, the open and spacious design of the structure itself definitely makes it worth a visit. A supermarket specializing in imported food items is located in the basement.
Specialty items
The Yongkang Street area is one of the best places in Taipei for souvenirs and handcrafts. The area is also home to a number of shops specializing in natural soaps and balms.
Fingertip Art

phone: + 2 3322 6136

address: No11, Lane 6, Yongkang Street,

A two-storey (first floor and basement) handicraft and local souvenir shop. Stylish and affordable goods. Friendly and very helpful staff.

Jianguo Holiday Jade MarketLocated under an elevated expressway, reaching from Renai Road & Jianguo South Road intersection down Jianguo Road, till Xinyi Rd. In addition to jade, flowers and many other kinds of handcrafts and jewelry can be purchased. There are actually three different markets, the Weekend Jade Market, Weekend Flower Market and Weekend Handicrafts Market in this same location. As the names suggest, they are open only on weekends until 18:00.

Potala

phone: +2 2741 6906

address: Lane 51, Da'an Road.

A wide selection of Buddha statues, prayer flags, Buddhist chanting CDs. Staff speak English.

phone: +2 2393-0900

address: No.12, Lane 2, Yongkang Street

An interesting and eclectic mix of traditional handicrafts with contemporary souvenirs. Helpful staff.
Eat
Night markets
address: Alley 1, Lane 40, Linjiang Street, Da'an District

This night market caters for the more adventurous eaters. The market featuers not only local foods but dozens of exotic delicacies, including inexpensive Malaysian, Japanese and Taiwanese snacks.
Budget
AiYu's Dream Journey Grass Jelly

phone: +886 2 2706 1257

address: Tonghua Street No. 56 (臺北大安區通化街56號)

Great Ai Yu Jelly, Grass Jelly, and Tofu Flower desserts. Recommendations: 愛玉綜合冰 (ai yu zong he bing);仙草綜合冰(xian cao zong he bing);豆花綜合冰 (dou hua zong he bing warning: this contains peanuts, but you can ask for it without them -- "不要花生" (bu yao hua sheng)). Ai Yu is only found in Taiwan.

phone: +886 2 2752-2781

address: 28, Fuxing South Road Sec. 1

This restaurant serves authentic Szechwanese peppery hot pot.

phone: +886 2 2771 2569

address: 19, Lane 233, Dunhua South Road, Sec 1

Innovative vegan meals. Chic and warm environment.

Minder Vegetarian Restaurant

address: Basement of Xinyi and Dunha Eslite Malls

A buffet style restaurant offering a wide rage of Chinese vegetarian dishes.

Thanh Ky

phone: +886 2 2321-1579

address: 1, Lane 6, Yongkang Street

Always busy and popular with Vietnamese expats and locals. Rice noodle soup with spicy beef and curried beef or pork is a specialty.

The Pengs' Traditional Hong Kong Cuisine

phone: +886 2 2772-9839

address: Guangfu South Road, Lane 240, No. 49

Opened in the 1980s, the food and the decor of the restaurant have not changed since. Known for being more authentically 1980s Hong Kong than most restaurants in Hong Kong today.

Yin-Yih Restaurant

phone: +886 2 2341-7799

address: 2F 18 Jinshan South Rd Sec. 2

Dedicated to old style Yangzhou cuisine.

phone: +886 2 2351-1051

address: 17, Lane 31, Jinshan South Road Sec. 2

One of the top-twenty beef noodle shops in Taipei. Yongkang Beef Noodle occupies the former location of Lao-Zhang Beef Noodle, which is now located next to it.
Mid-range
phone: +886 2 2321-8949

address: 6-1 Lishui St B1

Generally considered by expats to be the only edible and best traditional Italian pizza in Taipei.

phone: +886 2 2321-8928

address: 194 Xinyi Rd Sec. 2

Famous for its steamed pork dumplings. Worth a detour. Several locations in Taipei and worldwide. Gets very crowded even on weekdays so book in advance, or go to other branches such as the one under Taipei 101

Niu Ba Ba (688 Beef Bowl)

phone: +886 2 8791 7187

address: No. 149, Section 6, Minquan East Road, Neihu District, Taipei City, Taiwan 114

The most expensive beef noodle soup to be had in Taiwan. On average this dish costs N$120. Owner Tony Wong has bowls ranging from a few hundred all the way to $10,000. The simple decor belies the intricate process Wong uses to deliver beef noodles for Taipei's foodies.

Shinyeh's Table

phone: +886 2 2778-8712

address: 2F 201 Zhongxiao East Road Sec.4

Taiwanese food. Menu has English.
Splurge
phone: +886 2 2709-6525

address: Ren Ai Rd. Sec.4 No.13 Alley 26 Lane 300

Located on a back street of busy Renai Rd with a lush garden in front and warm and cozy atmosphere inside. Flavors serves great grilled steaks including rare meat like venison, amazing selection of appetizers in a casual fine dining way.

Jimmy's Kitchen

phone: +886 2 2711-7750

address: 77 Ren Ai Rd, Sec. 4 B1

Kobe steak, rib eye, filet mignon, and many other cuts.

phone: +886 2 2720-1200

address: 2 Songshou Rd 2F

Offers unique, fresh, live seafood and dim sum.

Peking Do It True

phone: +886 2 2720-6417

address: 506 Renai Rd Sec. 4

This is the place to go if you crave good Beijing cuisine. Visitors may be surprised to see a large photo of former U.S. President George H.W. Bush on the wall, taken when he ate at the restaurant during his trip to Taiwan in 1994.

phone: +886 2 2378-8888

address: 6F, 201 Dunhua South Rd Sec. 2

Specialize in Cantonese and regional Chinese cuisines. Dim sum is available for lunch only.

San Niu

phone: +886 2 2708-3959

address: Da An Rd, Sec. 1, Alley 169 #3

Fresh sashimi and tempura shrimp. Less expensive than most Japanese restaurants of this quality. Clean, comfortable environment.

Whalen's

phone: +886 2 2739-3037

address: No. 145, Section 2, Ānhé Rd, Daan District

Whalen's offer delicious Canadian cuisine such as Poutine and Quiche Lorraine, as well as breakfast omelets and waffles. They also offer a variety of beers. Reservation is recommended since the restaurant is considerably small.
Drink
Coffee
There are a numerous cafe in the lanes around Yongkang Street.
phone: +886 2-8771-7608

address: 1F, No 11, Lane 49, Sec 1, Anhe Road, Daan District

For people who prefer the new concept of a boutique cafe, the specialty of this place by far are the 100% Organic Guatemalan quality coffee beverages they offer in a cozy ambient mixed with art fashion and great music. A small but fancy terrace is perfect for enjoying beverages on a fresh day. They also have imported beer, wine, tea, juices and other snacks in their menu, including cheese and Italian fruit cake. They have a multicultural staff fluent in Chinese, English, and Spanish (German and Japanese depending on the day you go), so feel relaxed if Chinese is not your mother tongue as this place is geared for expats and locals that prefer a stronger kind of gourmet organic coffee.

phone: + 2 2392 3719

address: No27, Lane 243, Jinhua Street

A pleasant and airy cafe in the Yongkang Street area. Good coffee and desserts. Outdoor seating.

phone: +886 2-2362-9734

address: 106台北市Taipei泰順街2巷 Tai4Shun4 Jie1 Lane 2, #42, Daan District

This cafe is famous for having many resident cats living inside of it (49, according to the wait staff). In fact, the owner of this cafe loves cats so much, stray ones are adopted, spayed/neutered, then allowed to live in the cafe. Thus, as you drink your beverage, don't be surprised if cats are checking you out. This cafe is indeed clean despite all the cats, and has tasty mid-range priced desserts and coffee, as well as salads/meals. The cats are friendly, if not always looking for a warm lap to sleep on. The younger cats might jump from lap to lap, just to find a playmate, even if the wiser, older cats do not care for such shenanigans.
Alcohol
Carnegies

phone: +886 2 2325-4433

address: 100 Anhe Rd Sec 2

With an outdoor patio, it's perfect for those who prefer a quieter and less smoky atmosphere. The scene is geared toward the 30+ expats and locals.

phone: +886 9 5891 4777

address: No. 12, 9F, ATT4FUN Building, Song Shou Rd, Xinyi Dist

One of the hottest night club in Taipei. Often cited as having the best view of the Taipei 101 building. Large and active dance floor. Open all nights, Wednesday night is ladies night with free entry.

Elektro

address: 6F, ATT4FUN Building, Song Shou Rd, Xinyi Dist

Another large and popular nightclub, previously was called Spark but was closed down due to some police controversy.

Fourplay Cuisine

phone: +886 227083898

address: 67 Dongfeng St

A quiet bar/restaurant with creative drinks. Your shot may include a helium balloon, a water pipe, fire or dry ice.

address: 5F, 201 Zhongxiao E. Rd Section 4, Daan District

One of the most well-known clubs in Taipei. Luxy has two levels: the lower level has a side room playing house/techno and a main room playing hip-hop; the upper level is a lounge with a small dance floor overlooking the main room. Cover charge goes up after 23:00. Get there early to avoid a line.

address: No.2, Song Shou Road Grand Hyatt Taipei

This club specializes in cocktails and Italian cuisine - both the service and food are excellent. It's popular with locals and expats. Ladies Night is on Wednesday nights.
Tea
phone: +886 2 2392-6707

address: No 9, Lane 31, Yongkang Street

Hui Liu is a modern style tea house. In addition to serving Chinese tea, Hui Liu is also famous for its organic vegetarian meals and hand made pottery.

Teng

phone: +886 2 2321-9089

address: 29, Lane 61, Linyi Street

A rustic tea house and art studio in the heart of Taipei.

phone: +886 2 2363-7375

address: 16 Xinsheng South Road, Sec 3

Wisteria is set in a traditional house, complete with tatami mats, and is a great place to spend an afternoon relaxing with friends and soaking up the atmosphere of Taiwan.
Juice
Happy Fruit Juice Bar

phone: +886 2 2343-2393

address: 53 Yongkang Street

Happy Fruit Juice Bar is a fresh fruit juice bar decorated with a Greek cafe interior. The store is family owned and run by a mom and four sisters. They serve tea, fresh fruit juice, milk pearl tea and other drinks. It's a great place to grab something cool and refreshing on a hot day. Also, Happy Fruit Juice bar's right beside the Mofo burger joint, so it's a perfect place to get a healthy drink to wash down that burger afterwards, or to simply sit down at after a trek through Yongkang St!
Sleep
Budget
phone: +886 2 2325-0722

address: No.9, Sec. 2, Fuxing South Rd

phone: +886 2 2721-1162

address: No.8, Sec. 3, Jhongsiao E. Rd., Da-an District

Decent, standard budget hotel without trimmings, but in a desired location, near all the commercial businesses and entertainment avenues.
Mid-range
phone: +886 2 8773-3799

address: 135 Daan Road Sec. 1

Calming ambiance is felt throughout this hotel, with soft lighting and muted colour palette adding to the mood. Staff are helpful and professional, and a complimemtary afternoon tea is served downstairs in the internet terminals, making it a perfect stay for the business traveller.

Royal Best Suites

phone: +886 2 2729-5533

address: 385 Xinyi Rd, Sec. 4

Spacious and comfortable rooms decorated in a Victorian style decor.

Taipei Fullerton Fu-Xing South

phone: +886 2 2708-3000

address: 41 Fuxing South Road, sec. 2

Tastefully decorated and geared toward business travelers. Very polite and attentive staff. Free wifi in the lobby only, not in the rooms (but rooms do have ethernet ports and cables for laptops, and there is a good business center in the lobby). Surrounded by restaurants and convenience stores.
Splurge