Taipei/Neihu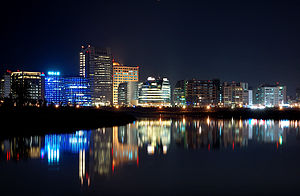 Neihu
and
Nangang
are eastern districts of
Taipei
.
Understand
They are famous for their IT industries and large shopping complexes. The area also features parks as well as mountains dotted with temples and crisscrossed with hiking trails. This hidden gem is a must-visit, as there is something for everyone, whether it be the shopper, the diner, or the nature enthusiast.

Get in
Neihu is served by the
Taipei Metro
Brown Line (Wenhu Line). Many buses provide convenient access to the area, including the 630, 284,287,620,645, Red 2 and the Brown 9. Nangang is served by the Blue Line.
See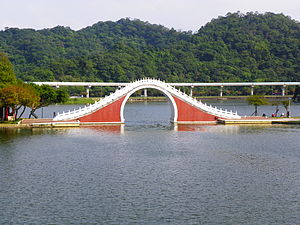 Dahu ParkA popular area for recreation. It boasts a large lake with a famous Chinese-style arched bridge. There complementing the lake is a lakeside swimming pool and Egret Mountain which is adjacent to the lake a great hiking location. The swimming pool is a little outdated and in needs some refurnishing, but it's only NT$110 for a swim which includes access to the jacuzzi, steam room, sauna and the high-powered water jets that regulars use to relieve stress from their tired and aching muscles. There's also a freezing cold plunge pool for those without a faint heart. There is a 25 m indoor pool, a 50 m outdoor pool and a kids' pool with a climbing apparatus and water jets to play with. Since it's right next to Dahu park so once you've had a swim you can enjoy the park's facilities including a foot massage path and basic exercise equipment. It's a great place for exercising.

Bishan TempleThe largest Taoist temple in Neihu. It offers spectacular views of Taipei on a clear day. It is possible to spend the night here by offering a donation. There are other interesting Buddhist and Taoist temples nearby. Ride the local Red 2 bus to the Temple. Attractions include a golden statue and beautiful architecture. Walk down from the temple to the city for addition appreciation of the flora of Taiwan.

Taipei World Trade Center Nangang Exhibition HallTaipei's trade-show venue.

Academia SinicaHome to several research institutions, such as the Genomic Research Center, the Institute of Biomedical Sciences, and the Institute of Cellular and Organismic Biology.
Do

Hiking is possible in the mountainous northern part of the district. A network of trails covers the area. Some trailheads can be found near Bishan Temple. It's a good area for summer hiking because the microclimate in the mountains here tends to be cooler and less humid than in other areas of Taipei.
Jogging due to an abundance of lakes and mountain ranges located in Neihu, there are a lot of great jogging/hiking spots for people to choose from. Parks such as Bihu Park(碧湖公園) and Dahu Park (大湖公園) are great places to jog due to its nice scenery and the abundance of fresh air. Also, both parks have mountains beside them allowing joggers turn their jogging session into a hiking session as well.
Cycling. Neihu has many roads leading into the mountains that are often-used by both recreational and more serious cyclists. Foremost among these is the road up WuZhi Shan which links to the benchmark Fengguizui climb.

Buy

Neihu has an abundance of shopping opportunities, both cultural and mainstream. The major mall/ shopping area is the Lakeshore Mall (AKA De-an) which is right outside Neihu Station. 8 stories of shopping with prices ranging from budget to extravagant. Beautiful top-notch restaurants of top floors. Shopping is also available near the Huzhou and Donghu Stations, with a Eslite bookstore in Donghu.
Neihu is also home to major warehouse retailers, such as Costco, Carrefour, RT-Mart and B&Q.
Night Markets Although not as big or popular with tourists as Shilin, Neihu night markets such as the 737 street market (Gangqian station) and the smaller Neihu one (Chang-Kong Rd Neihu Station) are just as vibrant with a local feel and a great atmosphere and food. 737 Street is definitely a local gem.

Eat
Neihu is known for its food and has a wide range of restaurants and cafes.
Chu-Fang Literally, "The Kitchen" this trendy restaurant serves Taiwanese Ka-Ja cuisine. The Ka-Ja Stir Fry, Teppan Tofu, and Pineapple Shrimp are excellent. Free rice for all and a moderate price tag (dinner for three is around US$35.) In between Neihu and Dahu Stations on Chang Gong Rd, take the 620 or 630 or basically any other bus from Neihu Station. Takes you right to the door, basically.
Lao Yo Shing Local beef-noddle eatery popular with locals, try their bean curd (do-gan), best do-gan in Neihu and top 10 in Taiwan. Add some soy sauce and hot sauce on top for a perfect appitizer or snack. Cheap prices. On the huge 4 way intersection just outside of Neihu Station.
Taiwan Cold Noodles The aptly named Taiwan Cold Noodles is a must have for a traditional Taiwanese breakfast. Sells over 10,000 orders of cold noodles a day, according to the amiable owner. Cold noodles with a special brown sauce. Miso soup, Fish ball soup, and egg soup also available. About NT$35 for a exceptional breakfast. Hard to find, get of at Neihu station, its in one of the alleys. Ask locals.
Whoa Guo Shi Jia Shabu Shabu restaurant behind the McDonalds by the mall next to Neihu Station. Good seafood and prices.
Cantonese Restaurant on the top floor of Lakeshore (De-an) Mall Excellent, upper-end Cantonese cuisine on the top floor of Lakeshore Mall, which is right next to Neihu Station. Dim-sum is suberb, but try the baby lamb chops and salty fish fried rice.
Paradise Thai No. 423, Rueiguang Rd. Neihu District (02) 8797-1686. Best Thai place in town, better than Thai Town and Spice World. They have Taipei's only micro-brewry built into their restaurant. Great spicy Thai food and cold beer to wash it down. Prices are upper-end, but worth it.
Yamazaki Bakery In basement food court of Lakeshore (De-an) Mall. Great melon bread. Same as all other Yamazaki chain stores.
Alleycat's Pizza, 67-1, Section 5, Chenggong Road, Neihu, M-F 12:00-14:00 & 17:00-23:00, Sa Su 12:00-23:00, offer stone-baked thin-crust pizzas with a wide variety of toppings. On the drinks menu are South African wines, seven bottled beers plus Stella Artois and Hoegaarden on tap.
737 Street Night Market Has probably 100 small food stands. Incredibly crowded, but worth it. Try the Steamed or Fried Buns and Shaved ice. MRT Gangqian or take the 620 bus.
Drink
The Terminal, Neihu Road Sec 2 (behind the Japanese department store). A bar serving meals. Open daily from 14:00 every day.
Sleep
Budget
phone: +886 2 2782-6056

address: 1F, No. 20, Alley 1, Lane 768, Section 4, Bade Rd

A new hostel near Songshan Station and Houshanpi MRT, with a very large common area, free internet and guest computers, and other amenities.
Mid-range
address: No. 462 Cheng Gong Rd, Sec. 5