Taipei/Shilin
Shihlin
(士林區) is a northern district of
Taipei
.
Understand
The district is home to many museums, including the world famous National Palace Museum. In addition, one of Taipei's largest night markets and the expat enclave of Tianmu are located in Shilin.

Get in

MRT: Shilin Station and Jiantan Station are on the red line.

See
Museums and galleries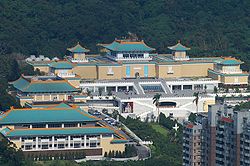 phone: +886 2 2881-2021

address: 221 Zhishan Rd, Sec. 2

Probably Taiwan's top sight. Due to the Sino-Japanese War the Nationalist Government took artifacts from Beijing so they wouldn't be harmed. After the war ended, the Chinese civil war continued and thus the Kuomintang shipped them to Taiwan. Needless to say, the Communists weren't very happy about this. Nevertheless, as it turned out, transporting the imperial treasures to Taipei allowed them to escape the destruction that many historical artifacts suffered under the communists during the cultural revolution. The museum today has what is quite possibly the best collection of Chinese art in the world. Famous pieces from its collections include the jade cabbage, pork belly jade, and passenger boat carved from an olive pit.

phone: +886 2 2831-4551

address: 363 Jihe Road

This modern museum offers a hands-on introduction to our universe. In addition to the permanent exhibits, there is also a Imax dome theater, an observatory and a 3D movie theater. Entrance to the observatory is free, while NT$100 (adult) NT$50 (child) is charged for a show at each of the two theaters.

Shung Ye Museum of Formosan Aborigines

address: 282 Zhishan Rd, Sec. 2

This museum houses exhibitions of Aboriginal culture and lifestyle. An English audio guide is available.
Parks
Shilin ResidenceIt was one of Chiang Kai-shek's abodes during his Taipei years, and the sprawling grounds were opened as a park in 1996. This residence is famous for the European style of its architecture and gardens.

Zhishanyan Cultural and Ecological GardenA small hill is in the south of Tianmu's Yangming Hospital, and north of the Shuangxi river. The Zhishan Hill (Zhishanyan 芝山岩), one of the oldest archaeological excavation sites in Taiwan. Along the trail, you can see many historic heritages in this hill, the Huiji Temple (惠濟宮), Fortified Gate, small temple and an old camphor tree over 300 years old. Getting there: MRT Zhishan Station (Danshui Line) and walk for about 15 minutes.

Aborigine Culture ParkThe theme of the park is the aboriginal culture. There are thirteen stone-slab sculptures stand in the entrance of the park, depicting the people of Taiwan's nine tribes in their traditional costumes.
Do
Cinemas
Tianmu Miramar Cinema

address: 202 Zhongcheng Rd, 4F, sec 2, Tianmu (忠誠路二段202號4樓)

A very modern facility with eight screens.
Buy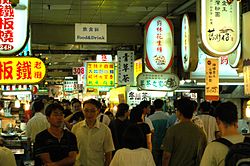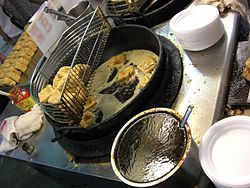 Night markets
Shilin Night MarketTo really taste the flavor of Taiwanese life a trip to a night market is a must, and Shilin is one of the largest. The market began in the 19th century as a collection of vendors trading their goods near a small harbor along the Keelung River. Today the harbor is long gone but the night market has become what is quite possibly the largest collection of vendors and eateries in Taiwan. The night market sprawls across several city blocks, and is considered to be one of the "must-see" attractions in Taipei. Have dinner in one of the eateries in the new food court, then wander north to bargain hunt in a labyrinth of streets and alleys filled with shops and people. Businesses in the night market typically open around 4PM and stay open well past midnight. To get there, take the MRT Dansuei (Red) Line to Jiantan Station. The food court is located directly across the street from the station with the rest of the night market spreading out to the north. If in doubt, follow the crowds. Quick warning to shopping addicts: the last MRT train leaves Jiantan station around midnight, though the crowds last well past then. Plan ahead. Specialty foods and drinks include: fried buns (生煎包), lemon aiyu jelly (檸檬愛玉), peanut candy (花生糖), bubble tea (珍珠奶茶), snow flakes crushed ice (雪花冰), Taiwanese sausages (香腸), braised stinky tofu (紅燒臭豆腐) and oyster omelet (蚵仔煎).
Department stores
Dayeh Takashimaya

phone: +886 2 2831-2345

address: 55 Zhongcheng Rd, Sec 2, Tianmu (忠誠路二段55號)

A 12-story department store with food court in the basement and bookstore on the 4th floor. A free shuttle connects the store to Shilin and Shipai MRT Stations.
Books
Caves Books

phone: +886 2 2874-2199

address: 5, Lane 38, Tianyu Street, Tianmu
Eat
Budget
Juice Meal Vegetarian Restaurant

phone: + 2 8861 3737

address: No. 34, Lane 505, Section 5, Zhongshan North Road

A very simple and unassuming restaurant. Excellent meals and sale of natural foods.

Vegetarian Kitchen

phone: + 2-88615141

address: No.26, Meide Street

Simple, tasty Chinese vegetarian meals. Choose a set meal from the menu and it is served on a tray. Owner speaks English.
Mid-range
Cafe Onion Restaurant

phone: +886 2 2873-9992

address: 1, Lane 9, Tianmu North Road, Tianmu

Cafe Onion is a friendly restaurant in Tianmu since 1992, located in a small alley, just north of the main road - Tianmu West Road. Cafe Onion serves pastas and steaks. Tea or coffee are also available. Cafe Onion's Germany pork knuckles are good, and it's worth queuing for.

Chamkar Cafe and Restaurant

phone: + 2 2838 3400

address: No 7, Lane 50, Chung-Chen Road, Sec2, Tianmu

French-Cambodian fusion vegetarian cuisine. Relaxing environment. Organic coffee. Fast service.

Fangs Restaurant

address: TianMu East Rd

Popular amongst both Taiwanese and Expats, this 2-story restaurants offers excellent quality local dishes. There is an open kitchen where people can watch dumplings being made.

JB's

phone: +886 2 2364-8222

address: 148, Shida Road

A European pub and restaurant in Shida area serving traditional European fare on the first floor. The second floor features the main bar and activity center. Steak pie and fish and chips offered here are some of Taipei's best.

San-hsi-t'ang

address: National Palace Museum, 4th floor

Well-hidden slick teahouse/restaurant atop the Palace Museum, which looks more expensive than it is. Most people stop by for a pot of oolong and tiny pastries, but the menu (available in English) also covers dim sum and enough savouries to make a meal.
Splurge
Drink
Sleep
Budget
phone: + 2 28381181

address: Jihe Rd. & Xiaoxi St. intersection. Shilin

This hostel offers full ensuite room with private bathroom. There is no common area, and no dorms. Clean, Friendly staff. Good location.

Fun Taipei @ Shilin Night Market

address: 31 Wenlin Road

A pleasant hostel - close to Shilin Night Market and MRT station. Free wifi.
Mid-range
Splurge
phone: + 2 2885 6666

address: No.18, Jihe Road

A contemporary and stylish hotel. Excellent facilities. Efficient and friendly staff.
Go next
Yangmingshan National Park adds the backdrop for the district. Bus 260 passes along Zhongshan North Road (stopping across from Jiantan MRT Station) and turns right at Zhongzhen Road. It takes approximately 30 minutes to reach the terminal station in the mountains.
Downtown. Bus 285 runs the full length of Mingshen East Road and Dunhua North and South Roads, making stops at the major shopping junctions of Dunhua-Nanjing, Dunhua-Zhongxiao and Dunhua-Renai. This bus also stops near the (Domestic) Songshan Airport (on the corner on Minsheng East and Dunhua North Road). Bus 285 can be picked up anywhere on Tianmu West and East Roads and Zhongshan North Road sec 5. A major stop is outside Jiantan MRT Station.
Shida and Taida Universities. Bus 606 stops near Shida and outside Taida in Gongguan. Bus 606 follows the same route as bus 285 as far as the Grand Hotel.