Taipei/Wenshan
Wenshan
(文山區) is a southern district of
Taipei
.
Understand
It was formed by the merger of two historical townships, Jingmei and Muzha. It is home to Taipei Zoo and there are many tea plantations in the hills that surround the district.

Get in
By metro
Wenshan District is served by
MRT
Brown and Green Line).
By bus
City buses provide cheaper but slower access to Wenshan District.
Get around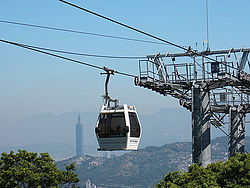 By cable car
phone: +886 2 29378563

Runs from Taipei Zoo MRT station to Maokong, with stops at the Taipei Zoo South and Zhinan Temple stations. Two bus lines serve the Maokong area: bus number S10, which departs from the Wanfang Community MRT Station, and bus number BR15, which can be boarded at the Taipei Zoo and Taipei City Hall MRT stations.
By bus
As the two metro lines serving Wenshan stop at opposite ends of the district, transportation within the area is mainly by bus. Bus BR 6 connects the brown line and the green line, and there are various other routes within the district.
See
Taipei ZooNestled in a tight, lush valley, Taipei zoo has all the leisurely charm of a large park, but you also get the enjoyment of wandering through trees and along lanes with a variety of animals and birds. Unlike many traditional zoos, the animals here are not confined to cages, but allowed to roam freely in open paddocks, and it is a very clean and well maintained facility. However, some of the animal enclosures are small and seem over-crowded. Due to the city government's education policy, the zoo is very much an integral part of Taipei life. So much so in fact, that when an old elephant became ill and died several years ago, several generations turned up, many with tears in their eyes, to say their farewells. The zoo is recently popular in Taiwan for its two pandas, a gift from China. The zoo is located in the suburb of Muzha, and the entrance is just outside the terminal stop on the Muzha MRT line, 'Taipei Zoo'. Admission is quite affordable, at NT$60 for adults, and if you have a Taipei Metro EasyCard, you can pay the admission fee with that.

Zhinan TempleOne of the most important of Taiwan's early Taoist temples, Zhinan Temple is dedicated to main deity Lu Dongbin, one of the Eight Immortals, and various other deities.

Zhang Nai Miao Memorial HallA small and intimate museum built in memory of tea master Zhang Nai Miao, who brought the first Tieguanyin plants from Anxi, Fujian to Zhanghu, Muzha, which marked the beginning of Tieguanyin tea cultivation in the area.

National Chengchi UniversityNCCU, often abbreviated to Zhengda (政大), is Taiwan's leading national university focused on humanities and social sciences. It is large with lots of greenery and open spaces. There are hiking trails up the mountains in the back of the campus with teahouses and temples all over the hills. The campus grounds are surrounded by shops, bookstores, eateries, cafes and teahouses popular with students and scholars.

Jingmei Jiying TempleJingmei Jiying Temple honors Zhang Xun and Xu Yuan, both of whom fought and died bravely during the An Shi rebellion. It is one of Taiwan's designated historic monuments and a great example of Qing dynasty temple architecture.
Do
Tea tasting
There are numerous tea gardens in the
Maokong
(貓空; cat's hollows) and
Muzha Tea Plantations
(木柵觀光茶園) area, most of which are concentrated in Zhinan Road, Sec 3. Local Oolong tea specialties include
Muzha Tieguanyin
(木柵鐵觀音) and
Wenshan Baozhong
(文山包種茶).
Many tea makers have tasting rooms for sampling the latest teas, or will do so by appointment.
Taipei Tea Promotion Center

phone: +886 2 2939-1473

address: 8-2, Lane 40, Zhinan Road, Sec. 3

Offers introduction to tea picking, processing, brewing and free taste testing.
Hiking
The Wenshan District is nestled between beautiful green mountains crisscrossed with
hiking trails
. Signposts also include GPS coordinates. Some of the most popular trails are:
Xianjiyan hiking trailMany curious visitors come here to see a footprint supposedly left by the Taoist deity Lu Dongbin. The view from Xianjiyan trail includes natural vistas as well as a bird's eye view of the southern districts of Taipei. Located on the hill behind Jingmei Night Market, this nicely built and well-marked network of trails also features a temple located along the trail. The main trails are all paved with concrete or raised wooden walkways, and are lit with lamps at night, so you can go for an evening walk or watch the sunset from the summit. There are no technically difficult trails, but be prepared to climb a long, steep stairway to get on top of the hill.

Zhinan Temple & Cihui Temple hiking trailIn addition to the beauty of the temples, visitors can also enjoy an excellent view of the Taipei Basin, Danshui River, and Guanyinshan.

Zhangshan Temple hiking trailOffers spectacular views of the Taipei basin and Taipei 101 from in front of Zhangshan Temple.

ErgeshanThis is an excellent choice for a moderately strenuous hike lasting several hours. Ergeshan is the highest peak along a ridge trail extending from Shiding in the east to Ankeng in the West. The peak of Ergeshan is at the border of the Wenshan District and Taipei County. The hike to the ridge can be a challenge, but the ridge trail is excellent, offering spectacular views and the occasional glimpse of monkeys in the woods.

Riverside ParkNot a hiking trail proper, but popular among those out for a relaxed stroll. The various sections of the park run most of the length of Jingmei Stream, the main body of water in Wenshan District. The park is characterized by large grassy areas interspersed with public sports facilities (such as tennis courts and softball diamonds). It's a good place to go for casual exercise or for viewing the bird life around the creek (herons and egrets are a common sight).
Buy
Zhang Xie Xing Tea Company

address: 93 Zhinan Road, Sec 2

Famous for its Tieguanyin tea (Iron Goddess of Mercy) and tea candies.
Night markets
Jingmei Night MarketMany small street vendors and shops selling items including various snack foods, clothes, and accessories. Businesses in the night market typically open around 16:00 and stay open well past midnight.
Eat
Dian Wei Chu Fang

address: 167 Zhinan Road, Sec 2

Offers delicious Yunnan style food.

phone: +886 2 8663-7145

address: 2F, 42 Jingwen Street

Known for its Mongolian hotpot.
Drink
phone: +886 2 2939-2025

address: 6, Lane 40, Zhinan Road, Sec 3

Offers creative tea cuisine with restful views over the surrounding countryside.

Yuan Xu Yuan Teahouse

phone: +886 2 2936-7089

address: 16-2, Lane 38, Zhinan Road, Sec 3

Offers spectacular views of Taipei on a clear day. Specialties include Osmanthus Tieguanyin Tea (桂花鐵觀音) and tea cuisine.

Xing Hua Lin Teahouse

phone: +886 2 2936-9367

address: 30, Lane 45, Laoquan Street

Estimated best time for apricot blossom viewing - February to March. The best time for viewing varies according to the weather conditions.
Sleep
Most tourists stay in central
Taipei
, where there is an abundance of accommodation, but there are also some hotels in the area around Jingmei Night Market.
Budget
Taipei Visitors Hostel

address: 100 Roosevelt Rd, Wanlong, Taipei

This hostel is more like a shared accommodation than a hostel. Visitors are able to choose the duration of their stay. The company has two locations and unlike normal hostels, all rooms are separate, each containing a double bed. Prices start at NT$3000 per week.
Connect
Taipei Public Library offers free access to the Internet. Check their website for a list of branches in Wenshan district.