Taipei/Zhongshan
Zhongshan
and
Songshan
in
Taipei
are neighborhoods rich in arts and culture.
Understand
Zhongshan and Songshan cover a swathe of central Taipei. The districts are home to a number of museums and galleries, and also include the bohemian Zhongshan MRT Station area, which is known for its cool cafes, quirky boutiques, and distinctive restaurants.

Get in
The MRT green and red lines serve all or part of the two districts.

See
Landmarks
Grand HotelThis majestic hotel has graced the photograph albums of numerous generations of Taipei tourists. And, although the increase in other attractions may have led to it losing its status as the must-see-destination, this imposing structure, built in the style of a Beijing palace, still manages to attract bus loads of tourists wishing to have their photograph taken outside the main building and in the foyer. The tea rooms on the first floor are a good place to relax and absorb the grandeur of dynastic China. The hills behind the hotel are crisscrossed by a vast network of trails, footpaths, pavilions, and an abandoned military anti-aircraft base and are a popular exercise spot for locals and urban explorers. Getting there: MRT to Yuanshan station, then hop on the free shuttle bus.

Martyr's Shrine

address: 139 Beian Road

temple memorializing those who gave their lives for the R.O.C. during its tenure on mainland China and it's later existence on Taiwan. A changing of the guard ceremony is performed at the top of the hour where a military honor guard performs an impressive series of gun twirling and tossing in front of astounded tourists. To get to the shrine take the MRT to the Jiantan Station, then take the Red 3 bus from the same side of the street the rest of the way, get off at the third stop.

address: Corner of Minquan East Road and Songjiang Road

The temple was built in 1967 and was devoted to Guangong (A.D. 162-219), a famous deified general who lived during the Three Kingdoms period, and he is an important character in the Chinese classic Romance of the Three Kingdoms. The temple forbids the killing of animals as an offering, so you will see offerings of only fresh flowers, fruits and tea on the main altar. Many believers feel that this is a very efficacious temple, and it is frequently thronged with people praying for help and seeking divine guidance by consulting oracle blocks. Outside the temple, the underground pedestrian passages under the Minquan - Songjiang intersection are filled with fortune-tellers and vendors who take commercial advantage of the temple's popularity.
Arts and culture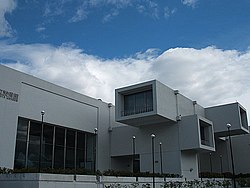 Parks
Dajia Riverside Park

phone: +886 2 2596-1898

This park is a 12 km long green belt on the south bank of the Keelung River. One of the beautiful banks in Taipei. Basketball, tennis, and badminton courts are available, as are bicycles for rent.

Zhongshan Fine Arts Park

phone: +886 2 2596-1898

This park is south of the Taipei Fine Arts Museum. The open green space and many stabiles are on display in the park.
Do
Buy
address: No 28-1, Lane 26 Zhongshan North Road, Sec 2

A second hand vintage clothes store - excellent selection, good prices.

Breeze Center

phone: +886 2 6600-8888

address: 39 Fuxing South Rd

Sec. 1 (near the intersection with Civic Boulevard).

Eslite Spectrum

phone: +886 2 25813358

address: 14 Nanjing West Road

Contains bookshop, cafe, restaurants, and stalls specializing in creative household items.

Eslite Underground Bookstore

phone: +886 2 2563 9818

address: Near exit R79, Zhongshan MRT Station

A section of an underground mall dedicated to books and creative arts.

phone: +886 2 2558 2616

address: 18-2, Lane 25, Nanjing West Road

A shop specializing in Taiwanese hand made goods.

Miramar Entertainment Park

phone: +886 2 2175 3456

address: No. 20, Jingye 3rd Road, Zhongshan District, Taiwan

A standard shopping center with the usual merchandise. It houses the only IMAX theatre in Taiwan as well as the Miramar ferris wheel which offers great views of Taipei city.

Core Pacific Living Mall

phone: +886 2 3762 2577

address: No. 138, Section 4, Bade Road, Songshan District, Taiwan

has many stores open 24 hours a day. It also has a large food court, cinema complex, and the nightclub Plush (located on Bade Rd near intersection with Guangfu South Rd).
Night markets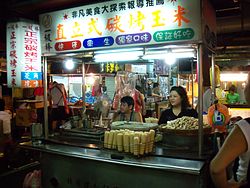 Raohe Street Night MarketThis well-organized night market, attracts tourists from both overseas and across the country.

Shuangcheng Street Night Market

address: Shuangcheng Street, Zhongshan

Small and popular with locals. Have different stalls during day and night hours.
Eat
Budget
phone: +886 2 2541 4787

address: No 9, Alley 6, Lane 40, Changan West Road.

A very traditional family run Chinese vegetarian restaurant. Amazing food. Very little English spoken, but photographs of dishes on menu.

phone: +886 2 2509-9853

address: 10, Lane 73, Hejiang Street

Xian Ding Wei Restaurant

phone: +886 2 2567 3331

address: 67 Changan East Rd Sec 1 (總店)
Mid-range
phone: +886 2 2508 1268

address: No. 18, Alley 2, Lane 410, Minzu East Road

If you are craving fresh and super affordable seafood, sashimi and sushi, this fish market is the place to indulge. Includes ten different foodie areas, including an outdoor grill joint, sushi bar, and gourmet grocery.

phone: +2 2585 8626

address: No. 26-1, Section 3, Zhongshan N Rd, Zhongshan District

Innovative vegan cuisine. Natural, minimalistic decor. Helpful and fast service.

phone: +2 2552 1520

address: 26, Alley 49, Chifeng Street

A Japanese-style vegetarian fast food restaurant. Quick and efficient service. Tasty meals.

Thai Star

phone: +886 2 2719 6527

address: Fu Xing N. Rd. Alley 231 #2

Shrimp Toast, Beef Stew, Chicken, Papaya Salad are most famous dishes!

phone: +886 2 2597-1234

address: B1, 41 Minquan East Rd, Sec. 2

Authentic Hangzhou cuisine. Reservations are recommended.
Splurge
Drink
Coffee
There are a large number of cafes in the alleys and lanes around Zongshan MRT Station (between Nanjing West Road and Minsheng West Road - near MRT exit R7).
Alcohol
There are a large number of bars hidden in the warren of lanes off Linsen North Road, many themed to attract Japanese male clientele.
Standing Room

address: 508 Changchun Rd

It is the standing style bar and restaurant with a traditional Japanese hors d'oeuvres, with world wide classic beverages. Its perfect location to have the quick dinner and drink for a busy business person. "Happy Hour" everyday open-20:30.

My Place Bar & Restaurant

phone: +886 2 2591-4269

address: No.3-1 Lane 32 Shuang Cheng St

Still going strong after 30 plus years. Serves great food, has two bars, pool table, and shows live sports on multiple screens. There is outside seating for smokers. One of the premier bars in Taipei for watching the upcoming World Cup. Happy Hour selected beers $100, special draught beer $100 all night.

The Brass Monkey

phone: +886 2 2547-5050

address: 166 Fuxing N. Rd

Great atmosphere with live sports shown on big screens. There's always something going on - it's never a regular night. Friendly staffs are ready to serve you with good food and a wide selection of drinks. Go have a dance on their famous Thursday ladies nights.
Sleep