Takachiho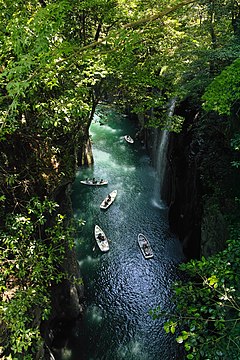 Takachiho
() is a city in
Miyazaki
, Kyushu.
Understand
Both a natural wonder and an important religious site, Takachiho draws over a million Japanese tourists yearly, but few foreigners make it this far.
Takachiho Gorge
is an impressive ravine with countless waterfalls cascading into it, while nearby
Ama-no-Iwato Shrine
contains the cave where, according to myth, the sun goddess Amaterasu hid until Ame-no-Uzume lured her out. Another legend suggests that this is where Amaterasu's grandson Ninigi-no-Mikoto descended to earth to establish Japan's imperial family, but that particular claim is contested by Takachiho-no-mine in
Kirishima National Park
to the south.
Get in
By bus
Takachiho is deep in the mountains in the northwest of Miyazaki prefecture, and is easier to reach from the neighboring prefecture of
Kumamoto
in the west.
From
Kumamoto
city, the inter-city
bus to Nobeoka
reaches Takachiho in about 2 hr 50 min (¥2300), passing by Kumamoto Airport (2 hr, ¥2100) along the way. Pay when exiting the bus, or purchase a discounted round-trip double ticket (valid for 10 days) from the vending machine at Kumamoto central bus terminal (¥4000). Buses leave at 09:11 and 15:31 from JR Kumamoto Station (09:20 and 15:40 from the central bus terminal) and arrive 12:24 and 18:44 in Takachiho.
Westbound buses
depart Takachiho at 08:45 and 17:00 and reach Kumamoto central bus terminal at 11:44 and 19:59 (JR Kumamoto station 8 minutes later). The Kyusan express buses from Kumamoto and the Miyako express buses from Nobeoka are operated by two different companies who do not accept each other's prepaid tickets, but the local buses will accept the tickets of either express bus company.
From
Miyazaki
city, take the JR Nippo Line to
Nobeoka
(1 hr 15 min, ¥1700 by tokkyu), then connect to the
Kumamoto bus
(departs 07:30 and 15:30), reaching Takachiho in one hour (¥1740). This is the best solution for a daytrip, leaving Miyazaki at 06:00 allows one to catch the 07:30 bus, and leaving with the 18:29 bus allows 10 hours to visit. This is also the fastest route if coming in from
Oita
to the north.
From
Fukuoka
, direct buses from the
Nishitetsu Tenjin Bus Center
connect to Takachiho in 3 hr 15 min (¥4020, Sep 2018).
By train
Impossible. The Takachiho Railway from Nobeoka stopped running in 2005 after it was trashed by Typhoon Nabi, although there are plans to resurrect a portion of it as a sightseeing railway.
By car
Hiring a car from any neighbouring city (provided you have a valid local or international driver's license) provides a distinct advantage as it solves the minor problem of getting in but also the much bigger problem of how to get around once in Takachiho (see below).
If planning a daytrip, the
fastest public transport route, bus from Kumamoto, arrives at midday and departs at 04:30 leaving you on a very tight four and a half hour timeframe
. In fact, the timeframe is so tight and the town buses are so infrequent that it is
impossible
to properly see more than one attraction (likely the gorge) without paying out on local taxis; making hiring a car a potentially cost-effective solution.
Get around
A shuttle bus used to operate between Takachiho Bus Center and the gorge (¥140, 5 min), but it's faster anyway to walk down the windy road to the gorge. The walk down will take about 30 min, but the return hike uphill may take somewhat longer. Electric bicycles can be rented (¥300 per hour) from the tourist information center across from the bus center. Another bus connects to the Ama-no-Iwato Shrine, about 10 km and 15 min away.
Local taxi drivers are well aware of this issue. The taxi terminal is adjacent to the bus center, thus they might in fact approach you the moment you alight from the bus. If not, they will be sleeping in their vehicles waiting for passengers. They know the routine well, but their assistance obviously comes at a price, from ¥1000 for the 7-min trip to the gorge.

See
Takachiho GorgeCarved by the Gokase River, one of the main highlights is the 17-m Minai-no-taki Waterfall, best viewed by renting a boat (¥1500/30 min for up to 3 people) and going for a paddle, since the current is gentle and easy to navigate. But there is also a 300-m hiking path beside the river, which passes several striking rock formations, and terminates at a small rest area, parking lot, and bridge across the rapids in the narrowest part of the Gokase River.

Ama-no-Iwato ShrineThe cave where Amaterasu hid and the shrine protecting it. This being a Shinto site, the cave is much too holy to let mere mortals inside, but there's an observation deck across the river and pilgrims have stacked countless stones on the paths around the shrine.
Buy
Miyazaki
's standard array of souvenirs are available here, namely delicious mango-flavoured
everything
. Keep an eye out for the signs emblazoned with Miyazaki's mascot: a cutesified (but startling accurate) image of Hideo Higashikokubaru, a comedian and the prefecture's former governor, dressed up like a used-car salesman.
Kagura senbei is unique to takachiho and its folklore. These rice cakes have images of the traditional yokagura dance baked into them.
Eat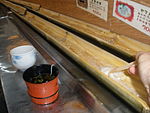 Onokoro Jaya TeahouseLocated at the base of Takachiho Gorge itself, perched on a cliff atop the boating area. Although the gorge views are reserved for the kitchen staff, the gardens facing the shopfront are amazingly beautiful in their own right. Drinks are priced a touch above average at ¥400 a coffee, ¥400/600 a beer, ramune ¥150 and ¥500 for the eponymous Japanese green tea. However, the real attraction here is the food. In addition to a variety of delicious fishy treats, this teahouse offers Nagashi Somen (そめん流し, lit. flowing noodles), where for ¥500 per person, you are issued a set of chopsticks, a cup of dipping sauce and must catch your noodles as they rush towards you down a bamboo flume. The clusters come progressively thicker and faster but don't worry, any you miss are caught in a basket and given to you at the end as a consolation prize (provided your friends don't nab them first!) It's a lot of fun and provides some sweet justification for any money you may have spent honing your rhythm game skills in the local arcade.

Chiho no Ie TeahouseAnother teahouse adjacent to the one above listed above. This establishment too serves Nagashi Somen, packing not four but a whopping eight bamboo chutes. As is typical with competing eateries in Japan, the prices are largely identical so pick whichever is least crowded. The takachiho beef grill or rice bowl is also a must try here. Known for its sweetness, Japan-famous Miyazaki cattle here are fed with squeezed beer curd and once won national best wagyu awards.
Sleep

There are at least two hotels in Takachiho town, plus a fancy hotel located directly above the gorge (where the trail begins).
Allegedly there is a campground facility downstream in the gorge. However, as of July 2010, the section of trail from the boat rental shop leading to the campsite meanders straight into a no entry sign (and if you care to peek beyond, the trail meanders into an impassably deep whirlpool). A vehicular road also connects to the campsite but its a rather indirect route, but doable by walking in the direction of the takachiho temple on the nature trial till the small temple bridge.
In the winter months, you can also go for overnight yogura dance events in yogura halls which last till morning. As the selected hall/location change everyday and the schedule is dotted with rest days, you should enquire in advance on online websites. However this trouble is worth the calmaradi experience.

Connect
The Takachiho tourist information office (official site English) is on the corner opposite the central bus station.
Go next
Many japanese drive to Kunimigaoka, the nearby mountain peak 7 km away, for magnificent sunrise viewing. You will get to see the sun peeking over a sea of clouds blanketing the many mountains.