Takamatsu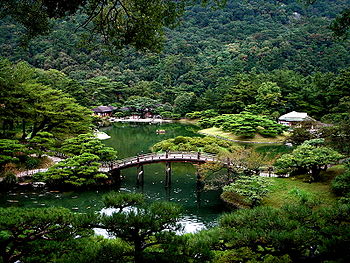 Takamatsu
(高松) is the largest city in
Kagawa Prefecture
on the island of
Shikoku
,
Japan
.
Understand
The city developed over many years as a port town at one of the primary entry points into Shikoku and is therefore known as the "Gateway to Shikoku". It has come to be known as the "Udon Kingdom".

Climate

July and August can get quite warm. The winter months of January and February are the coldest, with occasional nighttime freezing temperatures.

Get in
By plane
The closest major airport to Takamatsu is
Kansai International Airport
in
Osaka
. There is a curiously-named bus called the "Airport Limousine" which runs directly between Kansai Airport and Takamatsu that makes seven round trip runs per day (¥5150 one-way; 3½ hours). It is not, however, a limo.
Takamatsu AirportTakamatsu has a tiny airport but there are only a few places you can get to from it. Service from the Takamatsu Airport from Tokyo's Haneda Airport is offered by JAL and ANA, Japan's two major airlines. JAL also offers service to Kagoshima, and ANA also offers service to Okinawa. Asiana Airlines offers international service to Seoul Incheon Airport. But cheapest of all is Spring Airlines from Shanghai (twice a week, Tuesday/Friday), with fares starting at ¥3000 each way. Check the schedule for these flights (in Japanese). Limousine buses connect the airport to the Takamatsu train station (40 min, ¥760).
By train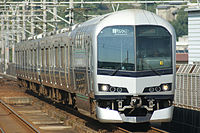 Train service between
Okayama
, on Japan's main island of
Honshū
, and Takamatsu began operation in 1988 after construction of the Great Seto Bridge, allowing the train line to cross the
Seto Inland Sea
. It is the only railway link between Honshū and Shikoku.
For getting to Takamatsu, the ideal train to ride is the
Marine Liner
(マリンライナー), which runs directly between Okayama Station and Takamatsu Station. Trains run twice per hour in both directions (¥1,470 one-way; 55 minutes). Because the Marine Liner is classified as a 'rapid' (快速
kaisoku
) train, the
Seishun 18 Ticket
is valid. Reserved seating and First Class Green car seating are available in one bi-level car on the train (¥510 and ¥950 from Okayama respectively). Like all JR trains, the ride is free for those with a Japan Rail Pass, and you can make a free seat reservation for the reserved car if you wish. If you are traveling south to Takamatsu and you get lucky, you may be able to sit in one of the three Green car seats at the front of the train - right behind the driver - and watch the view from the front as the train makes its journey.
A limited express train (特急
tokkyū
) called the Uzushio (うずしお) runs hourly to Takamatsu from
Tokushima
(1 hour, ¥3,070). A few Uzushio trains run between Takamatsu and Okayama on the exact same route as the Marine Liner; you have the option of using those trains if you have a Japan Rail Pass, but generally you should use the cheaper and more frequent Marine Liner.
Okayama Station, being a primary station on the bullet train line (
shinkansen
), is a convenient place to connect to and from other parts of Japan:
Hiroshima
, 1 hr 40 min;
Osaka
, 2 hr;
Tokyo
, 4.5 hr.
An overnight sleeper train called the
Sunrise Seto
(サンライズ瀬戸) makes daily runs between Takamatsu and Tokyo Station. The train ride lasts about 9½ hours. One-way prices vary, but a regular seat will cost at least ¥15,000, and a sleeper car will cost at least ¥20,000. Tickets and exact pricing are available from a JR ticket office or Japanese travel agency.
By bus
There are several options to travel by bus to/from
Honshu
, particularly the
Kansai
region. Buses can be booked online.
By ferry
Jumbo FerryThis ferry runs 4 times daily between Kobe and Takamatsu. At both ends of the ferry, buses connect the ferry boarding point to the nearest major station - San'nomiya Station and Takamatsu Station, respectively. The Kobe-side connecting bus costs ¥200 and takes 5 minutes, the Takamatsu-side connecting bus is free and takes 15 minutes. The ferry sails under the Akashi Straits Bridge, and udon is available on board.

Shikoku KisenFerries (50-60 minutes) and speedboats (25 minutes) between Naoshima and Takamatsu.

Utaka-Kokudō FerryThis ferry offers regular services between the Uno area of Tamano in Okayama Prefecture and Takamatsu. The trip takes about 55 minutes, and there are 44 round-trips daily. The ferry boarding points at both ends are close to the respective nearest train station. The ferry sails across the Seto Inland Sea between several islands.
Get around
On foot
While it's possible to visit certain groups of sites on foot, it is not recommended. Many sites are spread out, so walking will be impractical and time-consuming for most travelers.
By bike
Takamatsu is extremely bike-friendly. In fact, it was designed with bike travel in mind.
To match the city's bike-friendly design, Takamatsu has one of the best rental cycle systems in Japan; you can keep your rental bike overnight and it is extremely inexpensive overall. The system is so good and there are so many bikes available that many locals use the system as well, unlike most rental cycles in Japan which are designed exclusively for tourists. You can rent a bike for just ¥100 per day ... and by "day" they don't mean until the end of the day, they mean a full 24-hour period from the moment you rent the bike. You can rent the same bicycle for up to 72 hours by informing the staff when you rent the bike.
There are seven rental cycle stations around town, including one in the basement of the bicycle parking area in front of Takamatsu Station. If you walk out of the station, just look for some stairways leading underground with bike signs above. Before your first rental you'll be asked to fill out a short application and submit some kind of official photo ID. You'll be issued a renter ID card for future rentals. Filling out the application and renting a bike in general with no Japanese should not be a challenge.
Train
The
Kotoden
(琴電), or
Takamatsu-Kotohira Electric Railroad
, is also a viable means of getting around parts of downtown Takamatsu. The Kotoden is convenient for going between Ritsurin Park, Kawaramachi, and the Takamatsu Station/Castle area.
JR lines, used more for inter-city travel, don't run terribly often and are not very well-suited for getting around town, particularly the city center.
See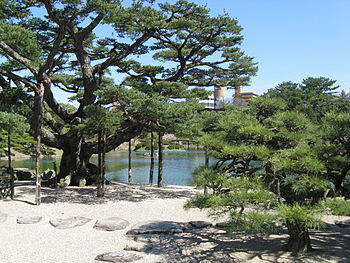 Downtown
phone: +81 87 833-7411

address: 1-20-16 Ritsurin-cho

A beautiful and very large Japanese landscape garden built for the Sanuki and Sasuma lords and has been designated a Japanese National Treasure. It is full of intriguing items and spectacular views; it is likely to cause even those who have lived in Japan long-term to have a "Wow, I'm really in Japan!" moment. Although it is not one of the official top three gardens of Japan, it is undoubtedly one of Japan's most impressive gardens, and it benefits from generally being less crowded than the top 3. Some of the garden's highlights include the Engetsu-kyō Bridge (偃月橋; primary symbol of the park), the Okedoi-no-Taki (桶樋滝) Waterfall, the 'Red Wall of Rocks', a lotus pond, a lot of Japanese pine trees including the turle+crane rock, and other impressive sights. The park also contains three tea houses, a restaurant, and a folk craft museum. You can experience tea ceremony lite at the tea houses for small additional fee. On the map you receive when you purchase your ticket (and on the website), you'll find several walking routes, including one specifically designed for handicap visitors.

phone: +81 87 851-1521

address: 2-1 Tamamo-cho

A picturesque park and the former site of Takamatsu Castle, which played an important role in the city's history. The main tower of the castle, dismantled during the Meiji era, is being rebuilt. There are a number of buildings within the complex, and in early April it is a popular place to see the cherry blossoms.

phone: +81 87 822-0002

address: 5-5 Tamamo-cho

Contains exhibits on the history, traditions, and people of Kagawa Prefecture, formerly known as Sanuki Province. Much of the information is only available in Japanese; however, a free English audio guide is available for the permanent Kagawa history exhibit on the top floor.

Takamatsu City Museum of ArtThe permanent exhibit is rather small, although it does contain a smattering of works by famous artists, such as Andy Warhol. The main draw and what most of the museum is dedicated to, are the special exhibits which change every few months.

phone: +81 87 811-1676

address: Sunport 2-1

This building has several observation decks with views of the sea and nearby peninusulas. There is also a shopping mall with many restaurants in the eastern building.
Yashima
Ten minutes by train to the east is
Yashima
(屋島), a peninsula famous as the site of the
Battle of Yashima
in the
Genpei War
in 1185. There are many sites to see for those interested in the local history. To get to Yashima, take either the local train, from Takamatsu-Chikkō Station with one transfer, or the JR train, from Takamatsu Station. Either one takes about 15 minutes.
Yashima Temple

phone: +81 87 841-9418

address: Higashimachi 1808, Yashima

Yashima Temple Museum

phone: +81 87 841-2678

address: Higashimachi 1785-1, Yashima

phone: +81 878 43-3111

address: 91 Nakamachi, Yashima

An interesting open-air museum with old houses collected from all around Shikoku. Inside the open-air museum there is a small art museum with works of Western artists including Pablo Picasso. The building has a nice garden with a nice panorama and was designed by Tadao Ando.

Yashima Shrine

phone: +81 87 841-9475

address: 屋島中町140

This shrine was built in 1652, and has been rebuilt since.

Tamamo Breakwater & LighthouseThe breakwater makes for a nice stroll at sunset, with an illuminated red lighthouse at the end.

address: 3519 Mure, Mure-cho

Isamu Noguchi is a well-known Japanese-American sculptor from Los Angeles. He established a studio here in 1969, which is why the museum was built. For Noguchi fans in Takamatsu, his work "Time and Space" can be found at Takamatsu Airport. Reservations are required in order to visit. Foreign visitors can make a reservation by email. Those residing in Japan should apply by sending a letter with return-post. Write the number of visitors in your party and then each person's name, age, and address followed by your desired tour date and times (you can rank the times in order of your preference).

Stone MuseumA museum full of objects made from stone.
Do
Festivals and events
Sanuki Takamatsu FestivalThe first day is the opening; the second day is a fireworks festival; the last day is a dance festival. Visitors can enjoy the central park, the shopping arcade, and the "Sunport" district.

Winter FestivalSee beautiful Christmas displays at the central park.

Shionoe Firefly FestivalA festival to celebrate the flying insect.
Buy
Takamatsu has many long arcade-style shopping streets, called
shōtengai
(商店街), giving the city's shopping a more traditional feel. You'll find shops of all sorts on these streets, and lots of udon shops. They are concentrated in the portion of the city between Takamatsu Station and Kawaramachi. They are:
Hyōgo-machi (兵庫町)
Katahara-machi (片原町)
Marugame-machi (丸亀町)
Lion Avenue (ライオン通 Raion-dōri)
South Shinmachi (南新町 Minami-shinmachi)
Tokiwa-gai (常磐街)
Tamachi (田町)
Eat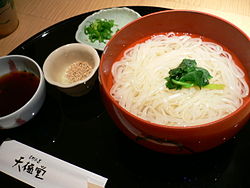 Udon
Takamatsu is extremely well-known throughout Japan for its
udon noodles
, one of the three major types of Japanese noodle dishes. Udon noodles are distinctive in that they are white, fairly thick, and chewy. Although udon is widespread in Japan, Takamatsu does it better and cheaper than anywhere else in the country. There are literally hundreds of udon shops within the city limits. Because local foods are often a driving force in Japanese tourism, many people flock to the city for the udon, often doing "chain-eating" tours around the city to famous shops.
Udon made in Takamatsu and the
Kagawa
perfecture is sometimes refered to as
Sanuki udon
. 'Sanuki' was the historical name of Kagawa. While this can be considered a regional specialty of Kagawa, the Sanuki variety is so widely-loved throughout Japan that it is often thought of as the 'normal' type, and is what most people imagine when they hear the word 'udon'.
The average Takamatsu udon shop has a variety of udon dishes available. Some of the standard types are listed below but there are many more types; different toppings (raw egg, for example) lead to different names. It's rare for a typical bowl of udon to cost more than ¥1,000; the simpler types usually cost around ¥400, with some places offering noodle bowls for as little as ¥100. Ask locals about good udon shops since they are sure to know some. Udon is cheap, and it's a simple but tasty item that is easy to eat even for those who don't especially take to Japanese food, so travelers should make an effort to at udon
at least
once while in Takamatsu.
Kake udon - (Hot) The most basic variety. The noodles come in a hot dashi and soy-flavored broth and will likely have sliced onions thrown in. Some places may also add a slice of kamaboko (fish sausage) as well. You're likely to have a pinch of ginger added to the broth.
Kitsune udon - (Hot) Like kake udon, but with a large slab of fried tofu in the bowl.
Tempura udon - (Hot) Also like kake udon, but with a some tempura thrown in for good measure. Typically the tempura will be shrimp plus a vegetable or two, however at the cheapest places the tempura will be kaki-age, a vegetable-shrimp patty.
Kama'age udon - (Hot) Identical to zaru udon in manner of eating, however noodles come hot instead of cold. As far as taste is concerned, it's quite similar to kake udon.
Zaru udon - (Cold) Cold noodles come on a wooden tray. From there, you pick them up, dip them into a soy-based broth that comes with the dish, and then eat.
Budget
phone: +81 87-822-1956

address: 2-1 Daikumachi

Sanuki udon noodle restaurant.

address: 1520-12 Tahi Shimomachi

Dinner served by nudes. Must be at least 20 years old to enter.

address: 5-2-23 Bancho

Tsurumaru

phone: +81 87 821-3780

address: 古馬場町9-34

One of the more noteworthy udon shops in town. Specializes in curry udon. An English menu is available.

phone: +81 87-862-4705

address: 1-6-7 Tagacho

Udon Honjin Yamadaya Sanuki Honten

phone: +81 120-04-6522

address: 3186 Murecho Mure

address: 2-1 Daikumachi

Udon noodle restaurant operating since 1975.
Mid-range
phone: +81 87-823-3711

address: 4-11 Kajiyamachi

Chicken restaurant.
Drink
Bars
phone: +81 80-5089-5735

phone: +81 86 234 2121

phone: +81 87 811 5228
Cafes
phone: +81 87-837-0777

address: 3 Chome-20-11 Shiogamicho
Sleep
There are cheap business hotels around JR Takamatsu Station and Ritsurin-koen.
Budget
phone: +81 878-97-3177

address: 2-1-7 Kawaramachi

A capsule hotel with several varieties of saunas. Men only.
Mid-range
phone: +81 878-51-0558

address: 1-4-19 Nishikimachi

A short walk from JR Takamatsu Station. All rooms have WiFi. Large Western-style business hotel, well-suited for single travelers or large groups.

phone: +81 878-32-5489

address: 1-10-10 Kawaramachi

A modern Western-style hotel with a pleasant rotemburo (open-air bath) at the top.

Toyoko Inn Takamatsu Hyogomachi

phone: +81 87-821-1045

address: Hyogo-machi 3-1

This is a branch of the national business hotel chain. The rooms are clean and comfortable, though not large. Japanese-style breakfast is included in the price. There is wired internet in each room and computers for use in the lobby. Reservations can be made online in English, though the clerk is not likely to speak much.

Castle Hotel Takamatsu

address: 4-8 Tsuruyamachi, Takamatsu

This hotel could easily be your best budget japanese style hotel experience. Japanese style rooms have a tea table, tv, kettle, fridge, a separate sleeping area with futon and a real japanese bath. Every room has yukata (kimono style robe) ready for guests. Friendly owner speaks good English. Don't get confused as the hotel is not marked in English. It's the first building after the railway crossing. The same railway crossing won't let you sleep early or late as it starts beeping every ten minutes from 6am to midnight.

phone: +81 87-822-3382

address: 2-19 Nishinomarucho

Clean, affordable business hotel next to the station. Free coin lockers in the lobby to store your stuff.

phone: +81 87-811-1111

phone: +81 87-821-0109

address: 9-9 Hyogomachi

phone: +81 87-831-1511

address: 2191-1 Kitacho

phone: +81 87-823-8100

Takamatsu Washington Hotel Plaza

phone: +81 87-822-7111

address: 1-2-3 Kawaramachi

phone: +81 87-823-7801

address: 2-23 Nishinomarucho

phone: +81 87-822-7111

phone: +81 87-812-2222

Business Hotel Parkside Takamatsu

phone: +81 87-837-5555

address: 1 Chome-3-1 Ritsurincho
Go next
Takamatsu is the main entry point for
Shikoku
and from here the entire island is your oyster.
Nearby islands in the
Seto Inland Sea
:
Naoshima, a small island on Seto Inland Sea with superb contemporary art museums, is one hour away by boat.
Shodoshima, the second-largest island in the Seto Inland Sea, known for its soy sauce factories and olive production, is accessible by ferry; the island boasts enough sights to occupy a day or two
Easy day trips to the mainland:
Okayama, home to the beautiful Korakuen Garden, one of Japan's top three gardens, as well as the beginning of the Kibiji District Trail
Kurashiki, famous for the Bikan Historic District, one of Japan's largest and best preserved historic neighborhoods.
Tsuyama A wonderful little town famous for Kakuzan Park, which contains the ruins of Tsuyama Castle and thousands of cherry blossoms within its precincts, the historic Joto Street, and the beautiful Shurakuen Garden.