Takarazuka
Takarazuka
is a city in
Hyogo Prefecture
,
Japan
.
Understand
Takarazuka is a bedroom community city, in which residents typically work in nearby Osaka.
The city is known for its hot springs and for its all-female Takarazuka Revue, both of which are now the main draw for visitors.
Most people who visit Takarazuka are domestic travellers, with the largest group being middle-aged people and the older crowd.
For manga fans, the Tezuka Osamu Manga Museum located here is a must-visit. The manga artist, most well known for creating the character Astro Boy, grew up in the city, watching the Takarazuka Revue as a boy.

Get in
By plane
The nearest airport is
Osaka-Itami
, which is 20 minutes away by car. There is a limited direct Hankyū Bus service to Takarazuka, taking 25 minutes and costing ¥240, but a better option is usually to take the Monorail one stop to Hotarugaike and change there to the Hankyū Takarazuka Line (30 minutes, ¥420).
Another nearby domestic airport is
Kobe
Airport, which is an hour away by car. From there, take the Port Liner to Sannomiya, then take the train (see below).
The nearest international airport is
Osaka-Kansai
, which is 1 hour 20 minutes away by car. From there, take the JR Kansai Airport Rapid train to Osaka and change there to the JR Takarazuka Line; allow 1 hour 50 minutes and ¥1710.
By train
Most passengers come in through
Osaka
, from where there are two competing lines:
The JR Takarazuka Line (also known as the Fukuchiyama Line) offers four Rapid and Tambaji Rapid trains per hour from Osaka Station, taking 25 minutes and ¥330.
JR also offers the Kōnotori Limited Express service, which generally runs every hour between Shin-Osaka and Fukuchiyama, with some trains continuing to Toyooka or Kinosaki Onsen. From Osaka this costs ¥1700 and is barely faster than the Rapid trains, so these are only worth using if you have a suitable rail pass or are coming from the north.
The Hankyū Takarazuka Line offers six Express trains per hour from Umeda Station, taking 35 minutes and costing ¥280.
You can also take the Hankyū Kobe Line to Nishinomiya-Kitaguchi, then change to the Imazu Line; this takes 35 minutes and ¥280 as well. If you are going to or from Takarazuka-Minamiguchi Station, you should take this route.
From Shin-Osaka, the nearest Shinkansen station, there are four direct Local trains per hour to Takarazuka, taking 45 minutes and costing ¥500. You can save up to 15 minutes by taking any Rapid or Special Rapid train two stops to
Amagasaki
and changing there to any Rapid or Tambaji Rapid train. From
Tokyo
, allow 3 hours 20 minutes and ¥14,990 (3 hours 45 minutes and ¥14,680 if avoiding
Nozomi
trains; this is assuming that you take JR services from Shin-Osaka.)
From areas of Osaka south of Umeda, another option is to make your way to the
JR Tōzai Line
, which offers good connections to most of Osaka's subway lines (but especially the Sennichimae and Sakaisuji Lines, which do not serve Umeda). During the mornings and evenings this offers frequent direct Local and Rapid trains to Takarazuka, but during the daytime you will have to change at Amagasaki. Taking this route from Kyōbashi takes 40 minutes and ¥500.
From
Kobe
, there are two options:
Take the JR Rapid or Special Rapid to Amagasaki, then change there to a Takarazuka Line Rapid train (40 minutes from Sannomiya, ¥760).
Take the Hankyū Line to Nishinomiya-Kitaguchi, then change there to an Imazu Line train to Takarazuka (30 minutes from Kobe-Sannomiya, ¥280).
From
Kyoto
, there are also two options:
Take the JR Special Rapid to Amagasaki, then change there to a Takarazuka Line Rapid train (1 hour 5 minutes from Kyoto, ¥1140).
Take the Hankyū Limited Express to Jūsō, then change there to a Takarazuka Line Express train (1 hour 15 minutes from Kawaramachi, ¥530).
JR services to Takarazuka are covered by the Japan Rail Pass, the
Hokuriku Arch Pass
, and
JR West
's Kansai Area Pass, Kansai WIDE Area Pass, Kansai-Hiroshima Area Pass, Sanyō-San'in Area Pass, and Kansai-Hokuriku Area Pass.
By bus
JR Bus Kantō
and
West JR Bus
run two overnight buses from Tokyo Station (Yaesu South Exit) and
Shinjuku
, taking 9 hours 15 minutes. Prices vary widely, from ¥4000 to ¥11,000.
Takarazuka Interchange (3 km east of Takarazuka Station) is served by several long-distance bus routes between Osaka and Western Japan. None of these buses may be used for travel between Takarazuka and Osaka.
Get around
Many of Takarazuka's main attractions, hotels and shops are located in the vicinity of the Hankyu Takarazuka Station and the Takarazuka Minamiguchi Station. Most of them are within walking distance.
If you are not staying at a local hotel, take note of the last train times at both stations (usually at or around 01:00), or you might find yourself with no transportation out of the city.

See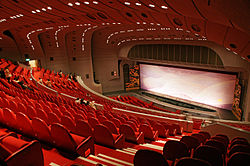 address: 1-1-57 Sakaemachi, Takarazuka-shi, Hyogo 665-8558, Japan

The most famous and popular attraction in the city, this theater is home to the all-female Takarazuka Revue. The most famous actresses are the women who play male roles (男役 otoko-yaku), and it is for them that the theater is so popular. They make it quite easy to get lost in the story, forgetting that none of the men on stage are actually men. It is generally easy to get tickets at the door, but joining the queue at about 8am is recommended during weekends as shows are more likely to sell out on these days.

address: 7-65 Mukogawachō

A museum dedicated to Osamu Tezuka (1928-89), the author of works such as Astro Boy and Kimba the White Lion, who became known as 'the god of manga' even within his own lifetime and is often considered the Japanese equivalent to Walt Disney, whose films were a major influence on him. He was born in nearby Toyonaka but spent much of his life in Takarazuka, often seeing the Takarazuka Revue with his mother in his childhood, and became an honorary citizen. The museum features information about his works, screenings, artwork, and personal life. Most information is in Japanese only.
Do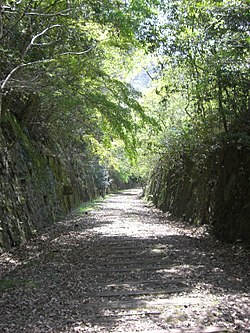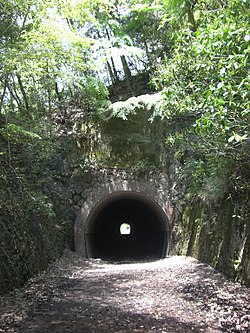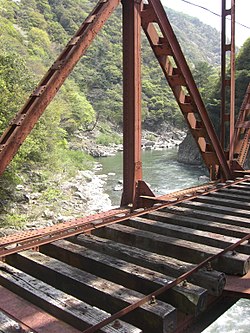 Hike along the old abandoned railway. Catch the train to JR Takedao Station from JR Osaka. (roughly 40 minutes). There is no ticket machine at this station, so a sneaky person might save money and travel there on the minimum ¥120 fare. The walk is about 6 km long and is flat. Difficulty level = 2/5. It takes about 2 hours. Key features: spectacular river views, rapids, gorge, cherry blossoms, red and yellow leaves in Autumn, train tunnels. Great for photography. When you exit the train station turn left and follow the river along and around to some steps up onto a small bridge (not across the main river, but a sidearm when the street turns left). Cross the bridge and you will come to the old train track sleepers. Follow them along the river. You will have to walk through 6 old train tunnels and that is what makes this hike so interesting. Make sure you bring good hiking shoes and a flashlight. You cannot walk through the tunnels without a flashlight. There are also nice places next to the river for a picnic. When you get to the end, walk towards the massive overpass and keep walking about 1km. Eventually you will come upon some T-intersections, turn right up the hill at the second traffic light towards Namaze station. You'll also find Hankyu Bus stops along the main street. Have fun.
Stroll along the Hana no Michi street when cherry blossoms are in season (usually late March or early April). Just across the road from the Hankyu Takarazuka Station, the popular scenic spot is also near the Hana no Michi Seruka buildings which feature plenty of shops. The entire street is lined on both sides with cherry blossom trees and the low hanging branches envelop visitors in a gentle curtain of pink along the entire 100m walk. Visit on a Wednesday or just after lunch hour, as most visitors who have come to watch performances at the Takarazuka theater just beside would have gone in.
Events
Takarazuka Gala Fireworks FestivalOne of the oldest fireworks festivals in Japan, the Takarazuka Gala Fireworks Festival is a yearly highlight of the city's events. The spectacular fireworks display takes place at the Mukogawa River around Kanko Dam.
Buy
address: 2-1-1 Sakaemachi, Takarazuka City

A nice, small-town mall comprising a Hankyu department store, various speciality shops, cafes and restaurants. Good for getting daily goods or doing a little shopping when in the city.

address: 1-1-57 Sakaemachi, Takarazuka-city, Hyogo 665-8558, Japan

The Takarazuka Revue's official gift shop. There are many other shops inside the theater complex. Aside from books, multimedia and items related to the Revue's performances, visitors can also find a wide range of special pastries, baked goods and sweets unique to the Revue and the city.
Eat
There are numerous restaurants and cafes in Takarazuka, serving Japanese or Western fare, or a mixture of both. Shops and eateries located in the vicinity of the Takarazuka Revue theater often plan their closing hours and days around the operating hours of the theater. Many close early on Wednesdays, or take a break altogether, as there are no performances at the theater.
address: 1-46 Umeno-cho, Takarazuka-shi, Hyogo-ken 665-0004, Japan

The cafe restaurant at Takarazuka Hotel offers both Japanese and Western fare at pretty affordable prices.

address: 2-12-14 Takarazuka Minamiguchi, Takarazuka, Hyogo, 665-0011, Japan

A popular sandwich cafe among regular visitors, LeMans offers a wide range of homemade western-style sandwiches. Good place for lunch, but might be crowded with people between performances from the Takarazuka Revue theater. The main shop in Minamiguchi does takeaways and home delivery only; for those who want to eat in, there is a second shop on the 2nd floor of Hananomichi Cerca.
Drink
address: 2nd Floor, Hananomichi Cerca Building 1, 1-6-1 Sakaemachi

This is an English pub with very nicely decorated premises. They are open for lunch and offer drinks at pretty reasonable prices.
Sleep
The larger hotels in Takarazuka typically cater to either hot spring visitors or the theater-going crowd. As such, rooms may be booked well in advance and vacancies might be few, so do book early.
phone: +81-797-87-1151

address: 1-46 Umeno-cho, Takarazuka-shi, Hyogo-ken 665-0004, Japan

The oldest hotel to be run by Hankyū Hanshin Hotels, opened in 1926, and the official hotel of the Takarazuka Grand Theater. The hotel has a classical European feel similar to the Revue's many romantic plays. Rooms are large by Japanese standards. Some staff are able to speak some English and the service is good. The hotel is due to move to the other side of the Muko River (between Takarazuka Station and the Grand Theater) in spring 2020.

address: 2-2-2 Sakaemachi, Takarazuka-city, Hyogo 665-0845, Japan

An affordable hotel catering mostly to people who visit the city for its Revue performances. Offers single, double and Japanese-style rooms.

address: 9-25 Yumoto-cho, Takarazuka-shi, Hyogo, Japan 665-0003

An onsen hotel that offers hot spring bathing in the Takarazuka Hot Spring, which was discovered some 700 years ago.
Go next