Talysh Region
Talysh Region
is a region in southeastern
Azerbaijan
, which includes the Astara, Bilasuvar, Jalilabad, Lankaran, Lerik, Masalli, Neftchala, Sabirabad, Salyan, and Yardymli rayons.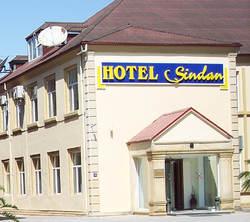 Cities
– Sightseeing, hot springs, national parks, water reservoirs, and much more.
– Warm climate throughout the year and beaches nearby.
– Nothing special here.
– One of the most ancient settlements of Azerbaijan and archaeological site.
(Neftchala) – Interestingly located at in a muddy river delta, great for its landscape and mud volcano.
– Similar to Ganja, but probably not as exciting.
– Known for its caviar processing.
– Deep in the mountains.
Other destinations
phone: +994 25 257-6046, +994 25 257-6266

The area of this national park is . It has 150 kinds of trees and bushes in the park area and 36 of them are endemic. The fauna in the national park includes a few endemic birds, and there are also some other interesting rare species there. One can meet lynx, wild boars, spot antlers, jackals, and Asian leopards in the park. As for birds, woodpeckers, Hirkan tits, and stone sparrows can be noted. Hirkan tits are endemic here. The woods in the territory of the park are two and three stories tall. There are mainly chestnut leaf oak, iron-wood, the Caucasus persimmon, false nut, and Lankaran acacia trees in the lower part of the park. The iron-wood tree (demir agaj) is unique in its density that it sinks in water. It is almost indestructible by pests and is only native to a narrowly restricted area in the Talish hills around Lankaran.
Ghizil-Agaj State ReserveThe area of the State Reservation is 88,360 hectares. As a result of scientific research in this State Reservation 23 sorts of mammals, about 270 sorts of birds, 12 sorts of reptiles and 47 sorts of fish have been observed. Every year, a lot of birds come to Gizilagaj State Reservation to make nest from the East countries such as yellow and wild heron swans, flamingo, wild ducks beside it flamingo, river ducks, and swans are inhabited in this State Reservation. Fishes such as sazan, herring, seal, omul, grey mullet, pike, salmon and mammals such as swine, hares, jackals, foxes, badgers, beavers wild boars, and water squirrels can be found in this reserve. Unfortunately, there is virtually no touristy infrastructure there. And it will be hard to explore anything. Furthermore, parts of the land south of Neftcala belong to the oil companies and entering it can be a challenge.
Get in
Get around
Azerbaijan has a well developed bus system between the local city and village terminals.
Drivers are commonly friendly with backpackers and road trippers, so auto-stop is equally an option to travel within the region.
See
Sea Port Oil PipeVisit this interesting piece of coast where a long bridge enters the sea for the purpose of delivering oil back to the land from tankers. The local security will be more than happy to show you the bridge. Also the sea is very rough with strong winds, delivering a great experience and view.

Yanar BulağThis area contains a water spring that burns constantly as if it were a gas lit flame.
Mud volcanoes
Duzdağ Mud Volcano

Durovdag Mud Hill30 m high, numerous mud volcano cones and hundreds of active gryphons can be found. Very impressive and beautiful.

Babazanly Mud VolcanoIf nothing is there, try .
Do
Iran border & Hot springsJust west of Artupa village in Astara is the southern part of Hirkan National Park. The road to the park runs along the Iran border where a long stretch of barbed wire fencing and a guarded iron bridge in Iran are plainly visible. The guard will sometimes wave back to gawking tourists. At the end of the road are natural hot springs that merge with the river. Here you can alternately dip in the hot springs and the cold river.

Istisu SanatoriumSanatorium/hotel, but you are probably better off with the hot springs near Lankaran.