Tama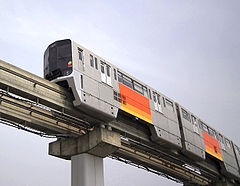 Tama
(
Tama-shi
) is a western suburban city of
Tokyo
.
Understand
Tama is a sprawling place, but the central, city-like bit of it is, appropriately enough, known as Tama Center (多摩センター), and Tama's three train/monorail lines converge here.
One of the first things you see on arrival at Tama Center train station is a glowing sign proclaiming "Tama is Hello Kitty's Town". Although there is more to Tama, getting up-close-and-personal with Sanrio's signature feline is the main draw for visitors to this part of Tokyo.

Get in
The Keio and Odakyu private railways operate out of
Shinjuku
Station. Using either of these lines, you can reach Tama in about 40 minutes.
On the Keio line (¥330), take a
Rapid
(
kaisoku
; 快速) or
Express
(
kyūkō
; 急行) train bound for Hashimoto, and get off at
Keio Tama Center
(京王多摩センター). These trains generally leave from Shinjuku every 10 minutes during most of the day, with departures
alternating
between the main Keio platforms, and the adjacent Toei Shinjuku Line platforms. (Toei Shinjuku Line trains merge with the Keio line at Sasazuka.)
On the Odakyu line (¥360), the stop for Tama is, appropriately,
Odakyu Tama Center
(小田急多摩センター). You'll need to change to a Tama Line train at Shin-Yurigaoka (新百合ヶ丘).
The Tama Toshi Monorail is less useful for those coming from central Tokyo; it connects to the JR Chuo Line at Tachikawa.
See
phone: +81 42-591-1611

address: 7-1-1 Hodokubo, Hino

Like its better-known counterpart in Ueno, this park is run by the Tokyo municipal government. While it's not spectacularly large, the conditions seem more humane than at the older Ueno Zoo, which many western visitors find downright depressing. Directly across the street from the entrance to the Tama Zoo is a small train museum, including a very large model train set.

Tama CenterA major shopping center, and if you're this far from central Tokyo, it's probably worth your while to do some shopping here before making a special trip all the way to Shinjuku or Ginza. As Tama Center has become a major destination for residents of western Tokyo, it's grown from a big lifeless mall to a local landmark. Musicians, jugglers and other performers often play at the station, and the mall is illuminated for Christmas from November 6th to the New Year.

Warner Mycal Cinemas
Do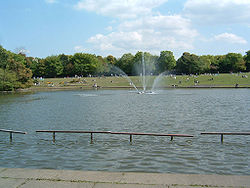 There is a local radio station called FM-Tama that has information on local events.
phone: +81 42-338-6837

address: 2-35 Ochiai

A park with a lot of nature and a pretty big pond. It's nice to see people reading books, talking, and sitting on the grass.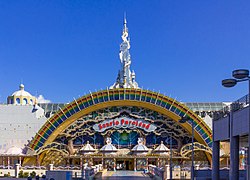 phone: +81 42-339-1111

address: 1-3 Ochiai

A theme park dedicated to Hello Kitty and her cute clones.

phone: +81 44-966-1111

address: 4015-1 Yanokuchi, Inagi

An amusement park.

phone: +81 42-357-8626

address: 1-30-1 Ochiai

A large public hot spring.
Buy
MitsukoshiA high end department store. This is a chain; there are branches across the country.

Grand Cru

phone: +81 42-371-7788

address: Odakyu Tama-Center Station, 1-11-2 Ochiai

A cake shop. The cream-filled rolled sponge cake is popular.

Cross Garden Tama

phone: +81 42-313-8439

address: 2-33 Ochiai

Buy miscellaneous goods, clothes, furnitures, and accessories! There are some restaurants, too.
Eat
Tama has plenty of fast food and chain restaurants, including two Wendy's and three Saizerias.
phone: +81 42-355-7370

address: Ochiai 1-8-1

A Japanese izakaya chain.

Masala

phone: +81 42-374-1912

address: Sekido 1-1-5

An Indian curry restaurant.
Drink
Uotami

phone: +81 42-375-9188

address: Magurebu Building 4F, Ochiai 1-39-2

Alo Alo

phone: +81 42-311-4190

address: Ochiai, 1-2-19

A Hawaiian bar.
Sleep
Splurge
phone: +81 42-374-0111

address: 1-43 Ochiai

A high-end hotel chain with mediocre service.