Tampa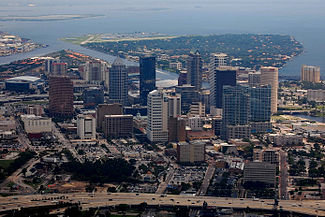 The city of
Tampa
is the county seat of
Hillsborough County
and the largest city in
West Central Florida
.
Understand
Tampa is on the north shore of Tampa Bay in West Central Florida.
Saint Petersburg
lies west of the bay, while
Bradenton
is on the southern shore. The downtown business center of the city is on the north shore of Hillsborough Bay (a small bay within Tampa Bay which is bordered by the eastern shore of Tampa Bay and the small peninsula of South Tampa) and Ybor City lies just to the east. MacDill Air Force Base is on the southern tip of South Tampa, while the city also extends to the north all the way to
New Tampa
.
Orientation
Tampa is divided into five main districts fanning out from Downtown in the south-center between the Hillsborough River and Ybor Channel. West Tampa, once a separate city, lies across the Hillsborough River to the west of Downtown. South Tampa, a large residential area, extends south along the Interbay Peninsula. Historic Ybor City (sometimes considered a part of downtown) lies on the northeast side of downtown. East Tampa, the historically African-American side of the city, lies north of Ybor City. North Tampa forms the urban/suburban sprawl north of Busch Boulevard. A significant suburban area, often considered a part of "Tampa", extends many miles to the northwest, north, and east of the city.
Within Tampa proper, there are six official "historical districts" (Hampton Terrace, Hyde Park, Seminole Heights, Tampa Heights, Historic West Tampa, Ybor City) and at least 86 named neighborhoods.
History
The Tampa Bay area was visited by many Spanish explorers, beginning with Panfilo de Narvaez in 1528. However, no long term permanent settlements were created until 1824 when the US federal government created a reservation for north Florida Seminole Indians. At the same time, the US created Fort Brooke to oversee the reservation as well as protect the strategic harbor.
The town's first population boom occurred in the 1880s. In 1883, phosphate was discovered in the area, spurring the development of the mining and shipping industries in the area. Shortly after, Henry B. Plant completed work on his railroad linking Tampa to Jacksonville. He began promoting Tampa as a holiday spot and built the grand Plant Hotel as a luxury resort destination. In 1886, Vicente Martinez Ybor opened Tampa's first cigar factory in Ybor City which encouraged the immigration of many Spanish, Cuban and Italian (primarily Sicilian) workers.
During the Spanish American War at the turn of the century, Tampa was the main port of departure for troops heading for Cuba. During this time, the Plant Hotel was converted into officer's accommodations, housing the Rough Riders and Teddy Roosevelt.
MacDill Air Force Base was created in 1939 and the University of South Florida in 1956. Over the course of the 20th century, Tampa has grown into the center of a large metropolitan area; it now hosts the regional headquarters of many international companies, has acquired numerous professional sports teams, and has even bid for the summer Olympics.
People
Tampa is a very diverse city. The first residents were the members of the Seminole Indian tribe that was relocated there from northern Florida and the soldiers stationed at Fort Brook to control the reservation. The town remained a mostly military town until the 1880s when the first major waves of immigration arrived from Cuba, Spain and Sicily. The major growth of the area did not occur until air conditioning became common after World War II, but the region has been growing steadily since then. Tampa is now home to many native Floridians, including Seminoles, Cubans, Spaniards and Italians, as well the residence of many 'transplants' from the Northeast, Midwest and other areas of the states as well as new immigrants from the Caribbean and Latin America. Tampa's population swells during the winter months with the arrival of the 'snowbirds,' retired persons from the northern U.S. and Canada who come down for a few months to enjoy the relative warmth.
Economy
Tampa has a growing economy and serves as a major port. Among others, Raymond James, Home Shopping Network, Outback Steakhouse, and a major portion of Citigroup are headquartered in Tampa. Tampa's major industries today are tourism, phosphate mining, shipping, citrus processing, shrimping, and services.
Get in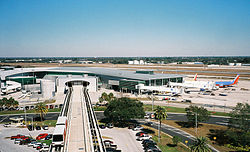 By plane
Tampa International Airport
(
TPA
), near Tampa Bay along I-275. TPA is consistently rated as one of the top airports in the country from various travel publications. Serving as a focus city for Southwest, Silver, and Spirit, TPA also has flights from all major carriers such as American, United, Frontier, etc. Additionally, the airport increasingly serves as an alternative to MCO in Orlando with international flights to London, Frankfurt, Panama City (Panama), Zurich, Amsterdam (2019), flights throughout the Caribbean. and four destinations in Cuba including Havana.
(PIE) is an alternative 15 miles away, generally serving smaller routes and discount airlines.
Sarasota-Bradenton International Airport (SRQ) is a bit further away, however its proximity to beautiful Gulf beaches to the south of Tampa.

By train

Amtrak runs its Silver Star service daily from New York City and Miami to Tampa. The train journey through Florida offers great views, but be aware that, while Amtrak reports an 80% on-time rate, the scheduled times, particularly on the southbound trains, can be hours before the actual time of arrival, and there are limited options for rescheduling. is located at 601 Nebraska Avenue in downtown Tampa.

By car
Tampa is easily accessible via the major interstate highways, I-75 from north and south, and I-4 from the east. From either highway, exit onto I-275 to reach Tampa. However, be prepared for frequent traffic jams particularly when it rains; nearly all of Downtown and the airport area are under constant and complete construction.

By bus
Greyhound, The Greyhound station in Tampa is at 610 Polk Street in downtown Tampa.
Sarasota-Tampa Express offers shuttle service between Tampa International Airport and the nearby towns of Bradenton and Sarasota for $40 one-way.
Megabus. Service from Orlando, Fort Lauderdale, and Miami. The buses stop at the Marion Transit Center, 1211 N Marion St (between Fortune and Laurel Sts) in downtown Tampa.
By boat

Cruise ships from five cruise lines operate from Tampa, mostly to Caribbean islands and Mexico. The Tampa cruise terminal is on the Ybor channel downtown.

Get around
By car
Car rentals are the most convenient for of transportation for visitors, with local companies offering better prices but national chains offering more convenience vis-a-vis return policies and times.
The main freeways in Tampa are Interstate 275, Interstate 4, the Veterans Expressway (toll FL 589), and the Leroy Selmon Crosstown Expressway (toll FL 618). Some of the main east-west roads through town are Kennedy Boulevard (SR 60), Gandy Boulevard (SR 694), Hillsborough Avenue (US 92) and Fowler Avenue (SR 582), while some of the north-south roads are Dale Mabry Highway (US 92) and Florida/Nebraska Avenue (US 41). Traffic is especially bad during the rush hours: from about 7:30AM to 9:30AM and 3:30PM to 7:30PM. During these times, try especially to avoid I-275 between I-4 and SR 60 (by the airport) as this section runs by downtown and is being rebuilt.
By bus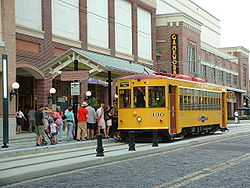 Hillsborough Area Regional Transit Authority (HART)
provides extensive bus service throughout Hillsborough County. There are four types of routes offered: "local", "Commuter Express", "MetroRapid" (Bus Rapid Transit), and Trollies (see below). Local routes are ones which have many stops in a small region. Commuter Express lines are long-distance lines namely providing service from suburbs into Tampa. Only local to local & commuter express to local transfers are allowed. Fares are $1.75 for local routes and $2.75 for commuter express lines. Four small routes (83, 87, 88, & 89) have a 50¢ fare with no transfers. Riders over 65, 17 and under, on Medicare, or disabled are half-price: 85¢ for "local" routes and $1.35 for "commuter express" routes. Bus transportation in the Tampa area is not popular and one can expect plenty of room in buses. at 1211 N Marion St, just north of downtown is the hub for almost all local and regional buses.
PSTA
, offers service in Pinellas County (the county west of Tampa Bay, home to Clearwater and St. Petersburg) similar to what
HART
offers in Hillsborough.
By streetcar
Tampa's
TECO Line Streetcar
runs from Whiting and Franklin Streets downtown to Centennial Park in Ybor City with 9 stops along the way (11 total stops). The line is useful for tourists and convention-goers. The line runs by many local shops, restaurants, and attractions including the convention cente, Embassy Suites, the Tampa Bay Times Forum, Channelside, the Florida Aquarium, and through Ybor City. There are 3 types of streetcars in operation: 9 "Birney Safety" replicas (picture, right), one "Breezer" open-air replica (picture, left), and one original "Birney" car (#163, not pictured) which operated in Tampa from 1923-1946 and went through 10,000 man-hours of restoration. Even if you're not using it for transportation, the streetcars are a fun way to see some of the city's historic and cultural sights. Each station is covered and offers benches, ticket vending machines, and information kiosks. Dick Greco Plaza in downtown serves as an intermodal station, offering connections to HART buses, taxis, and easy pedestrian access to the surrounding area.
As of January 2019, the streetcar is
fare free, simply board at any stop
. Formerly, a one-way fare was $2.50. A 1-day, unlimited ride pass for streetcars, trollies, and local HART buses are available for $5. Riders over 65, disabled, on Medicare, or 17 and under are discounted to $1.25 per trip or $2.50 for 1-day unlimited, with appropriate ID. A "Family All Day Ticket" is also available, allowing 2 adults plus 3 children or 1 adult and 4 children to ride streetcars only for only $12.50. Children under 4 are free, but if taller than the fare box ID is required.
Exact change is required when purchasing on board
, streetcar drivers do not provide change.
Additionally, automated Ticket Vending Machines (TVMs) are installed at all streetcar stations and accept cash or credit cards and can provide change when paying cash. Three-day and one year passes are available from TVMs and authorized sales outlets. Sales outlets along the line are located at Bank of America building's concierge (downtown), Grand Central at Kennedy (Channelside), Wine Design (Channelside), Tampa Bay Convention & Visitors Bureau Visitor Center (Channelside), Centro Ybor Visitor Information Center (Ybor City), and the HART Administrative Office (1201 E. 7th Ave in Ybor City). Tickets and passes for the streetcar and all HART lines can be purchased
online
. For more information about the streetcar line, tickets, or HART services, call +1 813 254-4278.
Service is available M-Th 7AM-11PM, F-Sa 11AM-2AM, and Su noon-8PM. Streetcars arrive every 20 minutes, except every 30 minutes on Friday/Saturday from 1AM-2AM. Service is extended when the Tampa Bay Lightning play at the Tampa Bay Times Forum, allowing spectators to park in Ybor City and avoid the end-of-game traffic encountered when parking near the Forum.
By trolley
Tampa also a rubber-wheel trolley system serving the Central Business District. Unlike the streetcars, which are electric and run on a fixed track, the trollies are simply small, diesel buses styled to look like a streetcar. The In-Towner Trolley (Route 96) runs north-south from I-275, through downtown to the northern end of Harbor Island. It has service every 15 minutes at
17 stops
, Monday through Friday from 6-8:30AM and 3:30-6PM. On Saturday, the In-Towner Route 97 loop runs through Downtown and to the Channel District every 30 minutes 11AM-7PM. As of June 2018, rides are $0.25 (no transfers), $3.75 for a 1-day pass, and $5 for a 1-day streetcar/trolley pass. Riders over 65, 17 and under, on Medicare, or disabled are discounted to $1.85 for a 1-day trolley pass or $2.50 for a 1-day trolley/streetcar pass. Children under 4 are free, but if taller than the fare box ID is required. Only $1 bills are accepted.
See
Downtown Tampa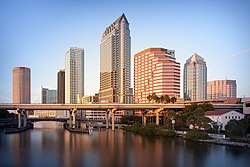 North Tampa
Ybor City
This historic multi-ethnic district northeast of downtown & north of the Channelside district is best known to locals for its wide range of nightclubs, bars, and shops making it a popular evening and weekend hotspot. However, this historic district has much to offer the tourist by day. It used to be home to thousands of Cuban, Spanish and Italian immigrants (and smaller numbers of Romanian Jews and Germans), and was famous for its many cigar factories and is where the 'Cuban sandwich' was first popularized in the United States. Ybor City is one of only two active National Historic Landmark Districts in the state of Florida and can be easily visited by catching one of its famous streetcars that connects downtown Tampa to Ybor City (see "Get around" section).
Ybor City State MuseumOn 9th Avenue between 18th & 19th Streets, should be the first stop for any new visitor to the area. This small, but intriguing museum highlights the colorful history of this city-turned-Tampa-suburb and has a gift shop filled with small trinkets. The museum offers walking tours (see "Do" section, below). Visitors must park at metered spots on 9th/nearby streets.

Ybor City Cigar Museum

address: 1600 8th Ave

Presents the history of cigar making in Ybor City. Nice gift shop.

Centro YborCentered by a 20-screen mega-cinema, plenty of shopping, bars, and nightclubs, this large entertainment complex/plaza at the heart of Ybor City, it is the mecca of Tampa's young-adult nightlife.

Saturday Market — Every Saturday from 9AM-3PM in Centennial Park, the market features local-grown produce, arts, crafts, and local food.
Ybor City ArtWalk — The first Saturday of every month, this event brings out the best area arts and crafts, from business owners to professionals to studio-dwelling amateurs showing off their goods.
Do
Walking tour of Ybor City — Every Saturday at 10:30AM, the Ybor City State Museum offers a 60 minute walking tour of Ybor City highlighting the cigar industry's impact on the area, historic cottages/businesses, and tours of the YC State Museum & YC Cigar Museum. The $6 cost includes both museum entrance fees. Longer tours are available by appointment Tu-Th for $12. If possible, stop by the 100-year-old Columbia Restaurant at the end of the tour for a tasty Cuban lunch.
Cruise ships, Port of Tampa.

Gasparilla Pirate FestivalAn annual event consisting of several parades, live entertainment, and fireworks. The event is also known as the Mardi Gras of Tampa, and normally takes place on the last two Saturdays in January.

Adventure IslandWater park adjoining Busch Gardens, combined or single admission with the main park is available.

,
GuavaweenYbor City's Halloween celebration. Offers daytime events and nighttime parade on the last Saturday in October.

Sant'Yago Knight Parade is an illuminated nighttime parade that takes place one Saturday in February in Ybor City.
Several film festivals take place at the Tampa Theatre several times a year.
Read the Tampa Tribune -- Tampa has some sort of event going on nearly every weekend, especially in the spring and early summer. Art festivals, a terrific Renaissance festival, street festivals -- take advantage of the great weather and enjoy our city.
Surprisingly, ice skating is a popular activity in the Tampa Bay area. The Tampa Bay Skating Academy in nearby Oldsmar has two NHL-sized ice surfaces. Other well-known rinks include Ice Sports Forum in Brandon, and Sunblades Center and the rink in Westfield Countryside Mall, both in Clearwater.
Lettuce Lake Park between I-75 and the University of South Florida has boardwalks that go through a nearly pristine area with 700-year-old cypress trees, alligators, egrets and herons. One end of the boardwalk overlooks the Hillsborough River in its original state, a far cry from what it looks like in the downtown area.

address: 37245 Meridia nave

A zoo with over 190 animals and private guides who facilitate animal encounters.
Sports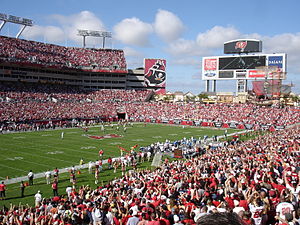 Tampa Bay Buccaneers are an American football team whose home field is Raymond James Stadium (off Dale Mabry a couple of miles north of I-275). Routinely near the top of the NFC South, they were the 2002 Super Bowl champions and the team which receives the most support in the Tampa Bay region (although the recent performance of the Rays has gotten much more support and attention). The season lasts from August (preseason)-January(postseason, if they qualify). Tickets start at $50.

Tampa Bay LightningAre an NHL (ice hockey) team who won the Stanley Cup in the 2003-2004 season. Their home is in the Amalie Arena. Season includes 41 home games and lasts October-June.

Tampa Bay StormAn Arena Football League team playing in the Tampa Bay Times Forum. They have won more Arena Bowl titles than any other team in the AFL. Season lasts March-June.

Spring Training BaseballThe New York Yankees train at George M. Steinbrenner Field during the month of March. However, tickets are usually sold out several weeks before a game.

Tampa Tarpons a minor league baseball team which plays its games at George M. Steinbrenner Field from April-September
South Florida Bulls The USF Bulls football team represents the University of South Florida. The Bulls compete in the Football Bowl Subdivision (FBS) of the National Collegiate Athletic Association (NCAA) and the Big East Conference.
The
Tampa Bay Rays
(MLB, baseball) and
Tampa Bay Rowdies
(NASL, soccer/association football) play in
St. Petersburg
.
Golf
Buy
International Plaza MallInternational Plaza is near the airport, and would be worthwhile if you are trying to spend a few hours. The usual stores are present, plus a collection of boutique shops, restaurants, and bars in the outdoor area. Lots of food and drink options as well.

Westshore Plaza MallAlso near the airport, has a food court, movie theater and shops.

ChannelsideBeside the cruise terminals in downtown, this shopping complex has shops, food, and drinking places. Take the streetcar into Ybor City for more shopping and restaurants, the ride takes about 10 to 15 minutes.

University MallNear University of South Florida, it has mid-range shops and food. Few tourists would have a reason to visit this mall, but in a pinch it would be a good bet for basic clothing needs. However, in the mall's parking area along Fowler Ave, there are several good familty style restaurants such as Portillo's Hot Dogs, Long Horn Steakhouse, and a Racetrack convenience store.

Westfield Citrus ParkIn the northwest part of the county. Another Westfield Shopping Town with the standard food court, shops, and a movie theater.

Big Top Flea Market

address: Fowler ave.

Couture Designer Resale Boutique

address: 10117 Montague St

Founded in 2003, Couture Boutique is one of the leading providers of authentic used luxury goods in the United States. Couture offers a wide selection of designer handbags, jewelry, clothing, and accessories and features top-name designers that include Chanel, Louis Vuitton, Hermes, Gucci, and David Yurman. With their ever-changing inventory and friendly staff, Couture Boutique has become a popular shopping destination for Tampa Bay area residents and travelers alike.
Eat
Budget
Bo's Ice Cream

address: 7101 N Florida Avenue

Very close to Lowry Park Zoo at Florida & Sligh. Amazing local soft-serve, shakes and banana splits.

Carmine's Restaurant

address: 1802 E 7th Ave

Ybor City neighborhood. Cuban, Spanish, and Italian.

Cappy's Pizza

address: 4910 North Florida Avenue

Between MLK and Hillsborough on Florida Avenue. Great local pizza joint, family friendly.

phone: +1 813 225-4228

address: 107 S Franklin Street

In downtown Tampa, chow down on wings, mozzarella sticks and other dishes while watching the Tampa Bay Lightning play against their rivals.

Hugo's Spanish Restaurant

address: 931 S Howard Ave

Slightly more expensive than La Teresita, but still a bargain in the pricey SoHo neighborhood. $10 will buy you a mountain of food at lunch time.

The Jerk Hut

phone: +1 813 223-4473

address: 207 E Twiggs St

and 1406 E Fowler Ave +1 813 632-9551. Don't be put off by the name - "jerk" is a Jamaican term for slow-roasting meats. The Jerk Hut serves theirs with an addictive sweet red sauce. Also, curries and oxtail stew.

Mel's Hot Dogs

address: 4136 E Busch Blvd

A tacky little restaurant near Busch Gardens. Good hot dogs and bizarre hot dog related memorabilia.

Mema's Alaskan Tacos

address: 1724 E 8th Ave

Ybor City. "Alaskan" or not, the good fresh made tacos and tamales are a favorite with locals and visitors alike in the Ybor City neighborhood, right on the trolley car line.

New Soul Sandwich Shop

address: 518 N Willow Ave

Definitely "off the beaten path." Great soul food in industrial neighborhood, just off Kennedy. Don't mind the ramshackle surroundings, as the proprietors and the regulars are quite friendly.

El Taconazo

address: 913 E Hillsborough Ave

Known locally as the "Taco Bus." Simple and delicious Mexican food for very little money. The ceviche is a steal at only $5, but be forewarned: there's no air conditioning.

La Teresita

phone: +1 813-879-9704

address: 3246 W Columbus Dr

Inexpensive Cuban diner with good food and interesting characters. A true Tampa institution.

Westshore Pizza

address: 927 S Howard Ave

Numerous other locations throughout Tampa Bay. A local chain with good, cheap eats including pizza and cheesesteaks.

Xtreme Juice Smoothies

address: 619 S. Dale Mabry Hwy

South Tampa's best smoothies. A local smoothie shop that offers Buy One Get One Free on Sundays.
Mid-range
Bahama Breeze

address: 3045 N. Rocky Point Drive E

phone: +1 813 413-8382

address: 1721 West Brandon Blvd

Brandon (Just outside the Tampa city limits; Highway 60/Adamo Blvd becomes Brandon Blvd. at the line). Brazilian. If you're a meat eater and looking for something a bit different, this is a treat. Waiters bring a wide variety of chicken, beef, pork, and sausages fresh cooked in various ways to your table to sample as much as you wish of.

T. C. Choy's Asian Bistro

address: 301 S Howard Ave

Sushi and dim sum, along with other traditional Chinese fare.

phone: +1 813-234-3710

address: 5910 N Florida Ave

phone: +1 813 247-1422

address: 1600 E. 8th Avenue

Ybor City section of Tampa. Brew pub with a good food menu including shepard's pie and huge calzones in addition to more standard fare.
Splurge
phone: +1 813 251-2421

address: 1208 S Howard Av

Considered to be one of the best steakhouses in Florida: it claims to have the largest privately owned wine lists in the world, with over 7000 labels and a million bottles. It is commonplace to have a tour of the kitchen and wine cellar after dinner, but expect to spend at least a few hours.

phone: +1 813 248-4961

address: 2117 East 7th Avenue

Spanish, a landmark in the Ybor City neighborhood since 1905. Famous for their "1905 Salad, " traditional Spanish menu, and flamenco dance shows.

phone: +1 813 254-5373

address: 442 W Kennedy Blvd
Drink
address: 3924 West Spruce Street

West Tampa section of Tampa. Very popular craft brewery with a tasting room.
Ybor City is a historic area of Tampa which now hosts the region's best known bar and nightclub district. It is a nationally known arts/bar/dining district and one could take several days visiting all of the bars and places to eat here. Certain parts to the extreme west and east sections of this neighborhood can be dangerous after midnight, but if you stay in the main areas it's well lit and there are plenty of police around. You can find any type of bar here, from punk rock/metal, hip-hop, house, blues, indie, country, or dive.

address: 1600 E. 8th Avenue

Ybor City section of Tampa. Good variety of well made beers.
Seminole Heights is one of the most dynamic historic areas of Tampa. Just north of Downtown, it is filled with beautiful craftsmen and Mediterranean Revival homes. Seminole Heights is centered on two primary north/south thoroughfares, Florida Avenue and Nebraska Avenue. Florida Ave is more developed with a higher concentration of bars and restaurants, while Nebraska remains slightly grittier but definitely up and coming.
Florida Ave, north of Hillsborough Ave.
*Seminole Heights City Wine Bar- 6703 N Florida Ave.
*Hey Giant! little biscuits- 6607 N Florida Ave.
*Chop Chop Shop- 6605 N Florida Ave.
*Rooster & the Till- 6500 N Florida Ave.
*82 West Distillery- 6430 N Florida Ave.
*Trip's Diner- 6414 N Florida Ave.
*Angry Chair Brewing- 6401 N. Florida Ave.
*Mortar & Pestle Cafe Bar- 6310 N Florida Ave.
*The C House- 6005 N Florida Ave.
*Front Porch & Barts Tavern- 5924 N Florida Ave.
*The Refinery- 5910 N Florida Ave.
*Bodega- 5901 N Florida Ave.
Florida Ave, south of Hillsborough Ave.
*Ichicoro Ramen- 5229 N Florida Ave.
*Red Star Rock Bar- 5210 N Florida Ave.
*Independent Bar & Cafe- 5016 N Florida Ave.
*Cappys Pizzaria- 4910 N. Florida Ave.
*Florida Ave Brewing Company- 4101 N Florida Ave.
Nebraska Ave-
*London Heights British Pub- 7701 N Nebraska Ave.
*Blue Sea Seafood Market & Restaurant- 7110 N Nebraska Ave.
*7th Sun Brewery- 6809 N Nebraska Ave.
*The Mermaid Tavern- 6719 N Nebraska Ave.
*Hampton Station- 5921 N Nebraska Ave.
*Martha's Restaurant- 5202 N Nebraska Ave.
*Ella's Americana Folk Art Cafe- 5119 N Nebraska Ave.
*Ebisu Sushi Shack- 5116 N Nebraska Ave.
*Old Heights Bistro- 4703 N Nebraska Ave.
*Southern Brewing and Winemaking- 4500 N Nebraska Ave.
Channelside/ Water Street
Sparkman Wharf- Includes a beer garden and various take away restaurants along the waterfront
Sleep
Connect
Boba's Internet Cafe

address: 2764 University Sq. Dr.

Great internet cafe with Boba or (bubble) tea, try some!
Stay safe
Be aware while in Suitcase City, the part of town surrounding Busch Gardens, USF and University Square Mall. Hitchhiking is also prevalent in this area, but do not stop! However, few tourists or visitors would find their way to this area of the city or have much a reason to be walking about in it; driving through is perfectly safe.

Cope
Consulates
phone: +1 813 769-1439

address: 202 South Rome Avenue Suite 200

phone: +1 813 865-0200

address: 601 Bayshore Blvd Ste 800

address: 5811 Memorial Hwy., Ste. 104
Go next