Tamsui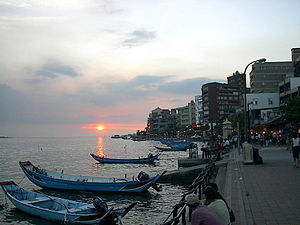 Tamsui
(淡水區), or Danshui, Danshuei, Tamshui) is a district
of New Taipei
that was the center of shipping and commerce in northern Taiwan in the 19th century. The city is still popular with visitors from Taipei and boasts many historical attractions, and is a popular location for viewing the sunset.
The town calls itself by the English name "Tamsui" and is the only
Taipei
MRT station using the Taiwanese name in English announcements. The Mandarin transliteration "Danshui" was used before 2012 and is sometimes used in tourist advertisement around Taipei and in Tamsui.
Understand
Tamsui is located near the outlet of the Tamsui (Danshui) River into the Taiwan Strait. Originally home to Formosan indigenous peoples, Tamsui was next settled by the Spanish in 1629 as the town and mission of San Domingo. The Spanish were expelled by the Dutch in 1641, who built Fort Anthonio, forming what is known today as Hongmao Castle. Following the departure of the Dutch in 1661, Tamsui continued to grow, becoming the largest port in Taiwan by the 19th century. By the 20th century, accumulation of silt in the river forced most port operations to move further north to
Keelung
. Due to its close proximity to Taipei City, Tamsui has become a favorite destination for city dwellers to take a stroll and enjoy a coffee along the riverside.
Get in
By metro
Tamsui is most easily accessed from Taipei by taking the MRT Tamsui (Red) Line to its northern end at Tamsui Station. The ride is roughly 40 minutes from Taipei Main Station.
Tamsui stationThe main station which is closest to most of the tourist attractions in the area.
The district is also accessible by:
Hongshulin stationThe station is a terminus for the Danhai Light Rail Transit system serving Danhai New Township.

Zhuwei station
Get around
On foot
Most of the city Tamsui is easily accessible on foot from the MRT station. Turn left as you exit the MRT and then right along the river.
By boat
Ferries across the river to the town of Bali and the Fisherman's Wharf depart from the Tamsui Ferry Pier, about 10 minutes north of the MRT station by foot. Sightseeing boats traversing Taiwan's northeast coast and the Tamsui (Danshui) River depart from the Fisherman's Wharf.
Tamsui Ferry Wharflocated near the north end of the waterfront area and offer ferries across the river to Bali Township, as well as Tamsui Fisherman's Wharf further north. Tickets run around NT$50 to Bali, and NT$100 to Fisherman's Wharf. When taking the ferry don't stand outside unless you enjoy getting wet! Closed in the event of bad weather.
By bus
The R26 bus will take you from Tamsui MRT Station to Fort San Domingo or Fisherman's Wharf. The latter is beyond casual walking distance from the MRT, so the bus is probably the best choice if you don't want to take a boat or rent a bike.
By bike
Rent a bike in one of several shops on the main road north of Tamsui MRT Station. A normal rate might be NT$300 for the whole day. Or in
Bali
, hire a bike to ride up and down the riverside. This is very popular and cheap (From NT$30 for a small bike to NT$100 for a tandem per hour). Make sure you look the bike over first as safety standards vary.
See
Historical sites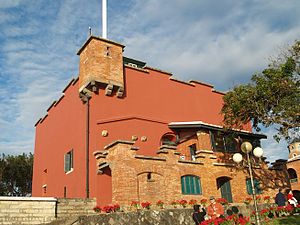 Hongmao Castle (Fort San Domingo)

phone: +886 2 623 1001

address: 1, Lane 28 Zhongzheng Road

constructed by the Dutch as 'Fort Anthonio' in 1641, and gained its present name in reference to the red-haired Dutch. The compound also served as the British Consulate in the late 19th and early 20th centuries. It enjoys commanding views over the mouth of the Tamsui (Danshui) River.

Tamsui Old Street and waterfrontLocated along the Tamsui (Danshui) River, this pedestrian shopping area offers tourists a wide selection of restaurants, arcades, and stores specializing in traditional handicrafts. Visitors can sample Tamsui's local specialties: A-Gei (crystal noodles stuffed in fried bean curd, served with a mild hot sauce), fish ball soup, and "iron eggs" (eggs which have been stewed in a mix of herbs and spices until pickled). Do try the food vendors which are located up and down the strip.

Former British Merchant WarehouseThe area used to be a warehouse to store tea-related products by the British tea merchants. It was then later bought by Shell Oil Company and expanded into four large warehouse and oil tanks. After the bombing by United States in 1944, the warehouse burned for three days and was half destroyed. It was eventually retired as a backup storage since and donated by Shell.

Hobe FortBuilt in 1886, it is one of the best preserved forts of its type in Taiwan.

Tamsui Customs Officers' Residence

phone: +886 2 2628 2865

address: No. 15, Zhenli Street

The residence is a white-colored building built in a colonial style nicknamed Little White House. It was constructed in 1870 by the Qing government to handle the customs from the rapidly increasing trade with foreigners.

Tamsui Customs Wharf

phone: +886 2 2621 2830

address: No. 259, Zhongzheng Road

Completed in 1861, this wharf was constructed to serve the Tamsui Customs Office.

Tamsui Red CastleBuilt in the Victorian style in 1899 as the residence of a local businessman, it houses cafes and restaurants.

Yu Youren's TombA monument to the educator, scholar, calligrapher, and politician Yu Youren.
Culture
Tamsui Fisherman's WharfDownstream from the town, it offers a boardwalk, chic coffee shops and food windows, and some seafood restaurants with prices that the average local would consider outrageous (but may seem reasonable to visitors from Western countries). Fisherman's Wharf is also a departure point for tourist boats traveling along Taiwan's scenic northeast coast. The "Lover's Bridge", a single slanted tower cable stay pedestrian bridge, that is modeled after a sailing ship's mast and rigging, spans the harbor. The bridge's illumination changes color at night, making this area a favorite with local couples and romantics, and is also a popular site for shooting Taiwanese drama serials. Outdoor concerts are sometimes held in the amphitheater, and some of the restaurants feature live music at times.

Drop of Water Memorial HallContains collections of Taiwanese and Japanese literature.

Tamsui Lover's Bridge

address: No. 199, Guanhai Road

Completed in 2003, the bridge is designed to evoke the image of the sails of a ship.
Museums
Museum of Tamsui Fishiegoodies

phone: +886 2 2805 2471

address: No. 201, Guanhai Road

A very small establishment by the harbour with some information about fisheries in Taiwan.

Teng Feng Fish Ball Museum

phone: +886 2 2629 3312

address: No. 117, Zhongzheng Road

The museum displays the production and environmental impact of creating fish ball products. The museum building is divided into two exhibition halls. The first exhibition hall is located on Tamsui Old Street consists of three floors. The second exhibition hall is where the Weixiang Fish Ball Shop used to be.
Temples
Fuyou TempleBuilt in 1782, it is one of the oldest temples in Tamsui. You can find it near the Old Street.

Tamsui Church

phone: +886 2 2621 4043

address: No. 8, Maxie Street

A mock-Gothic style Presbyterian church that was built by the Japanese and expanded later.

Tamshui Yuandao Guanyin TempleA temple to the goddess Guanyin with pleasant gardens and a restaurant.

Wuji Tianyuan Temple

phone: +886 2 2621 2759

address: No. 36, Section 3, Beixin Road

An impressive multi-storey pagoda-style temple surrounded by gardens. The temple is a popular destination, particularly when the cherry blossoms are in full bloom.

Longshan Temple

phone: +886 2 2621 4866

address: No. 22, Lane 95, Zhongshan Road

Built in 1858, it is one of many temples dotted around Taiwan which share the name "Longshan".

Yinshan Temple

phone: +886 2 2622 8965

address: No. 15, Denggong Road

Dating back to 1822, this temple has been declared a 'county-level monument' by the government.
Do
Ride the ferry to Bali (八里).
Attend seasonal concerts or festivals at Fisherman's Wharf or the MRT Station Plaza.
Take a walk and visit Maritime Museum on campus of Tamkang University.
Walk along the waterfront.
Watch the sunset.
Eat
Local specialties
Iron eggs (鐵蛋) are eggs which have been repeatedly stewed in a mix of spices and air dried. The resulting eggs are dark brown, chewy and, about half its initial size. The famous Iron eggs store is Grandma's Tiedan (阿婆鐵蛋) - 135 Zhongzheng Road (Old Street).
A-Gei (阿給) are deep fried tofu that have been stuff with flavoured crystal noodles and sealed with fish paste (surimi). It is often served with a spicy sauce. Many places serve this, but one of the original A-Gei restaurants is on Zhenli St. (真理街) - the last one on the right as you walk up this steep, narrow street.
Tamsui fish balls (淡水魚丸) are balls of fish paste stuffed with meat and garlic served in a light broth.
Fish crisps (魚酥) are fish snacks that are light crispy with a texture comparible to shrimp crackers. Available in original and hot flavours.
Restaurants
Hai Feng Restaurant

phone: +886 2 2621-2365

address: 17 Zhongzheng Road (Old Street)

A traditional Taiwanese seafood restaurant.

phone: +886 2 8631-1168

address: 6, Lane 2, Sanmin Street

A colonial building sits on the hillside, built in 1899. This is the best view cafe in Tamsui. They serves both Western and Chinese dishes. The entrance is just east of the Mackay statue, atop a hill reached by 106 stone steps.
Drink
Sour plum drink (酸梅湯) is a sweet and sour drink made of salted pickled plums that have been cooked in syrup.
Sleep
phone: +886 2 8809-1111

address: 91 Zhongzheng East Road

Sec. 2. Near the MRT Hongshuilin Station on Danshui Line.