Tanjung Puting
Tanjung Puting National Park
is a national park in
Indonesia
famous for its orangutan conservation - although much of its half a million hectares is now degraded habitat.
This national park is in the southeast part of the West Kotawaringin Regency in the Indonesian province of
Central Kalimantan
(in Central Borneo). and the nearest towns are the regency capital of
Pangkalan Bun
and the harbour city of
Kumai
.
Understand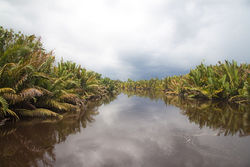 Borneo is second only to tropical rainforests in Amazonia,
Brasil
and the
Congo
in being a biodiversity hotspot and, although constantly threatened by corrupt officials colluding with illegal loggers together with other human population pressures such as trapping for the illegal pet trade.
Several ecosystems are present, such as lowland tropical forest, freshwater swamp forest, mangroves and coastal forests together with secondary forest growth.
This is a great place for orchid lovers since there are a number of small "blackwater" rivers that drain the fairly acidic and tidal soils. One reason for the relatively intact survival of this part of Kalimanatan is that the soils are relatively infertile for conventional agriculture with pH ranges of 3.8−7.0 and there are peat bogs of up to 3 m in depth.
History
Much of this area was designated a game reserve in 1935 and this formed the nucleus of the land gazetted as a National Park in 1982. While this area has a somewhat patchwork history of weak protection, it nonetheless remains substantially wild and natural.
Landscape
A low lying and swampy peninsula that juts into the Java Sea with a mis-shapen spine of seasonally drying ground that rarely rises more than a few metres above the ubiquitous wetlands. There are some gentle hills and gold-bearing alluvial plains in the north but these do not top one sixty metres. Really huge forest giants are almost completely absent, one having to go to
Sabah
or
Sarawak
to see really humungous Bornean specimens since protection from illegal logging has been relatively more stringent in that Malaysia.
Flora and fauna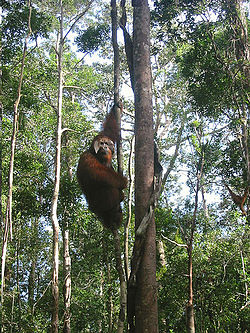 As well as the orangutan conservation program based at Camp Leakey research station, most visitors are just as interested in this park's proboscis monkeys (
Nasalis larvatus
), the adult males of which would offer stout competition to Cyrano de Bergerac in the nose department and reminiscent of
Papposilenus
in their gas-distended bellies and loud belches. There are also seven other primate species that are regularly seen such as red leaf-eating monkeys endemic to Borneo.
Clouded leopards, civets, and Malaysian sun bears are all frequently seen by park visitors, as well as barking deer, mouse deer, sambar deer, and the wild cattle known as
banteng
. Twitchers at Tanjung Puting frequently notch up more than 200 species of birds, including deep forest birds such as hornbills and many wetland species. This national park is well known for its "bird lakes" - seasonal créches for many species of endangered water birds, including the only known Bornean nesting grounds for white egrets.
Tanjung Puting also has two species of crocodiles, dozens of snakes and frogs, and hordes of fish, including the "good luck bringing" and highly endangered "dragon fish" also known as the Arwana (bony-tongue).
Flamboyant butterflies, and moths abound.
Climate
The (relatively) dry season is usually from May through to September with rainfall averaging 2000−3000 mm over the course of a year.
Get in
Get around

Rivers are the most convenient way to reach the depth of the park, and most tours are done on a special boat called "klotok" which also serves as a house and as a restaurant.

Do
Best Borneo Orangutan Tours

phone: +62 813 5274 2477

address: Jl. Gerilya No. 369, Gg. Ampera - Kumai Hulu

Orangutan tours, river tours, dayak village adventure & more.

Borneo Discovery Tours

phone: +62 812 536 1221

Orangutan tours, river tours, tour operator to arrange your ticket from Jakarta or Semarang to Pangkalanbun.

phone: +62 857 5134 9756

Orangutan tours.

Jenie SubaruA local guide with a long experience.

Local GuidesExclusive cooperation with professional local guides. Fair and transparent tariffs.
Sleep
Lodging
phone: +62 361 471-9383, +62 81 3384-85855

address: Sungai Sekonyer

Riverside lodge on the edge of the national park. Completely solar-powered. A/C and non-A/C rooms. Travel by boat to visit orangutan feeding stations along the river.
Camping
Backcountry