Taormina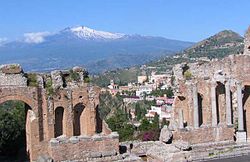 Taormina
(Sicilian:
Taurmina
) is a town in the
province of Messina
on the east coast of
Sicily
.
Understand
Taormina is a charming hillside town and is one of Sicily's most popular tourist resort. It can get very hot and busy during July and August, but the crowds melt away in the evenings. Early summer and autumn are ideal times to visit.
The
TIC
Servizio Turistico Regionale di Taormina
phone: +39 0942 23243
address: is on Largo Santa Caterina
Since 2011, the town service provider ASM (which runs the local buses, cable-car and parking lots) has been bankrupt. But it's been kept on financial & legal life-support ever since (
ciao
, welcome to Italy!), and in 2018 these services remain open.
Orientation
The main town of Taormina, which is what you've come to see, straggles along a hillside, 2 km up a hairpin road from the coast. The main access road is Via Luigi Pirandello (SP10), which leads to the bus station and
Porta Messina
at the east end of town. The pedestrianised high street Corso Umberto I stretches from here to
Porta Messina
at the west end. Bypass roads above and below carry the town traffic, while unseen and unheard deep beneath, the Messina-Catania Autostrada burrows through the mountain.
Above the main town, Via Leonardo da Vinci (SP10) continues to zigzag upwards, to Sanctuario Madonna della Rocca and the castle. And on it climbs, to end at the hilltop village of
Castelmola
. This is a separate township but it's such a tiny place, reached only by this road, that its facilities (such as they are) are described on this page.
The name "Taormina" is also loosely applied to the strip along the coast road SS114 below, notably to the railway station Taormina-Giardini-Naxos. Taormina town limits include the beach area of Mazzaro at the foot of the cable-car, and the tip of the peninsula where Via Pirandello starts its climb. Most package tourists stay down there, or in nearby resorts such as
Giardini Naxos
and Letojanni. Hoteliers down on the coast invoke the T-word to boost their prices, but for practical purposes - and considering the feel and identity of the place - they're altogether somewhere else. Stay in Taormina itself if you can.
Get in
By plane
The nearest airport is
Catania-Fontanarossa
.
Interbus
runs a direct bus between the airport and Taormina, roughly hourly 07:00-20:00. The journey takes about 90 min, fare €8.20 (€7.50 if bought online)
By bus
Bus is the best public transport option, as this will bring you up the hill to the town centre
bus station
address: Via Luigi Pirandello
The
Interbus
from the airport runs via central
Catania
(80 min; fares approx €5 single, €8 return). Four buses a day run direct to Taormina from
Messina
(just under 2 hours, fares €4.30 single, €6.80 return).
By train
There are trains roughly hourly from Messina to the north and Catania to the south, both taking just under an hour. The problem is that the railway station
Taormina-Giardini
is down on the seafront, a steep 2 km below the main town along a hair-pinning, busy road. You'd have to transfer to the ASM bus or Interbus: the station is equally far from the cable-car.
By car
The exit from the Autostrada is just north of town. Follow road signs onto V Garipoli, which climbs to the long-stay parking lot of
Parcheggio Lumbi
, a five-minute uphill walk to the east gate of Porta Messina. Ascending V Pirandello from the coast road comes to the same place. There is a free shuttle bus (as of June 2018) from the car park into town. Parking costs €2 for 1½ hours, €8 for 3 hours, €16 for 24 hours, €25 for 48 hours and €6 for each additional 24 hours (Oct 2019).
Or, from the Giardini area further south on the coast road, you can ascend V Crocefisso, leading to the other long-stay lot
Parcheggio Porta Catania
just below the west gate of Porta Catania. €2 for 1 hour, €7 for 3 hours, €12 for 12 hours, €15 for 24 hours, €1-2 more in Jul, Aug, Easter and Christmas (Oct 2019).
If your accommodation is outside the pedestrianised area, you may drive on to reach it, by the anti-clockwise one-way system. (Miss your turn-off and you'll have to make another 3-km circuit.) If it's within, ring ahead for advice: it may be okay for you to come to the hotel and drop off, otherwise park in the closest long-stay and schlep. Parking tariffs are about 50 cents per hour up to 48 hours, thereafter €6 a day.
Cruise ships
occasionally moor offshore or at nearby ports, and bus their customers up to Taormina. But these are tour itineraries, and not available to book for point-to-point travel.
Get around
On foot
Most of the centre of Taormina is pedestrianised, making it easy to wander around by foot.
By bus
ASM
runs four local bus lines:
Linea verde (the "Green Line") runs between Madonna della Rocca next to the castle at the top of town; down through the centre, main bus station, and Lumbi car park; on down to the foot of the cable-car at Mazzaro; then south along the coast past the railway station, then a final turn uphill to St Vincent's Hospital. There are 8 services on Sundays but only four the rest of the week.
Trappitello runs from central Taormina past Lumbi car park to the coast road and railway station, then south to the village of Trappitello. Five times a day M-F.
Circolare rossa (the "Red Circle") loops round town centre and Lumbi car park. Roughly hourly Sunday, no mid-morning or afternoon buses midweek.
Beachbus runs from central Taormina down to the coast, then north to Mazzeo, a short walk from Letojanni. Seven per day.
By cable car
Funivia TaorminaThe cable car runs every 15 min between Taormina town centre and Mazarro down on the beach.
See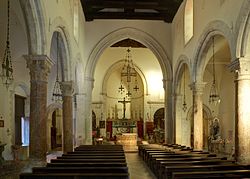 Despite of its relatively small size the town is
rich in history
.
address: Via del Teatro Greco, 1

Ancient theatre of Grecian origin, but re-built in Roman brick in the 3rd century BCE. Impressive for the views and because the proscenium (the back-drop) survives, unlike in most amphitheatres.

A clock tower and gate to the southern part of Taormina.

Palazzo CorvajaMedieval palace, dating from the 10th century, that was built by the Arabs when they ruled over Taormina. The main body is an Arabic tower. It has also an inner courtyard where the Arabic influence can been seen in the architecture.

OdeonRemains of a small theatre built by Romans in 21 BCE.

address: Via Bagnoli Croci

Restful gardens, populated by mock-oriental follies on the verge of tumbling down. The gardens are the creation of Florence Trevelyan (1852-1907), an English conservationist who also bought Isola Bella. She settled and married here and is buried in nearby Castelmola.

Palazzo Badia VecchiaThis fine Gothic tower used to host an abbey (Abbazzia).

Palazzo dei Duchi di Santo StefanoBuilt in a style similar to Badia Vecchia. Now it's a site of the Fondazione Mazzullo, which hosts a collection of numerous works of the artist Giuseppe Mazzullo.

NaumachieThe remains of a 120-m-long Roman structure. Probably it was a part of nymphaeum, with a monumental fountain. Now it is the foundation for a few buildings.
On the coast at the foot of town
adjacent to Giardini Naxos: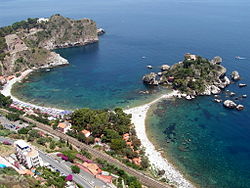 Isola BellaThis is the tiny tombolo island seen below, now a nature reserve. You can paddle out to it but the museum is closed and the beach is sharp volcanic shingle, so it's probably best admired from the terraces up the hill.

address: Via Luigi Pirandello, 105

Small museum, appears to be closed in 2018.
Do
Wander up and down the main street - Corso Umberto I taking in the sights
Walk down from Castelmola village to Taormina (or vice versa if you're fit). This path is in decent condition, unlike the path between Taormina and railway station, which remains unsafe.
A vintage self-drive excursion or a themed tour on a classic Fiat 500, starting from Taormina and Giardini Naxos area. The most popular excursions are themed on the Francis Ford Coppola's Godfather movie and on the Etna Wines Road. You can reach villages like Savoca and Forza D'Agrò. Contact 500 Vintage Tour - Classic car hire & tours - Taormina - Phone +39 3497234906 - Email: info@500vintagetour.com - Website: 500 Vintage Tour
Buy
There are plenty of souvenir shops.
Eat
Gelatomania

phone: +39 0942 23900

address: Corso Umberto, 7

Gelateria with big portions, mostly happy customers, has dairy-free alternatives.

Ristorante Mirage

address: Via Roma 7

Customers have enjoyed the views of Naxos bay and Mount Etna, but are not always impressed by the food or service.

phone: +39 0942 683017

address: Vico Giordano Bruno, 8

Sicilian gastronomy. Prices are high.

phone: +39 0942 23453

address: Via Bagnoli Croci, 84

Good food and friendly service.
Sleep
Budget
phone: +39 338 238 3732

address: 47 Via Pergusa, Giardini-Naxos

2-star hostel near beach.

phone: +39 0942 23372

address: Corso Umberto, 81

Central 2-star place.

address: 46 Vico B S Pancrazio

Has single, double and triple bed rooms starting from €25. Spacious, clean accommodation.
Mid-range
Splurge
Stay safe
Danger: Percorso pedonale Taormina - MareDon't use it! It's dangerous. The path in its lower part is destroyed by a landslide. The rest of the path is still walkable, but its condition is extremely poor and unsafe.
Castelmola
Castelmola
is a village 5km above Taormina. It's built around the ruins of a Norman castle, which used to be the citadel of Taormina. The
Interbus
takes 15 min, leaving Taormina M-F at 09:40, 10:40, then every 2 hr until 18:40, Sundays less frequently. You can also walk up the footpath, it's in need of repair but basically safe, unlike the path from Taormina down to the coast.
Eat: options include Ristorante Parco Reale, Pier de Cat Bistro, Gallo Cedrone and Taverna dell'Etna.
Drink: bars include Cosmopolitan Bar D'Allura Giuseppe, and the one everyone's heard about:

phone: +39 0942 28181

address: Via Pio IX 19

This bar has a theme: penises. Quite a lot of them. An allusion to Greek antiquity, the owner says. Still, if it keeps drawing the visitors....
Sleep: accommodation, all along the road up from Taormina, includes Villa Pace B&B, Hotel Villa Sonia, Villa Regina, and B&B Casa Bellavista. There are several other small B&Bs.
Go next
Giardini Naxos - a popular resort just below Taormina. Enjoy its beaches, hike along the Alcantara and see its gorge.
Mount Etna - Plenty of agencies offer day trips there, or with your own car you could reach either the Sapienza or Provenzana base stations. To walk to the summit, you must have a guide, warm clothing and stout footwear, clear weather, and a volcano that isn't erupting (which it does quite often).
Catania is the regional transport hub, so you'll probably have to pass through it; it's worth a day to explore.
The main attractions further south are Syracuse, Ragusa and Modica
To reach the north coast, the quickest way is to blat along the autostrada A18. A more attractive route SS185 winds through the hills, with views back over Etna, and through the picturesque medieval town of Novara di Sicilia overlooking ancient Tyndaris and Abacaenum. From the coast either turn west for Palermo, or go a little way north to Milazzo the port for the Aeolian Islands, or turn east to the ferry port of Messina.