Tarlac
Tarlac
is a province in the
Philippines
in the
Central Luzon
region of the island of
Luzon
. "Tarlac" is part of Region III-Central Luzon.
Cities and towns
As of 2018, the province has one city and 17 towns.
- the capital city of the province, it is completely landlocked and consists predominantly of plains with the remaining being mountains. Tourism has not really been a big part of Tarlac although it does have some great historical areas, rice, corn and sugar plantations and golf courses for those so inclined.
- known as the "Chicharon and Iniruban Capital of the Philippines", Camiling is rich in history and culture. Visit the house of the real life Maria Clara.
- it is well-known for the "Death March" during the Fall of Bataan, wherein Filipino-American soldiers who became prisoners of war during the Japanese Occupation in the Philippines has to walk from Batan to Capas. Many soldiers died due to hunger and malaria. It is where the Capas Shrine is located, it has an inverted V symbol.
- Visit the miraculous relic of the cross at the Monasterio De Tarlac at Brgy. Lubigan. It also has a Jesus statue like the one at Rio De Janeiro, only a bit small.
Understand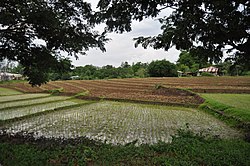 Tarlac is the most multicultural of the Central Luzon provinces. A mixture of four district groups, the Pampangos, Ilocanos, Pangasinenses, and Tagalogs, share life in the province.
Tarlac is best known for its fine foods and vast sugar and rice plantations. That it has fine cooking to offer is due largely to the fact that it is the melting pot of Central Luzon. It offers some of the best cuisines from the places of ancestry of its settlers, the provinces of Pampanga, Bulacan, Nueva Ecija, Zambales, Pangasinan, and the Ilocos Region.
Historical sites, fine food, vast plantations, a beautifully landscaped golf course, and so many other attractions – all these make the province of Tarlac one of the best of the places to visit in Central Luzon.
Talk
Language/dialect
Pampango or Kapampangan is spoken by half of the population followed by Ilocano spoken by 41%. Everybody understands the Tagalog language.

Get in
From Manila, Tarlac can be reached in two ways:
Using the old MacArthur Highway, Tarlac is approximately 2.5 to 3 hours away from Manila by car or bus. Take the North Luzon Expressway (NLEX).to the far end and exit at the Sta. Ines Exit. Take the Mabalacat–Magalang Road to the right and turn right onto MacArthur Highway, proceeding northward towards Tarlac province.
Since late 2008, seamless ride to Tarlac has been possible with the Subic–Clark–Tarlac Expressway (SCTEX). It is 1 hour and 25 minutes away from Manila when taking this expressway to Tarlac. Take Exit 85 (SCTEX Exit) of NLEX. Exit at SCTEX's Mabalacat Interchange and go straight northwards. You can take one of these three exits of SCTEX in Tarlac area: Concepcion Exit, Hacienda Luisita/San Miguel Exit, and Tarlac Exit (which is tschnically located in the town of La Paz). If taking Tarlac Exit, go left (westward) when going to Tarlac City, or right when going to the downtown of La Paz.
Since 2014, it's now also seamless to go to the northern part of Tarlac via the Tarlac–Pangasinan–La Union Expressway. When choosing to go to northern Tarlac, stay at the expressway past Tarlac Exit and exit at any one of the following exits: Victoria, Pura, Ramos, and Anao.
Do
Luisita Golf and Country Club, designed by renowned architect Robert Trent Jones Sr. This 18-hole championship course has been renovated so you can enjoy it in any weather, all year round. There are water areas all around coupled with great landscapping which is breathtaking. It's quite an easy course although wind is sometimes a factor. It is listed in Golf Magazine's Top 100 Golf Courses in the World. There are no crowds, no waiting, and best of all very private. The golf course is open to registered guests of Central Park Hotel.
Trek Mt. Pinatubo: visit the canyons, the Aeta Village, take a dip in the crater lake.
Buy
There are various shopping malls:
Plaza Luisita Center - the first shopping mall in central Luzon owned by the Cojuancos of Tarlac and its located along MacArthur Highway, San Miguel.
SM City Tarlac - the first SM Supermall in the province and is located along MacArthur Highway, San Roque.
Robinsons Luisita - the first Robinson mall in the province and its located along MacArthur Highway, San Miguel.
Paniqui Mall - a mall at Paniqui town.
Metro Town Mall - a mall at Tarlac City located along MacArthur Highway, Sto. Cristo
Magic Star Mall - a mall at Tarlac City located along Romulo Blvd, Cut-cut.
Uniwide - Tarlac Central Mall - a mall at Tarlac City located along Aquino Blvd., San Nicolas.
EZ City Center - a shopping complex at Tarlac City located along MacArthur Hi-way corner Ligtasan St.
Sleep