Tarma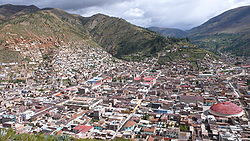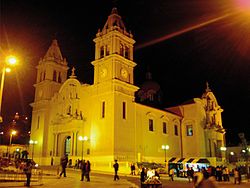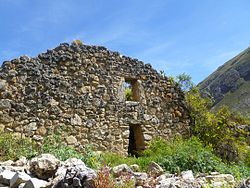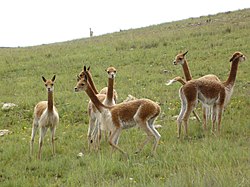 Tarma
is a town in
Southern Sierra
(more specifically, in the province of Tarma, in the department of Junin),
Peru
. Also known as
Santa Ana de la Ribera de Tarma
, the
Pearl of the Andes
and the
City of Flowers
.
Understand

A little over 3000 meters above sea level, Tarma has a lot to offer, ruins, caves, waterfalls and just a short distance to Jungle.
This page covers the town of Tarma and the surrounding towns in the province of the same name (Tarma). Tarma is the largest town in the province, however many of the smaller towns have facilities such as hostels and banks.
Towns in the province of Tarma;
Tarma, Huaricolca, Leticia, Acobamba, Palcamayo, San Pedro de Cajas, Huasahuasi, Palca, Tapo.

Get in
Bus
See
Acobamba
WilcashmarcaRuins of buildings.

YanamarcaChanca culture, ruins of a three-story building.
Tarma
Museo de la Cultura

address: Corner of Jr. Dos de Mayo and Jr. Arequipa

A great first stop as they'll give you an excellent map of Tarma and surrounding areas for free.

AncashmarcaRuins.

CarnavalIn early March.

Festival of FlowersSeptember

Festival del Huayco tarmeñoNovember

Plaza de ArmasFeatures a nice fountain and palms.

Santa Ana Cathedral

Semana SantaEaster, beautiful floral displays.

TarmatamboStone buildings and terraces.
Huaricolca
Pintish Machay

address: Near Huaricolca, head towards Tarmatambo and keep going.

Cave featuring ancient paintings.
Leticia
KutumarcaRuins, round stone structure.
Palcamayo
San Pedro de Cajas
Gruta de HuagapoPossibly the largest cave in Peru. There are also ancient paintings here. About 27 km from Tarma just past the town of Palcamayo. Take the road towards Junin.

Gruta de Pacupa HuainCave near San Pedro de Cajas.
Huasahuasi
Palca
Santuario Nacional Pampa HermosaTropical/subtropical jungle, waterfalls, Yungas. About 100 km from Tarma near San Ramon. Much closer to San Ramon than Tarma but San Ramon doesn't have a wikivoyage page yet.
Tapo
Do
Trek
Laguna de CoconHeading east from Palcamayo there is a trail leading past the ruins of Llaumanpata and onto Laguna de Cocon, about 10 km each way.

Go for a walk on the Camino del Inca. You can reach it directly from Tarma or Huasqui, until Tarmatambo. From there, cross the valley and go up to the crest to come back to Tarma, passing the cemetery. If you don't have time, reach the road and come back by collectivo.
Go to Palcamayo (S/3.5, 45 min). Then to Gruta de Huagapo (cave, S/1 until the entrance and more to enter) by foot (45 min) or by car. 500m after the cave, a path on the right canon de Ushpo or valley of mystery and esoterism... A very nice walk through the rocks (30 min). You can come back the same way (easier), or turn right at the end, on a little path going up. You'll go very high and have nice views. It's not easy to find a path, try to stay high and you'll see it leading to the village (2-3 hr). Be careful, the last cars leave at 18:00 or 18:30.
Eat
Los Mejorcito de Tarma

phone: +51 64 31 7329

address: Av. Arequipa 501

Salón Odria

phone: +51 64 321411

address: Av. Ramón Castilla 512

El Gallito De Oro

phone: +51 64 323019

address: Jirón 2 De Mayo, 501

El Pollo Stop

phone: +51 64 321411

address: Avenida Ramón Castilla, 512

Has a kids playground and outdoor eating area.

Hot N' Tender

phone: +51 64 32 4220

address: Jirón Lima, 730

Chicken, chips, salad.
Try the little cakes (S/1) of Panaderia Bahamas (Jr Huanuco, near from the market)
Have a meal in the market Asuncion (S/3)
Typical dishes
Pachamanca earth oven baked meat and vegies.
Picante de Cuy spicy Guinea Pig.
Trucha Trout.
Restaurants
Drink
Typical drinks
Chicha de Jora
Calientito hot tea with lemon and chacta (cane liquor).
Bars
Sleep
Budget
Aruba

phone: +51 64 322057

address: Jirón Moquegua 452

Hot water, private bathrooms, cable TV.
Mid-range
phone: +51 64 321914

address: Jirón Huánuco 488

Continental breakfast, Internet, room service, hot water, private bathrooms, cable TV. These guys also have a good range of tours from S/30 to S/65.
Connect
Cope
Bomberos

phone: +51 64 321 700

Hospital Félix Mayorca Soto

phone: +51 64 32 1401, +51 64 32 1400

address: Av. Pacheco 362

Serennazgo

phone: +51 64 321 322

Policia Nacional del Peru

phone: +51 64 321 921
Go next