Tarquinia
Tarquinia
is a town in
Lazio
,
Italy
. At first site it looks like a miniature version of
San Gimignano
with its medieval towers but the main reason for visiting is that it has fascinating Etruscan tombs with wall paintings (
UNESCO World Heritage Site
), as well as a good museum on the Etruscans.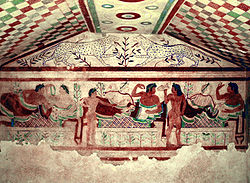 Trains run from Rome (mostly Roma Termini) and take about 1:30-2 hrs., cost about 7 Euro each way. Buses also run to and from nearby cities.
By car from Rome, take the Autostrada that runs northwest along the coast in the direction of Civitavecchia. Tarquinia is not too far after the end of the Autostrada at Civitavecchia but take care as the road is a popular stretch for the police to operate speed traps and catch you for overtaking illegally.
Get around
There's a local bus to the necropolis.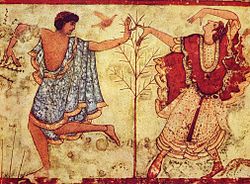 See
The Etruscan necropolisAt first sight, you may well be disappointed. You only see a barren piece of land with what look like workers' huts on a building site. However, each covers a set of steps going down to a tomb and you can turn on a light to see through the glass. Each tomb has a painting. Some are well preserved: others less so but when you consider that the paintings are 2500+ years old it is quite an amazing experience. Some of the better wall paintings have been removed to museums; if you cannot get to Tarquinia do not miss Rome's Etruscan Museum at Villa Giulia (Rome/North_Center)
Eat
La Cantinetta

phone: +39 0766 856810

address: Via 20 Settembre, 27

A little hard to find but the pasta is worth it. It's a local Italian restaurant. You'll sit alongside tables of old Italians and young workers. The menu has a kitschy illustration and the pasta is made al dente. The seafood is a specialty of the region and is also very good.