Tarragona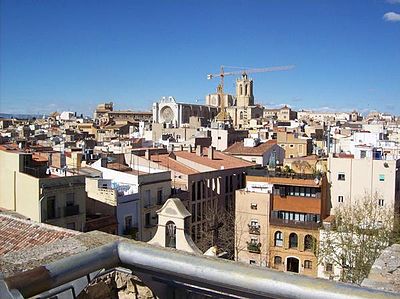 Tarragona
is the first large seaside town south of
Barcelona
. The town also offers a number of historical sites including churches from several different periods and a well preserved Roman colosseum. The town itself has the usual Spanish assortment of plazas sprinkled with cafes and tapas bars. Tarragona is a good choice if you only have a day or two to get out of
Barcelona
, otherwise the beaches further south or the remoter seaside villages to the north of
Barcelona
offer a more unique experience.
Get in
Tarragona's main station,
Tarragona
, is on the main train line between
Barcelona
and
Alicante
, served by 'Euromed' and 'Alaris' trains, as well as regional trains. Talgo trains run as far as
Montpellier
in the north, and
Lorca
in the south. The 'Trenhotel' night train to
Granada
also calls here. Note that it's best to buy train tickets a few days ahead during the high season to avoid getting stuck in one place. However, you always have the chance to take a stop-train, which is reasonable when coming from Barcelona, as it basically takes the same amount of time.
Tarragona is also close to the
Camp de Tarragona
AVE station, on the Madrid-Barcelona High Speed line. From Camp de Tarragona, high speed trains run to
Zaragoza
,
Madrid
,
Sevilla
,
Malaga
,
Burgos
,
Vigo
,
Bilbao
and
San Sebastian
, as well as the 'Trenhotel' night trains to
Burgos
,
Vigo
,
A Coruña
and
Gijon
. From the station, buses run regularly to Tarragona and to other towns in the Camp, and taxis are readily available.
Furthermore, Reus airport also serves the Tarragona region. Reus is mainly served by charter flights and Ryanair.
Get around
All of Tarragona's sites are within walking distance of the train station. Taxis and local trains can take you further.

See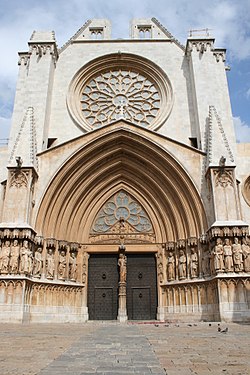 Tarraco UNESCO World Heritage Site complex of Roman ruins including colosseum.
Universitat Rovira i Virgili
The beaches are north of town. Avoid pollution from the town's larger shipping port (one of the biggest in Spain) by walking a ways up the beach. There is a nice walk following the shoreline, about 6-7 km long, where you will find the five main beaches and several smaller ones.
Churches
Plazas
Museum of Archeology
Casc antic (old part of the city)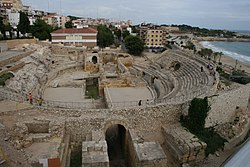 The Roman amphitheatre, next to the sea, was built in the second century.
Major Events
Tarragona International Dixieland Festivalhe unique Dixieland festival in Spain and one of the most important in Europe: 25 bands and 100 concerts.

Tarragona International Fireworks Displays CompetitionThe most important fireworks contest in the Mediterranean area is held every first week of July in Tarragona, in a wonderful bay -Punta del Miracle-, a place praised by the famous architect Antoni Gaudí. The competition selects six international pyrotechnic companies every year.

Santa Tecla FestivalOne of the most important Spanish traditional festival, between 15th and 23rd September. It has been celebrated since 1321 and it has been considered of national touristic interest by Spanish government. Human towers, historical parades and fireworks are some of the main activities.

Tarragona Cultura Contemporania (TCC)Concerts, films in Original version, Theatre... L'associació cultural Anima't since 1994 produced a cultural program in Tarragona under the label of Tarragona Cultura Contemporània (TCC) together a program of music and films in original version of the October to April.
Do
There are not a lot of organized outdoor activities in Tarragona beyond
strolling
through the town,
swimming
at the beaches, and
people watching
in the plazas. One of the most beautiful parts of Tarragona is the old streets (Casc Antic), the ones near the cathedral, do not miss them.
There is a cultural agenda
The Tarragona 'Ajuntament' ie Town Council publishes a fortnightly online 'what's on' guide called 'publics' which can be accessed via the ajuntament website.
Buy
There are many interesting shops along the Rambla Nova and in the streets around it, as well as in the old part of the city. A lot of typical Catalan stuff can be bought there.
Bonavista street marketLarge street market.
Eat
Tarragona has a number of small bars, restaurants, and cafes serving the usual selection of tapas, bocadillos (sandwiches), and local seafood dishes. The best area to browse for tapas and full meals is from The Plaça de la Font along the Carrer Major up to the Cathedral, with Carrer Nau and the Plaça del Rei and Plaça del Fòrum particularly worthwhile.
The Serrallo neighbourhood near the fishing harbour has some excellent fish and seafood restaurants, which are particularly popular for Sunday lunch. There is a market hall just off the Rambla Nova in the middle of town where the basics of a good picnic can be bought cheaply.

Drink
The nicest place to spend and evening is in one of Tarragona's many plazas with a glass of beer and plate of tapas. At night if you want to have some drinks and dance you should go to "El Port" (the port), there are a lot of pubs and dance locals there.

Sleep
The tourist office at Carrer Fortuny in the New Town and Carrer Major in the Casc Antic can point you to hotel rooms at any budget.
phone: +34 977 219 119

address: C/ General Contreras

phone: +34 977 248 701

address: Rambla nova 71

phone: +34 977 541 633

address: Carretera de Valencia 211

phone: +34 977250999

Plaça Imperial Tarraco 5, / / Modern and centrally located. Free WI-FI connection in all rooms and common areas, splendid reunion salons and a wide range of Tarragona's rich gastronomy. Conveniences for a warm stay, private garage, gim, sauna and solarium terrace with pool.

phone: +34 977221050

Plaça de les Corts Catalanes 4. Located at the beginning of the Rambla of Tarragona. Private garage. Modern, comfortable and functional hotel, spacious rooms suitable for families. Free WI-FI connections in all rooms and common areas. Cafeteria, reunion salons and car rental office.

phone: +34 977 51 90 00

address: Calle Garbí, s/n 43519 El Perelló Tarragona

Beach Hotel in El Perelló

phone: +34 977 593 80

address: Calle Marinada, s/n Urbanización Cap Roig 43895 L'Ampolla 43895 L'Ampolla

4-Star hotel in L'Ampolla

phone: +34 977 684 041

address: Calle Llobregat, 11 43880 Comarruga Tarragona

3-Star hotel in Comarruga

phone: +34 977 68 42 00

address: Avda. Palfuriana, 125-127

4 Star hotel in Comarruga
Stay safe
Be careful if you choose to visit the night clubs of the Puerto Deportivo alone, especially if you are a guy. Foreign visitors have been robbed there.

Go next
The nearby holiday resort of Salou is a popular destination.
Poblet Monastery UNESCO listed Cistercian monastery 30 km north on the road to Lleida
PortAventura One of Europe's largest amusement parks.