Tartu
Tartu
(formerly known as
Dorpat
or
Yuryev
) is the second largest city in
Estonia
with a population of 100,000.
Understand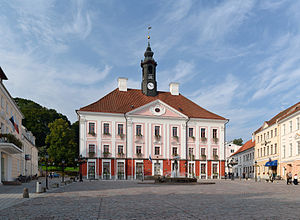 Tartu is a
Hanseatic city
and a university town. It is the oldest city in
Estonia
, dating back to 1030. Its ancient name of 'Tarbatu' was shortened to 'Tartu' in Estonian and to 'Dorpat' in German. Although large parts of the town were destroyed in WWII, Tartu still has a charming old town surrounded by large parks (some of which used to be fully built-up neighbourhoods before the war).
Tartu is 185 km south-east of
Tallinn
, the capital of Estonia. The Emajõgi River, which connects the two largest lakes of Estonia, flows for 10 km within the city limits.
Tourist Information Centre

phone: +372 744 21 11

address: Raekoja plats

Located in the ground floor of Tartu Town Hall.
Talk
Since Tartu is a student town, English is widely understood. As usual, the older people are more likely to only speak Estonian and Russian; however most can understand English if you speak clearly.
Get in
By plane
Tartu AirportAs of October 2015, Tartu is served daily by a single Finnair/Flybe flight from Helsinki. The airport is, therefore, little more than an embarkation/disembarkation point. If you want to rent a car, book in advance. Don't expect any food at the airport.
Alternatively, you can fly to Tallinn, which is only 180 km away with buses to Tartu running directly from the airport.
Riga (250 km from Tartu) may be an option as well - buses from the Riga Bus Station to Tartu are operated by Lux Express.
By bus
Buses arrive at the small at Turu 2, which is across the street from the Kaubamaja department store, 5-10 min walk from the central square of Tartu. The tiny building hosts a ticket office, luggage room, decent cafeteria, and R-kiosk. If you need more, head to the nearby shopping mall. When arriving from Tallinn, you can also get off the bus at one of the stops in the city centre.
Buses from
Tallinn
depart several times an hour between 05:00 and midnight, and stop at the Tallinn airport. The journey takes 2.5 to 3 hours and costs €2-10, before a discount available with an ISIC card. Some buses have free wireless internet and free drinks available. Note that Friday afternoon departures from Tartu to Tallinn (and Sunday night Tallinn-to-Tartu) are usually crowded during the school year as lots of students go home for the weekend.
Regular buses also run between Tartu and
Narva
(3 hr),
Viljandi
(1 hr),
Pärnu
(2.5 hr), and
Kuressaare
(6 hr).
Tartu is a stop of international buses running between
Saint Petersburg
(8 hr) and
Riga
(4 hr). These buses typically run overnight, which makes their schedule from Tartu somewhat inconvenient. Another international route is from Tartu to
Pskov
in
Russia
(4 hr, note that websites and timetables use the Estonian name
Pihkva
).
Bus and train schedules within Estonia are easily available online – read more under
Estonia#Get around
.
By train
Also, see last remark of the previous chapter.
is located only 1 km from the city center (end of J. Kuperjanovi street), but it is not in the city centre, and it is not well signposted either. The easiest way to find the train station is to follow Riia street uphill until you see the railway, and turn right along the tracks. The station building amply adorned with wooden carvings is a nice example of Estonian architecture. Inside, you won't find more than a kiosk (not even an R-kiosk!) and a ticket machine.
Elron
operates several daily trains between Tartu and
Tallinn
via Tapa. The journey takes 2 hr (express train) to 2.5 hr (regular train) and costs €11 for 2nd class and €14 for 1st class on an express train, or €10 for 2nd class and €12 for 1st class on a regular train. There is free Wi-Fi and tables with electric outlets on trains. 1st class passengers get more comfortable seats and may book a specific seat online.
Trains also run between Tartu and
Valga
on the Latvian border, with one daily connection further to
Riga
(5 hr). Railway tracks likewise go in the direction of
Russia
, but you can only reach the small station of
Koidula
on the Russian border. This station is less than 1 km from the 24/7 checkpoint, which is open for pedestrians. Once you are on the Russian side, catch a taxi or simply walk to the bus station of
Pechory
(2 km from the border), and continue to
Pskov
by bus.
By car
An excellent day trip is to drive from Tallinn to Tartu. Outside of Tallinn, it is a two-lane paved road with some construction ongoing to upgrade it. It takes two to two and a half hours. There are few sights of interest along the way. The terrain is flat and most of the road is bracketed by a birch trees and a few pines. Sam's Grill (about 1/2 way between Tallinn and Tartu) or a bit fancier Põhjaka Mõis are recommended as a place to stop. There is a gas station (Statoil) some km away.
By boat
There are also ferry services between Tartu and Lake Peipus and Lake Lämmijärv. Check with the Tourist Information Centre, or inquire at the river directly.
Get around
Tartu's Old Town is navigable by foot, but if you want to go out of Old Town, there's public transportation.
By bus
Tartu has a network of 19 intracity bus lines and 2 night bus lines. Single tickets cost €0.75 from a news stand or €1 from the driver. 10 single tickets from a news stand cost €8. A ticket for 1 day costs €2, 1-hour ticket costs €1. 10-day ticket costs €8. On lines 6A, 31, 32 and 33, which are being operated by Automen, the ticket costs €1. Bus network details (times and lines) see here: http://tartu.peatus.ee/#city
Important lines are:
8 to Lõunakeskus and Anne Kanal (popular beach)
32, 6 and 7 to Lõunakeskus
7 and 20 to Tartu Railway Station
Bus line 69 is free, and runs between the bus station and the Lõunakeskus shopping center on the edge of town. As this is a sponsored line, its buses do not have the red-and-white color scheme of regular municipal buses.
See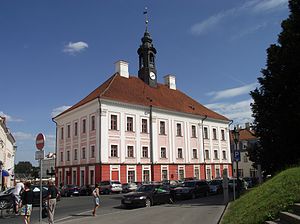 Main building of the University of Tartu

Town Hall SquareThe kissing students fountain is a symbol of Tartu.

Statue of Oscar Wilde and Eduard Vilde

Soup NeighbourhoodNeighbourhood where all of the streets are named after soup ingredients. Features charming old wooden houses.

Former Soviet Airfield
Museums
Parks and squares
Botanic Garden of the University of Tartu

address: 38/40 Lai

Toome HillMany monuments, statues and historical buildings

Raadi Park

Barclay Park
Churches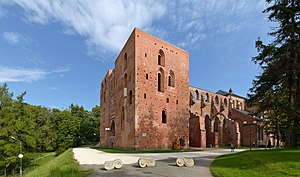 St. John's Church14th century church is famous for its thousands of medieval terracotta figures.

Cathedral ruinsFrom the 13th century and were dedicated to apostles St. Peter and Paul. Today the choir part houses the Tartu University History Museum, and the towers are reconstructed to sightseeing platforms.

St. Paul's Church

address: Riia

An outstanding redbrick Finnish National Romanticist style building by the famous Finnish architect Eliel Saarinen.

St. Peter's Church

address: 104 Narva St

A Neogothic Lutheran church from 1903, is built on the grounds of the first general Estonian song festival which took place in 1869.

Roman Catholic Church

address: 1 Veski St

A beautiful neo-Historical redbrick building from 1899.

St. Alexander's Orthodox Church

address: 19a Sõbra St

A two-story church, designed by architect V. Lunski, with cupolas inspired by the Old Russian church architecture. It was deconsecrated 40 years ago but reconsecrated in summer 2003.

Uspensky Orthodox Church

address: 1 Magasini St

An early classical church built in 1783 with typical Russian classical elements. It's located on the same place as the St. Mary Magdalene Church of a Dominican cloister founded before 1300.
Other buildings
Gunpowder CellarDug into the side of the hill in 1767 as part of the complex of the bishop's citadel. It was used as a gunpowder cellar until 1809. Until 1982 it served as a storage room for many different enterprises, and was later developed into a eating place. Today, the building hosts a bar/restaurant of the same name.

National Court

address: Lossi 17

Construction of the building began in 1763 as military barracks. Onto its ruins was built the university hospital in 1808, which functioned until 1990. Since 1993, the national court is again in Tartu, which is Estonia's supreme judiciary court.

address: Lossi 40

The observatory, designed by university architect J.W. Krause, was built at the beginning of the 19th century. Working place of many famous astronomers including Struve; indeed the observatory is a point on the world heritage list Struve Geodetic Arc spanning from the Arctic Sea to the Black Sea.

Old Anatomical Theatre

address: Lossi 38

One of the first buildings of the re-opened Tartu University which was built in 1803-1805 according to the drawings of university architect J. Krause. Today the visitors are offered an exhibition of the history of medicine with preparates.

Barclay House

address: Raekoja 18

Late 18th century building. Duchess Barclay bought the house in 1819 after the death of her husband, Barclay de Tolly. The longitudinal wall of the building toward the river was built on the basis of the old town wall, while the other side was built on a new foundation. This is why the house is now askew and is popularly called the Tower of Pisa.

Tartu Centre for Creative Industries

address: Kalevi 13, 15, 17

Congregates several creative enterprises and creates therefore a creative atmosphere. The three buildings of the centre were built between 1830 and 1913 and represent different architectural styles: historicism and Art Nouveau.

Remains of the Town Wall
Bridges
Angel's BridgeBuilt in the 19th century and spans Lossi Street.

Devil's BridgeBuilt in 1913 in honour of the 300th jubilee of tsarist Russia's Romanov Dynasty, which is memorialised on the bridge by the dates 1613-1913.

Arched BridgeStands on the site of the original stone bridge of Tartu which was built in 1784 and blown up by the Soviets in WWII. This new bridge is only for pedestrians and allows you to do one of the most loved cultural activities of Tartu, walk over the top of the arch after a big night in the club. Just don't let the cops catch you.
Modern architecture
During the last decade, Tartu has seen several interesting pieces of modern architecture being built. They are well worth a visit and give an insight of how people in modern Tartu think and live, in addition to traditionally history-driven image of the city. Some of them are right in the city-centre. See the yellow markers on the official
Tartu Modern Architecture map
. The map is in Estonian only, but selected images speak louder than words.
Do
CinamonThe biggest movie theatre in Tartu.

EkraanA popular movie theatre. It has two movie screens and first-rate Dolby SR/DTS sound system.

address: Lutsu 2

address: Lai 37

Athena - Conference and Incentive Centre

address: Küütri 1

address: Vanemuise 6

address: Soola 5B

phone: +372 745 6789

address: Sadama 1

Interactive and entertaining science center.

phone: +372 7300 280

address: Turu 10

Swimming pool, water park, fitness center

phone: +372 551 8386

address: Emajõe 3

Offers various cruises for up to 30 people along River Emajõgi.
Festivals
Hanseatic DaysThird week of July, exact dates vary from year to year. Medieval festival featuring fairs, festivities, exhibitions, concerts, dances, merchants and tradesmen.

tARTuFFFilm festival in August. Themes include love and tolerance.

PÖFF - Black Nights Film FestivalFilm festival at the end of November.
Learn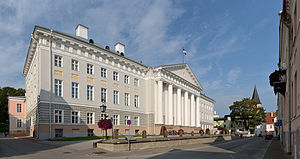 address: Ülikooli 18

Established in 1632, it's one of the oldest universities in Europe. The main building was built in 1804-1809 according to university architect Johann Wilhelm Krause's plans in classical architecture. It includes the historic lock-up on the attic, Assembly Hall and the Tartu University Art Museum which displays ancient art.

Estonian University of Life Sciences

address: Ülikooli 18
Buy
Eat
Drink
Pirogov Parksmall park where consuming light (

Cafes
Café CreppFrench-themed, serves delicious pancakes

Café WernerExcellent café since 1895.

Café Krempel

phone: +372 445 1510

address: Rüütli 12

A cosy café which also offers vegan dishes (breakfast only on Sunday) in which you can apparently get in touch with strangers.
Bars
In a typical pub, a 0.5 l beer usually costs €2-3. Almost all popular beers are near or more than 5 % alcohol content.
NAIIVCulture and bar.

BarlovaCosy and chilled.

address: Ülikooli 5

Jazz Club. Many sporting events (mainly football) are broadcasted.

address: Jakobi 34

English style pub. Offers 40 % discounts on any alcoholic beverages after 20:00.

address: Küütri 7

address: Lai 30

Legendary meeting place for students and alternative fashion people. Popular among foreigners.

phone: +372 740 4514

address: Magasini 5

a nice, somewhat (more) alternative-hipstery bar.
Clubs
address: Magasini 5

An alternative club with concerts, theater performances, seminars, etc. Recently joined with the bar Möku which now resides on the ground floor.

address: Tiigi 76A

IllusionAccording to girls more into Genialistide klubi, Illusion is where people get drunk and start fights, and the music is bad. So, the latter basically means main stream music.

ShootersDrinking and party, as flat and fun as is it might sound.
Sleep
Go next