Tarui
Tarui
is a city in
Gifu Prefecture
, near the prefectural border with
Shiga Prefecture
..
Get in
Tarui is served by Tarui Station, located along the
Tokaido Main Line
. All trains from the west depart from
Maibara
and this is the closest Shinkansen Station to Tarui. To the east, if you time it right, there are direct trains from
Toyohashi
that travel through
Nagoya
and
Gifu
, but quite often a transfer at
Ogaki
is necessary.
For drivers, Route 21 is the main highway that runs through Tarui from
Sekigahara
to the west and
Minokamo
to the east.
Get around
There are some suggested walking routes to sites for those who enjoy walking, but for those who want to see multiple sites in the area, you can rent a bicycle at the Tourist Information Center across the street from the station. There are also infrequent buses to the Takenaka Jinya (except Sundays) for those who wish to visit but don't want to walk or bike.

See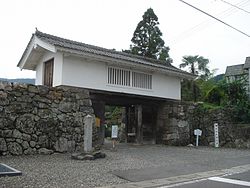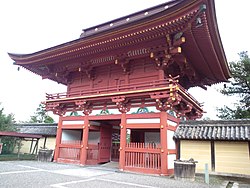 Tarui-jukuTarui was the 57th station of the Nakasendo trail that connected Kyoto with Edo and the first station of the Minoji Trail that connected the Nakasendo to the Tokaido trail. During its heyday, there were 315 hotels. The building marked as the Tarui-juku you see today is the Nagahamaya. When the princess traveled through on the Nakasendo, the men who carried her mikoshi stayed here (she of course stayed at the honjin, the primary inn). The buildling became a liquor store once the Nakasendo lost its importance. When the liquor store closed, residents were compelled to preserve the building since it is such an important part of the town's history. Today, visitors can stop for a rest and see a few artifacts inside. Modern Nakasendo travelers should give serious consideration to staying at the nearby Kamemaruya, one of the few hatago that you can actually stay overnight in (see "Sleep" section).

Takenaka JinyaBuilt by Takenaka Shigekado, the Takenaka Jinya was the residence of the Takenaka family who were the lords of the area. The jinya itself no longer remains however, the gate has survived along with part of the moat. The statue in front of the jinya is Takenaka Hanbei, father of Shigekado.

phone: +81 58-422-1225

The top shrine of Mino Province, it enshrines Kanayamahiko no Mikoto. There is a large torii gate leading up to the shrine.

Tarui no IzumiGifu Prefecture has many springs that are known for their pure water. Tarui's water is among them and has been well-known for centuries. It was featured in one of the poems in the Shika Wakashu, an imperial anthology of waka poems, in 1070. Matsuo Basho also stopped here and wrote a poem after drinking the water. Today there is a small, attractive area where the spring water flows and visitors can try it for themselves.
Sleep
Kamemaruya

phone: +81 58-422-0209

address: 1119 Tarui

One of the former hatago (Nakasendo inns) in the Tarui-juku. It was constructed in 1777.
Go next