Tasiilaq
Ammassalikk
, or
Tasiilaq
, is in the centre of the
east coast
of
Greenland
. It is a village with a harbour surrounded by high mountains.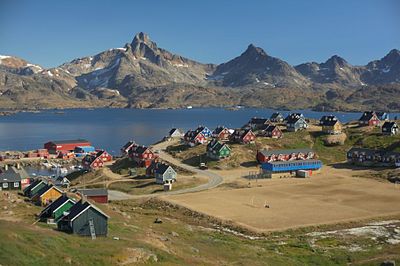 Understand
In the village you can find hotel, restaurant, post office, bakery, book shop, museum and the helicopter station. In Tasiilaq are also Greenland filatelia and a hospital.
The local people are still fisherman and hunters but lots of people also live by administration and service.
The village was founded by Danish explorers in 1894 and called it Ammassalik, the place with lots of ammassats (small fish), the name of the area used by the locals farther south. The locals living in the area continued to call it Tasiilaq, the one that looks like a lake. As a consequence, the city was renamed Tasiilaq a few years ago. The municipality is still called Ammassalip Kummunia.

Get in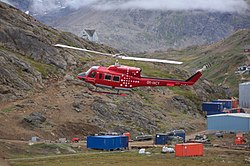 The easiest way to travel to Tasiilaq is to fly from Reykjavik in Iceland. There are several aircompanies that fly to Kulusuk airport not far from Tasiilaq. From Kulusuk you can either take the local helicopter (expensive!) or try to find a local fisherman to take you by boat to Tasiilaq.
If you have booked your stay with a hotel or a campground, they will usually offer to pick you up at the Kulusuk airport with a boat. Otherwise, you can book your flight with
Air Greenland
.
Get around

The town is small enough to get around it on foot. However, you will need to be in a good shape, as you will need to get up and down lots of hills the town is built on. Taxi service is also available.
To get to a different settlement (Kummiut, Isortoq or Sermimiligaq) you will need to find a local boat or book a helicopter.
Getting around the island is mostly on foot, and you can simply walk out of the town to start your adventure.

See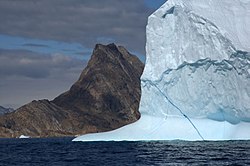 You can book several iceberg watching boat tours (half a day or full day) with any of the hotels in town. The icebergs are everywhere, and going around them on a boat can provide some amazing views.
Boat tours are also available to a nearby abandoned village of Ikkatteq, usually combined with iceberg watching.
There are also helicopter tours to nearby glaciers, with or without landing on them.
And of course the best sightseeing is the one that you create for yourself. The best approach is to plan your hike around the island, and book the tours on your extra days, if you have any remaining.
Do
East Greenland is a paradise for those who love hiking, alpine climbing and kayaking. You can start your hiking trip direct from Tasiilaq but you can also travel with the local boat to one of the settlements and start your trip there. You must consider that your hiking trip quite soon will take you away from settlement areas and that you are on your own. Bring an EPIRB and be sure that your travel insurance contains SAR (Search and Rescue) in case you get stuck in the outback.

Buy

The local grocery store is called "Pilersuisoq", and located in the town centre. You can buy (very expensive) souvenirs and furs in any of the hotels. Hiking and camping supplies are available at the campground.

Drink

There is a bar by the harbour.

Sleep

Accommodation is very expensive, like everywhere in the Arctic. You can stay in The Red House hotel or Hotel Ammassalik, which are very comfortable and clean. Food in the hotel is of exceptional quality.
The Red House hotel also runs the nearby campground, across from the heliport, which makes for a more affordable option.
Alternatively, you can stay with a local family, or rent a hut in Tasiilaq. The hotels can help you organize any of these.

Connect
There is mobile phone coverage around Kulusuk and Tasiilaq and some more places in the area. Greenland is not part of the EU, so roaming prices are much higher than in the EU. See also https://telepost.gl and your telephone operator.