Tataouine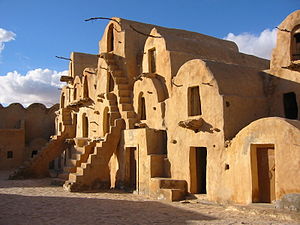 Tataouine
is a city in
Tunisia
. The name of the town was immortalized in
Star Wars
as "Tatooine", but most of the filming was not done here, but at
Matmata
.
Get around

Since public transport is limited, and most of the ksars are a few kilometers out of town, renting a car or hiring a taxi for the day may be the best choice to see the interesting spots around Tataouine.

See
Ksar Ouled SoltaneBuilt in the 15th century, the ksar (fortified granary) is one of the best of its kind left. It stands on a hilltop, which protected it from invaders. The Ksar Ouled Soltaine gained fame as the slave quarters where Anakin Skywalker lived in Star Wars: The Phantom Menace.

DouiretAn abandoned Berber town perched on a hillside, about 20 km from Tataouine. The ksar on the hilltop is visible for miles. Almost no one goes there, but the ruins are in good condition and make for an excellent exploration. A tiny part of the village is still occupied (a mosque and a few houses). Best to have your own transport, though you can try convincing a camionnette to go out of its way to drop you. Hitching a ride is the only way back. Refreshments are available at the site.

CheniniAnother gorgeous abandoned hilltop village topped with a ksar, but you will find large tour groups visiting with you. There is an excellent restaurant for lunch (if you have a car, drive to Douiret early and then end up at Chenini for lunch). Camionettes leave from Tataouine early, look for a taxi, or try to sign up for a 4WD tour (ask at your hotel).

Ghorfa Ksar El FerechAnother ksar along C207. Larger than some other ksars, but with only two-story buildings. Palm trees and flowers on the ground make the place seem like an ancient garden. A small salon de thé offers tea, coffee and souvenirs.
Sleep
Medenine
is the next big city and has more accommodation options.
Go next