Tauberbischofsheim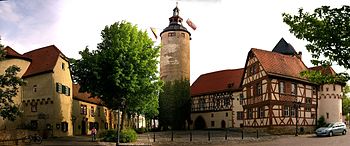 Tauberbischofsheim
is a
German
town in the north-east of
Baden-Württemberg
on the river Tauber with a population of about 13,000. It is the capital of the Main-Tauber district.
Understand
Tauberbischofsheim is a hidden jewel among
German
travel destinations. Some relics of the medieval city wall, particularly a tower called
Türmersturm
can be viewed. For many years the town was home to the
Tauberbischofsheim altarpiece
, a monumental piece of German renaissance art by
Matthias Grunewald
(in English
Master Mathis
) now kept in the
Staatliche Kunsthalle Karlsruhe
, but there is a replice in Tauberbischofsheim. Tauberbischofsheim is especially famous for its fencers of the
Fencing-Club Tauberbischofsheim
, who have won several
Olympic
medals and world championships.
Get in
By plane
By car
Tauberbischofsheim is located to autobahn A 81, which runs from Würzburg, via Tauberbischofsheim and Heilbronn to Stuttgart. With an exit Tauberbischofsheim.
If you prefer scenery over velocity, you should take the Romantic Road (Romantische Straße) into town.
By train
The town is served by trains. There is an connection from Tauberbischofsheim over Lauda to Würzburg. Also from Tauberbischofsheim over Lauda via Heilbronn to Stuttgart. Or from Tauberbischofsheim over Lauda to Heidelberg and Mannheim.
Get around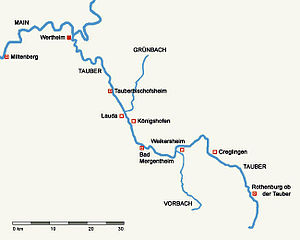 By foot
Walking will get you from one end of town to the other in about 15 min.
By car
Going by car is unnecessary in most cases.
By bicycle
In the spring and summer, biking is also highly recommended. There are a lot of bike lanes and special bike roads with no cars.
From
Rothenburg ob der Tauber
you can start a popular bicycle tour by the "Lovely Tauber valley" (also "Charming Tauber valley"), about Weikersheim,
Bad Mergentheim
, Lauda and Tauberbischofsheim, till you reach just 100 km removed
Wertheim
. Recommended daily stages of the route "Charming Tauber Valley":
1st day's stage - Rothenburg ob der Tauber to Weikersheim
2nd day's stage - Weikersheim via Bad Mergentheim to Tauberbischofsheim
3rd day's stage - Tauberbischofsheim to Wertheim
See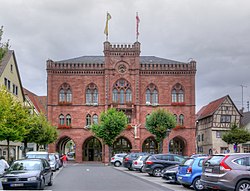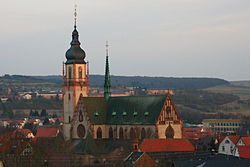 Historical buildingsIn the old town, which was formerly surrounded by a wall, there are many historical buildings.

Tauberbischofsheim Castledates back to second half of the 13th century.

Marketplace Tauberbischofsheimis encircled by Half-Timbered houses and the Neo-Gothic town hall.

Parish church of St. Martinwas completed in 1914 after its predecessor burnt down. The Neo-Gothic church contains works of art from many past churches including an altar from the Ulmer workshop of Niklaus Weckmann the Elder with panel paintings by Hans Schäufelein, a Madonna by Hans Multscher and a copy of the Tauberbischofsheim altarpiece by Matthias Grünewald.

Peterskapellethe oldest church in the city is the Peterskapelle, built in the 12th century.

Fencing-Club Tauberbischofsheimthe most successful fencing club in the world, based on its medal successes in international sporting events. The FC Tauberbischofsheim is based in the Olympic team's training camp Tauberbischofsheim for the sport of Fencing.
Do
Frankenbadoutdoor pool

Tauberterrassencity ​​beach
Buy
Wertheim Village Outlet in Wertheim (in about 25 km)
Sleep
Go next