Tawang
Tawang
is a town in the
Himalayas
in the far west of the state of
Arunachal Pradesh
in North-Eastern India. The second-largest Buddhist monastery (gompa) in the world is here, and was built in 1681.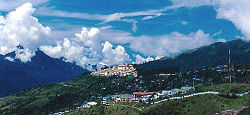 Understand
Tawang has a population of 11,000 and is the administrative headquarters of Tawang district.

Get in
By car
The town is about a 16-hour drive from
Guwahati
. However, it is best to hire a Tata Sumo from
Tezpur
in Assam (4 hr. drive from Guwahati). From Tezpur you go to
Bhalukpong
(border of
Assam
and Arunachal), where Indian and non-Indian tourists have to show a permit, easily obtainable at either Guwahati or Tezpur, and proceed to a beautiful and rough drive up the mountains. It is advisable to break your journey at either
Bomdila
or better still, the charming little valley town of
Dirang
. Sela Pass is notoriously difficult and heavy snowfall (during season) could force you to stay on either side.
By motorbike
As of October 2010, sections of the road after Balipara (where you divert from NH52) is work in progress and you will find mud roads with stones which are unpleasant to ride on. After Bhalukpong, BRO is widening the roads so expect slushy roads for around 15 km (9 mi). If you love your motorbike, travel by a taxi/bus from Tezpur.
Get around
Getting around in Tawang can be divided into two categories. The first one is travel to local sites like Tawang Monastery, War Memorial, Emporium, etc. This can be done by booking a taxi (mostly Maruti OMNI) for half a day. The second one is travel to sites outside Tawang, which include P T So lake, Shungetsar (Madhuri) lake and a visit to India-China border at
Bumla
. A bigger vehicle like a Tata Sumo or Mahindra Bolero should be hired for this, as roads are in bad shape. An entire day is enough to cover these sites.
See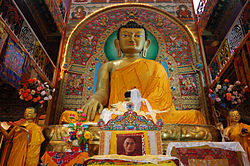 Tawang Monastery. A Tibetan Buddhist gompa (fortified monastery) of the Gelugpa sect that was constructed in 1681. It is the second-largest Buddhist monastery in the world and home to more than 500 lamas (monks). The celebrated 6th Dalai Lama was born here.
Jaswant Garh or Tawang War Memorial. A large, impressive Indian Army memorial, commemorating hundreds of soldiers who fought in the 1962 war against the Chinese. Jaswant Singh Rawat, who along with two other soldiers fought the Chinese Army invading Tawang, during the battle of Nuranang. Rfn. Jaswant Singh Rawat was posthumously awarded with the Mahavir Chakra. His two colleagues L Nk. Trilok Singh Negi, along with Rfn Gopal Singh Gusain, were awarded with the Vir Chakra.
Nuranang Falls, also called Jang Falls or Bong Bong Falls. A beautiful and spectacular waterfall about a kilometre (0.6 mi) from the town of Jang.
P.T.Tso Lake. Situated above Tawang, the lake is frozen for 4–5 months of the year. You can hire a local vehicle to get there. The lake itself is splendid, and the views from it are unbelievable.
Anni Gompa. A Buddhist monastery managed by nuns. Anni means nun. You need to request your guide or taxi driver to take you there.
Madhuri Lake or Shungetsar Lake. Named after Madhuri Dixit, a famous Bollywood actress.
Tibetan Medical Dispensary. It is a short distance from main Tawang. A doctor of Tibetan medicine examines you and prescribes Tibetan medicines.
Walk around the charming town.
Do
Trekking. Tawang is an undiscovered trekker's paradise, offering breathtaking views, fresh mountain air, chill weather, and challenging or leisurely treks. For a rigorous trek (classified as hard), take the Jang - Thingbu - Mago - Goi ichen Base Camp - Mago (Back) - Luguthang - Sena Chakra - RA-I route. The softer trekking routes include the Mukto - Gongkhar - Gyamdong - Khet - Kharung - Bongleng - Kungba - Namsring - Kharteng - Lumla route, and the Tawang Gonpa - Gyangong Ani Gonpa - Bhramadongchung Ani Gonpa - Tawang routes. You can also trek along the Namet Village - Zarmang Ani Gonpa - Khromten Gonpa - Geshila - Klimta - Bomla - Y. Junction - Tawang route, which takes you close to the Chinese border outpost at Bomla. Trekkers are advised to come fully attired and prepared for the worst.
Pray at the 400 year old Tawang Gompa. Turn the prayer wheels dotted outside small gompas. Meet and chat with the friendly lamas.
Take excursions around town to visit beautiful glacier lakes and smaller gompas with big histories.
Take a nap on a hillock if it's sunny, but be prepared to be awoken by a grazing yak.
Buy
Tawang has a good range of tourist souvenir shops which sell Buddhist prayer wheels in colourful wood, chadars (wrap skirts worn by local women), beautiful bags, shawls, brassware and Buddha statues. Look for shops in Old Market as well as in the Tibetan settlement.

Eat
Tibetan delicacies like thupka, momos or simple and delicious paratha-sabzi eaten hot from the roadside shacks on cold misty days are a treat! Most restaurants in Tawang serve these. A small shack called Annapurna serves delicious alu (potato) chips.
The traditional Monpa cuisine uses a generous amount of chillies and fermented cheese, which has a strong flavour and is not for the faint hearted.
Some of the best food is found at the small, nondescript, sometimes not very hygienic, eateries, that serve authentic dishes at very affordable prices. They are sure to be authentic food of the region as they are most frequented by locals.

Traditional Arunachal dishes
The famous momo, widely eaten in the north east and other Himalayan regions, is made by stuffing minced pork and onions into a dough and then steamed in a three layer steamer, or fried.
The thukpa is a soup filled with noodles, minced meat, and vegetables, also known as der thuk. Ashum thukpa is made of maize, beans and meat.
Zan is the staple dish of the Monpa tribes. It is usually made of millet flour. It is usually had with vegetables or meat to which is added fermented cheese, soya bean or other herbs.
Khura is a pancake, had with tea.
Gyapa khazi is a kind of pulao made of rice, fermented cheese, small dried fish or shrimp, chillies ginger and other spices.

Sleep
Unfortunately, Tawang like most hill stations in the North East is far from developed, so finding good accommodation here may be a challenge. However, the flip side is the lack of tourism leaves the place more virgin and unexplored.
Apart from Tawang Inn which is the most modern and comfortable option in Tawang, most other options are pretty basic.
Hotel Tawang View has the best views from their second-floor basic rooms of both the Gompa and snow topped mountains.
Most hotels are in the market area. It is worth trying your luck at the government rest-house, or if you are lucky, the Circuit house.
Go next
Assam via Bhalukpung Orchid Sanctuary. An amazing variety of orchids grown in gardens and under glass.